We use affiliate links. If you buy something through the links on this page, we may earn a commission at no cost to you. Learn more.
The events of October 27th, 2003 still remain fresh in my mind. The day started
out innocently enough, but then ended in tragedy, while I was writing a
review
of an iPod case. The case was not compatible with my
30gb model, and required that I use
scissors to extract it <queue Psycho shower scene music>. Once the iPod
was freed, in horror I noticed that I had scuffed the LCD. My heart started
beating rapidly, and tears came to my eyes. What had I done?!?!
I thought I would have to relive the 5 stages of grief all over again, every
time I would use my iPod. But lucky for me, during one of my surf-a-thons, I
happened upon RadTech's website and their
Ice Cream polishing compound. Available for acrylic and for metal, these kits
include the polish and cloths.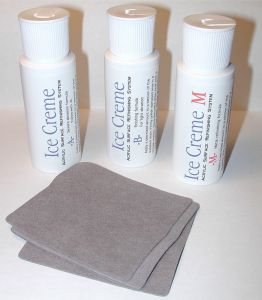 The acrylic kit comes with two 1 oz. bottles of polish, labeled A and B. The
A bottle is for surfaces with severe abrasions, and the B bottle is the
finishing compound. There should be enough product to restore several iPods.
The first step in the process is to make sure the surface of the iPod is
clean. You then put a small drop (pea size) from the B bottle, on the included
chamois cloth and begin rubbing the scratched surface in a circular motion. Once
the paste dries, you can buff it off with a clean cloth. For very lightly
scratched surfaces, this will do the trick. Unfortunately for my iPod, it didn't
do diddly swat.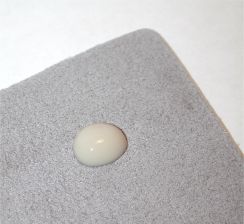 The next step, was to try the A formula bottle. I could tell right away that
the compound in this bottle was more heavy duty, due to the thicker consistency.
Using the same amount and technique, I firmly rubbed the polish into the LCD
using a circular motion. A few minutes later, once the paste had dried, I buffed
it off and saw to my dismay that the main scratches were still there, with
little change. But now, there was an addition of several fine circular scratches
too. Argh!
I went back and re-read the directions, and noted that they said that it
could take as much as 45mins to remove aggressive scratches. So, I grabbed the
polishing cloth and went at it again. This time, I noticed that the main
scratches appeared ever so slightly less apparent. Encouraged, I applied a 3rd
application from the A bottle. Afterwards, I could definitely tell a difference.
To make a long story short, after 5 applications from A bottle, and 1 final
application from the B bottle, the 2 main scratches are significantly reduced.
They aren't totally gone, but I'm very happy with the results. I'm sure I could
probably spend another 30-45 mins, and maybe totally remove them. As it is, I'm
feeling too much like the Karate Kid right now to continue. Wax on… Wax off…
You can see the before and after results below.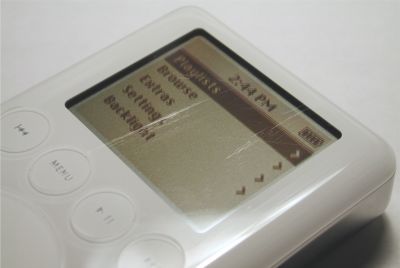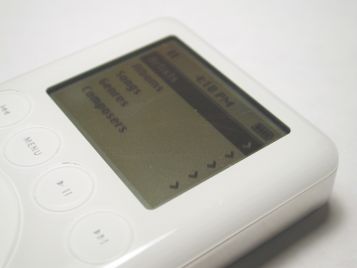 There's nothing really difficult about using this product. The only thing you
should really avoid is getting the polish on the menu buttons and navigation
pad, as it is hard to remove. If you need to remove scratches from your iPod,
and are willing to put quite a bit of elbow grease into the job, Ice Cream does
what it says it will do. If you have patience and time, you will be rewarded for
your efforts.
Price: $19.95 for Acrylic only kit. $24.95 for
Acrylic with Metal kit
Pros:
Polishes away scuffs and scratches
Polishing cloths can be washed and reused
Cons:
Takes elbow grease and multiple applications
Product Information
Price:
19.95
Manufacturer:
RadTech
Pros:

Polishes away scuffs and scratches
Polishing cloths can be washed and reused

Cons:

Takes elbow grease and multiple applications