We use affiliate links. If you buy something through the links on this page, we may earn a commission at no cost to you. Learn more.
Product Requirements:
Device:
Versions available for original and current iPod
models
Oh iPod, how do I love thee, let me count the ways… I listen to you in the
morning, and I listen to you at night. I listen to you at my desk while working,
the treadmill while exercising, and on an airplane while flying. But of all the
places that I listen to you most, it's in my car that I wish I had a better
method. Listening through headphones will give you the best iPod audio
experience, but of course, a person shouldn't use headphones while driving. So,
in order to listen to your tunes in a car, there are two popular methods. One
way is
with a cassette tape adapter, and the other method is with an FM transmitter. I've personally
been using a ratty old cassette adapter since purchasing my
30gb iPod months ago. Although it
works fine, it seems like I'm always getting the cord tangled up, which is
annoying.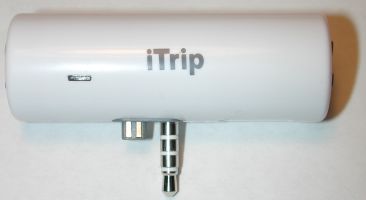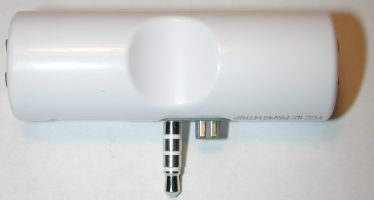 Enter the iTrip FM transmitter from
Griffin Technology, which allows
you to wirelessly transmit your music through your car stereo. The iTrip is
small, light weight and looks more like a lipstick tube, then a product similar
in functionality to the
iRock! or

Digiana. Using the earphone jack, it plugs securely into the top of the
iPod. The iTrip has no buttons or switches, but does have a small red LED on the
front. It also does not require a battery as it draws power directly from the
iPod.
Hardware Specs
Size: 2.4" x .84"
Weight: 0.5oz
Built-in antenna
Power Requirement: None (it's powered by the iPod)
Modulation: FM Stereo
Frequencies: 87.7 – 107.9 MHz (other frequencies available through website)
High stability crystal oscillator, phase-lock loop control
Stereo separation: greater than 45 dB
Signal distortion: less than .5%
Frequency response: 50 Hz to 15 kHz
Operating range: 10-30 feet, depending on the quality of the FM radio receiver
(limited by FCC regulations)
FCC compliant
International frequencies software selectable
 
Included in the packaging is the iTrip module, instruction manual, and a CD.
Since the iTrip has no moving parts or a way to manually change the frequency
that you want to transmit on, you have to electronically set it up. To do this,
you pop the CD into your desktop, and run the setup program. For Mac users, it will copy the
necessary frequency files (they are MP3's) into iTunes. For Windows users, it
will copy them to MusicMatch. Right off the bat, this represented a problem for me, because
although I'm a Windows user, I do not use MusicMatch. Instead, I am using the
new iTunes for Windows. So, I had to manually create a folder and copy the files
into it. Griffin assures me that a new Windows version of their setup software will be
available in a couple of weeks.

Most other FM transmitters on the market only give you a few frequencies to
select from. Having any station as a choice, is one great advantage to this
product. You can also
download additional frequency sets from Griffin's website.
After syncing the files to my iPod, I had a long list of FM frequencies (87.9
– 107.9MHz) that I could choose from.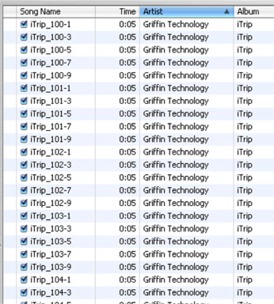 [partial listing]
Now comes the part where you have to figure out which frequency to actually
use… Depending on your location, it may take some experimentation before you
can find the best channel in your area. The iTrip does not have enough power to
override strong radio stations, so you have to search up and down the dial until
you find a station that is pretty much only static. Once you find it, you note
the station, and then plug the iTrip into the iPod. Then you navigate to the
Griffin Technology folder and find the 'song' that matches the frequency that
you want to transmit on. Play that 'song', and the LED on the front of the iTrip
will start blinking rapidly. You can then press play again and it should start
blinking slowly. This means that the frequency has been successfully set.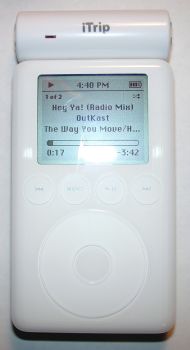 At this point, you are free to play music as you normally would. Doing so
will cause the audio to start playing through your car's stereo. No more wires!
Cool huh?
It's important to also note that the iTrip's transmitting range is pretty impressive. I
was able to play music through my vehicle's stereo, while the iPod/iTrip were
over 20-25 feet away! Wow! The iTrip also draws so little power from the iPod,
that you won't notice your batteries draining any quicker while using it. It
powers down after 60 seconds of inactivity, just like the iPod does.
Of course there are a couple of gotchas with this product… The biggest one is
that the audio quality is a bit flat when compared to using a cassette adapter.
For most, this
is not a huge deal breaker, as any true audiophile will scoff at playing MP3s at
all, let alone through an FM radio! Although audio quality is very important to
me, convenience is also important. The iTrip gives me the ability to get in my
vehicle, turn on the radio, pull the iPod out of my bag, press play, and start
enjoying my music right away. Cassette adapters are bulkier, require a cassette
tape player
to use them, and let's face it, they just aren't as cool :o)
Another problem that I ran into was accidentally playing a frequency 'song'
file when I didn't mean to. I tend to randomly play songs from my entire 3500+ collection. One day
while I was driving home, I happened to hear a beep-boop-beep tone where I
thought a new song would be playing, and all of a sudden static started coming
out of the car stereo. Oops! If you don't travel very often, a work around to
this problem would be to just delete all the frequency files from the iPod once
the correct frequency has been set. That said, I realize that this isn't the
best option. Another work around for those of you that like to randomly play
songs from your library, is to make a playlist that includes all the songs
except the iTrip files.
Despite these two issues, the iTrip makes an excellent iPod accessory, that
is easy to use, takes up little space in a gear bag, and requires no batteries
to power it. This is a product that almost every iPod owner will appreciate and
have fun using.
Price: $35.00
Pros:
Easy to use
Doesn't require a battery
Can use all frequencies
Cons:
Sound is a bit flat
Can't use remote while using iTrip
Hard to see LED in full sunlight
Product Information
Price:
35.0
Manufacturer:
Griffin Technology
Retailer:
Griffin Technology
Pros:

Easy to use
Doesn't require a battery
Can use all frequencies

Cons:

Sound is a bit flat
Can't use remote while using iTrip
Hard to see LED in full sunlight