Product Requirements:
Device:
3rd generation iPods: 10gb, 20gb, 30gb, 40gb
What features are most important to you when it comes to buying a case for
your iPod? Is it looks, protection, price, or usability that comes first on your
feature list? If you are anything like me, all of those features are important
to you, which makes it hard to find that one perfect case. So far, I've been
fortunate to review several iPod cases. My favorite snazzy case is the
Vaja iVod. Unfortunately, it is
also price prohibitive to a lot of people. My favorite protective case is the
Matias Armor case, but when closed, you
don't have access to the buttons. The SpeckProducts
Skin cases are cool, but they
can be a pain in the rear when you need to remove them. Seems like most cases
have the Goldilocks
syndrome where none of them are jussssssst right. Let me introduce a new case
from Contour Design called the Showcase. Read on to see if maybe this one will
be the perfect one for you…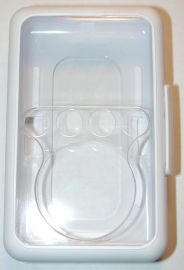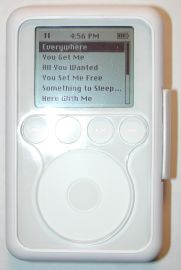 The Showcase is a clear plastic case with a soft white rubber coating around
the edges. This case is compatible with all the latest iPod models including the
newest 40gb version. For the thinner 10, 15 and 20gb models, a foam pad is
included to allow the case to fit properly. Since I have the 30gb model, using
this pad was not necessary.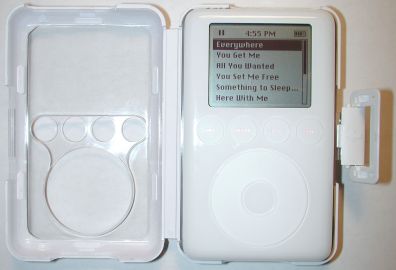 This case is unique in several ways. First of all, it opens like a book,
allowing the iPod to be easily inserted and removed as needed. Rubber bumpers on
the inside of the case keep the iPod cushioned and protected from any rubbing.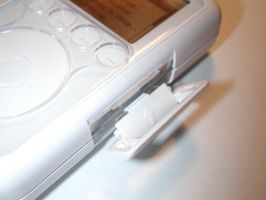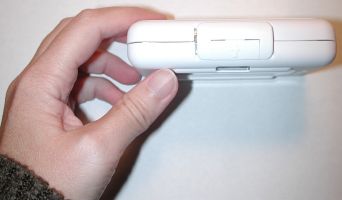 The Showcase is held closed securely with a strong plastic latch that will
not open accidentally. This closure system is reminiscent of a tackle box. When
closed, the iPod is protected on all edges. Openings at the top and bottom allow
access to the firewire port, earphone jack, and hold button. The front of the
iPod has a play through area including a large circular cut out for the
navigation wheel, and individual cut outs for each button. The clear plastic
used is nice and thick and does not flex. Even though the plastic is thick, I
found it easy to use all the features of the iPod.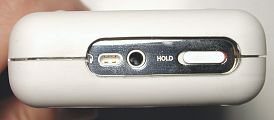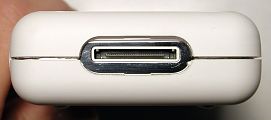 The back of the case also has a clear plastic window that allows you to see
the Apple logo. There are two open slots on the back of the case that function
as attachment points for an optional belt clip that is included.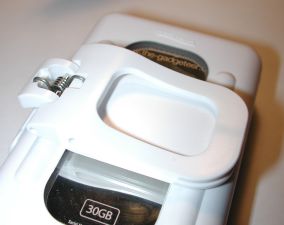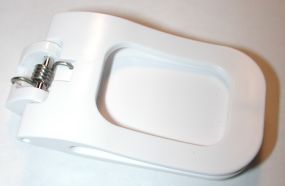 The belt clip uses a spring loaded grip clasp to hold it in the slots. The
grip is very strong and I don't anticipate it becoming dislodged by accident.
The clip itself is the slide-over-your-belt type. This is the least secure type
of belt clip, so don't recommend one for heavy use… especially while
jogging…
I really like the Showcase for several reasons. One is that it is easy to
remove my iPod whenever I need to. I also like the white color as it matches the
iPod very well. The rubber coating makes the case comfortable to hold securely.
I also really appreciate the thick play through front. I've been using the Vaja
iVod for awhile now, and even though I really love it, I just recently noticed
that the plastic between two of the buttons has split. :o(
If you want a new case for your iPod that is both protective, yet stylish,
and also includes a removable belt clip, the Showcase might be the one that is
jusssssst right for you!
 
Price: $39.95
Pros:
Protective
Play through
Non-slippery coating
Cons:
Have to remove to charge / sync with dock
Product Information
Price:
39.95
Manufacturer:
Contour Design
Pros:

Protective
Play through
Non-slippery coating

Cons:

Have to remove to charge / sync with dock