We use affiliate links. If you buy something through the links on this page, we may earn a commission at no cost to you. Learn more.
Maybe you are the type of person that is not satisfied with a watch that can
just tell time; you want one that can perform
other functions and replace other gadgets. Maybe you are watching your weight
and want a tool that can help you monitor your intake and exercise. Maybe you
don't want to pay an arm and a leg for a heart rate monitor that you can wear on
your wrist. If this sounds like you, then maybe you ought to take a look at the

Brando HR1001 Sport Sanitarian Watch.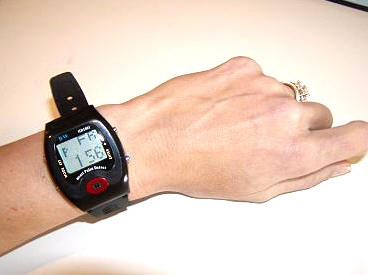 The HR is a plastic wristwatch that can be worn by either a man or a woman.
The strap is adjustable for wrists from approximately 5.5" to 8.75", which
should cover both ends of the spectrum.
At first glance, the watch really doesn't look like much more than your
average digital, except for the fact that there is a red oval near the bottom.
We'll get to the reason for that in just a moment.
Typical to most electronic watches, the HR shows the time with an "am" or
"pm" designation, as well as the first two letters of the current day.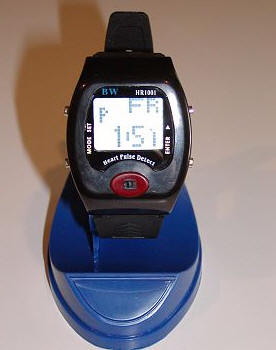 One click of the mode button, and you can display any of 16 different world
cities and their corresponding time.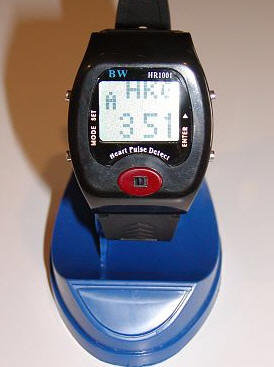 Another click of the mode button reveals the stopwatch screen. There is a
tiny icon of a runner sprinting, just in case you forget what screen you are
looking at…
Never miss one of our posts again. Sent MON, WED, and FRI with the latest gadget reviews and news!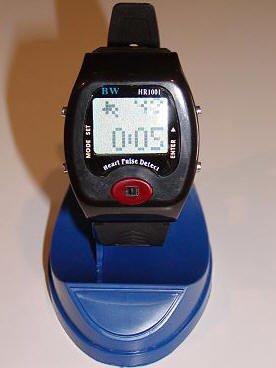 Another click of the mode button, and you are at Alarm 1. Another click
revels Alarm 2. When it Alarm goes off, it plays several bars of "Für
Elise" – a much nicer touch than your standard "di-do di-do."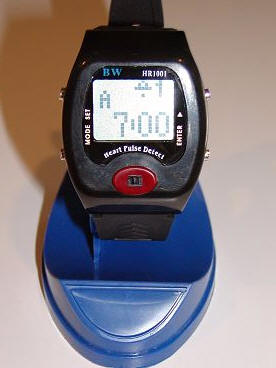 Alarm 2 can be set to go off at a particular time on a particular day, to the
tune of "Happy Birthday."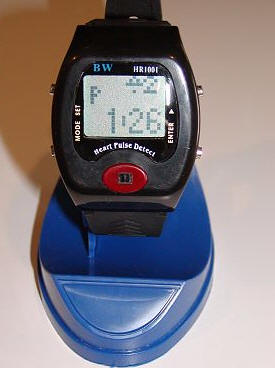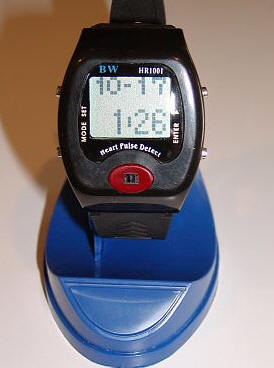 The fifth press of the mode button takes you to the Food & Sport screen.
While here, you can enter various foods and drinks ingested during the day.
Different animations of foods representing legumes, milk, animal, fish, egg,
vegetable, fruit and corn allow you to enter servings throughout the day.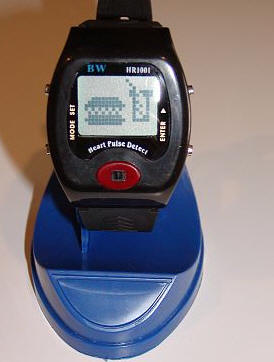 You can also enter different levels of activity throughout the day, from
sleeping, resting, low to intensive levels of movement. Each level has a cute
little stick man doing everything from laying on his back snoozing (like I wish
I was doing right now), to lifting free-weights (to signify intensive movement).
Too cute!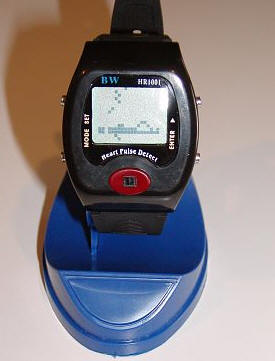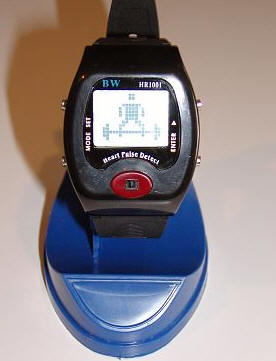 There is even a animated man that goes from skinny to obese in stages on the
watch's screen. When your calories consumed are less than your calories burned,
then a skinny man will appear with music. If the opposite occurs, then you get
the fat man with warning music.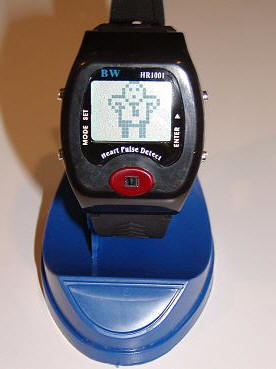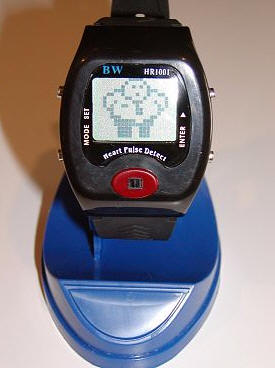 The items you enter each day will clear out by 8:00am the following day, but
the result will be saved so that you can compare it to your present day's
results.
Last of all is the cardio-tachometer test. This is the feature that uses the
previously mentioned red oval on the face of the  watch. There is a bit of
a trick to getting this feature to work reliably, and it involves your being
able to exert the correct pressure on the red oval. You also should sit still,
not talk, and try to relax…In other words it is not precise, but it is fun to
play with.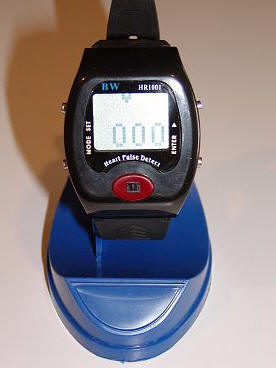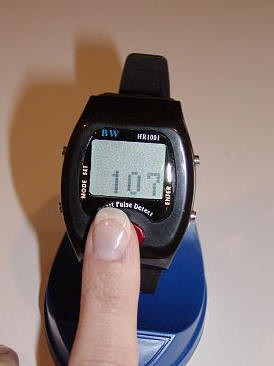 After being told that I had a resting heart rate of 45, I realized I was
pressing too hard. While the watch s gathering your heart rate data, a little
heart graphic will flash on the screen. Once it flashes steadily, you have it's
best calculation of your heart rate. Once I determined the right amount of
pressure to use, I was able to get a more realistic reading of 107.
There are at least two different screen savers that will pop up on the watch
when it is in "normal" mode. The way to tell if you have this feature on or not
is to look at the flashing colon (:) between the present time's hour and
minutes. If there are three dots instead of two, then after a period of
inactivity, the fun will begin.  I have seen the snail that scrolls across
the screen, trailing the word, "hello," a little man making faces, the aquarium
scene, the truck bouncing along the road, as well as a fellow in a rowboat with
a palm tree in the background.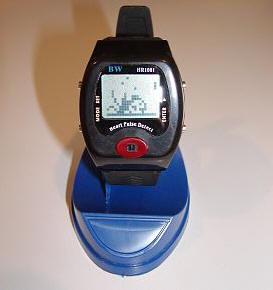 For such a simple looking watch, the HR1001 sure is a lot of fun!
If you have been looking for an inexpensive watch that does more than just
tell time, then the

Brando HR1001 Sport Sanitarian Watch might be the one for you.
Price: $25
Pros:
Inexpensive
Displays world time in 16 cities
Built in cardio-tachometer test
Built in stopwatch
Cute graphics and screen savers

Cons:
Heart monitor is a bit tricky to use
Product Information
Price:
25.0
Manufacturer:
Brando
Pros:

Inexpensive
Displays world time in 16 cities
Built in cardio-tachometer test
Built in stopwatch
Cute graphics and screen savers

Cons:

Heart monitor is a bit tricky to use