We use affiliate links. If you buy something through the links on this page, we may earn a commission at no cost to you. Learn more.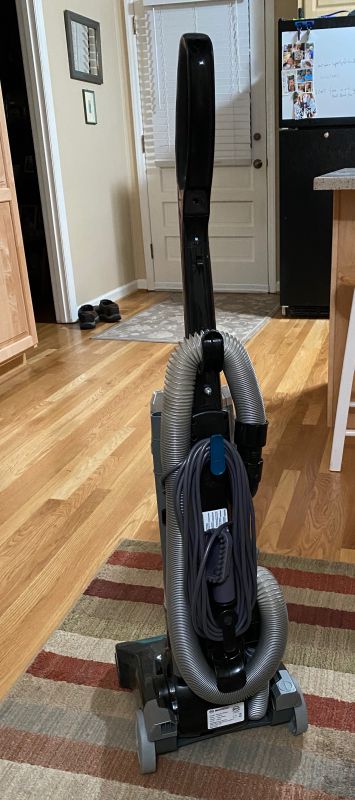 REVIEW – Few people I've met really like cleaning house. Many who say they do most likely like the result of cleaning house, not the process. All my life, I've used a canister vacuum, and thought uprights were somehow not as good. I was recently sent my second upright to review, the MooSoo Model U1400-a vacuum, and, begrudgingly, cleaned the house with it. Was I happy before, during, and/or after this experience? We'll find out in the review below!
What is it?
An upright vacuum cleaner with a removable dust bin and HEPA filtering for fine dust particles.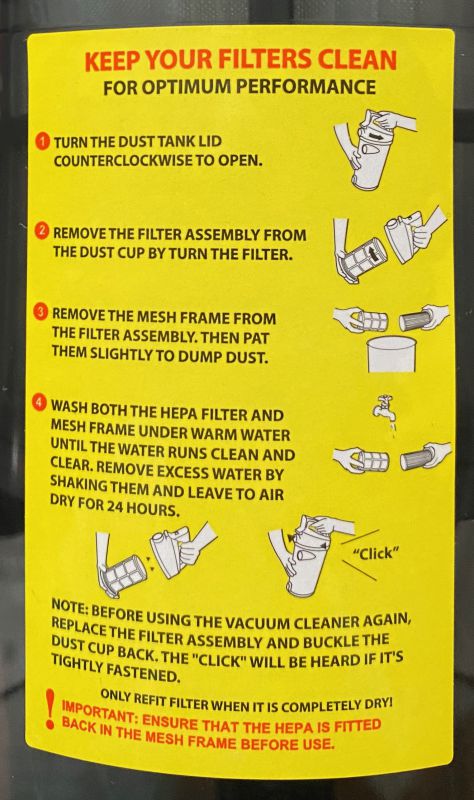 What's in the box?
The Vacuum comes in a shipping box with the handle in two pieces. It's a single screw to assemble it, and the rest of the items clip on.
Vacuum itself
Extending crevice tool
Furniture brush
Instruction Manual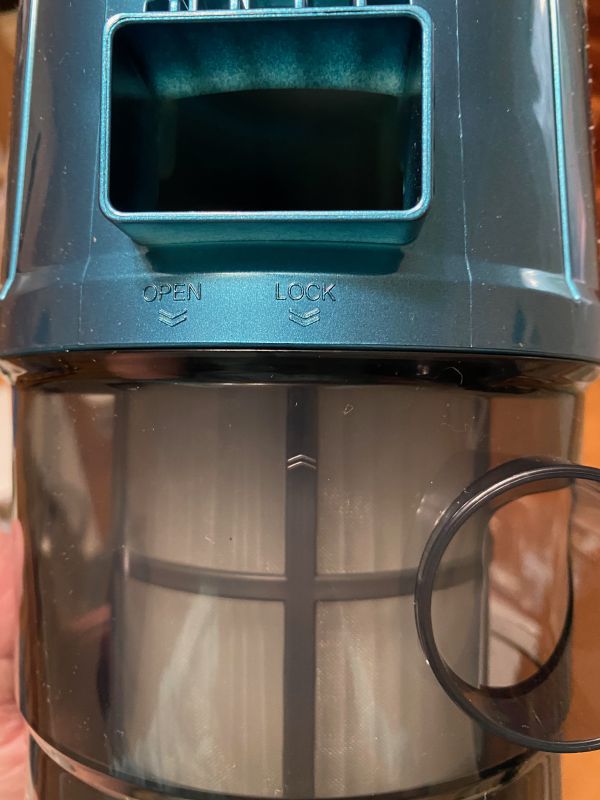 Features
– from company website
5 power tool settings to meet all floors and tasks
2.9L Dust Cup + 13.12ft Ultra Long Hose
20 Kpa powerful suction can capture 99.99% dust
3-in-1 Upright Vacuum Cleaner With a 400mm and 365mm crevice tool and extension tube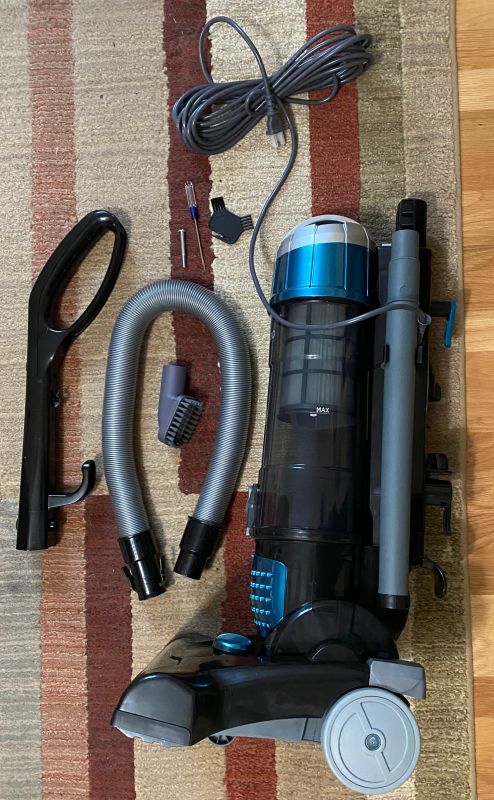 Design and features
The Moosoo Upright is almost invisible online. I did find a website (linked below) that shows this model as a wireless model, which I would find compelling, but the features and attachments are all the same. I've really only used one upright for more than a quick spot clean at friend's houses. I still prefer the Shark, but this unit I thought might be an interesting, less expensive model. Not hauling around the large head unit for cleaning stairs and furniture is certainly easier. But as I worked my way around the house, I started to notice more and more little things that took away from the experience. But let me get through setup and such first.
Setup
In order to pack into a smaller, sturdier box, the top part of the handle is not attached. There are two holes in the handle pieces (circled below) which are joined with the single screw included. There is also a small screwdriver included. The tubing and power cord holders are a bit long and routing them is not intuitive, but the illustrations in the enclosed manual help.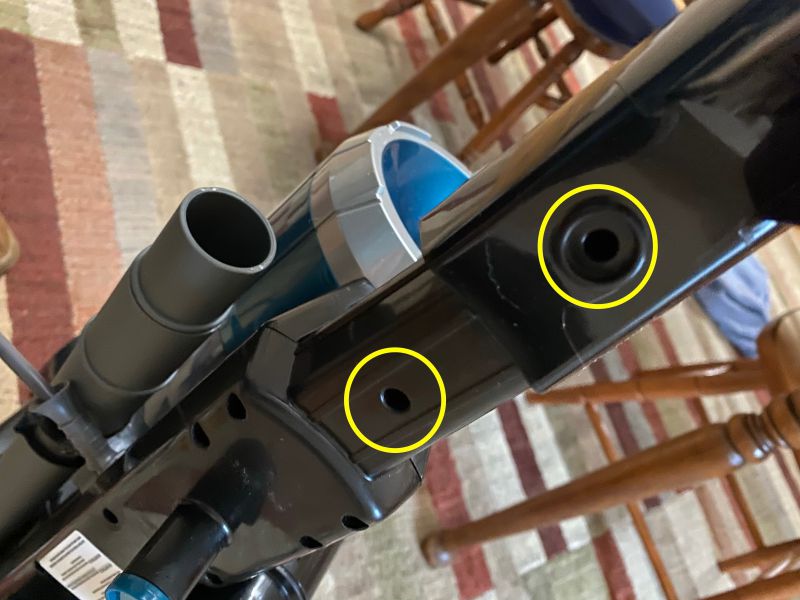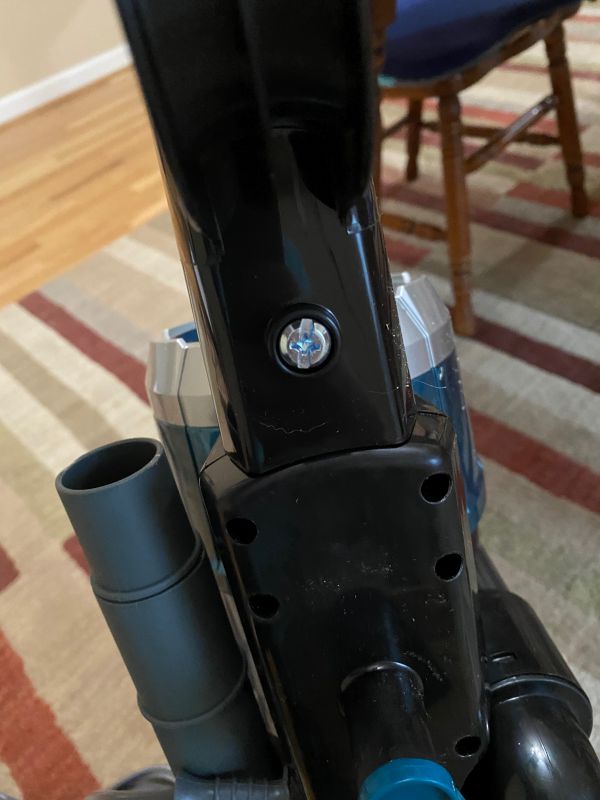 Performance
Using the Moosoo I thought was going to be simple: turn it on, push it over dirty floors, empty dust bin, repeat. Not exactly the way it happened. When I first turned it on, the suction was so hard that I could barely push it around on the area rug it was on. So, I turned it off and got into the manual's description of the various modes, selected by a dial on the face of the unit.
Now that I could actually push it, things were better. The furniture brush was OK on our navy blue loveseat, but pet hair is quite difficult for it, even in "tool mode". In order to use the tools, you don't have to remove the head unit and carry the whole thing around, you just unhook the hose from the upright and attach the tools to the end. Having a 13 foot hose certainly made this nice!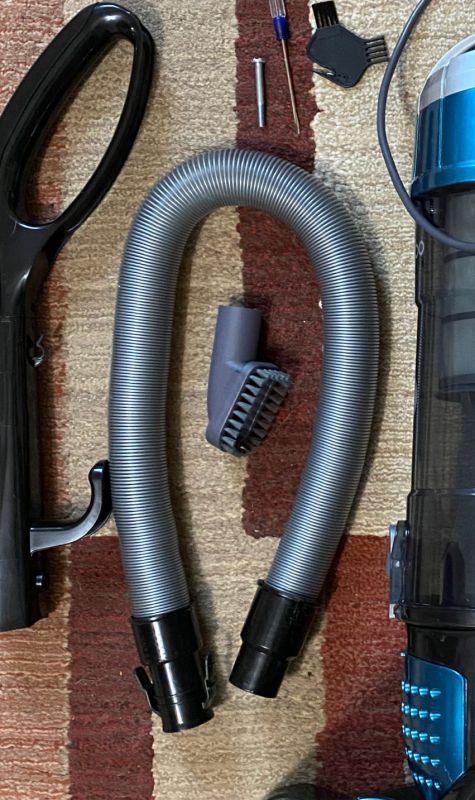 The HEPA filter is very large, fully immersible, and traps a lot of dust, dander and dog hair. Getting into it to clean it out is quite a chore, however. And now, I have a full sink of dirty water as well as a trash can full of dog hair and dirt.
Emptying the dust bin is okay, but the HEPA filter sticks down into it, taking up about a third of the space. And worst of all, the exhaust port for the motor exits in the front – directly into the path the vacuum is travelling. I've mentioned before that I have a Sheltie, and that they have a lot of hair that sheds everywhere. I can deal with that. But when I'm moving into a corner, see a huge hair ball needing to be captured, and push the vacuum toward it, the very last thing I want to see is that hair ball suddenly wafting ceiling-ward, forced out of my path by the blower power of the vacuum! With hard surface floors, this is complete frustration. Everything is pushed out of the way, and I finally resorted to using the crevice tool or the furniture brush for the corners and behind doors.
What I like
Nice large HEPA filter
Extendable crevice tool is clutch!
Long hose for getting up stairs or cleaning ceiling fans
What I'd change
Reroute the airflow to direct it ANYWHERE other than the direction of travel
Make the HEPA filter interface less prone to capturing dirt
The light on my unit never did turn on. Not sure what's up with that.
Final thoughts
I really wanted to like this vacuum. It looks fine, and has a few really nice features, but the blowing out from the front and the messiness of clearing out the HEPA filter were too much to bear. If you have carpet everywhere, you may fare better with it, but if you have hard surface floors, you're going to want to look elsewhere.
Price: $149.99
Where to buy: Company WebStore and Amazon
Source: The sample of this product was provided by Moosoo.