We use affiliate links. If you buy something through the links on this page, we may earn a commission at no cost to you. Learn more.
Product Requirements:
These protectors are available for
just about every make of PDA. A complete list is
here.
I am really impressed with the number of long-wearing PDA screen protectors
that have cropped up over the last two years. It wasn't so long ago that I was
buying WriteRights from the now defunct Concept Kitchen and cussing the fact
that I would have to replace them every three weeks or less. If it wasn't the
furrows that seemed to magically appear after a game of
Text
Twist or after any extended graffiti writing session, it was the bubbles
that never seemed to completely disappear – even though I was very
experienced at all the installation tricks. I would go through a pack of 12 in
way less than the year they were supposed to last. Don't even get me started on
the disgusting filmy residue that would be left on my PDA's screen every time I
would strip off a used protector…what a mess! But in the end, I put up with
the hassle because the alternative was to take a chance on scratching my screen
every time I used my PDA. Been there, done that – never again.
Since then, I have had the good fortune of being able to try quite a few high
quality protectors. Even though at first glance, this new generation seems
more expensive than the old sticky one, it is actually a much better value for
the money. Where I used to spend $20+ for a pack of 12 protectors that would
last less than a year, I can now spend under $20 and get one to three protectors
(depending on the brand) that will last up to a year each.
The latest that I have tried is the
EXiM Screen Protector,
from PDA-NOW. This protector is extremely
similar to the Brando version
that I previously reviewed. It is composed of a slightly thick sheet of plastic
that can handle months of heavy usage.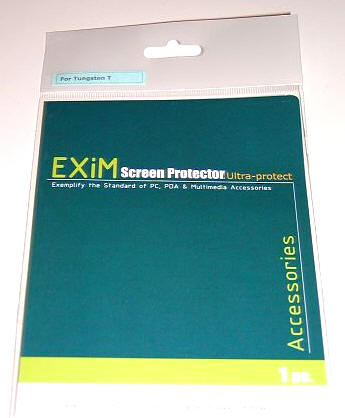 When you open the package, you will note that there is a thin sheet of
plastic that must be peeled off the actual protector. The surface that is
revealed has a silicone coating, which will stay tightly affixed to your PDA's
screen without the use of a sticky adhesive. An added bonus for this type of
system is that it is almost impossible to get a bubble when installing – but if
you do, you can just pull the protector up and lay it right back down. As many
of you will remember, that was impossible with the old sticky protectors.
Once installed, the EXiM will provide a glare-free yet highly transparent
protective cover for your PDA's screen. I did not feel that it affected the view
of my PDA's screen, and I liked the slightly textured surface that created a
"paper feel' when I would use a stylus on the screen.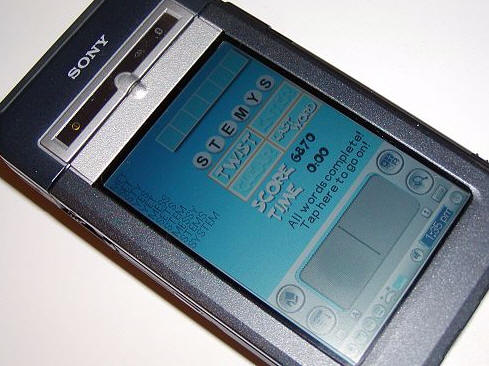 The EXiM Screen Protector is a does exactly as promised and offers an
economical way to protect your PDA's screen. If you are still not convinced that
you need some type of screen protection, then check out the
link that I found at the PDA Now
site.
The EXiM Screen
Protector is available from PDA-NOW.
Price: $12.99 includes free shipping
Pros:
Easy to install
Many sizes for many PDAs
Silicone based adhesive leaves no residue
Long lasting
Cons:
None
Product Information
Price:
12.99
Manufacturer:
PDA Now
Pros:

Easy to install
Many sizes for many PDAs
Silicone based adhesive leaves no residue
Long lasting

Cons: