We use affiliate links. If you buy something through the links on this page, we may earn a commission at no cost to you. Learn more.
Product Requirements:
A laptop computer with the dimensions
of 14" x 11′ x 2" or smaller, or up to 15" screen including 15" Apple Powerbook
and 14.1" iBook
There are people that need to bring the entire office along with them when
they travel, and then there are others that just need the basics – their laptop,
charger cord, and a mobile phone. For those that like to travel lightly,
Sanwa Supply has come up with a simple
laptop carrying case that may fit their needs.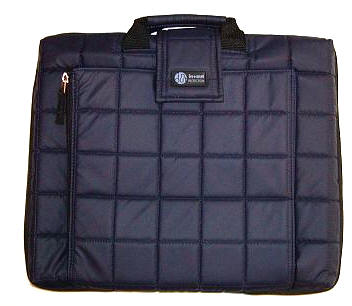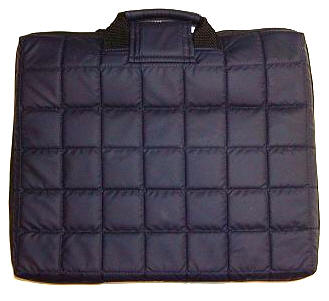 Composed of lightly padded and quilted nylon, the Sanwa reminds me of those
seats that people tote to outdoor sports game. You know the kind – there is
usually a handle on one end, it's made of foam covered in some kind of nylon or
plastic sheeting, and they are sized just big enough for an elf's bottom. In
fact, the material covering the Sanwa reminds me of those jackets we all wore in
high school with our school's team name embossed on the outside. Hmmmm…maybe
it's because the weather is finally turning a little bit cooler that I am
reminded so much of fall sports…Anyway!
The Sanwa is available in three colors, black, blue and grey. I was sent the
blue, which has an interior lined in a lighter sky blue – a nice combination.
The exterior is plain, its main point of interest being the quilted squares that
cover both sides. The front has a pocket that is open on the top, and that zips
for easy access on the left side. Inside this nylon lined pocket are two slots –
one for a cell phone and one for a laptop power cord. The main pocket is large
enough to hold a typical laptop charge cord converter.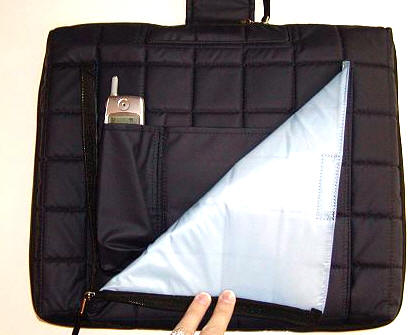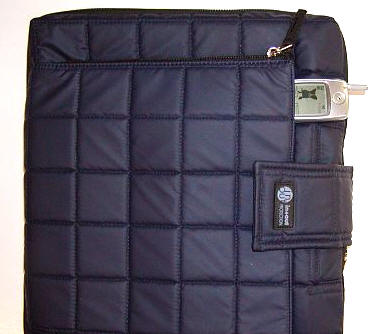 The only quibble I have with this pocket is that it is open on the top. Even
with the Velcro tab affixed, if you turn the Sanwa the correct way, your mobile
phone may take a dive.
There are two ballistic nylon handles on the top of the bag, which are padded
with the the smoother nylon of the case's main body. Each side of the case has a
pocket secured with a thin strip of Velcro into which these handles can be
retracted.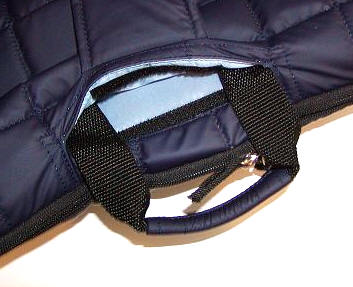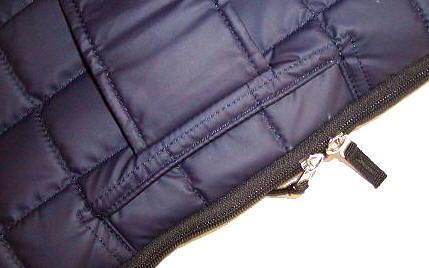 Unfortunately, there is no shoulder strap or points at which to attach one.
Therefore, other than perhaps cradling the case in your arm (like a folio/book),
the handles are the only way to carry everything.
A double headed, non-branded zipper runs for almost the entire diameter of
the case, allowing easy access to the laptop inside. An added benefit to this is
that when your computer is inside, you can unzip the case enough to allow access
to the majority of the laptop's back panel – making it convenient to leave it in
the case while cables are connected.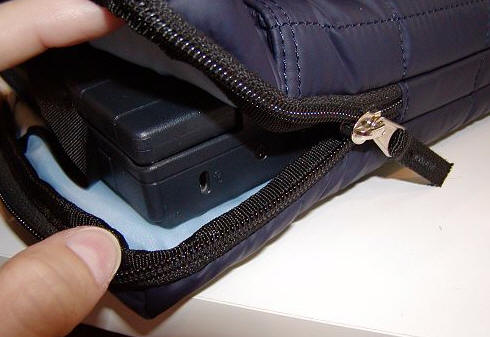 The interior of the case, as I mentioned before, is lined in a lighter blue
nylon. There are two elastic straps on the bottom layer with which you can
secure the case to your laptop, as well as two removable ribbons that will keep
the case from flopping open when empty. There are two wide elastic loops at
either side of the top layer, which could be used for holding a mobile phone, if
you were using one as an internet connection.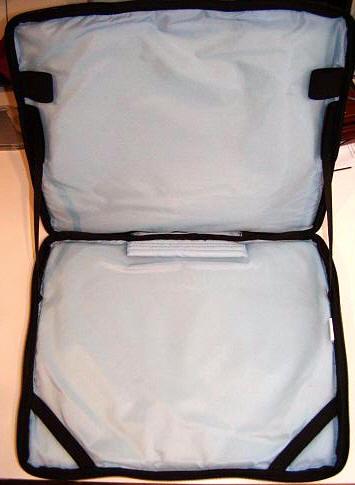 I put Steve's HP Pavilion ze1110 laptop inside the Sanwa, and as you can see
it fit very well. His laptop measures 12.5" x 10" x 1", and there is still room
to spare.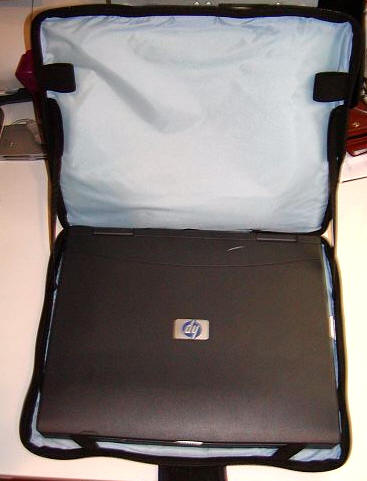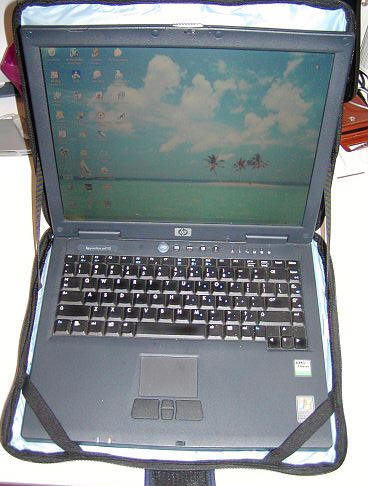 One last thing that I should mention is that there appears to be a piece of
ABS plastic inside the lightly padded top and bottom layers of the case, which
would probably add a bit of protection when carrying from light bumps into blunt
objects.
Overall, the Sanwa appears to be constructed of quality materials and would
be a good choice for those that want a light case and that prefer to not use any
animal products.`
The Sanwa Supply In+Out Notebook Computer Carrying Case is available at
Semsons & Co.
Price: $59.99 MSRP
Available in black, blue & gray
Pros:
Vegan friendly
Light
Laptop can be used while in carrying case
Cons:
Expensive
No shoulder strap
Product Information
Price:
59.99
Manufacturer:
Sanwa Supply
Pros:

Vegan friendly
Light
Laptop can be used while in carrying case

Cons:

Expensive
No shoulder strap