We use affiliate links. If you buy something through the links on this page, we may earn a commission at no cost to you. Learn more.
I'm a gear bag fanatic. I am constantly scouring sites like
eBags.com to see if there are any new bags that
I might like to buy to carry around all of my daily junk. At the moment, my favorite bags are a

Louis Vuitton Nil that Judie got me for my birthday, and the
Small
Cozmo Waterfield bag. The problem that I have with all gear bags is the fact that they
are too big and bulky to carry around everywhere you go. Even though I use mine
as a pseudo purse to carry my gear to and from work, once I get into the
building, I never take the bag back out with me if I need to leave to go to an
appointment or to lunch. Instead, I pull out my cell phone, billfold, PDA, car
keys, and sunglasses and try to juggle them as I make the trek back out to my
vehicle. I guess I could get a small purse and use it for those occasions where
I need to carry a few items, but then I'd have to carry two bags around. Hmmmmmm,
what's a gadgeteer girl to do?
The good news is that I think I have found a solution to my dilemma. The bad news is
that this solution is only seasonal. My solution is to replace my gear bag or
purse with the latest version of the SCOTTeVEST. This is the 3rd incarnation of
their jacket in as many years, and I believe that version Three.0 is their best
jacket yet! If you recall, I reviewed their first
vest (which made me look like
a deep sea fisherman), and Judie reviewed version
2.5. The version Judie
reviewed was much nicer than the first version, but it didn't give me those
'must have now' feelings. This is not the case with version Three.0. I MUST HAVE
this jacket!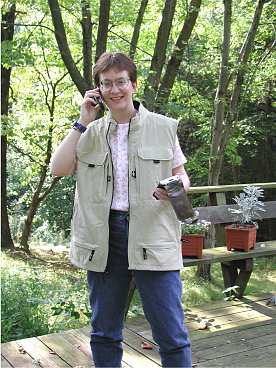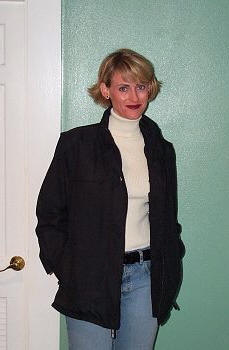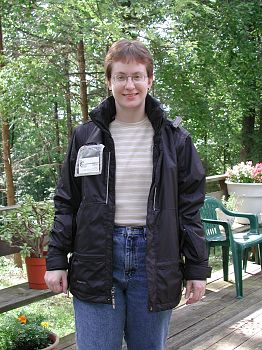 Left to right: Original SCOTTeVEST, v2.5, Three.0 FineTex
Actually version Three.0 is now considered a system instead of just a jacket.
That is because there are now three separate jackets. A FineTex version, a
Microfiber version, and a Fleece version. The FineTex and Microfiber are
available in red or black, and are very similar in look and style to the version
2.5 which Judie reviewed. The Fleece version is new and is only available in
black with a yellow collar. All of the versions have the popular PAN (Personal
Area Network) wiring system, removable sleeves, and too many pockets to count. They can be purchased and
worn separately, but you save money if you decide to purchase a system. The
systems consist of either a FineTex or Microfiber jacket with a Fleece
jacket. I was sent the FineTex and Fleece system.
Let's take a look at the FineTex / Microfiber jacket first. You might be asking, what are the differences between the Microfiber and
FineTex versions. FineTex material is comparable to Gore-Tex, only less costly. This
material is both waterproof, breathable and heat insulating, making it a great winter
jacket. The Microfiber version is more of a Spring / Fall type jacket. It is
water repellent, but not waterproof. It is less expensive that the FineTex
jacket, while also looking a little dressier. There a few other differences
between the two versions, which I will address as I go through the features.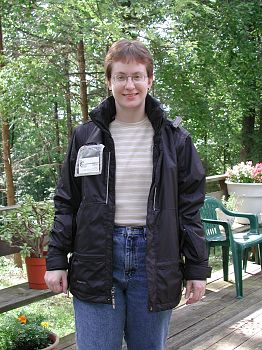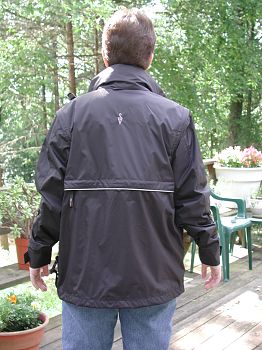 As you can see from the images above, this jacket is more suited for cold
weather. Take it from me when I tell you that the FineTex material is quite heat
insulating. I took these pictures and tested this jacket in July when it was
over 90 degrees in the shade. I thought I was going to pass out during the
'modeling' process! ;o)
Empty, the FineTex jacket weighs in at approximately 3lbs. That might sound
heavy, but you really don't feel it as the jacket evenly distributes the weight
across your shoulders. This is a good thing as you can totally load this jacket
with all your gear (and then some). Check out the stats (measurements are for
Large size):
Exterior Pockets: 11
Exterior Zippers: 18
Exterior Length of Zippers: 214.5"
Exterior Capacity (excluding depth): 1,100 sq inches (848 front +60 sleeves+192
back)
Interior Pockets: 19
Interior Zippers: 5
Interior Zipper Length: 45"
Interior Capacity (excluding Depth): 510.75 sq inches
TOTALS:
Pockets: 30
Zippers: 23
Zipper Length: 274"
Capacity: 2,312.75 sq inches (excluding depth)
 
30 pockets! WOW! That's 8 more than version 2.5 had. Actually with so many
pockets, you can almost misplace your stuff! During the review, I kept thinking
that a map of where I had stowed my gear might be a nice feature to add. Once
you get a system going, you'll have a place for everything and won't feel
overwhelmed.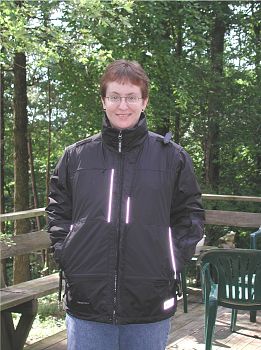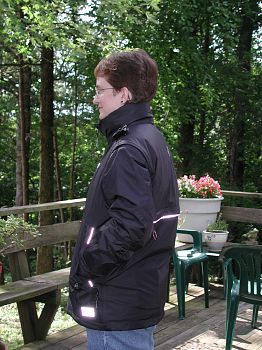 I found the FineTex jacket to be very comfortable to wear. The exterior has
the feel of an expensive windbreaker jacket. Strategically placed reflective
piping is sewn into the edges of the main outside pockets (not included in
Microfiber version). The piping appears grey not reflecting light (see pictures
above). The 4"  collar is lined in a soft felt like material that keeps
your neck toasty when fully zipped up. It also hides a removable hood.
As mentioned above, there are 10 exterior pockets (I actually found 11):
1 deep zippered slash hand pocket on each side
1 horizontal pocket on the outside of each slash hand pocket
1 vertical breast pocket (see the reflective piping above)
1 horizontal pocket above the breast pocket
1 pockets that runs along each forearm (not included in Microfiber jacket)
1 large pocket in the back (see reflective piping)
Each of these pockets is zippered with its own pull. One cool thing I would
like to mention is that the jacket comes with a card in every pocket. The card
gives you suggestions on what you might want to store in the pocket. It makes
exploring the jacket fun.
The right horizontal breast pocket has a pull out clear ID holder. It comes
in handy at airports, trade shows etc.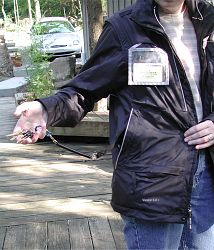 The large slash hand pockets have several hidden features. Both pockets have
a key-holder. The right pocket as a stretch spiral cord that you can attach your
keys to. You don't even have to remove the keys to use them, just pull the cord
from your pocket and stretch it to the ignition. The left pocket also has a
key-holder, but it is not on a stretchy cord. This pocket also has a PIP (Pocket
in Pocket) feature inside. The pocket is separated by a half zipper that gives
you a small area on the outer area of the inside pocket. When closed, it creates
a small pocket inside the main pocket. I found that I could attach my keys to
the key-holder and then put the keys in the PIP. That way, I could put my little
Sony U20 camera in that pocket
and not worry about the keys scratching it up. The left pocket also has a water
bottle holder. It's actually a wide elastic band. I personally wouldn't want to
use this as I wouldn't care for the bottle to sweat in my pocket.
The outer edges of hand pockets have Velcro seams, so that you can break into the back section of
the jacket where there is a huge thin pocket. There is also a large zippered
pocket accessed from the back which can hold a magazine or even laptop.
Besides the exterior pockets, there are also epaulets on the shoulders,
plastic D rings at the outside of each elbow and a baseball cap holder. You can
use the epaulets to attach a mobile phone, mp3 player, 2 way radio etc. It's a
nifty way to show off your gear. If you don't want to use them, they blend in
well with the jacket and remain hidden. The baseball cap holder is located on
the left side hip area of the jacket (not included in Microfiber version).
The jacket is fully adjustable to make the fit just right. The sleeve cuffs
have Velcro so that you can adjust them to be as tight or loose at the wrists as
you wish. The waist is also adjustable using plastic toggles.
Now let's take a look at the guts of the FineTex jacket, its interior. The
jacket is lined in a black meshy material called CoolMax which is quick drying
and breathable.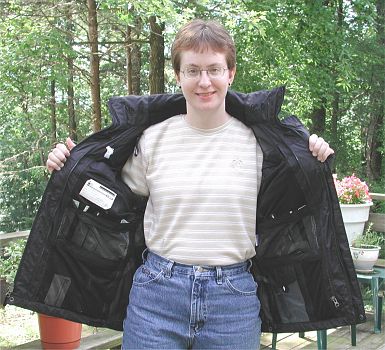 As far as pockets, the interior has a total of 19. Some of the pockets and
features include…
The PAN (Personal Area Network) connects most of the pockets in the jacket.
It allows you to wire up your devices so that you can keep the device in one
pocket while the earphones in another. For example. there are 2 small mesh
pockets near the neck on either side. These can hold your ear buds. The wire
from the ear buds can then be 'fished' through the PAN to another pocket which
holds your iPod. Small elastic loops along the neck line of the jacket allow you
to wire the ear buds behind your head. Very cool!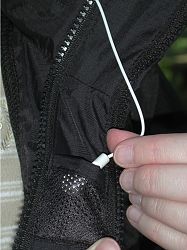 An owner ID tag where you can write your name and address in the event you
lose the jacket is located on the inside.
Below the ID tag, is a Velcro sealed pocket which also has a PIP feature.
When the PIP is unzipped, this creates a very deep pocket which is useful for
holding pads of paper, documents, paperback books etc.
Below this pocket is another zippered pocket which I used to hold my iPod.
The left side is similar to the right side, but instead of the ID tag, there
is a zippered pocket with an eyeglass cleaning cloth on a clip. Below it is an
identical large PIP pocket with a Velcro closure.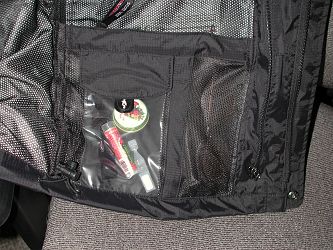 Below it is a clear plastic pocket and beside it a narrow pocket which I used
to hold my sunglasses.
I also need to mention that true to the SCOTTeVEST name, these jackets have removable sleeves.
They are also designed to allow some common fleece liners, such as those from
Northface to zip into them depending on zipper lengths. If you buy the system, or the SCOTTeVEST Fleece
jacket, you can use it as a liner for those REALLY cold days.
I really like the Fleece jacket. Of course, it doesn't have even half as many
pockets as the FineTex or Microfiber, but is lighter weight and very soft. Here
are the specs.
Exterior Pockets: 5
Interior Pockets: 7
Total Pockets: 12
Total Zippers: 13
ZIP length: 151"
Total Capacity: 938 sq inches
 
Empty, the Fleece jacket weighs in at approximately 2lbs. All but the upper
front shoulder area, collar and waist band are made of machine washable non
pilling Fleece. It is very comfortable to wear even on slightly
warm days.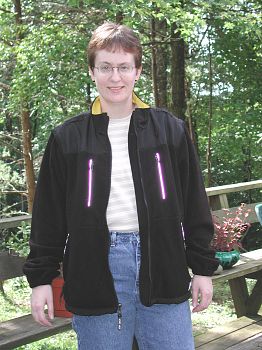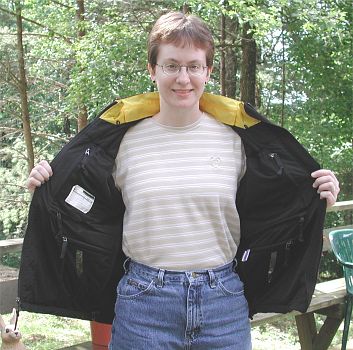 Like the FineTex and Microfiber jackets, the Fleece jacket is also lined in
the same CoolMax material. It also has most of the same major features and
pockets such as:
Reflective piping
PAN
Ear bud pockets
Epaulets on each shoulder
ID owner tag
Adjustable waist band
Deep hand pockets / right side has a spiral key holder
Ear bud holders
Removable sleeves
Inside camel water system pocket and straw holder
When you combine the Fleece shell (without the sleeves) and the FineTex
jacket, you get a very warm and somewhat heavy jacket with a ton of storage!
TOTALS for jacket plus fleece
POCKETS: 42
ZIPPERS: 36
Zipper Length: 425"
Capacity: 3250.75 sq inches (excluding depth)
During the review period, I loaded down the jackets with the normal stuff
that I carry with me to work every day in my gear bag. This included:
sunglasses, eye drops, car keys, Sony U20 camera, Tungsten | T PDA, pill box,
lip balm, ID badge for work, several SD and CF cards, several Gadgeteer business
cards, cell phone, billfold, iPod, B&O earbuds, pack of chewing gum, and a
magazine. Not tons and tons of things, but my normal everyday gear. More than
I'd ever want to stuff in my pockets. If you look at the pictures above where I
am wearing the jackets, all the gear I just mentioned is in the pockets. Both
jackets were remarkably comfortable to wear and walk around in with that amount
of baggage.
SCOTTeVESTs are quality garments that make a gadgeteer's life easier while adding
style and gee whiz appeal. The FineTex is going to be my new Winter jacket, and
the Fleece will be my Spring and Fall jacket. No more gadget juggling for me!
Price: $199.99 FineTex, $159.00 Microfiber, $129.99
Fleece, $309.98 FineTex and Fleece system, $269.98 Microfiber and Fleece system
Available in sizes Small – XXX Large
Pros:
Pockets, pockets, and even more pockets!
PAN
Hidden features and secret pockets
All of the jackets are machine washable
Cons:
Too many pockets?
Can be heavy when loaded with gear
Product Information
Price:
199.99
Manufacturer:
SCOTTeVEST
Pros:

Pockets, pockets, and even more pockets!
PAN
Hidden features and secret pockets
All of the jackets are machine washable

Cons:

Too many pockets?
Can be heavy when loaded with gear