We use affiliate links. If you buy something through the links on this page, we may earn a commission at no cost to you. Learn more.
It is fairly annoying to try to locate new places where your WiFi equipped
laptop or PDA will pick up a signal, if you don't want to continually set it up
and experiment (perhaps attracting curious onlookers who then smirk when you
can't get a signal). My experience with Starbucks, hotel, and other hotspot
employees is that many have never heard of WiFi hotspots, don't know if they
have them, and would rather tell you "no" than invite other questions they can't
answer, or take the time to direct you to someone more knowledgeable. If you
don't get a signal, is there one present but too weak, should you try another
spot 10 feet away, or is your computer having issues that need to be addressed?
What you need is a WiFi signal sniffer.
Last March, a company called iDetect had a gadget mentioned on the-gadgeteer.com,
a credit-card sized WiFi sniffer. As a new WiFi Websurfer on my
Sharp Zaurus SL-C700, I took an immediate
interest in this, and emailed the company to learn about product availability.
They promised it for April, but as April passed and May and June, and the web
site showed no updates, I lost hope. Then the web site vanished. I was a sad
surfer. But recently Kensington
announced a non-vaporware product, much like the iDetect model if somewhat
thicker than optimal, which I got last week.
802.11b and 802.11g signal sniffer, Model 33063
Size: 3"x 2 ¼"x 3/8"
Weight 1.1 oz.
2x 2032 button batteries "can last well over 1 year" depending on use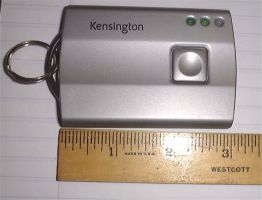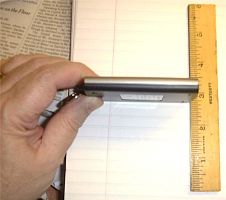 You push the button, and get a reddish blink from the right-hand LED, and the
device keeps blinking white for a few moments while it searches for a WiFi
signal. If it finds one, it turns green, and the other two lights go on as the
signal gets stronger and stronger (I never had more than two green lights,
however).
Alas!!!! I took it around to some known local hotspots, Starbucks and Bryant
Park. At one Starbucks, where I have happily signed up and logged onto the
T-Mobile network many times, I got two green lights at the door, but no signal
indication elsewhere in the store. At another Starbucks I didn't get any green
signal anywhere; however, when I whipped out my Sharp Zaurus C700 with Linksys
CF WiFi card I had no trouble logging on anyway. In Bryant park, where there is
a public WiFi network, I got one or two green lights in some places, nothing
elsewhere, though I was able to log on with my C700 anywhere I tried. Tech
Support at Kensington reports that there have been other findings of problems at
Starbucks, perhaps because this is a "closed network," whatever that means. I
did get a surprise when I accidentally pushed the WiFi Finder button outside my
office door and got two green lights (my office doesn't have a WiFi network); a
colleague reports that his laptop also often picks up a signal from the law firm
downstairs from us. My C700 found this signal and tried to initialize on it but
failed (now that is what I would call a "closed network").
This is a product that I feel has a need and a market. The technology of
screening out non-WiFi signals at 2.4 GHz, from cordless phones, Bluetooth
networks and microwave ovens, exists in my CF card, so I am confident someone,
maybe even Kensington, will get it right soon. But this product is not the
answer.
Price: $25-30
Pros: 

Great idea
Price I am willing to pay for it
Okay form-factor (smaller would be nice)
Cons: 
Doesn't work right
Product Information
Price:
25.0
Manufacturer:
Kensington
Pros:

Great idea
Price I am willing to pay for it
Okay form-factor (smaller would be nice)

Cons: