We use affiliate links. If you buy something through the links on this page, we may earn a commission at no cost to you. Learn more.
Product Requirements:
An assortment of gadgets and
accessories that need an organized carrier
Somewhere in that area between wearing a pair of cargo pants and carrying a
full-blown laptop bag, there exists a no-man's land. I call it a no-man's land
because it is in this area where women have a distinct advantage…we get to
carry purses.
When men need to carry their PDA and cell phone, they have to stuff these
items into their pockets and/or onto their bat-belts.  Add a couple of
accessories such as a charger cord, additional memory cards or a digital camera,
and the point quickly comes where bulky pockets and over-accessorized belts lose
their appeal.
Of course, women also reach a point where a purse is no longer the best
option. Let's face it, we don't want to have loose batteries rolling around next
to portable charging cables and our wallets or lipstick.
When you are carrying enough gear that you have no places to safely stow,
then that is the point when a gear bag must be used.
There are typically two bag styles from which to choose: messenger or
briefcase. Both styles are great if you are carrying a laptop and a couple of
accessories, but what if you don't need that large of a bag, you just
need something big enough to carry all of your "stuff"? Enter the new
Podzilla
bag by RoadWired…
Based upon the innovative design of their
Pod bag, RoadWired has resized and reworked the original. Podzilla is a good
looking bag that anyone, including manly-men, can carry. For those that like to
keep things simple, Podzilla is available in a black/black or navy/black
combination. For those that would rather spice things up a bit, the color
combinations titanium/black, yellow/black, red/black and olive/black are also
available. I received the red/black model, which has the added benefit of almost
perfectly matching my Swiss Army luggage, for when I travel.
Podzilla measures 9.25" tall x 9" wide x 6.5" thick, weighs 1.5 pounds and
has an exterior composed of  water-repellent1050 denier ballistic nylon
with an interior lined in smooth nylon pack cloth. This bag is extremely well
made, well padded and gives you a general feeling of quality.
Let's break down the features of this bag and see if Podzilla should be
your next gear bag.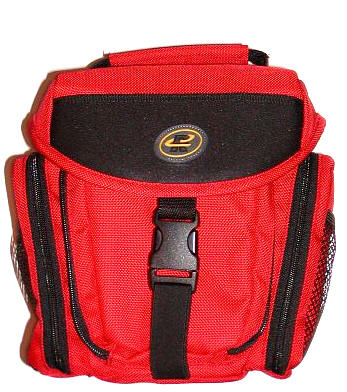 Podzilla's exterior is essentially the same style, albeit larger sized, as
the previously mentioned Pod bag. When looking at it head-on, it resembles a
traditional camera bag, mainly because of the oversized lid. The rubberized
RoadWired logo is displayed on a background of black neoprene.
The top of the bag forms a water resistant cover for the main interior
compartment. It is held closed with a composite quick-release closure. There is
also a strip of Velcro to keep the lid down for those times when you are
actively using the bag and don't want it completely secured.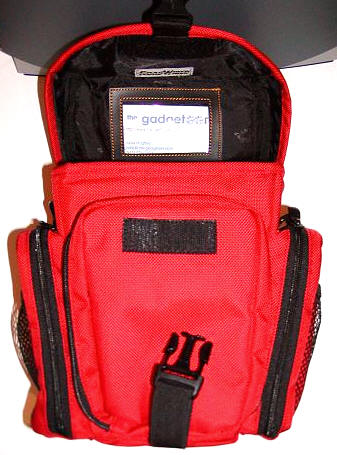 The rear of the bag is flat and sports a padded mesh background, in front of
which are four seat-belt grade webbing loops that a belt can be passed through.
I personally think that Podzilla is too large to wear on a belt, but there may
be those out there that would like this feature.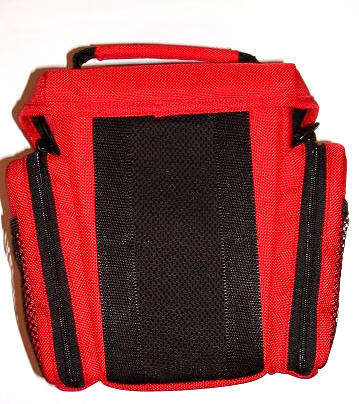 Podzilla has a flat bottom which allows it to be set upright just about
anywhere when not being carried; this is handy as it eliminates any fear of the
bag toppling over.
The front and two sides of Podzilla are three multi-talented compartments.
Each is gusseted to prevent the contents from spilling, and each closes with a
self-repairing zipper. Each has a different function, so I will start with the
left side.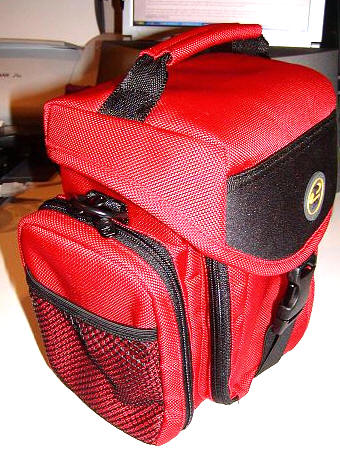 The exterior of the left compartment has an open elastic topped mesh pocket,
which is perfect for holding a smaller water bottle, assorted cords, or any
other smaller items to which the owner needs easy access. The interior has four
compact flash sized memory card slots which are sewn on three sides to keep each
card in place. Opposite these slots is a pocket with a Velcroed flap closure
that would be perfect for holding PCMCIA sized memory card adapters or other
similarly sized items.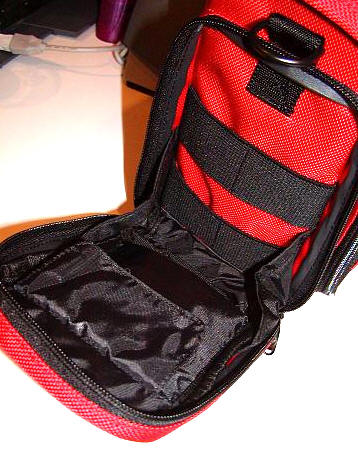 The front compartment is plain on the outside, except for the previously
mentioned patch of Velcro. The interior has seven wide elastic loops that can
hold either AA batteries or writing pens. Underneath these loops are two wide
Velcro slots that can hold two C or D sized batteries. Opposite these slots is a
mesh pocket that stays securely closed with a patch of Velcro. It would be
perfect for any small loose items that need more security than the exterior mesh
pockets provide..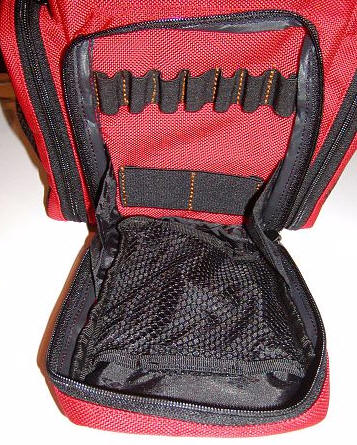 The exterior of the right compartment mirrors the left by also having an open
elastic topped mesh pocket. The interior of the right compartment has two orange
bungee cords over a wide elastic panel pocket. This is a perfect area for taller
items that need to be securely held. Opposite this section is another pocket
with a Velcroed flap closure.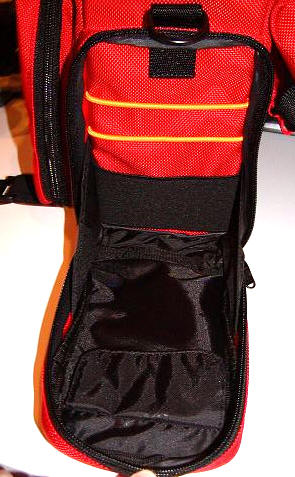 The Podzilla's oversized dual-closure lid has a padded handle for those times
when you just need to pick it up and go. I prefer a more substantial rubberized
strap, but this one will do. There are metal loops on either side of the bag
that the adjustable thin webbed shoulder strap can attach to. Personally, I like
a more substantial strap with a bit of padding at the shoulder. Since this one
doesn't offer any, I switched it out with a padded strap I had from another bag.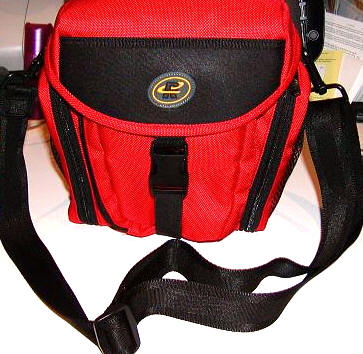 Opening the lid reveals a padded main compartment that offers enough
protective room to hold a full-sized camera (digital or 35mm SLR) or any other
portable electronic devices up to 8" tall x 6.25" wide x 6.5" thick. Because
there is a removable stiffly-padded segmented divider that can be Velcroed into
this main compartment in a variety of configurations, you can actually carry a
camera with a massive lens without worrying that it won't be properly supported.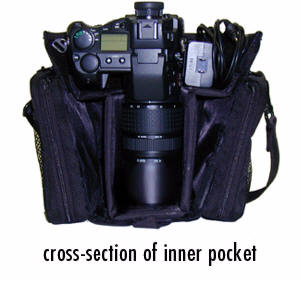 Picture on left courtesy of RoadWired website, picture on
right is the removable segmented divider
You can also completely remove that divider and fill the compartment with
your own odds and ends. As you can see in this picture, about 1/3 of the main
compartment is lined in soft loopy Velcro, while the remainder is lined in the
smooth nylon.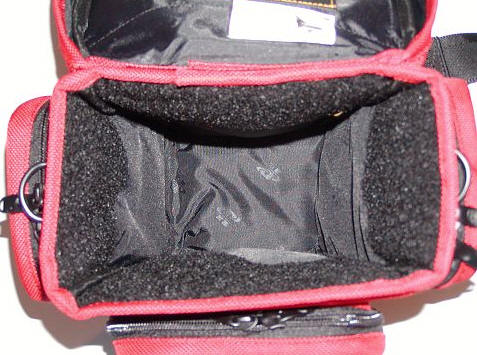 Inside the lid is a clear plastic slot where you can put a business or ID card.
There is also a secret compartment where you can slide credit cards or a bit of
cash.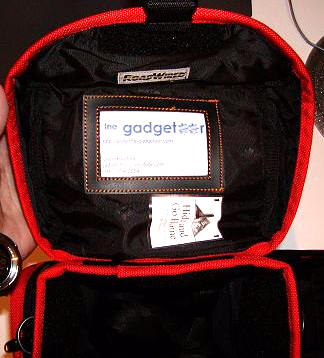 In all, there are over 20 pockets and compartments included in the Podzilla
just waiting to be filled with your gear. Here is what I was able to fit in
mine: Sony CLIÉ NZ90, iPAQ 5450, a
complete Seidio Data Power
Package, a Cannon Powershot S330 camera, a Sony Cyber-Shot U camera, two
multi-pens, four AA batteries, AC & DC power adapters for the CLIÉ, three
compact flash memory cards, the Sony CF PEGA-WL110 WiFi card for the CLIÉ, a CF
->PCMCIA adapter, a 4inOne
PCMCIA card reader, the Canon's battery charger, and the Cyber-Shot's
battery charger…whew! See why I prefer a padded strap? ;0)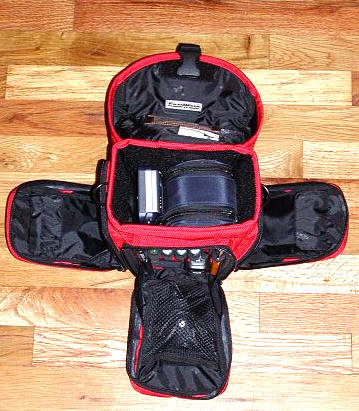 Podzilla is amazing because it can carry just about everything one
might need throughout the day- short of a laptop computer – without bogging the
wearer down. It looks great while keeping its contents organized. Podzilla is
extremely well made of quality materials. It would make a worthy gear bag for
men and women alike.
Price: $69.95 available in Black/Black,
Titanium/Black, Navy/Black, Yellow/Black, Red/Black and Olive/Black
Their warranty is pretty simple:
If you buy a RoadWired case and don't love it, return it.*
If your RoadWired bag or case fails due to manufacturing or material
defects, we'll fix or replace it.*
*complete
warranty details
Pros:
Extremely well made
Padded protection for all of your gadgets and their accessories
Will keep your daily gadgets and their accessories extremely organized
Cons:
No padding on shoulder strap
Product Information
Price:
69.95
Manufacturer:
RoadWired
Pros:

Extremely well made
Padded protection for all of your gadgets and their accessories
Will keep your daily gadgets and their accessories extremely organized

Cons:

No padding on shoulder strap