We use affiliate links. If you buy something through the links on this page, we may earn a commission at no cost to you. Learn more.
I've been on a quest to find an everyday watch that is worthy enough for a
Gadgeteer like myself. Although I'm only in the first stages of my search, I was
pleasantly surprised when I happened upon The Reveal watch available from
ThinkGeek.
It seems like 99.9% of the cool watches on the market are for men. For me, this
means that they are either too masculine looking and almost always too large for
my 5.5 inch wrist. Happily, the Reveal watch has a unisex design and fits me
when I use the last notch on its black leather band.
The Reveal Watch, made by Projects
has a black stainless steel case, glass face, black leather band, Japanese
quartz movement, is water-resistant up to 30 meters, and comes in a very nifty
metal tin.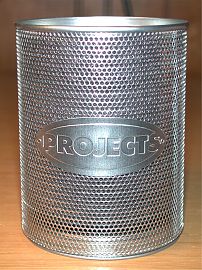 It is 1.38in (35.1mm) from edge to stem edge, and 0.32in (8.2mm) thick. It
weighs 1oz (29g).
But what makes this watch Gadgeteer worthy, is the interesting way in which
it tells time. It is an analog watch with a digital feel. True to its name, only
the current hour and minute are revealed while the rest of the
watch face is hidden. Actually, you can see the hour numbers to either side of
the current hour… same with the minutes. But, the current hour and minute are
white, while the other numbers are darker and less distinct. All of the other
numbers are hidden under a black rotating disk. An outer disk for the hours and
an inner disk for the minutes. In the very center of the watch is a very small
disk with a white dot on the edge. As this disk rotates, it serves as the second
hand.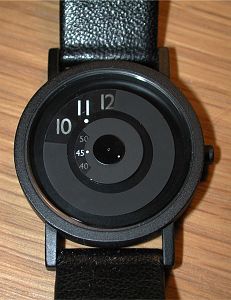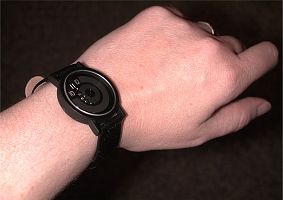 That's it. No alarms or super duper gee whiz features. It just tells time.
But the watch is 'different', which is why I like it. I've had several people
ask about the watch during the 2 weeks I've been wearing it. When they first
look at it, they have a puzzled look on their face as they try to figure it out.
Quickly they understand how to read it and then they ask where I bought it.
The Reveal watch is comfortable to wear, easy to read and has been keeping
time correctly so far. The watch has a nice sized stem, so it is easy to pull
out and set the time. If I had to change anything about this watch, I would add a date
feature and would make it available in different colors. But as is, it's on my
wrist everyday, until I find something 'better'.
 
Price: $59.99
Pros:
Interesting time keeping design
Classy, minimal style
Cons:
Doesn't show the date
Only available in black
Product Information
Price:
59.99
Manufacturer:
Think Geek
Pros:

Interesting time keeping design
Classy, minimal style

Cons:

Doesn't show the date
Only available in black