We use affiliate links. If you buy something through the links on this page, we may earn a commission at no cost to you. Learn more.
Product Requirements:
Device:
Windows 95 or higher, PC with PS/2 port and Line-In
port on sound card
Do you appreciate clever ideas? If so, here's one that you might enjoy reading
about… A mouse that has a built-in radio that can be controlled through an
onscreen interface. It might sound more like a novelty product, than a serious
computer peripheral, but the MouseCaster
is a real mouse for your PC that just happens to have a radio inside it.
The MouseCaster is a PS/2 wheel mouse. You might turn up your nose to the
fact that it is a PS/2 mouse. I think most people tend to buy USB mice these
days. But, the majority of PC's do have a PS/2 port, so compatibility shouldn't
be an issue. Notebook users on the other hand, may be out of luck. I know my
Fujitsu Lifebook does not include a PS/2 port.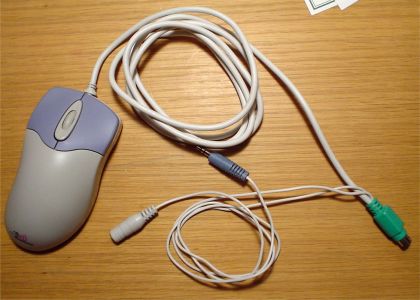 I'd have to say that another downside to this product right off the bat is
the fact that it is an 'old school' mouse. It is not an optical mouse. It has a
ball. Ever since purchasing my first optical mouse, I've turned my back on the
older style. You never have to clean an optical mouse, and they just seem to
perform better.
That said, let's get on with the actual features that might make you want to
purchase this mouse over another…
First of all, as a mouse, the MouseCaster works just fine. It's medium sized
and has a good shape. The buttons have good tactile feedback and the rubber
wheel between the two buttons rotates freely and easily which makes scrolling
through long documents a breeze.
The only thing that gives away the fact that this is not a typical mouse is
the cable extending from which has 2 additional cables attached. The main cable
goes into the PS/2 slot on your PC, another cable plugs into the Line In
connector on your sound card, and the last cable has an optional connector for
the included T style antenna.
Hooking everything up is a snap. But, this mouse isn't exactly plug and play.
To get the radio features operational, you must install the interface
application which is included on a CD. Once installed, you can start grooving
with your favorite local FM stations.


The interface is pretty simple. It sort of looks like your car radio, in that
it has a display, volume knob and channel preset buttons. You can also use the
interface in full mode or collapsed mode, if you want to save space on your
desktop. A couple different skins are also available to let you customize the
look of the interface.
The onscreen radio has 6 user definable channel presets, and an additional 21
channels that can be accessed through a popup list. Editing channels is pretty
straight forward and easy to do. You can even customize the station names.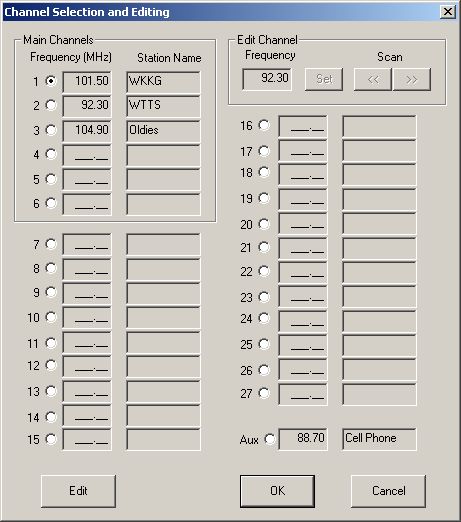 You might notice the Aux channel preset in the image above. With an optional
mobile phone cable, you are supposed to be able to listen to your phone through
the computer. This feature was not tested.
Listening to music with the MouseCaster was mediocre at best. I could only
get good reception for 3 local stations in my area. I even pinned the T antenna
to my wall… The stations that did come in sounded ok… about as good as a
cheap FM radio. I don't think the output was in stereo, but it was hard to tell
for sure. If the features stopped there, I'd tell you to save your money or
listen to streaming radio stations through the internet… Fortunately, the
MouseCaster has another feature that may make you look twice at this product.
The feature I'm talking about is the ability to record. You can use the
interface to record radio content just like you do with your VCR. This allows
you to record your favorite local broadcasts for later listening or archiving.
You may schedule recordings to occur once, every so many minutes, every so many
hours, daily or even weekly for a set time and duration. Files can be saved in
WAV, MP3 and even Ogg Vorbis format. I didn't get the MP3 recording format to
work, as it wanted an MP3 encoder which is not included with the MouseCaster
software. The WAV and Ogg Vorbis formats worked great though. A simple Ogg
Vorbis player is included with the software. I used this format almost
exclusively while testing the recording features as it used less disk space, and
the sound quality was really good.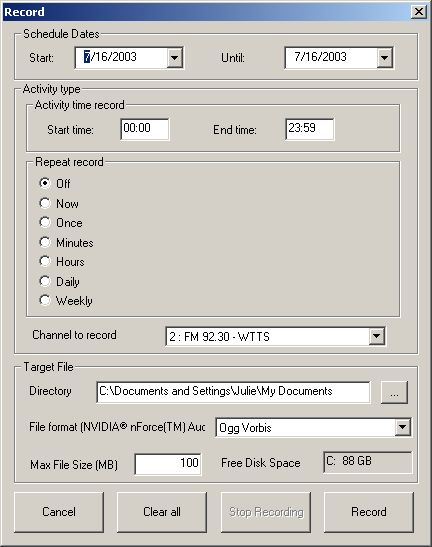 Being able to record radio programs like a VCR is a cool feature. I know that
there are several shows that I miss because they are either on too late at
night, or while I'm at work during the day.
There is one problem with this feature though…You can not schedule multiple
recordings on different channels! You only have the ability to set up one
recording at a time. I guess it's better than nothing, but I find it pretty
limiting.
Besides the recording feature, you also have a timer feature. This is
basically the same as the recording feature, but without the recording ability.
It will turn the radio on and tune to a specific channel at a specific time. I
guess it's only useful if you're sitting in front of the computer at the time
the timer goes off though. You only get one timer as well.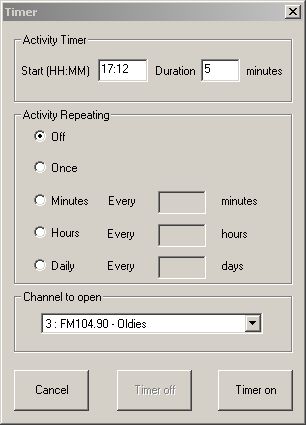 The MouseCaster mouse is an interesting product. It makes an OK mouse, and an
OK radio. The only place it semi shines is in its ability to record radio shows.
Unfortunately, it falls a little short in that area as well.  If you're in
the need for a new mouse, and want to be able to record local FM radio content,
then you might want to give this product a closer look, otherwise, I'd say don't
bother.
Price: $29.95
Pros:
Ability to record radio shows with a VCR like interface
Easy to setup
Cons:
Only 1 recording slot
Not USB
Not an optical mouse
Product Information
Price:
29.95
Manufacturer:
MouseCaster
Pros:

Ability to record radio shows with a VCR like interface
Easy to setup

Cons:

Only 1 recording slot
Not USB
Not an optical mouse