We use affiliate links. If you buy something through the links on this page, we may earn a commission at no cost to you. Learn more.
Product Requirements:
Device:
Processor: Pentium class CPU
400 MHZ or higher, Memory: 64MB RAM or more, Monitor: SVGA
(800×600) or better, Writing device: screen tablet, Tablet PC, graphics
tablet, mouse, touchpad, Operating System: Windows 98/2000/XP and Windows
XP Tablet PC Edition. Inquire by email
about ports to other platforms, Handwriting Recognition: Pen&Internet's
riteScript handwriting recognition technology, File Size: ritePen
executable file and standard vocabulary database files are approximately 8MB.
Last October, when I attended Möbius,
one of the most exciting new technologies to which I was exposed was the
Tablet PC.
Among other things, I marveled at the way it was possible to write directly on
the PC's screen in either cursive or print, at which point the software could
recognize and convert the entry into typed text. Of course, there were some
humorous examples produced when the software didn't immediately recognize the
desired input. But for the most part – I thought the technology was amazing.
Fast forward almost a year later. I still don't own a Tablet PC, but one of
its many cool features is now available for everyone with a PC: the handwriting
recognition.
In order to get the same effect on my laptop, I had to add a plug and play
device called the i-pen. The i-pen is
essentially a mouse, but instead of the flat oval shape with right and left
buttons and a center scroll that we are all familiar with, the i-pen packs the
right and left buttons into the sparkly blue cylindrical shape of a writing pen.


The tip is very similar to the same composition as a replacement stylus tip,
being a white, semi-pointy soft plastic. When the tip is pressed, it acts as the
left button a mouse. The button on the i-pen near the tip offers the same
function as the right button on a mouse. A special 4.5" x 6.75" pad is included
with the i-pen for input. This pad is much slicker than a regular mouse-pad, and
it allows the i-pen to glide effortlessly while writing. The i-pen is sized so
that it is similar to a comfortable writing pen, and it fits well in my hand.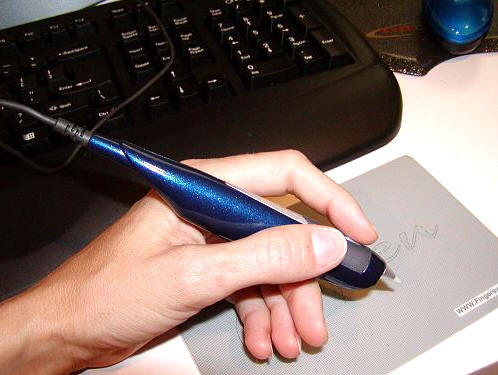 After installation, an icon is added to your system tray from which you can
access the i-pen's features. For reference, it is the second icon from the right
in the following picture.

Using the i-pen. you can move your curser all over the PC's screen – pointing
and clicking as you desire – just as you would with a regular mouse. In fact,
the i-pen will be listed as a mouse in your PC's hardware.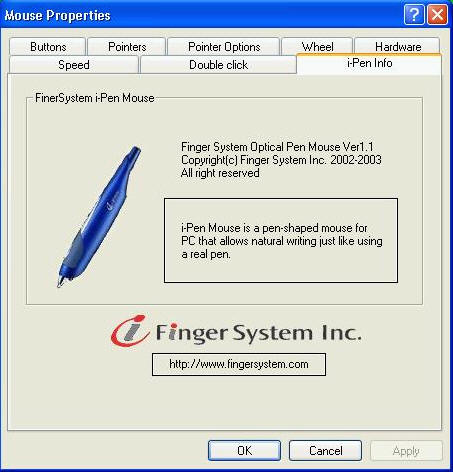 As convenient as the i-pen is as a mouse, with the addition of the

ritePen software it becomes a serious handwriting tool.
According to the included documentation, "ritePen
is an easy-to-use and powerful handwriting recognition application. It allows
you to write anywhere on the screen of your computer using a pen with your
Tablet PC or other screen tablet, graphics tablet, or even writing with a mouse
or on a touchpad. ritePen instantly converts your English language handwriting
into text and enters the text into any Windows application, such as Microsoft
Word, WordPad, Notepad, Excel, Outlook, File Manager, Internet Explorer, etc."
Coolness!
When the software has been installed, its presence is shown by the pen icon –
which you can see on the left side of my toolbar.

Clicking on the pen with either your regular mouse or the i-pen will disable
the handwriting features, and this is noted by the slash appearing over the icon
in the following picture.

Right clicking on the i-pen icon allows you to set up various features of the
software, such as ink line size, color and various writing tweaks – including
how much of a delay you want between when you write something and when the
software transcribes it.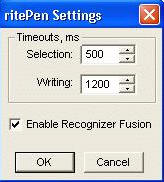 You can actually run the ritePen software with your mouse, but where is the fun in
that? With the i-pen in combination with this software , you can open a
document and start taking notes in your own handwriting.
I did quite a bit of writing with the i-pen and enjoyed watching my words
almost always perfectly convert to text. This is definitely better than the
tired technology I had tried and given up on my Pocket PC 2002. Unfortunately,
this was not a process I was able to capture
with my usual screen-shot software. So, with that in mind, I am showing you a
picture of a handwriting input sample from ritePen's quick start guide.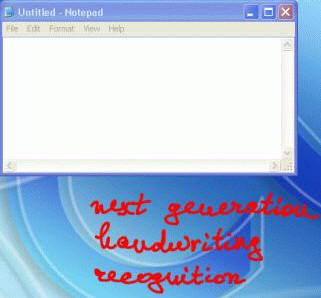 What this picture shows is that with the program open that you need to
writing into, you can use the i-pen to "write" anywhere on your computer's
screen – from your mouse-pad.
When I wrote the phrase "Next generation handwriting recognition" with the
i-pen, the result I got said "Next generation handwriting recognition."
This impressed me because my chicken scratch isn't always the most legible –
especially when I am writing electronically. I was able to reach the same
successful result writing in both print and cursive – not bad for a program that
doesn't expect you to "teach" it your handwriting before you can begin using it!
Of course, depending on your writing style, you may still get some humorous
results. When I entered "Take pups to kennel" in my Outlook Calendar, I got "Take
prysstt kennel. " Of course, this is probably my sloppy handwriting more
than anything…the second time I wrote it, it came out correctly. I almost wish
ritePen could have recognized Graffiti – I know that if I could have used that
"language", then the software could have understood everything I wrote!
I did find that when entering text I had the best recognition success if 
I would write a sentence, give it a second to transcribe, then write the next
sentence. It takes literally just a second or so for the software to
"understand" your writing and convert
it to text.
One of the most amazing features of the software is that even when you are in
pen mode, the software is intelligent enough to be able to tell when you need
your pen to act as a mouse. Putting the pen over any of the menu items on your
screen will allow you to open and use those items. It's as if it simulates the
Tablet PC experience of being able to hover over an item and intelligently
understands if you are about to write or if you are about to point and click.
If you are familiar with writing on a PDA with a stylus, then you will
appreciate that this software allows you to tap and drag areas that need to be
deleted, edited, or whatever. Some of the universal moves for making
corrections, such as a quick backward "hash-mark" for erasing individual letters
are allowed here, as well as a variety of other easy to learn editing and
writing moves that will enhance your experience. A complete list of these moves
are included in the ritePen's documentation.
I have to admit, that as cool as it is to be able to watch my virtual
handwriting transform itself into printed word on a computer monitor, and as
cool as it is to be able to send hand-written mail with the included trial
software for riteMail,
I personally still feel more comfortable clacking out my words on a
trusty keyboard. Call me a creature of habit, but it is just the way that feels
best for me.
However, if you have a need for the things that you write to be produced
electronically, but you miss the experience of writing them out in longhand –
then i-pen with ritePen combination is definitely something you should check
out. These products allow you to replicate old fashioned note taking in a format
that will allow space age reproduction and replication – without the expense of
purchasing a Tablet PC.
Price: $99.95
Pros:
Allows computerized writing in longhand
Excellent handwriting to text recognition that does not have to be trained
Reasonably priced
Cons:
As good as the software is, there will still be handwriting recognition errors
Product Information
Price:
99.95
Manufacturer:
Pen&Internet
Pros:

Allows computerized writing in longhand
Excellent handwriting to text recognition that does not have to be trained
Reasonably priced

Cons:

As good as the software is, there will still be handwriting recognition errors