We use affiliate links. If you buy something through the links on this page, we may earn a commission at no cost to you. Learn more.
Product Requirements:
Device:
3rd generation iPods
I'm a recent iPod owner, and I have
to say that I baby this thing way more than any PDA that I've ever owned.
There's just something about the iPod that makes you want to protect it like a
newborn. I'm constantly polishing the fingerprints off the back and scanning for
scratches. Although the iPod comes with an 'ok' slip case, I don't use it as it
doesn't have a play-through design. So, when
SpeckProducts asked if I was
interested in reviewing their Skin case, I jumped at the chance.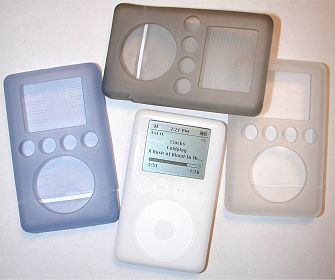 Available individually, or in a pack of three, you have the choice of three colors:
Charcoal, Clear and Blue. This version of the Skin case fits all versions (10gb,
15gb and 30gb) of third generation iPods. SpeckProducts has a version of this
case for older generation iPods too. The Skin case sure does live up to its
name. It acts as a second skin for your iPod. It is made of a shock-absorbing
and tear-resistant material called KRATON, which is soft and flexible like
rubber. The material is approximately .070in (1.78mm) thick and weighs 1.0oz.
Although the SpeckProducts website says that the Skin is easy to put on, it
does take a little time and effort. It's about as easy as trying to put on a
pair of jeans when you've not completely dried off from a shower. The way it
works is that you slide the iPod up through the bottom of the Skin. Wiggling and
pulling as you go. Once you finally have it completely seated in the case, you
can flip the button cover in place and you're good to go.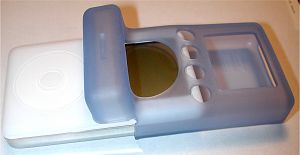 The Skin has a large circular cutout for the main touchpad, and 4 individual
circular cutouts for the 4 menu buttons. There is also a cutout for the display
and a rectangular cutout for the earphone and hold button at the top of the
iPod. To access the docking connector, you just peel back the bottom of Skin
case and seat it in the dock. Easy and quick.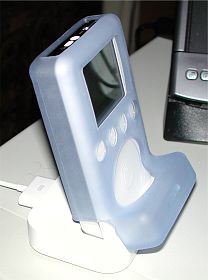 In everyday use I have come to appreciate the Skin case for a couple of
different reasons. One reason I like it is that when my iPod is in the Skin
case, it is almost totally protected from fingerprints, scratches and bumps. The
display isn't covered, but due to the thickness of the Skin case, it is
protected if you would drop it on a flat surface.
I also like the fact that there are ridges on the back of the case that give
you a really good grip on the iPod. Holding it while it is in the Skin case, is
both comfortable and secure feeling.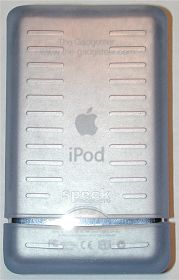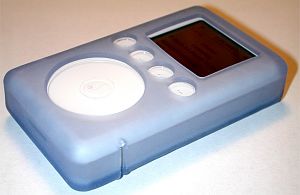 Another reason for liking the Skin case is the individual cutouts for the
menu buttons. I like to listen to music in bed, but I don't like to use the
remote. So, when I'm lying there listening to music with my eyes closed and want
to skip to the next song, I'd more often than not press the wrong button. Since
the buttons on the iPod are so sensitive, any contact with them would almost
always result in an action that I did not want. The Skin case eliminates this
problem because you can 'feel' which button you want to press  before you
press it. The material is thick enough for your fingers to find the correct
button.
As far as dislikes with the Skin case, my only one is that the cutout for the
main touchpad makes using it slightly more difficult than with a naked iPod.
This isn't a deal breaker for me though…
The Skin material itself appears to be quite resilient. I've tugged the case
on and pulled it off several times, and it still fits as well as the first time
I put it on. It doesn't seem like any amount of roughness can cause it to tear
or stretch out of shape.
If you're looking for a thin, protective covering for your iPod that you can
put on and play-through, this one might be just what you're looking for.
Price: $18.95 each, $28.95 for 3 pack
Pros:
Play-through
Inexpensive
Protective
Cons:
A little difficult to put on and take off
Product Information
Price:
18.95
Manufacturer:
Speck Products
Pros:

Play-through
Inexpensive
Protective

Cons:

A little difficult to put on and take off