Product Requirements:
Device:
PC with the following minimum requirements:
Pentium®-class processor; Operating System: Microsoft® Windows® 98, Windows 98
Second Edition, Windows Millennium Edition, Windows 2000, or Windows XP; Memory:
32 MB of RAM & 15 MB of hard-disk space; CD-ROM drive for software installation;
Sound card or powered speakers; Available USB port.
Wow!  Good things do come in small boxes.  Before I start this review, I must
confess that I am an XM satellite radio freak.  I have one in my car, the home
version via a boom box for portability, and now
XM PCR.  By now, most of you have
heard about satellite radio from either XM or

Sirius.  Both offerings are fairly similar.  They each offer 100 stations
that are broken down between music and talk/news stations.  The Sirius stations
are all commercial free.  With XM, about 60% of their stations are commercial
free.  The monthly fee for Sirius is $12.95, while XM will set you back just
$9.99 for the first radio and $6.99 for the next four via their family plan.
Now, on to the review.  You will soon learn how easy it is to have satellite
radio blasting through your PC speakers with CD quality and without any impact
on your Internet connection.  Did I mention "no impact on your Internet
connection"?  We're talking satellite here people.  You can now strut your stuff
as you walk the dog down the sidewalk.  Beat your chest and proclaim "I am in
direct contact with a satellite that is speeding along at 6,881mph and 20,300
miles above my head!!!"  Come on guys, I know I am not the only one who does
stuff like that…am I??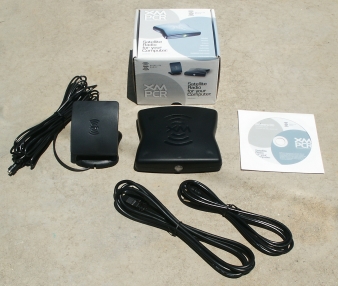 I was amazed that everything I needed came in such a small box.  The box
contains the receiver, a small satellite antenna (with about a 30′ cord), USB
cable, cable that plugs into your sound card or powered speakers, and a CD with
the XM PCR software. 
Installation
Installation is a breeze.  Like most USB devices,
you load the software first and then make the hardware connections.  The
receiver is connected via a supplied USB cable.  There is a cable that goes
between the receiver and the PC's sound card or a set of powered speakers. 
Lastly you plug the antenna into the receiver.  No power cord needed, as power
is supplied via the USB connection.  You need to have a view facing South.  My
antenna is on a window sill.  It points through the window, goes through a few
trees and is not pointing exactly South…and I still get a strong signal. 
Reception should not be a problem unless you are facing due Northward.
Operation
This is where the fun begins.  There are seven screens that you get to use. 
The main screen is the Channel Guide.  This is where you get to see all 100
channels or a subset of just Music, News/Talk, Last 10 stations, and four lists
that you can customize.  The columns are adjustable and show station number,
title, artist, category, channel name, and a column that shows what percent of
your time is spent listening to a particular channel. Just click on the station
and you are switched to the new song or show.  There is about a two second lag
time.  The channel guide is shown in real time so you will see the songs change
when the guide is displayed.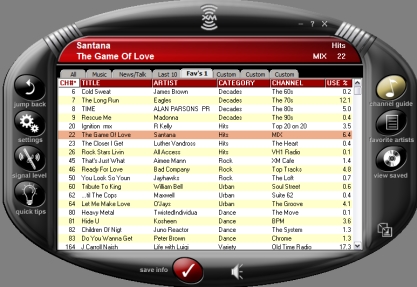 One of the nicer features is the "Save Info" capability.  When you see a song
you like and want to save the info about it, just click on the "Save Info"
button on the bottom of the screen.  XM PCR will store the date/time, artist,
title, and channel info.  It is not saving the song for playback…just the info
about it.  Very convenient for those that want to do MP3 harvesting.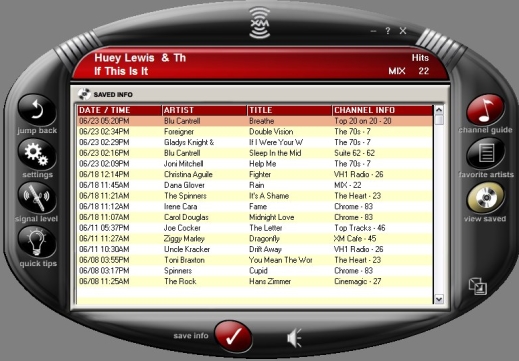 The other screens are pretty self-explanatory.  There is the "Signal Level"
screen which is very helpful in positioning your antenna.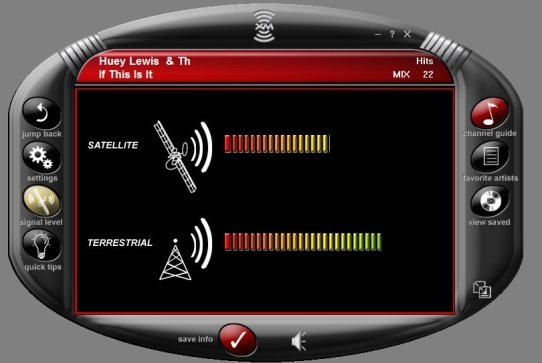 The "Settings" screen shows the different options you can adjust.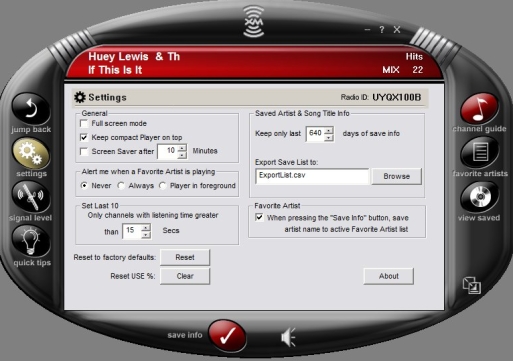 There is one more screen that is very useful.  I call it the "Mini-Me"
screen. This is a small version on the Channel Guide that will stay on top of
your screen.  It shows the Channel Number, Artist, and Song.  It also gives you
the ability to change stations, save the song info, mute, and expand to the full
Channel Guide.

Sound Quality
The quality of what you hear is going to be based on what you are using for
speakers.  I use a Monsoon speaker set-up and the sound is fantastic!  The
signal is 100% digital and of CD quality.  There is no hissing, snap, crackle or
pop.  Just pure music.  I cannot tell the difference between a CD being played
or a song being delivered by XM PCR.  Remember, you are not using your Internet
bandwidth so your connection speed has no bearing on sound quality.
Side Benefit
I quickly discovered a nice bonus when using XM PCR.  I use a program called
Media Center from J.River.
This is an "all-in-one" application that rips, burns, plays, records all of my
music and video files.  I use it for syncing my Ipod and found it to out perform
Window's Media Player.  Media Center enables you to record anything that is
coming through the input port on your sound card.  Took me a New York minute to
realize that the Chris Rea live concert recorded by the BBC a few years back
could be recorded and converted to an MP3 file…oh my.  I can even program
Media Center to start recording a specific time.  Now I can capture all of the
Lone Ranger and The Shadow shows that air on the
XM's Radio
Classics station.
Please forgive my enthusiasm for this product.  If you love music, want a
large selection, a slick interface, CD quality sound without any impact on your
Internet connection, and enjoy things with a big "WOW" factor, you will not be
disappointed with XM PCR.  You can find more info, view the user's guide, and
get ordering info at
http://www.xmradio.com/xmpcr.
XM PCR is currently available online through

PC Connection.
Price: $69.95 and either $9.99 or $6.99 monthly fee
Pros:
Affordable, easy set-up, intuitive interface, CD quality sound, does not require
Internet connection, never ending selection of music and talk/news shows.
Cons:
Not really a "con" but, as with any satellite
application, you want to have the best line of sight that you can. XM Radio
recommends a "South" facing window but, you may be able to receive the signal
through a wall or roof.  XM also uses terrestrial repeaters so you might be able
to receive a signal without  aiming the antenna South.  There is also a monthly
cost and the darn thing is addictive!!