We use affiliate links. If you buy something through the links on this page, we may earn a commission at no cost to you. Learn more.
Product Requirements:
Device:
An audio device with a 3.5mm stereo headset jack
I have a satellite radio receiver installed in my vehicle, but there are
still times when I want to listen to the MP3s I have stored on my PDA. My new
truck (I just got a 2003 Harley Davidson edition F-150) does not have a built in
cassette player, so using a traditional cassette adapter is not even an option
for me – not that I would if I could. There is something that speaks to my inner
geek when I am able to wirelessly transmit my tunes through my vehicle's sound
system. Obviously, what is need to accomplish this is a gadget that uses an FM
frequency to broadcast my audio device's output.
I recently had the opportunity to put such a gadget, the
Aerielle
AudioBUG,
through its paces.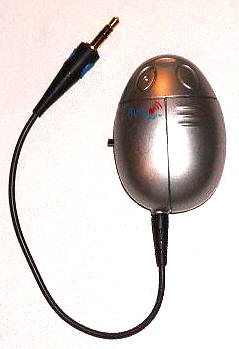 As I looked at the AudioBUG for the first time, I thought that it might have
been more appropriate for the makers to name it the "audioMOUSE", as that is
what its shape made me think of. But I suppose someone else would look at it and
be reminded of the ladybug in the Aerielle site pictures. Whatever it is
that this little gem reminds you of, the important thing is how easy it is to
use and how well it performs its duties.
Using the AudioBUG is certainly easy enough. There are four slots on the side
to which you can slide the plastic lever – each indicating a different setting
on the lower end of the FM dial (88.1, 88.3, 88.5, and 88.7 MHz). Remember that
I live in a smaller city, so only having four presets is not much of an issue
for me. Well…I actually only have three, because my satellite uses 88.5 to
broadcast over, but I digress.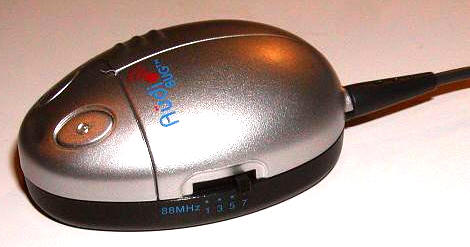 If you live in a larger city, one that has lots of stations on the lower end
of the FM dial, then only having four choices may be a major issue for you.
Once you have chosen a frequency, you then tune the FM receiver you will be
broadcasting over to the same setting. The 3.5mm plug is then inserted into the
jack on your portable  PDA, MP3, CD or DVD player, you press the power
button (or left "eye") of the bug, and then voilà! you are in
business.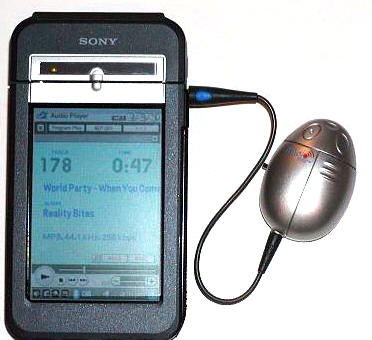 I tested the AudioBUG's signal in my truck, and was pleased to find that I
could get good clear playback from anywhere in the super-crew's cab. This means
that if my daughter is watching a DVD in the backseat that I would like to play
over the truck's sound system for her, I can with no problem.
The literature that I received with the AudioBUG says that the CR2 Lithium
battery that it comes with will last 40+ hours. I find that exceptional! The
only problem that I can foresee is that when we are on long road trips, if the
battery were to die, it would not be a simple matter of running into any mom or
pop's convenience store to replace.
Additionally, the literature says that if "after more than 80 seconds there
is no detection of audio, the AudioBUG will turn off." This is an excellent
feature, one that the other FM transmitters I have reviewed did not have. The
only problem is that without any kind of LCD light to tell me that the bug is
off, I really don't know that it is…which kind of annoys me in a way I
can't quite explain.
One thing that I found surprising, as I was testing out the sound quality of
the AudioBUG, was that it seemed as if it transmitted cleaner and louder than the
other RF devices I have previously reviewed. While as with all devices of this
nature a little bit of sound quality was lost in the broadcasting, it didn't
seem to be as much. I also didn't have to crank my volume knob up as high to
compensate.
Overall, I am very impressed with the performance of the AudioBUG. It is
cute, does what it says it will do, and is easy to operate.
Price: $39.95
Pros:
Auto off after 80 seconds of no signal or when audio source is turned off
Uses a CR2 Lithium battery – offers longer battery life in smaller form factor
Very small and "cute"
Excellent range with little distortion
Cons:
Expensive
No LED light to indicate power on/off status
Uses CR2 Lithium battery – will be hard to find at convenience stores while on a
trip
Choice of only four FM frequencies
Product Information
Price:
39.95
Manufacturer:
Aerielle
Pros:

Auto off after 80 seconds of no signal or when audio source is turned off
Uses a CR2 Lithium battery - offers longer battery life in smaller form factor
Very small and "cute"
Excellent range with little distortion

Cons:

Expensive
No LED light to indicate power on/off status
Uses CR2 Lithium battery - will be hard to find at convenience stores while on a
trip
Choice of only four FM frequencies