We use affiliate links. If you buy something through the links on this page, we may earn a commission at no cost to you. Learn more.
I have to admit that I am addicted to mobile phones. In the past year I owned a
Sony Ericsson T68i, Sony Ericsson T300, Samsung S100, Samsung T100, Siemens S55
and last but not least a Nokia 3650. Somehow none of the phones really satisfied
my needs. Either the screen was great but it drained the battery like crazy, or
it had a camera but it turned out that I did not really need one, and the S55
and 3650 have it all (honestly, they can do everything) but the S55 has a bad
keypad an the 3650 is just too big. On the other hand, I got sick and tired of
buying and selling a phone every two weeks so I wrote down what I need and do
not need:
+ Great color screen
+ Second external display that shows incoming calls, time etc.
+ IR port to set up high-speed Internet connection between phone and laptop
+ Headset
+ Good battery life
+ Small, small, small
+ Preferably a flip phone with a large keypad
+ Tri-band (for the traveler in me)
– Camera with low resolution
– Bluetooth (a Bluetooth headset would be great but so what)
– Outlook compatibility (I have a Palm)
– Polyphonic ring tones (who wants a phone to sound like a horse)
– Wap 2.0 browser (yes, it is great to buy on eBay while sitting outside on the
porch, but how often do you really do it, and how much does it cost?)
My Nokia 3650 had so many features that I spend too much time with it. The
camera was fun; it had Bluetooth, a good screen and synchronization with my PC
worked like a dream. But the keypad and the size turned me off, so I was looking
for one of the smallest phone available and found it in the Samsung SGH-S300.
Samsung promotes the S300 as the daily
companion for both the fashion victim as well as the business users. If you are
a business user then do not read on and get yourself a Siemens S56, but if you
want a phone that makes people turn their heads whenever you take it out of your
pocket than the S300 may be what you were always looking for.
I owned a Samsung phone before so I knew what to expect when I opened the little
box, but if you are a first time buyer of a Samsung phone than you will be most
certainly surprised by all the goodies Samsung has put in the box. This is what
you get:
– GSM 900, 1800 and or 1900 SGH-S300 phone
– Manuals
– 1 Standard Battery
– 1 Slim Battery
– Travel Charger
– Hands free kit
– Easy GPRS Application CD
– Data Link Cable
These are the highlights of the S300:
– Lots of color: 256 color STN external display (96×64 pixels), 65.000 color UFB
internal display (128×128 pixels)
– Too much sound: really loud 40-tones polyphonic ring tones
– Very small: 80x40x20 mm
– Very light: 74 g (with slim battery), 78 g (with standard battery)
– Lots of fun: 4 games included (thanks to Java-technology and 300 kb free space
you can download more), great animation
– Easy to type: large and well laid out keypad
– Always connected: Tri-band
Before I start the review I want to suggest that you buy a mini steel antenna
cap for the S300 if you want to buy the phone. It makes the phone so much
smaller. I talked to Samsung's support hotline and even they could not tell me
why Samsung does not make the antennas much smaller. They confirmed though that
the reception quality remains the same, no matter what antenna you use. All
pictures are made with a little Sony Cyber-shot U20 and of good quality I think.
However please note that the phones screens look sometimes washed. Let me assure
you that in reality they look great!
Never miss one of our posts again. Sent MON, WED, and FRI with the latest gadget reviews and news!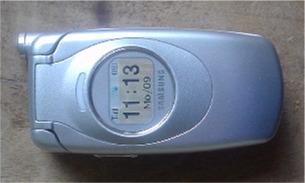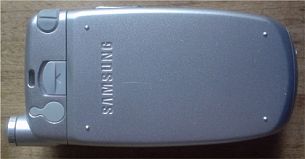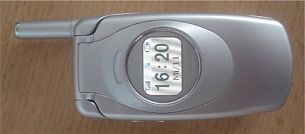 The first thing you notice when you turn on the handset is the colorful external
display. Do you need a phone with an external color display – definitely not. Is
it a lot of fun – sure it is. The screen displays information like battery
status, time and date. When you receive a call or a text message, cute little
icons appear. After a few seconds the displays, which is clearly visible, though
not under direct sunlight, turns off and you can use it as a mirror. Yes you
can, although do not expect to see much. That is probably the only disadvantage
of the color screen. It does not show the information all the time as on other
models, because that would probably drain the battery too much. To check the
time you have to press the volume keys for about two seconds.

Once you open the phone, the experience is a totally different one. You
understand right away why Samsung has always been praised for the quality of its
color screens. Though rather small (128×128 pixels) the UFB-screen (UFB means
Ultra fine and Bright, according to Samsung it combines the quality of a
TFT-display with the lower energy-consumption of a STN-display) is easy to read
in all lighting conditions and crystal clear. You can set the contrast for both
displays and set your own background for the internal screen. You can choose
from 12 preloaded pictures or download new ones on the phone via the Easy GPRS
software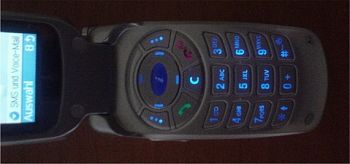 As you can see on the pictures, the keypad is rather large, at least for a phone
of such small dimensions. I have heard some people complaining that the keys do
not stand out enough though I find them very easy to press. While all navigation
keys are very large, I sometimes hit a key accidentally while using the
navigation pad. The I-key in the center of the pad starts the Wap browser
(version 1.2.1, this means it can display some color but no frames etc.). You
can set the functions of the four other navigation keys yourself. When I hit the
upper "arrow" I can write a text message, hitting the left one opens the alarm
menu etc. The keys with the three dots and the keypad are used to navigate
through the menu. Sometimes you have to press the answer key and once in a while
the I-key to confirm a function. I find that a bit confusing, though not very
much. In the dark the keypad is well lit apart from the reject key. I guess
Samsung wants you to talk and talk and talk.
Navigating through the menu works like a dream, once you get used to it. The
menu structure is a bit different than the ones from other manufacturers, but I
hardly ever had to look into the excellent documentation. Cute little icons
support almost all functions, for example when you send a text message an
opening and closing letter appears. You can really tell that this phone is
usually aimed at the Asian market, but it is fun so what.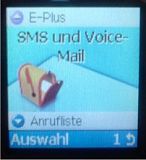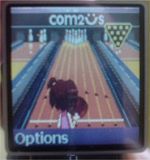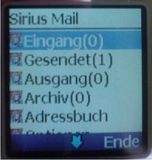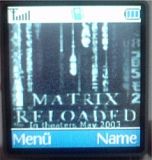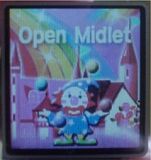 I cannot tell you much about the organizer functions, as I am not using the
phone as my organizer. You can set different alarms and there is even a wake up
alarm. The preinstalled setting is the sound of birds singing. I actually use it
and no longer get a hard attack when some terrible alarm sound tries to end my
sweet dreams and pull me into the real world. You can use the Easy GPRS software
to enter meetings but again, I do not do that. However, Samsung has launched new
software on its developer's site that supposedly allows you to synchronize your
phone with Outlook. That would be a big step forward. I will try that at the end
of the review.
Otherwise, getting you contacts in the phone book can be a lot of work if you do
not have them all on your SIM-card. The phone can read the numbers on the
SIM-card and in the internal memory at the same time. This gives you space for
up to 750 (250 and 500) numbers (not entries). You can add for numbers (home,
business, mobile and E-Mail) to each contact, and change them with the software.
Again pretty icons are displayed in the menu. You cannot add pictures to a name
but you can create up to five caller groups. And you can assign 8 names to speed
dialing, which I did. But now I always forget which name is link to which
number. So I end up using the phone book to make calls.
Sending text messages works fine. The phone supports the EMS standard. That
means you can add preinstalled icons and animated pictures. I find this a rather
useless feature, as lots of phones cannot read EMS messages. If I want to send
colorful messages I would get a phone with MMS capabilities. You can store up to
50 text messages in the phone. You can use the T9-software that puts words
together according to what letters you type. A disadvantage is that you cannot
expand the dictionary, which might annoy people who send a lot of messages and
like to use many of their own phrases.
You can of course make calls too. The phone shows you the last 10 dialed,
received and missed calls with time and date. The reception quality is very
good, at least while using the phone here in Germany. It is a Triband phone so
you can use it almost anywhere in the world, but I cannot say anything of the
reception quality in the US, which might vary a lot according to your network.
To me, one of the most controversial features of the phone is the 40-tones
polyphony ring tones. They sound excellent and very, very realistic. The
question is if you want your phone to sound like a horse or cat. Well, I don't.
There are 44 sounds (melodies and animal voices) preinstalled, but you can
download more from Samsung's website where you can even find some "normal"
tones. There are different settings. The phone can make a sound when you turn it
on/off or when you open and close it. But at the lowest volume setting the phone
is still rather loud so I turned all additional sound settings off.
The phone does not offer the possibility to choose from or create sound
profiles. You can choose between vibrating alert, sound or first vibrating and
then sound. That is it. To me that is enough but some other people might not
agree.
The S300 supports Java. This means you can download up to 300 KB of new games
and programs to your phone. This are all saved in the Funbox, where you find 4
pre-installed games. Bowling is actually quite a lot of fun and I play it in the
underground with – guess what – the sound turned off. Then there is Midp-Man, a
rather well done Pac Man clone. In hamster Box you need to fill out a space
until a country picture appears, but be careful so you do not meet the flying
ghosts. Honey Ball is rather boring and not worth explaining. As the s300 does
not have a mail client I bought a small program that does the job for me.
The Easy GPRS Software allows you to synchronize your contacts with your
desktop. Furthermore it allows you to load pictures and ring tones on your
phone. You can also synchronize your contacts and calendar between Outlook and
your phone. Samsung has published the software on its developer's
site. The
software works fine although some problems occur. And do not forget that you can
only store 750 entries on your phone and SIM card. I suggest that you try the
software yourself but if you rely and perfect Outlook synchronization I suggest
you buy a Nokia or Siemens phone.
Conclusion
I have to emphasize again that this phone is not for everyone. I understand that
some Gadgeteers want to connect their phone to their Palm or laptop sending
information back and forth. But there are other Gagdeteers who want to have a
phone that makes other people stare in disbelief at you because it is so small
and looks so cool. If you are one of the latter do not look any further and get
a S300. It is far from perfect but it is so much fun, I can assure you. It will
stand out in its class for a long time, until a phone of this size can boast a
good camera, flashlight, Bluetooth and 262,00 colors. Then I will switch but
somehow I am almost certain it will again be a phone from Samsung!
 
Price: $469.99 (available from
ACS)
Pros: 

Really stylish form factor, simply beautiful and very small
Great quality of all parts
Triband
Internal display crisp and clear
Lots of fun features
Java
Good battery life
Great bundle that comes with the phone
Cons: 
No voice dialing (if you need it)
Mediocre organizer
Not many Java games available for the S300
Information on external display not visible at all times
Ring tones are very loud (this may be a Pro argument for some people though)
Cannot use infrared port for anything else than connecting to a laptop using the
Samsung software
 
Product Information
Price:
469.99
Manufacturer:
Samsung
Pros:

Really stylish form factor, simply beautiful and very small
Great quality of all parts
Triband
Internal display crisp and clear
Lots of fun features
Java
Good battery life
Great bundle that comes with the phone

Cons:

No voice dialing (if you need it)
Mediocre organizer
Not many Java games available for the S300
Information on external display not visible at all times
Ring tones are very loud (this may be a Pro argument for some people though)
Cannot use infrared port for anything else than connecting to a laptop using the
Samsung software