We use affiliate links. If you buy something through the links on this page, we may earn a commission at no cost to you. Learn more.
Product Requirements:
Device:
Palm Tungsten|T
There aren't many companies that will take the risk of making cases in
anything other than run-of-the-mill black and boring-brown these days. Perhaps
it is because most manufacturers are aiming mainly at people who work in highly
conservative places; but I personally think that the PDA case market is much
bigger than that. I think that there are a lot of people that would enjoy
covering their PDAs in colors – vivid colors – but not the type that look like a
60s flashback.
That's why I was pleased when I received the new
Tungsten |T Leather
Jacket- EX Model from Xigma. The cases in
this series come with a conservative black exterior that is done in a soft Napa
leather, which smells like heaven and "feels like buttah." The interiors are
comprised of a scrumptious brightly colored Napa and suede combination.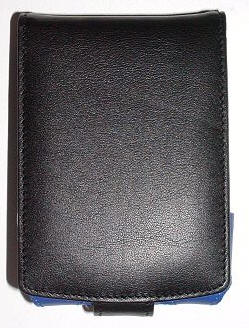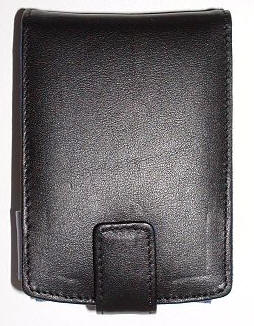 Closed, this leather jacket looks like a very well made, yet slightly
unadventurous flip-case. It closes securely with a magnetic snap, and mainly
offers protection to the screen and back of the Tungsten|T. But once you open
the Xigma, you are greeted with a surprising display of color. The case I
received was a bright, Florida Gator Blue – pretty cool! This case is also
available in Black/Beige, Black/Black, and Black/Red. Personally, I would like
to see one in all blue, or all red. ;0)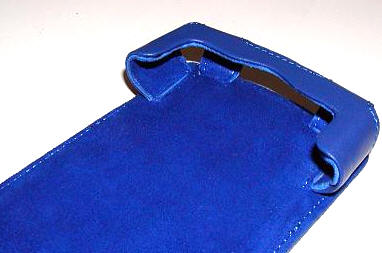 The Tungsten is held in place, against a lambskin suede wall, in a Napa and
suede holster that cradles the PDA's bottom. The only branding on the case is
the embossed XIGMA on the smaller of the two slash pockets inside the flip-lid.
The larger pocket is perfect for and ID or credit card, while the smaller can
hold folded receipts or an SD/MMC card or two.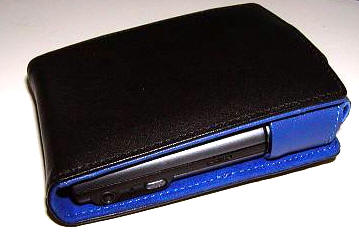 Closed, the Xigma offers protection to the bottom of the Tungsten|T, as well
as the lower quarter. This case adds minimal weight or bulk to the PDA, and is
perfect for those to whom this is important. The downside is that the holster
does not allow for syncing or charging while in the cradle, though you can use a
cable. It is also necessary to remove the Tungsten from the case when you need
to perform a soft reset.
Otherwise, the Xigma
Tungsten |T Leather
Jacket- EX Model is a beautiful case; extremely well made and pleasing to
both the eye and nose. If you like a book-style better, that option is also
available.
Price: $59 (includes international shipping)
Available in Black/Beige, Black/Black, Black/Red, and Black/Blue
Pros:
Extremely well made of Napa cowhide leather and lamb suede
Striking color combinations
Can store ID or memory cards in slash pocket
Adds minimal bulk or weight to the Tungsten|T
Cons:
Expensive
Can't sync in case
Can't reset PDA while in case
Product Information
Price:
59.0
Manufacturer:
Xigma
Pros:

Extremely well made of Napa cowhide leather and lamb suede
Striking color combinations
Can store ID or memory cards in slash pocket
Adds minimal bulk or weight to the Tungsten|T

Cons:

Expensive
Can't sync in case
Can't reset PDA while in case