We use affiliate links. If you buy something through the links on this page, we may earn a commission at no cost to you. Learn more.
Product Requirements:
Device:
Apple computer with built-in FireWire port; Mac OS X
v10.1.5 or later
PC with built-in FireWire or USB 2.04, or
Windows-certified FireWire or USB 2.0 card; Windows Me, Windows 2000 or Windows
XP Home or Professional
I've become a Pod person! No, I'm not talking about Invasion of the Body
Snatchers, I'm referring to the extremely popular
Apple iPod. Since bursting into the MP3
player scene in 2001, the iPod has become the best selling player on the
market. It was the first small form factor player to include a high capacity
hard drive, and it continues to be the one to which all other players aspire to
be like.
I've wanted an iPod since first seeing the original advertised on Apple's
website. But, for some reason I just never plopped down my
hard earned cash for one. That changed after I reviewed the
Neuros 20gb player. That product made me realize just how
great it is to be able to carry your entire music collection with you where ever
you go.
I now have the 30gb 3rd generation iPod, and with the exception of a few
little gripes, I am in total love with it!  As a person who has not had one of
the 1st or 2nd gen units, this will not be a comparison review. Also, as a
Windows user, I won't be discussing iTunes… So, without further ado, here we
go…
Hardware Specs
Display: 2-inch (diagonal) grayscale LCD with LED backlight, 160 x 128 pixel
resolution, 0.24-mm dot pitch
Audio support for Mac: AAC (16 to 320 Kbps), MP3 (32 to 320 Kbps), MP3 VBR,
Audible(6), AIFF, WAV
Audio support for Windows: MP3 (32 to 320 Kbps), MP3 VBR, WAV
Up to 25 minutes of skip protection
Maximum output power: 60 mW rms (30 mW per channel)
Frequency response: 20 Hz to 20,000 Hz
Size and Weight:  4.1 by 2.4 by 0.73 inches, 6.2 ounces (176 g)
Power: Built-in rechargeable lithium ion battery (630 mAh), Playtime: 8 hours
when fully charged, Standby time: 2 weeks when fully charged
 
I have to give props to Apple, as they seem to have a unique gift for knowing
exactly how to package their products, to give them that special geek "whee"
appeal. I'm talking about the excitement that gadget freaks like myself get when
we open a new toy for the first time. You know what I mean, when you tear open the
cardboard shipping box like a shell, to get to the pearl inside. iPods are
packaged in a black cube box, that opens like a book, to reveal two
compartments. Yeah, I know that cool packaging doesn't make a product any better, but in
the case of Apple's products, it sure makes the anticipation of opening them even
more exciting and fun.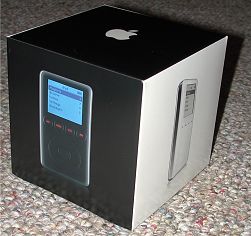 When you first see an iPod in the flesh, you will be in awe. They are more
like an object of art, instead of an MP3 player. They are unbelievably small when
you consider the fact that they have an actual hard drive enclosed inside.
Never miss one of our posts again. Sent MON, WED, and FRI with the latest gadget reviews and news!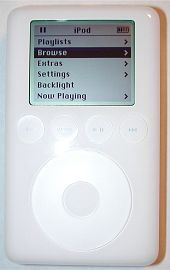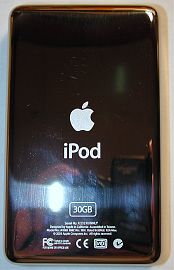 In hand, the iPod is comfortable and heavy. A good kind of heavy though. It
passed my Gadgeteer creak test with flying colors. This thing is solid as a
rock! The casing is chrome metal on the back and Lucite-like on the top. It is
constructed so perfectly, that you can barely feel the seam where plastic meets
metal. It is actually so smooth that it feels slippery. The chrome back is a
major fingerprint magnet which drives me bonkers though! I find myself polishing the
back constantly. It is also easily scratched, so you'll want to keep the iPod in
a soft case. To protect the iPod, a nylon case with belt-clip is included. This
isn't a super fantastic case, but it will do the job…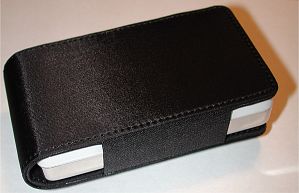 Those of you that like to customize your toys can have the back
of your iPod engraved for an extra charge of $19.00. I couldn't resist, and had to have The
Gadgeteer put on mine! :o)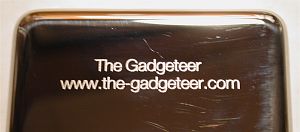 The front casing is an almost glowing milky white. From a distance (fyi: that
song is on my iPod…), you might
not notice the buttons or touch wheel as they are also white. They are slightly
recessed from the top and are not mechanical buttons at all. Instead they are touch
buttons, similar to the touch pad on a notebook PC. There are four round buttons
on top with a large round pad or wheel below them. The round buttons give you your
standard PREV TRACK, PLAY, PAUSE and NEXT TRACK functions. There is also a Menu
button which helps you navigate through the onscreen menus, and song lists. The
touch wheel does not physically spin like the first generation iPods. It is a smooth pad
that you trace your finger around to scroll through lists, change volume levels and hop to different
points in a currently playing song. In the middle of the touch pad is the
select button. All of the buttons require barely a touch to activate them. No
pressure is necessary. This is a good and bad thing though as the slightest touch to
the four round buttons or select button will power the unit on.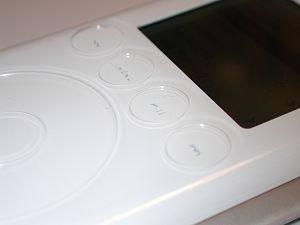 Using the touch wheel to scroll through song lists feels awkward at first,
but it doesn't take much time at all to get used to it. It's a very natural way to
navigate and change volume levels. It is also very cool that as you spin your
finger around the touch wheel, the scrolling list will accelerate. This makes
traversing a 3000 song lists extremely quick and easy.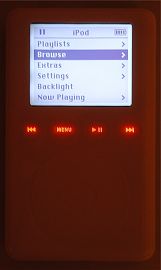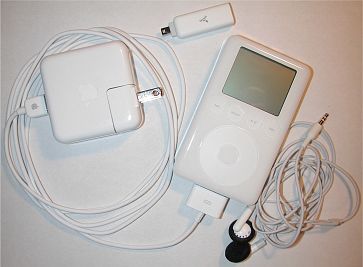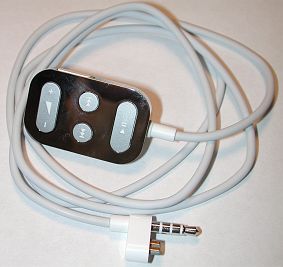 Above the buttons is the mono LCD. It is a very easy display to read in all
lighting conditions. There is also a very bright backlight that allows you to
read the screen in the dark. Even the buttons light up in red, when the
backlight is activated, which is a very
cool touch! I love the way the backlight turns off, it sort of fades away… even the
buttons. The backlight timer can be set to off, 2, 5, 10, 20 seconds or always
on.
Of course I'd love to see the iPod with a large color display, but I guess
that will be for the 4th or 5th generation units. Can you imagine having the
ability to display album cover art or visualizations while a song is playing? Now that would be
cool!
The top of the iPod has the hold switch, earphone jack and remote connector.
The hold switch lets you lock the iPod so that button presses won't have any
effect. The earphone jack is your standard 3.5mm sized jack, so your favorite
phones will work just fine. The remote connector works with the included remote.
This small doo-hickey sits between the iPod and your earphones to give you
volume control along with play, pause, next track, previous track and hold
functions. It even has a built-in clip. I guess this is good for joggers… I
personally haven't used the remote much at all yet.
The earbuds that are included with the iPod have surprisingly good sound.
Actually, the iPod itself is probably the best sounding MP3 player that I've yet
to use. I'm very impressed and happy with the overall sound quality. Volume
levels are more than adequate as well.


At the bottom of the iPod is the proprietary FireWire / USB / charging /
docking station connector. Apple was kind enough to include a couple of plastic
covers for this connector if you fear dirt and dust.
Speaking of the docking station, this is the first iPod to use one. It is a
small plastic cradle that is heavy enough that you don't need to use two hands
to insert or remove the iPod from it. A rubber bottom keeps the dock from
scooting around your desk as you use it. On the back of the dock is the same connector as
the one on the bottom of the iPod. Next to it, is a Line Out connector so that
you can attach external speakers.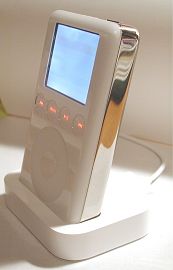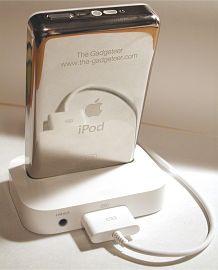 The iPod comes with a FireWire cable that has a 6 pin connector on one end.
This is the larger sized FireWire connector. If you happen to have a computer
with the smaller 4 pin connector, an adapter is included. The problem with using
the adapter is that you won't be able to charge the iPod through the docking
station. You'll have to unplug the cable and use it with the included AC
adapter. Luckily, I had full-sized FireWire ports on my PC. Windows users that
have USB, will need to purchase a separate cable ($19) from Apple in order to
sync / charge with their PC. Instead of buying that cable, I would advise you to
spring for a FireWire card instead… FireWire is faster than USB for
transferring music to the iPod, and you can charge thru the same cable.
Before I get into the software side of the iPod, I just want to say that as
far as design, this product is as close to perfect as you can probably get. It's
a perfect size, shape and weight. Besides a color display, I don't think there
is really anything that I would physically change about the iPod.  Well, I
do wish there was a built-in FM radio, but oh well…. Also, so far I've found
the battery life to be as rated: about 8hrs. No complaints there…
Now for the software part of the review… Although this latest generation of
the iPod is compatible with both Mac and Windows systems, the Mac people have
the upper hand in sooooo many ways. First of all, they have the iTunes music
manager application which beats the pants off of Music Match for Windows users.
Mac users can also encode their music into the AAC MPEG-4 format which makes smaller
files while retaining quality sound. Windows users have to stick with MP3 right
now.  Mac users can download and listen to Audible.com spoken word books
and articles. Windows users can't… Mac people also have the iTunes store which lets
you buy music and install it on their iPod with a simple click. We Windows users have…ummm….
nothing like that yet.
When I received my iPod, I wasn't going to install Music Match because I
never really liked it.  But I went ahead and did so, so that I could go through
a typical setup that a Windows person would go through when buying this MP3
player. Installation was simple enough. It consisted of installing the iPod
manager program and Music Match. Once installed, an iPod manager icon appeared
in the task tray. Right clicking gives the user the ability to see how much
space is left on your iPod, mount and unmount it as a drive, and change the
ability for Music Match to automatically pop up whenever you connect your player to
the dock.
When you first connect the iPod to your computer, whether it be a Windows PC
or a Mac, it initializes the hard drive. My 30GB unit had a total of 27.8GB
available to me after the initialization. For some reason Mac users get a few extra megabytes available
to them, as their units format out to 27.9GB. Once the drive is formatted, it's time to
transfer your music!
Luckily for me, I had already started ripping my collection of CDs when I was
working on the review of the Neuros. But my collect isn't small (over 200
discs), so I still had well over 150 or more to rip when I first received the
iPod. Also lucky for me is the fact that I put a very fast TDK CDRW drive in my
PC, so ripping and encoding a typical 10-12 track CD took less than 3mins. I
spent an entire weekend feeding CDs into my 4 PCs. I used Windows Media Player
with a plug-in from InterVideo on 2
PCs, and a freebie ripping app called
NeoAudio on my two notebook PCs. I ripped all the tracks at 192kbps. When it
was all said and done, I had over 3000 songs! Wow, that's a lot of music!
My first attempt at transferring the music to the iPod was successful. I used
Music Match and did the transfer when I had two thirds of my collection ripped.
Using FireWire, it still took a little while, but hey, it was over 2000 tracks!
When I received my 2nd iPod (I got impatient and ordered a 2nd one when there
was a delay on my first one… long story…), it took about 64mins to copy my
entire 3000
song library over to the new empty iPod using FireWire. That is fast!
The trouble began once I had ripped more CDs and tried to sync again with
Music Match. Although the application acted like it was copying the new tracks,
they never actually showed up on the iPod. I tried syncing a couple more times
and had the same problem, so I decided to try another syncing application called
ephPod. ephPod is a free application that
does an amazing job of syncing your music collection with the iPod. It even lets
you sync some news headline sites like Slashdot
to the iPod.
Even though ephPod works great on my PC, I have still had a few problems here
and there with the iPod Manager program. Sometimes it seems frozen, and won't
respond when I try to right click on it in the task tray. Rebooting always fixes
this problem though. I think there is some flakiness going on, but since I don't
sync my iPod as much as I do my PDA, it doesn't really bother me all that much.
The interface on the iPod is simple and intuitive. The main menu gives six
options: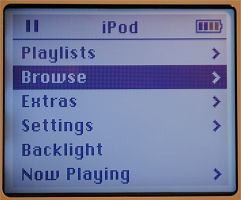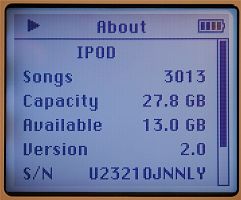 From the main menu, you can go into your playlists, browse, extras, settings,
backlight and go to the now playing screen.
When you chose to browse, you can browse by artist, album, song, genre or
even by composer. How ever you decide to browse, doing so will present you with
another listing which you can scroll through. In the example below, I am
browsing by album. Then by the songs in the album.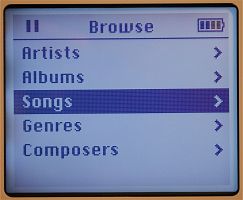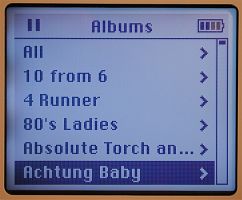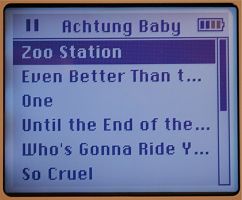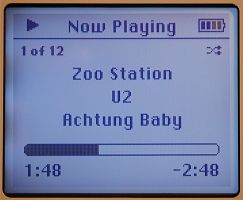 You can actually start playing music at any point in the browsing hierarchy.
For example, if you press Play on the topmost level… on the Songs heading, it
will start playing all the songs in your library one at a time. Or, if you press
Play on an artist's name, it will play all the songs from that artist even if
they have multiple albums. You have the ability to turn song shuffling on for
either songs or albums.
While a song is playing, information about the song is displayed on the
screen. The song title is on top, artist below it and album title below that. A
graphical progress bar is displayed at the bottom of the screen. You can use the
touch wheel to move to any location inside a song, which I think is pretty
cool… although I don't typically use that feature.
I think the information shown on the screen is adequate. If I could
add anything to the info, it would be to show the next song to be played.
There is also a built-in equalizer that you can turn on. The EQ has a bunch of
different profiles that you can chose from depending on the type of music that
you want to play. I found that some settings caused the player to sound like it
was over driving the speakers. Although I fiddled with the settings off and on
during my review, I felt the sound quality with the EQ turned off was perfectly
fine to my ears.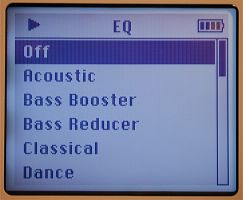 Those of you that like to make playlists will be interested in knowing that
you can't really create playlists directly on the iPod. You can create a
temporary list, but it won't be synced to the PC. It will actually get wiped out
when you sync. But, if you want to create one, you can easily do so by holding
down the select button on a song title till it flashes. At that point, it will
be added to the On-the-go playlist that is on the iPod.
Besides being able to play music, the iPod also has a few other built-in
features that almost raise it to the level of a PDA…. sorta. It has a built-in
clock with an alarm that can either beep (warning, this is very annoying) or play
your favorite song. The problem with having it play a song as an alarm, is the fact that
you'll need to attach the iPod to speakers in order to hear it go off… I doubt if most people sleep
with their earbuds in :o)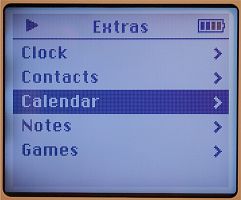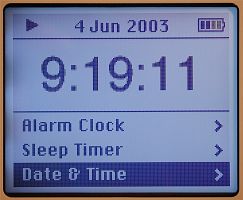 There's also a sleep timer that you can use to turn the iPod off after 15 –
120mins of play. This is a cool feature that is better than counting sheep.
In addition to the clock, there is also a calendar and contacts database on
the iPod. You can't input data using the iPod, but you can view the data.
Unfortunately for Windows users, you can't yet automatically sync with Outlook
or other PIMs. You can export your data as vCard and vCal files and copy them
manually to the iPod folders though. Not exactly convenient for us yet.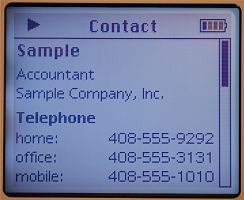 There are even three games on the iPod. Solitaire, Breakout and Parachute.
These games aren't super exciting, and are best played when you have absolutely
nothing else to do.
Things I love about the iPod:
It's easy to use and doesn't require you to read a manual to figure out the interface.
It's extremely fast. You can hold down the Play/Pause button to turn the unit
off while in the middle of playing a song, tap the same button twice and it automatically
powers on and starts
playing from exactly where it left off. I'm not sure I know of any other MP3
players that remember their place in a song.
Things I don't love about the iPod:
Chrome back. No iTunes, or Audible.com support. Music Match… blech!
The iPod is now my constant companion. I listen to music during the day in my
cube (day job), in the car going to and from home, and even right now as I sit
in front of my PC writing this review. Take it from me, if you love music,
you MUST get one of these players! It will really change the way you listen to
your music. When you're in the mood for a certain song in your collection, you
just scroll to it and boom, you're groovin. And contrary to what the record
companies fear, my iPod has actually made me start buying
CDs again to add to my collection. I received 4 new discs for my birthday, and
am already making a list of some other must have albums. Now I need to find a
case and an FM transmitter, and an add-on radio, and… oh boy! :o)
Price: $499.00 Search for best price

here.
Pros:
It's an iPod, nuff said!
30gb storage, can be used as an external hard drive
Works with Windows and Macs
USB or FireWire
Great sound
Cons:
Expensive
Windows driver flakiness
Chrome back is a fingerprint magnet
Music Match software for Windows is crummy
Windows users don't have all the features that Mac users have
Update 11/17/03:
Since writing this review, Apple has come out with a Windows version of iTunes
that syncs perfectly with the iPod, and now gives Windows users the same great
functionality that Mac users have. Audible is supported as well.
Product Information
Price:
499.0
Manufacturer:
Apple
Pros:

It's an iPod, nuff said!
30gb storage, can be used as an external hard drive
Works with Windows and Macs
USB or FireWire
Great sound

Cons:

Expensive
Windows driver flakiness
Chrome back is a fingerprint magnet
Music Match software for Windows is crummy
Windows users don't have all the features that Mac users have
Update 11/17/03:
Since writing this review, Apple has come out with a Windows version of iTunes
that syncs perfectly with the iPod, and now gives Windows users the same great
functionality that Mac users have. Audible is supported as well.