We use affiliate links. If you buy something through the links on this page, we may earn a commission at no cost to you. Learn more.
Product Requirements:
Device:
Pocket PC
General:
Act! is an information management tool
dedicated mainly to customers and customer relationships. It is ideally targeted
towards sales people and others that are mainly people focused. In the early
days of WindowsCE, Symantec had offered a mobile version of its popular Act!
database. With it you could synchronize with your desktop version and carry your
information with you. Since then, the product has been dropped and nothing else
has ever replaced it. Pinpoint tools
have addressed this with their latest release of Trans/ACT 2. With Trans/ACT,
you can now carry your complete Act! database, multiple databases, or filtered
copies. This review looks further into what it has to provide.
Installation:
The installation of Trans/ACT is pretty simple as it guides you through the
complete setup. Below are a few screen shots of the installation interface: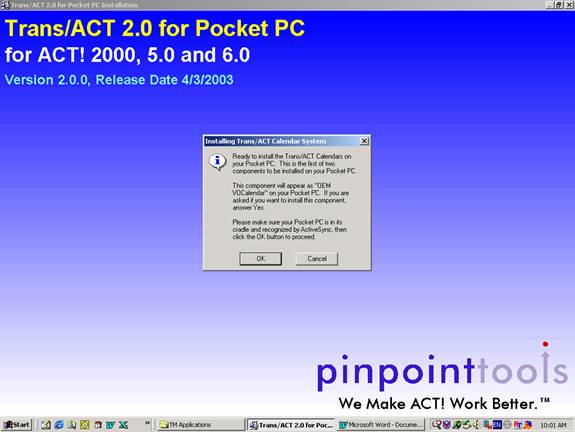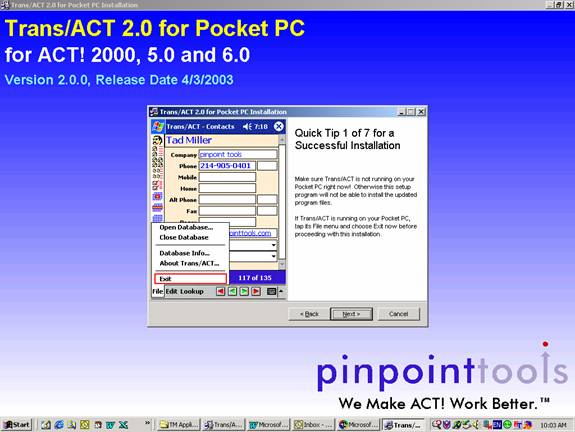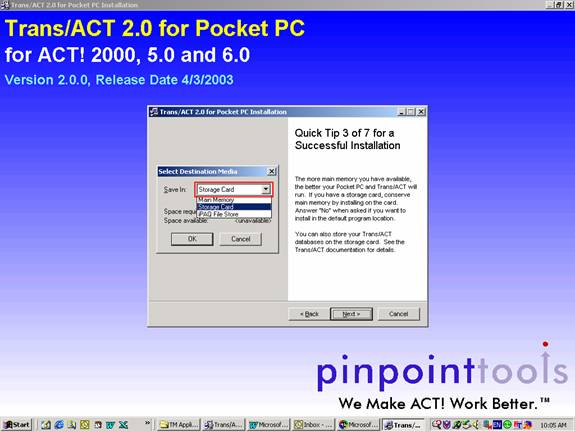 During installation, you are allowed to install the application to a storage
card as it takes up a whopping 9M of memory.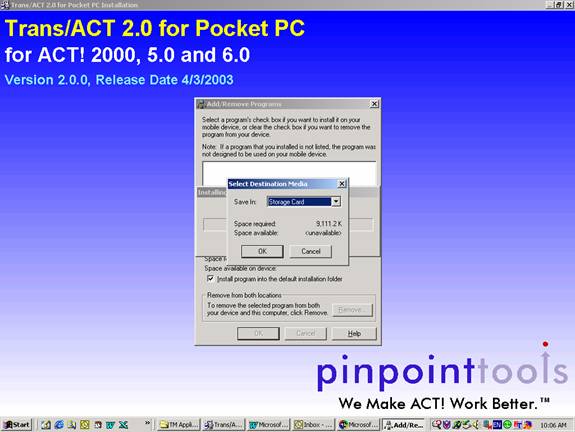 Once installation is complete, the sync tool is opened which allows you to
select your Act! database, history types and a few other preferred settings.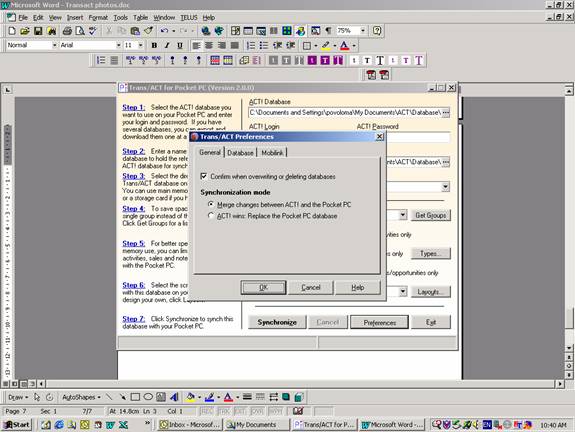 Usage:
Once the database is transferred, you can open up the application on the Pocket
PC. The Trans/ACT folder includes shortcuts to easily open up specific screens
within Trans/ACT. Launching the default "Trans/ACT" icon brings up the first
start screen allowing you to select your database as you can transfer more than
one. The last opened database is the default when you start Trans/ACT, however,
from Trans/ACT you can easily close it and open a different one.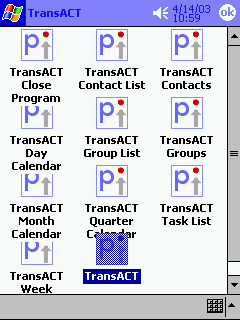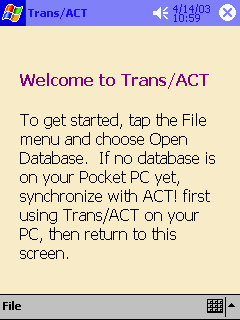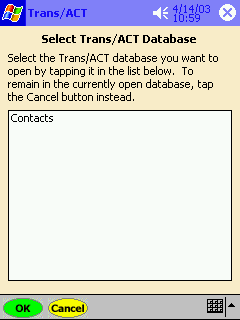 Various views are available on the default installation of Trans/ACT. The
desktop application allows you to create custom screens depending on how you
have configured Act!. The default view installation is sufficient for those who
use Act! out of the box and do not customize it. However, if you do change the
views and fields of Act!, you can easily update the Pocket PC screens by using
the simple layout tool on the desktop. The layouts do not apply to the Calendar
views but only the contact views. Calendar views are supplied by a third party
tool called VO Calendar which is loaded during installation. VO Calendar
provides views for day, week, month and can even show both the Pocket Outlook
activities as well as the Trans/ACT activities. So if you keep your Act
activities separate from Outlook, you can see both. Here are some of the views
available to VO Calendar: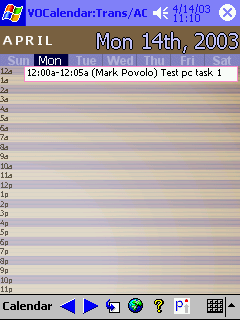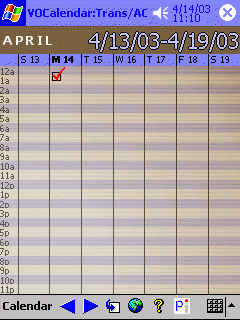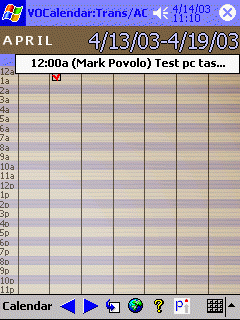 Left to right: Day, Week, Week (Tap and hold icon)
The views available for the contact portion include contact list, contact view,
task list, group list, group view, contact activities, contact history and a few
others. These are easily selectable from the left hand icon column.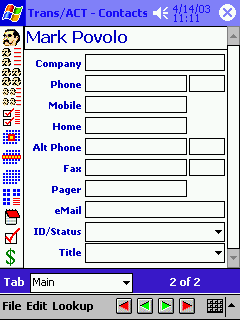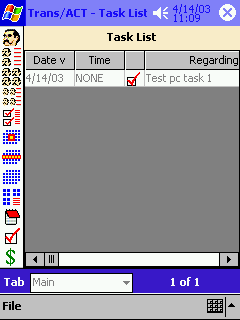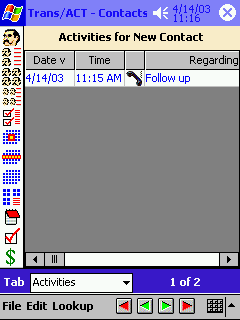 Left to right: Contact View, Task List, Contact Activities
Depending on the current screen, tap and hold functions are available for
simple actions such as completing tasks.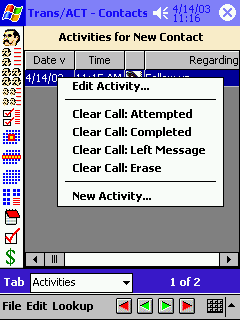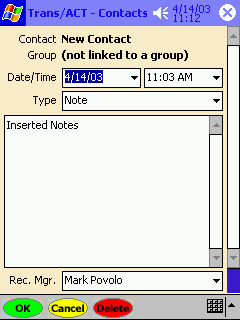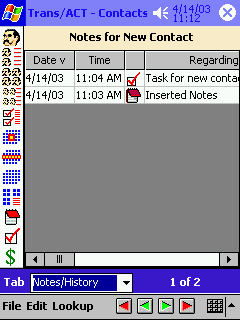 Left to right: Editing Activity, New Contact Note, Contact Notes List
Trans/ACT allows easy lookups of various fields for quick searching just like
Act for the desktop.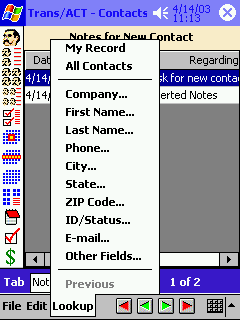 Trans/ACT allows you to easily create new contacts, tasks, groups, histories
just as you could from Act! and are easily transferred back to the desktop
during synchronization. One thing that was strange was that you cannot use the
group views or create groups until the first group is created and transferred
from the desktop. I believe that this may be because the groups database is not
created on the Pocket PC until a group is transferred.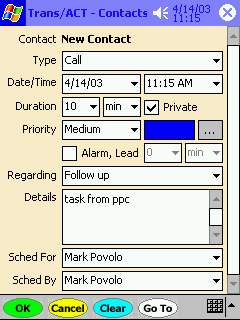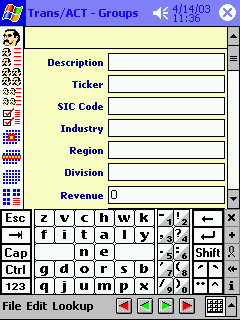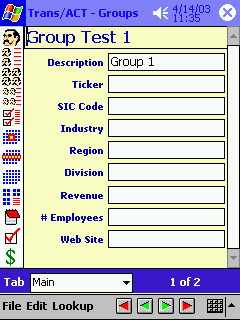 Left to right: New Task for contacts, New Group, Group View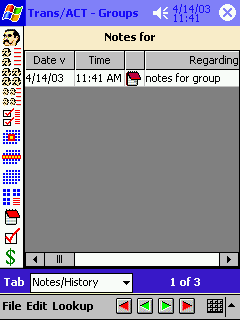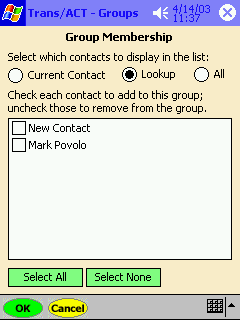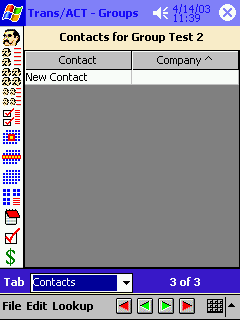 Left to right: Group Notes, Group Membership, Group Contacts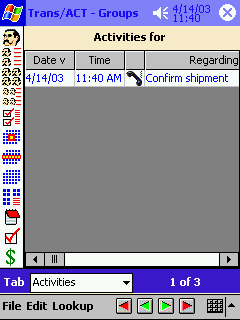 Group Activities
The above views have just touched upon what is available. As mentioned,
depending on your preferences, you can easily change the views by using the
desktop layout configuration tool.
Conclusion:
Trans/ACT is a full featured applications that replicates Act! on your Pocket
PC. Although the user interface is not exactly the same as Act, it is very good.
For anyone needing to update their Act information on their Pocket PC's, I
highly recommend you try this application for it will more than suit your needs.
Here is a list of a few issues and recommendations for the developer:
1.. When using tap and hold on contact list, the ability to create tasks and
appointments.
2. Some screens need a today value in the date drop downs. Although today's date
is always the first option, a graphical display with a today's option would be
nicer. When using the drop downs, you really have no idea what next Monday is.

3. When changing contact information in the contact view, opening the contact
list still has the old info. i.e.. Data is not refreshed until next sync.
4. When running on a storage card, the program is way too slow to startup.
Almost 50s on my iPaq 3850.
5. You can only create a new group from Trans/ACT after at least one is
transferred.
6. When creating a task for a group, the task is created for the last selected
contact, even though the contact may not be a member of the group.
7. There is no way of knowing from a task view that it belongs to a certain
group. This can be changed with the layout tool however.
8. When clearing an activity, the option to schedule a follow-up.
9. Ability to link a task to multiple contacts.
Price: $99.99
Pros: 

Configurable layouts
All information from Act can be transferred
Ability to create notes, histories, groups, contacts, activities etc. from
Pocket PC.
Cons: 
Launching application slow
Price
Application Size
Product Information
Price:
99.99
Manufacturer:
Pinpoint Tools
Pros:

Configurable layouts
All information from Act can be transferred
Ability to create notes, histories, groups, contacts, activities etc. from
Pocket PC.

Cons:

Launching application slow
Price
Application Size