We use affiliate links. If you buy something through the links on this page, we may earn a commission at no cost to you. Learn more.
Product Requirements:
Device:
Microsoft® Windows 98SE/Me/2000/XP
USB port
MP3 players are fantastic when you want to carry a couple hours of music with
you while you're on the go. But how do you carry your entire music collection
with you instead of just a couple albums? I bet you immediately thought of the
ever popular iPod player from Apple… I'm actually going to take a look at a
different 20 gigabyte player today. The Neuros MP3 Digital Audio Computer from
Digital Innovations. Available in
128mb and 20gig versions, this player has a few features that the iPod doesn't,
along with a cheaper price tag. . Let's take a closer look.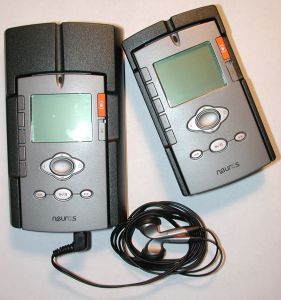 Hardware Specifications:
Capacity: 2 Hours of music, 20GB hard drive holds up to 5,000 songs (encoded
at 128kbps)
Display: 2-inch (diagonal) LCD with orange LED backlight, 128 by 128 pixel
resolution, .21/.28 dot pitch 4 level gray scale
128mb Version Size (with backpack): 4.3 x 2.5 x 1.3" (10.9 x 6.3 x 3.3cm),
Weight: 5.8oz. (164 g)
20gb Version Size (with backpack):  5.3 x 3.1 x 1.3" (13.4 x 7.8 x 3.3cm),
Weight: 9.4oz. (266 g)
Audio: Maximum output power: 60mW rms (30 mW per channel)
Frequency response: 20 Hz to 20,000 Hz
MP3 format: (up to 320 kbps), MP3 Variable Bit Rate (VBR)
Recording: 64-160 kbps MP3 format
3.5mm stereo headphone jack
3.5mm stereo line-in jack
2.5mm stereo RF jack (for external antenna)
AC Power Adapter: input: 100V to 125V at 0.4, frequency: 50 to 60Hz, DC output:
9V at .8 amp
USB 1.1
I've been interested in large capacity MP3 players for a long while now.
However, I haven't been brave enough to fork over $500 for an iPod without
testing one first. I was very happy when Digital Innovations responded to my
request for an evaluation unit of their Neuros player. They actually sent me the 128mb version first,
and after I begged, they sent me the 20gb version as well. I must say that the
folks at Digital Innovations are very responsive and great to work with!
When I first received the 128mb version, I was surprised at its size. Most
128mb players that I've looked at in the past have been pretty small. Actually,
the Neuros player itself is small and thin, but it requires a backpack in order to
work. This design makes the Neuros quite a bit more bulky than I am used to.
Then I received the 20gb version and thought "wow, this thing is really a brick".
During the couple of weeks that I've been using both units, their size has grown on
me. But I would still prefer them to be smaller. Especially the 20gb version.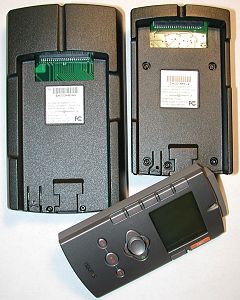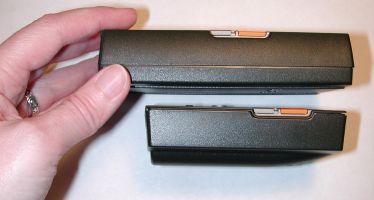 The Neuros player is made of grey plastic. It is very light and thin. At the
top is a 50 pin connector that plugs into the backpack. Inserting and removing
the player from the backpacks is a little difficult, but it isn't something
you'll be doing very often… if at all. The player with the pack is a sturdy
combination. Both packs are made of thick black plastic that don't flex when
squeezed. That said, I wouldn't want to drop the Neuros on to a hard surface…
especially the 20gb version. The 128mb version comes with a removable belt clip,
while the 20gb version does not.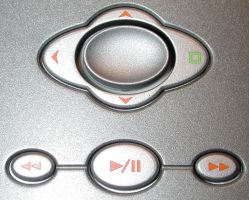 The front of the player has 10 buttons and a 4 way joystick style button in
the middle. 5 buttons along the left side of the unit are for your 5 favorite radio
station presets. Across from these buttons is the HiSi (Hear it Save it) / Record button
and the button lock switch. The buttons at the bottom of the unit give you your standard
Previous, Play/Pause and Next features, and the 4 way button in the middle
allows you to scroll and select features via the onscreen menus. The Play/Pause
button also doubles as the Power button by pressing and holding it for several
seconds. All of the buttons are easy to press and have good tactile feedback.
The 4 way button is concave so that your thumb can rest in the center and not
slip as you navigate thru song lists and menus.

At the bottom of the player is an RF jack, USB connector, earphone connector
and Line-in jack. Built into the pack is an AC adapter connector. There is a
NiMH rechargeable battery built into the 128mb pack, and a Lithium Ion
rechargeable pack built into the 20gb version. Both packs take approximately
8hrs to charge using an included AC adapter. Once charged, they will play about
10hrs. I can verify that the 20gb version will play that long. I let it charge
overnight, unhooked it from the power around 6:30am. Turned it on at 8:45am and
didn't turn it off until 8hrs and 45mins later when it turned itself
off due to a low battery. One thing missing battery-wise is a charging status
LED. As it is, you have no real way of knowing when the battery is fully charged
without turning the player on to check the onscreen battery status icon.
The display on the Neuros is a nice size and is easy to read indoors or out.
The display is very mono Palm-like, and even has a contrast adjustment setting. There is
also
an amber backlight that you can turn on for 10 or 30 seconds whenever a button
is pressed. This is great when you're in a dimly lit area and need to change
settings or choose a song.
The Neuros player interface is simple but effective. It isn't one that will
require you to read a manual to figure out. The main menu that greets you when
you turn on the unit has five choices: Neuros Audio, FM Radio, HiSi, PC Library
and Settings.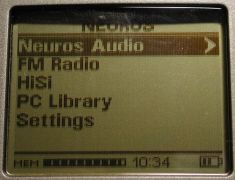 The Neuros Audio menu is where you'll probably spend most of your time. It is
here where you choose individual songs to play, or search by play list, artist,
albums, genres or recordings. Choosing the songs heading will list all the songs
saved on the 20gb hard drive in alphabetical order. As you can imagine,
scrolling through thousands of songs can take awhile. Scrolling speed remains
constant even if you hold the up/down scroll button. One thing I didn't really
like was the fact that once you reach the end of the listing, it automatically
scrolls back to the top and keeps going.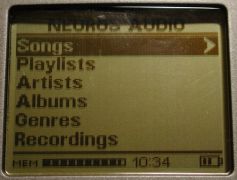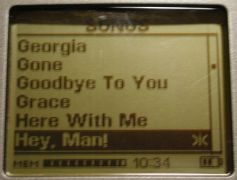 Most people probably won't choose to play all their songs individually. Instead, they
will either create play lists, or will play an album at a time. Luckily, you can
quickly scroll through your play lists, album lists, artist lists and genres. When
you see the album name or artist name you want to listen to, you just press play
and then sit back and enjoy the tunes. I really like being able to search by
artist. If you have multiple albums by one person or band, you can easily play
all their songs just by pressing play on their name. Otherwise, you can quickly
zero in on one song if you desire. You also have standard shuffle and repeat
settings.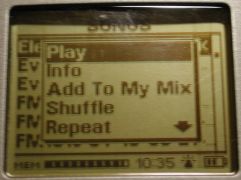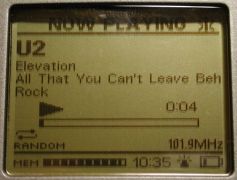 It is also important to point out that you can delete songs from the player
and add songs to the internal play list on the player called MyMix. I did find
one thing that might be considered a bug. You can actually add songs multiple
times to MyMix.
The audio quality on the Neuros is probably the best of any MP3 player that
I've had the chance to use or review so far. Although there isn't a built-in
equalizer that you can adjust, I've found the player to produce great sound for
all types of music that I've thrown at it. As a matter of fact, I really hate to
send this unit back to them because I love listening to it so much <sniff>.
The PC Library feature which is available from the main menu is pretty cool
and really sets this player apart from all others. Say you have a bazillion MP3s
on your PC and don't necessarily want to copy all of them to the Neuros. Now,
imagine that you're away from your PC and are listening to your Neuros and think
of a song that is on your PC, but not the Neuros. You go to the PC Library
feature on the player and boom, you can now search through your entire music
catalog that resides on your PC. When you see the song that you want, you can
select it and have it added to the MyMix play list, or to the song list. The
next time you sync with your PC, it will copy that file to the Neuros
automatically!
The FM Radio feature on the Neuros, gives you just that, an FM radio. You
even can assign your 5 favorite radio stations to the 5 buttons on the left side
of the player. You can scroll through stations starting at 87.5MHz and going up
to 107.9MHz. The reception really varies depending on your location. The player
uses the cord on the ear buds as an antenna. I think the player would benefit
greatly from a better antenna. There is an RF connector on the bottom of the
player, but so far the option isn't available from Digital Innovations.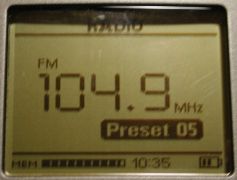 Another really cool feature of the Neuros is the ability to find out who is
singing a song that you hear playing on a radio station. If you want more info
about a song while it is playing, you just press the orange HiSi (otherwise know
as Hear it! Save it!) button. It records a 30 second snippet. Then when you sync
with your PC, it looks the song up on an internet database and gives you the
song time, artist name and date the song was recorded. Pretty freaking nifty!



Click on thumbnail for full-size image
You aren't limited to only recording 30 second sound bites from the radio,
you can record as long as you like. By pressing the orange HiSi button twice, it
will record until you press the button a third time, switch stations, or press
the left direction on the joy pad. I think this feature should be expanded to
include timed recordings. It would be so cool to have VCR-like capability on the
Neuros. I have a friend that really enjoys NPR (National Public Radio), but he
doesn't always have time to listen to different broadcasts. Recording them for
later enjoyment would really be a great feature.
You can also use the Neuros as a voice recorder. There is a built in
microphone above the display, or you can plug in a microphone or a device with
an audio output into the Line-in jack at the bottom of the player. You have the
ability to define the quality of the MP3 recordings by choosing from sample
rates of 64, 96, 128 or 160 Kbps. The higher the sample rate, the more storage a
recording will consume. To give you an idea, 64 Kbps uses 500KB per 1 minute and
160 Kpbs uses 1.25 MB for the same duration.
Besides receiving radio broadcasts, you can also transmit your music to the radio.
Yes, you read that right, you can transmit from the Neuros to an FM frequency.
This built-in feature is pretty much identical to the
irock! wireless music
adapter that we have reviewed here on the Gadgeteer. The Neuros can scan for
an optimal transmitting frequency, or you can choose one yourself. Once you have
it setup, you can then set the player in your car seat and listen to your music
through your car stereo. Transmit range is supposed to be 10 – 20 feet, but I
found it to be more along the lines of 5-6ft in the areas I tested (from my car
and in my living room). Audio quality is fair to good. It's definitely not going
to sound as good as it does when listening directly through the ear buds. I was
surprised though at how well it sounded through my stereo.
One thing that I would love to see, is the ability to broadcast the radio
playing on the Neuros through the radio in your car or stereo. That way, if you
like to listen to the radio while you're driving to work, and hear a song that
you want more info about, you can press the HiSi button to record the snippet.
I'm sure that doing so is an FCC no-no, but I think it would be cool. I guess
you could get a separate transmitter like the irock! to use in those situations.
On the PC side of things, there is the Neuros Synchronization Manager. This
is a pretty basic application that allows you to sync / copy MP3 files to and
from the Neuros, setup play lists and resolve HiSi requests. Using USB 1.1, you
connect the Neuros to a free port. As soon as it is connected, the Neuros will
power on and initiate a sync. It will copy any HiSi requests up to the PC and
grab any new music from the PC Library that you may have requested from the
Neuros. It will also check to see if there are new firmware or updates to the
desktop application that need installed. Although the device doesn't use faster methods
like Fire wire or even USB 2.0, the file transfers speeds are pretty good. A
typical 12 song album takes approximately 2 minutes to transfer to the Neuros.
The only thing missing from the PC software is CD ripping features.



Click on thumbnail for full-size image
After using the Neuros for the past few weeks, I have to say that I really
want a large capacity player now. Having ALL my music with me all the time has
become important to me. Although the Neuros is bulkier than the iPod, it has
several features that make it desirable. First of all, it is $100 cheaper, has a
built in FM radio, voice recorder, FM transmitter and the ability to identify
songs played on the radio. If I was in the market to buy a 20gb player, I would
be hard pressed to find one with as many interesting features as this one. One
the other side of the coin, if I was looking for a 128mb player, I think I would
have to pass on the Neuros. Even with the extra features, the limited storage
space would be the main turn off for me. I think Digital Innovations should
really consider adding an SD or CF slot to the player.
 
Price: $249 128mb version, $399 20gb version
Pros:
Big display
Built in radio, voice recorder and FM transmitter
Song ID feature
Cons:
128mb version is bulky and lacks an expansion slot for SD or CF
20gb version is bulky
Does not support music formats other than .MP3 at this time
CD ripping software not included
Lack of battery charging status LED
Product Information
Price:
249.0
Manufacturer:
Neuros Audio
Pros:

Big display
Built in radio, voice recorder and FM transmitter
Song ID feature

Cons:

128mb version is bulky and lacks an expansion slot for SD or CF
20gb version is bulky
Does not support music formats other than .MP3 at this time
CD ripping software not included
Lack of battery charging status LED