Here's the bag's description printed on its tag:
Durable Moisture Resistant Fabric
Large Storage Compartment
Cell Phone Pocket
Audio Pocket and Portal
Key Clip
Zippered Accessory Pocket
The Colorado Special Ops Sling Bag has a padded zippered pocket that rests
against your back or side. It's fairly thin, but I use it to hold my wallet, ID,
and a few thin magazines. The seams, stitching, zippers and pockets are of high
quality.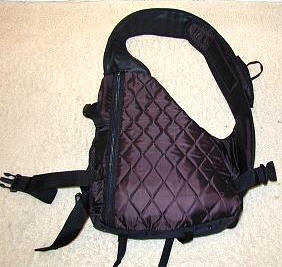 There is a removable cell phone pocket that runs directly across the chest
area for easy access. It's held on by a metal clip and buttoned belt loop. There
are 2 accessory rings and (shell holders?) that run across the strap. There is
also a nifty rubberized American flag on the strap.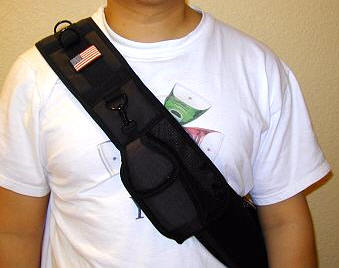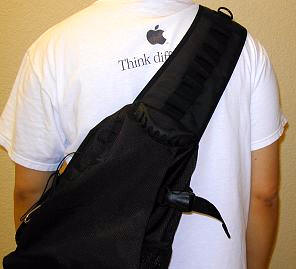 There is an exterior zippered mesh pocket directly beneath the audio portal
that you can run your headphones through. I use it to directly store the bud
headphones for easy access without having to disconnect them from my device.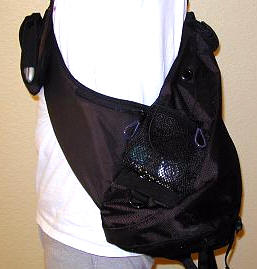 There is also a zippered pocket that runs on the fat part of the strap that
you can put things in. This rests on your hip, so it's fairly easy to get to
without removing the bag.
The inside of the bag is covered by a rain fly that closes via two clips.
(There is also a clip that you can secure around your waist for extra
stability.) Directly underneath the fly, but outside of the large interior
pocket is another ID sized pocket that has a slot for cards (I use it for my
pager), a zippered mesh pocket for other small things, and an elasticized mesh
pocket.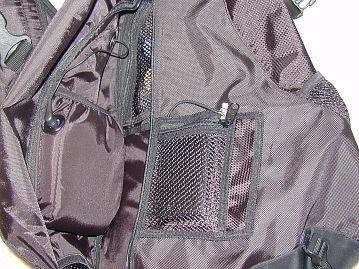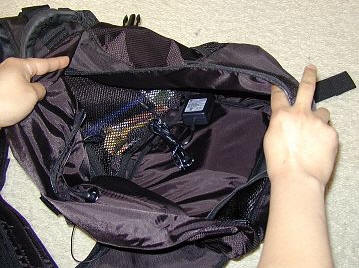 Inside the bag is a large interior pocket that is divided into three
additional pockets. First there is the interior audio pocket. There are
reinforced rivets that serve as holes for the headphones accessory. The second
is a liner pocket that parallels that larger exterior pocket that I spoke of
earlier. Finally, there is an interior mesh pocket for lip balm, gum, and
smaller items that you need to see to get to.
Oh, the bag also has an exterior rubber handle on the top so you can carry it
without having to sling it if necessary. It is probably the most comfortable
rubberized handle that I have seen. It also seems very durable.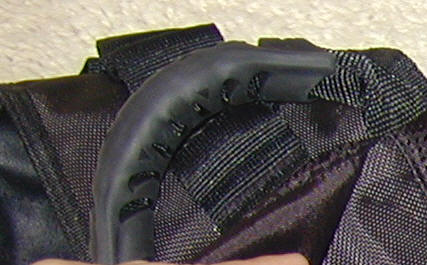 So far, this bag has been working great! It holds all my daily gear and
gadgets, including: Palm M515, T-Mobile Sidekick/ Danger Hip top, My new Dell
Axim X5, Rio Volt Mp3 Player, Viking 256 MB SD Card, Kingston 64 MB Compact
Flash Card,  Epson Photo PC 850z Camera, my wallet, pens, umbrella,
personal care accessories, and the various power and interface cords that I tend
to carry with room to spare! It's a great bag. 
The Colorado Special Ops Sling Bag is available from
Champs Sports and other retailers.
Price: $34.99
Pros:
Can hold a lot of gear safely (I added a Gameboy advance SP to my gear
collection with no noticeable difference)
3 pockets are easily accessible while wearing the bag (Good for phone, id, keys,
headphones, wallet, etc.)
Can also be draped over one shoulder for quicker access Padded back is
comfortable
Built in riveted headphone pass through Additional hooks for quick clipping
items
Cons:
Depending on your size the bag can be a tad bit uncomfortable in the
neck/shoulder blade area (also depends how heavy your load is)
Velcro on the main strap can be loud because it is so strong
Slinging the bag over your head when loaded with gear takes getting used to
Support The Gadgeteer
:
We may earn a small affiliate commission from purchases made from buying through links on our site. As an Amazon Associate I earn from qualifying purchases. Learn more.
Product Information
Price:
34.99
Manufacturer:
N/A
Pros:

Can hold a lot of gear safely (I added a Gameboy advance SP to my gear
collection with no noticeable difference)
3 pockets are easily accessible while wearing the bag (Good for phone, id, keys,
headphones, wallet, etc.)
Can also be draped over one shoulder for quicker access Padded back is
comfortable
Built in riveted headphone pass through Additional hooks for quick clipping
items

Cons:

Depending on your size the bag can be a tad bit uncomfortable in the
neck/shoulder blade area (also depends how heavy your load is)
Velcro on the main strap can be loud because it is so strong
Slinging the bag over your head when loaded with gear takes getting used to