We use affiliate links. If you buy something through the links on this page, we may earn a commission at no cost to you. Learn more.
Updated sections of this review are in RED
and are italicized.
What does it take for a bag to qualify as a great gear bag in my opinion?
Well there are a couple of features go without saying, but you know me – I'll
say them anyway: the bag has to look good and it has to be made of quality
materials. Any branding should be tasteful, and the bag has to look decent when
it is hanging from my shoulder.
Then come my obvious requirements: the bag should have plenty of pockets, a
very comfortable shoulder strap, plenty of room, and close securely.
To really set a bag far above its competitors, it should have the following:
a business card slot, pen slots, various PDA sized slots, zippered pockets for
loose items, and a slot on it's back-side for magazines or other papers.
I received the Tom Bihn

ID Bag back in October. I have used it as a daily gearbag, taken it on a
trip to COMDEX, and generally put it through all of the paces needed to
determine whether it could be the perfect bag for me. While I can't quite call
it perfect, it does manage to come close…
The ID is available in Black and Silver with Periwinkle lining, or Black and Charcoal with
Flame lining; I received the black and silver.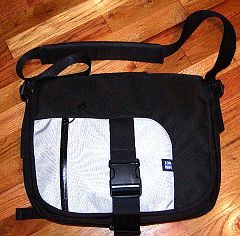 The bag is composed of 1050 Denier Ballistic Nylon and 500d Cordura Nylon with YKK
zippers. What this means is that this bag not only looks good, it is tough and
should easily withstand the daily abuse that will be delivered as you use it.
When empty, the ID measures 13" tall x 16" wide x 4" thick. The clips used to
secure the flap are impressively thick, and coupled with the generous straps
should easily keep the inside contents safely secured.
The shoulder strap is adjustable from either side and features a Tom Bihn
labeled, sliding, squishy, gel-filled cushion in it's center. The best thing I
can compare this cushioning to is the material used in high end bicycle seats.
While obviously nothing is going to make a heavy load entirely comfortable, this
gel cushioning does will it bearable…more on that later.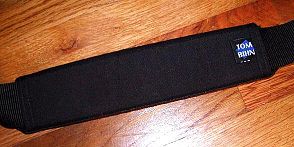 When I received the bag, I immediately liked the flap design. I tend to like
this type bag better than the top-opening briefcase style (like Julie prefers),
so right there this bag piqued my interest. Located in the contrasting silver of
the front flap was a zippered pocket suitable for storing e-ticket confirmations
and boarding passes when traveling. When not traveling, it is handy for letters
and other similarly sized things. Of course, you can also keep assorted cables
in there. There is a unobtrusive Tom Bihn designer label in this area.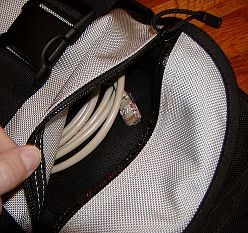 The back of the ID has a generous slash pocket that spans the width of the
bag. This pocket is perfect for magazines, files, any flat items that you might
want to carry. As you can see, there is also a Tom Bihn labeled adjustable strap
that spans the width of the bag. This is for those of you that rife a bike and
need the added security and stability that a waist strap will provide. This
strap can be removed, if like me you won't use it.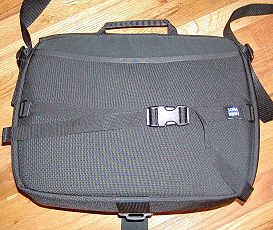 I thought at first that to do this you would have to cut the strap, but I
should have known better. In keeping with the quality of this bag, all you have
to do is push down on the clip which will expose the center opening so that you
can easily remove or reattach the strap. Clever!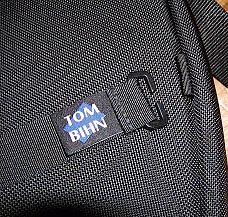 The top of the bag has one of the few items I can't live without in a
shoulder-slung gearbag: a handle. While I would like it if the handle had been a
bit thicker and more padded, it is definitely better than nothing.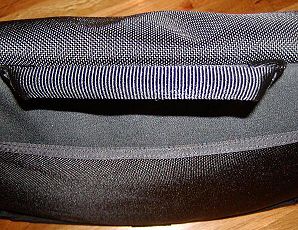 Because the handle is present, and because the sides of the shoulder strap
are so adjustable, you could theoretically remove the shoulder strap and use
this bag as a briefcase. Again, a ,ore padded handle would make this a better
option, though.
Opening the ID bag, you immediately see the pleasing periwinkle blue trim,
and that there are two main compartments to this bag.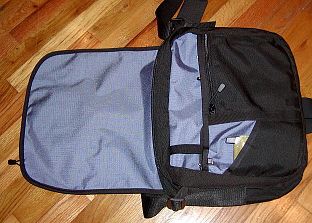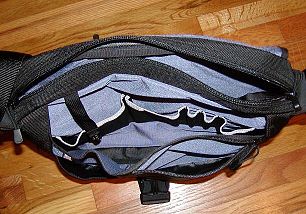 The inside front has a slash compartment that is perfect for a PDA in its
case. Just remember that there is no padding, so you will not want to store a
naked PDA there. Next to this, there is a generously sized  zippered
compartment. You can store a CD player or other similarly sized gadget in this
area, or you can use it to hold small accessories and adapters that you don't
want to get lost in the bag's main compartment. There is also a small "Made in
USA" tag which is always nice to see. ☺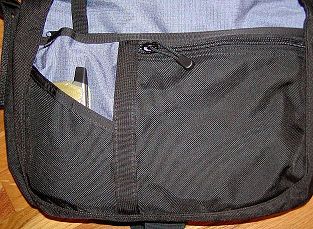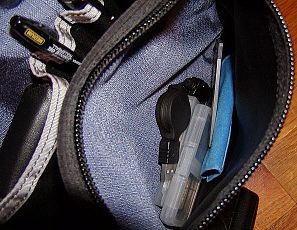 Behind this panel is the first main compartment. It is chock-full of pockets
and slots, here is the low-down: there are two pen slots (generous enough to fit
my beloved Delta – winning big
points with me), a thin slot that seems to have been custom made to fit my Sanyo
SCP-6000 cell-phone, and two pockets perfectly sized for PDAs. The pocket on the
left can fit an iPAQ in a CF sleeve or a
Stowaway XT keyboard, and the one on the right is only slightly smaller – it
perfectly fits my Tungsten T perfectly. Once again, none of these pockets are
padded, so if you use them to hold PDAs, they really should be in cases. The
only thing I was missing was a business card holder, which is pretty important
to me.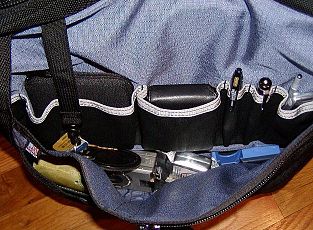 Attached from a lanyard is a clip for your keys; this is very handy and will
keep them from settling to the bottom, where they would be hard to find.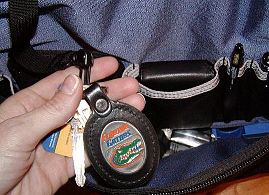 The interior of this front compartment is thick enough that you can easily
stow an item of up to an inch or so of width with the items already in the
pockets.
The back compartment is a vast open hole with four snaps made to hold the
size four or size five

Brain Cell computer protection bag, for an additional cost. This compartment
is approximately three inches thick, so whether or not you need it to carry your
laptop or files and papers, it should be adequately sized to do so.
Since I didn't have a Brain Cell to hold my laptop, I used the padded
Waterfield laptop sleeve, which
worked very well. I still had plenty of room in the compartment for my power
cables and other necessities. The rear of this compartment is padded, and that
should offer additional shock protection to the contents when you are carrying
the bag.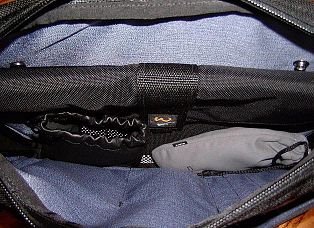 04-03-03 I recently received a Size 5

Brain Cell from Tom Bihn, and let me tell you – this little bag makes all
the difference in the world! Like the ID bag, this insert is made of 1050 Denier
Ballistic Nylon and 500d Cordura Nylon. It is also thickly padded with foam
encased in a plastic shell. This bag is tough and extremely protective.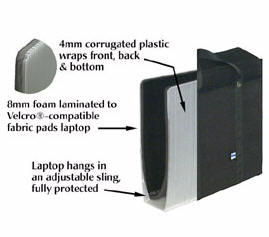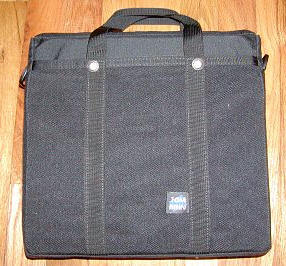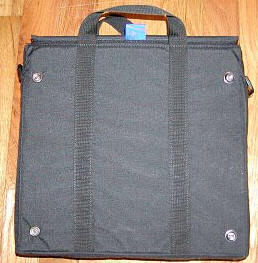 The Brain Cell has four snaps on its rear that allow
it to attach to the wall of the following Tom Bihn bags: ID,

Eclipse,

Empire Builder, and

Brain Bag. You can essentially turn any of these bags into a super
protective laptop carrier simply by snapping the Brain Cell in. When you
don't need to carry your laptop, you can easily unsnap the Brain Cell from your
bag and instantly free up room for files, books, or whatever.
The top flaps of the brain cell are held closed by a
long secure strip of Velcro. There is almost
no chance that your laptop will ever just "fall" out of this bag.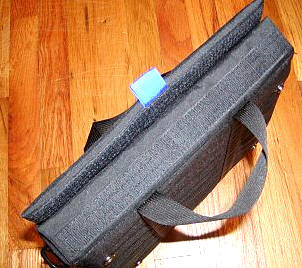 For times when you only need to carry your laptop,
you can either carrty the Brain Cell by its two loop handles, or you can hook an
optional shoulder strap to the two heavy duty hooks on either side of the Brain
Bag. This allows it to be a super portable laptop bag in and of itself.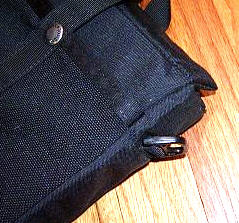 There is even a large, deep, stretchy, expandable
pocket on the front side of the Cell that can carry papers, cables, or other
necessary items. The contents of the pocket are kept secure underneath two
snaps.
The Brain Cell is available in three sizes, so you are just about guaranteed to
be able to fit your laptop into one of them.
Overall, I was very impressed with the quality and construction of this bag.
Other than a few quibbles, such as the "missing" business card holder and
wishing that the top handle was a bit thicker and that some of the pockets I
would use for PDAs had padding, I was very happy with it. We all know
that choosing a gear bag is a highly personal decision. What is important to me
may not be to you…and vice versa – so realize that the cons I have listed are
personal and reflect in no way on the quality of the bag. I think that
just about anyone will be very pleased with the design and functionality of the
Tom Bihn ID Bag, I can highly recommend it.
Price: $80.00
for the ID Bag, Brain Cell is an additional $50
Available in Black and Silver with Periwinkle lining or Black and Charcoal with
Flame lining

Pros:

Extremely well made
Very padded shoulder strap
Lots of pockets
All zippers have pulls
Ability to add a "Brain Cell" to transform into a laptop bag
Added stability of  a removable waist strap, if you ride a bike and need
the added security
Brain Cell is extremely padded and protective
Brain Cell can be its own portable bag
Lifetime Guarantee!
Cons:

No business card slot
Bag has no padding except for it's rear wall
I wish the top handle was better padded
Product Information
Price:
80.0
Manufacturer:
Tom Bihn
Pros:

Extremely well made
Very padded shoulder strap
Lots of pockets
All zippers have pulls
Ability to add a "Brain Cell" to transform into a laptop bag
Added stability of a removable waist strap, if you ride a bike and need
the added security
Brain Cell is extremely padded and protective
Brain Cell can be its own portable bag
Lifetime Guarantee!

Cons:

No business card slot
Bag has no padding except for it's rear wall
I wish the top handle was better padded