We use affiliate links. If you buy something through the links on this page, we may earn a commission at no cost to you. Learn more.
Product Requirements:
Device:
Compaq iPAQ 3800/3900/5400 Series Pocket PC
 
03/31/03 comments are in red and are
italicized
When is the last time that you heard of a single person dreaming up and then
manufacturing a product that was so timely and well made, that it was almost
impossible to believe the product wasn't the design of a large corporation?
Well, today I want to tell you about just such a product.
Mark Hammill, a 21 year old student of the Swansea Institute of Higher
Education (UK), has come up with one of the most impressive stylus replacements
for the iPAQ 3800 series that I have ever seen! Fashioned from a "single piece
of high quality stainless steel" which should therefore never wear or rust, the
Antenna stylus not only looks and feels great, but it also works very
well.

The stylus I was presented with fit in my iPAQ 3835's silo perfectly, and it
looked sharp while inserted.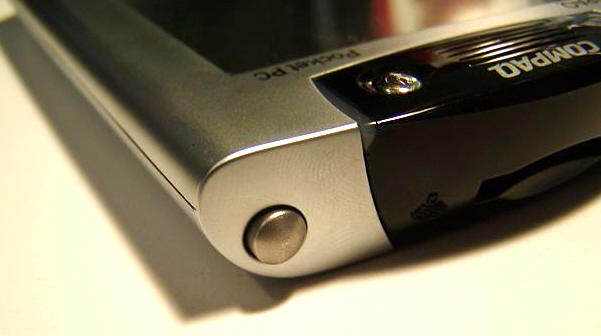 The writing tip is white nylon, and replaceable. You can purchase extra tips
directly from Mark, should you need any.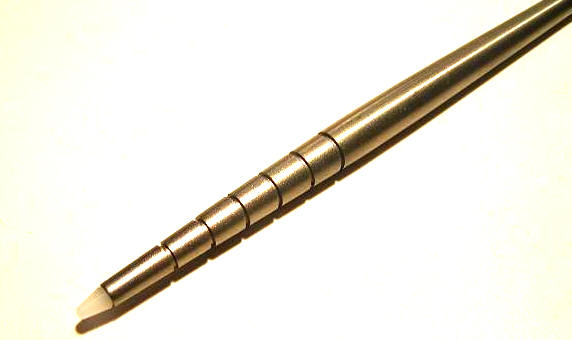 Mark is now also offering the same high quality tip
in a black nylon version, for those that prefer it.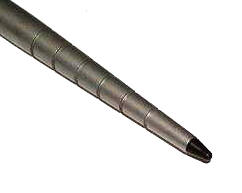 The designer touches implemented in the Antenna are classic and beautiful.
Everything from the grooved barrel shown in the above picture, to the stylized
top of the stylus shown in the following picture – the Antenna is an iPAQ
addition that you will be proud to carry.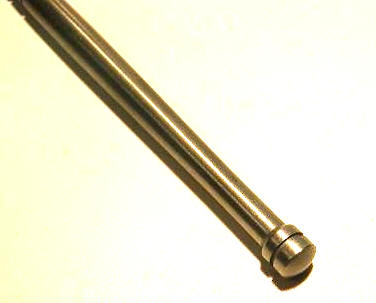 Evidently over time, some users have noticed that
their Antenna Stylus may no longer lock in as securely as it originally did. In
answer to this, Mark has introduced the Antenna Grip, which is a sleeve made of
black silicone. This thin sleeve is slid up the shaft of the stylus, and held in
position near the end. Once installed, it causes the stylus to fit even more
snugly in the iPAQ's silo.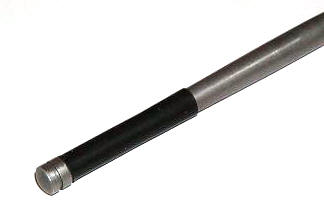 While the sleeve works exactly as advertised, I have
actually found a problem with it: I feel that it is a distraction to have this
sleeve on my stylus – I keep wanting to roll its edges! That's a personal issue,
though. You might be able to show more self-restraint.
Here is a picture of an Antenna v1.1 stylus with the
new tip and sleeve in place…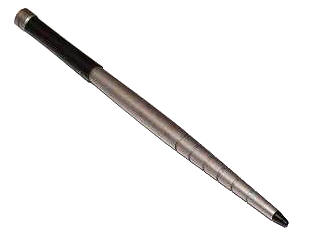 The stylus fits well in hand, and is a vast improvement over the cheesy stock
stylus.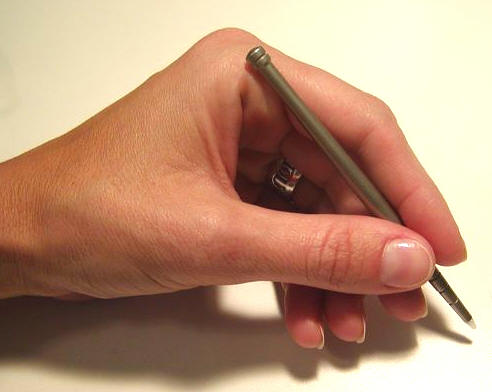 Mark is considering making other limited edition and mass production styli
for many PDA's, and according to the letter he sent with the stylus, he "may
consider aluminum as a possible material and a variety of finishes such as high
polishes and anodized colors." Mark, if you ever make one in green,
please put me at the top of your list! :0)
The iPAQ 3800 Antenna Stylus is a perfect marriage of design and function.
Not only does the Antenna's design have a very strong visual appeal, its weight
feels good in your hand and allows for a great writing experience. We all know
that the PDA companies are making shoddy original styli, and to see someone that
is still a student have the gumption to take a chance like this and to introduce
such a quality product in the process – I must say that I am impressed!
It has been almost a year since I first wrote this
review, and in that time, Mark has been quite busy. He has spent the last year
coming up with new designs . In an e-mail I
recently received from him, he stated, "I
will soon be introducing the options of Welsh Gold Styli and Platinum Styli to
the webpage, for the IPAQ 3100, 3600, 3700, 3800, 3900, 5400. All of which can
be made to order with any choice of jewels and/or engraving. I will also be
manufacturing Stainless Steel IPAQ Antennas for the IPAQ 3100, 3600, 3700, 3800,
3900, 5400. Once the new products are out I will go back to my other aim which
is to produce other components for Pocket PC's, see example bellow."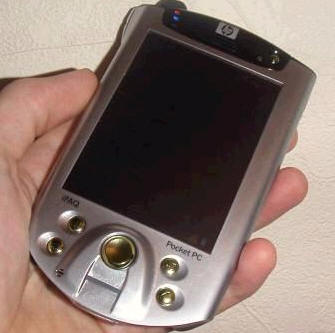 Yes, you saw correctly – Mark actually created 24k
welsh gold replacement buttons for his iPAQ 5400. Talk about a gift for the
person that has everything!
The Antenna Stylus is available from Mark's
web store…make sure you check it, and
Mark's other creations, out.
Price: $22.50 for the
stylus without a tip, add $4.95 for either a black or white stylus tip
and $4.95 for the stylus grip
International packaging and postage is
included in the price
Version 1.1 is made in a Limited Edition of 1000.
According to Mark, there are less than 50 left, so if you want one, you had
better get it soon.
Pros:

Price has actually come down in past year (from
$34.95)
Excellent fit
Improved weight and grip versus the original stylus
Stylish
Excellent writing tip
Other iPAQ owners will be jealous, trust me!
Cons:

The stylus grip rolls up and down the upper end of
the stylus shaft
Product Information
Price:
22.5
Manufacturer:
N/A
Pros:

Price has actually come down in past year (from
$34.95)
Excellent fit
Improved weight and grip versus the original stylus
Stylish
Excellent writing tip
Other iPAQ owners will be jealous, trust me!

Cons:

The stylus grip rolls up and down the upper end of
the stylus shaft