We use affiliate links. If you buy something through the links on this page, we may earn a commission at no cost to you. Learn more.
Product Requirements:
Device:
Sony CLIÉ NX Series PDA
Though I have never heard of Digital Express, I have gotten my hands on a
case of theirs for the NX70v CLIÉ from Sony. The case is a good thing to look
at, with a nice black tone and a soft yet strong feel in the hands. When you
first get this case, it comes in a plain box (mine was black) and that's about
it. When you first put it in your hands, it feels rather flimsy and honestly at
first I thought "this is going to protect my CLIÉ?" Come to find out, that it
does a fine job at doing so, and I'm rather pleased with it.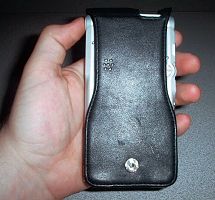 It has a magnetic clip for a secure closure, which seems to hold pretty well
under normal conditions. I have not tested on how much pressure you can apply to
it without it snapping apart, but trust me, it will hold just fine. The flip
cover part of the case seems nice, and has a protective padding which makes it
stiff and a good cover for the front of the CLIÉ. The "hinge" area which
contains the camera slit is pretty flimsy, but probably so it can be opened and
closed with ease. The top case doesn't connect to the CLIÉ in any way; so
personally, I think the camera opening is pretty pointless considering you have
to have it open to use the camera. There is no open WiFi slot area though, which
is probably a good thing considering you would have to take the card out, remove
the case, and reinsert the WiFi card. This can be kind of disappointing, but it
makes perfect design sense. On the back you will find nothing but the speaker
cut out holes, and the other half of the magnetic clip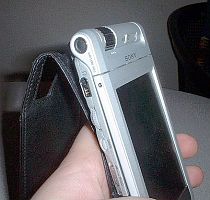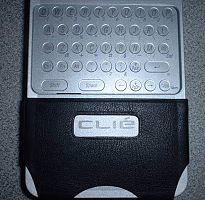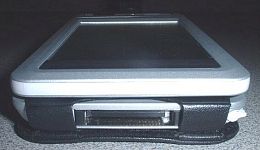 When you open up the case, it's straight black like the front, but has pockets
and the company logo on the top part. You will have room for your cash and
credit cards, however, I would not recommend sticking your extra memory sticks
in there because I did that mistake, and it took me 5 minutes just to figure out
how to pull it out without ripping the case. They are rather deep pockets, so
you will have trouble if your memory stick happens to slip all the way down. On
the opposite side, you have the pocket for the CLIÉ itself, which slips right in
there nice and tightly. It of course has that nice little opening for "CLIE" to
stick out of, but nonetheless it does its job well. You cannot sit the CLIÉ in
its cradle with this case on, however you can use the included travel charger
adapter and strictly charge your device.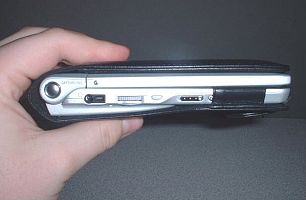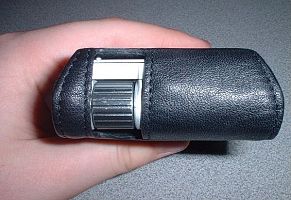 When the CLIÉ is in the case, it looks good and doesn't seem to gain any more
size with the case on it. Sometimes I feel like its smaller, which we all know
is the advantage of black cases (and clothing ;-)). All the buttons on the left
side of the CLIÉ are accessible with ease, and the lanyard eyelet on the right
site holds out nicely so there is no interference between the lanyard and the
top of the case.
Overall this case holds your CLIÉ just right, along with your credit cards and
money. It can stand up to a good beating before it passes it down to the CLIÉ,
and you certainly get your moneys worth with this great, easy and simple case
from Digital Express.
Price: $29.00 (available at Brando)
Pros:
Good Style
Full Access to controls
Money and Credit Card holder
Nice and secure
Can charge while in case
Cons:
Not complete coverage of CLIÉ
Camera cut-out is not needed
No WiFi Card cut-out
Cannot sync while in case
Product Information
Price:
29.0
Manufacturer:
Brando
Pros:

Good Style
Full Access to controls
Money and Credit Card holder
Nice and secure
Can charge while in case

Cons:

Not complete coverage of CLIÉ
Camera cut-out is not needed
No WiFi Card cut-out
Cannot sync while in case