We use affiliate links. If you buy something through the links on this page, we may earn a commission at no cost to you. Learn more.
Product Requirements:
Device:
Windows PC 98, 2000, ME, XP or later
When I first saw pictures of the HP 1910 on the web, it really didn't give me
much of a wow feeling. Then Judie and I saw one in person at the
Fall Comdex
in Las Vegas and it was love at first site for me. The screen was gorgeous and
it was so small and cute! I knew I wanted one.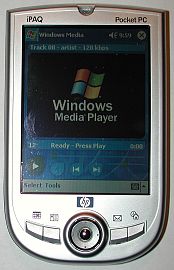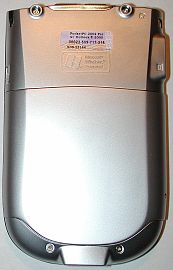 Two months have passed now, and in that time we've reviewed the
Tungsten T, as well as the
iPAQ 5455. Although the 5455 held a lot
of promise, it just didn't 'do it' for me. The Tungsten T on the other hand
continues to be my main PDA due to its size, overall stability and speed.
Thanks to Microsoft, I was lucky enough to acquire the 1910 for a 1.5 week
review period. Marketed as a budget Pocket PC, this little guy definitely looks
more like a Ferrari then a Ford. But does it have what it takes under the hood
to make a decent Pocket PC? Let's find out…
Hardware Specifications
Operating System: Microsoft Pocket PC 2002
Processor: 200MHz Intel PXA 250 XScale
Memory: 64 MB SDRAM (46 MB user accessible), 16MB NAND Flash
Display Type: 16 bit, 64K color, 240 x 320, 3.8" diagonal, Transflective TFT
liquid crystal display
Expansion: SD Memory Slot (Supports SD/MMC)
Infrared port: IrDA SIR
Audio: 2.5mm Stereo Mini Jack
Battery: lithium-polymer removable/rechargeable 900 mAH
Dimensions: (H x W x D): 4.46 x 2.75 x 0.50 in (113.3 x 69.9 x 12.7 mm)
Weight: 4.23 oz (120 g)
What's In The Box
HP 1910 Pocket PC
Removable Battery
2.5mm earbud earphones
CD (ActiveSync, Outlook 2000, Add-on applications)
Getting Started Guide
USB Sync cable
AC Adapter
After using the 5455 for a couple of weeks, going back to my Tungsten T made it
seem like a midget. Then the HP 1910 showed up. Finally a Pocket PC that was
truly Palm V sized. The Palm V seems to be the size by which all PDAs are still
measured against. Now my Tungsten feels like a little brick in comparison.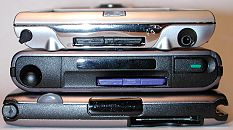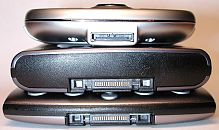 [Top to bottom: HP 1910, Tungsten T, Palm m505]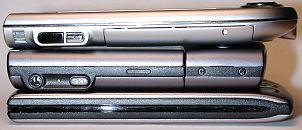 [Top to bottom: HP 1910, Tungsten T, Palm m505]
This unit feels perfect in my hand. The size makes holding it very comfortable
and there is enough heft to the unit to give it a quality feel.
The 1910 is very solid. It didn't creak, crack or flex when squeezed it. I didn't
notice any rattling while shaking it either.
The case is made of grey / silver plastic with a chrome colored plastic piping
around the sides. It has a great look that is streamlined and classy. I also
like the fact that the front is symmetrical around the display. iPAQs in the
past have been wider on one side of the display. Yes, I'm being picky as
usual…
Above the display is the Power switch / Alarm LED. I guess HP resurrected this
feature from the old HP
500 series devices. The button itself is plastic and quite small. There
isn't any tactile feedback associated with it, so I would often find myself
pressing it more than once to activate it.

As far as the LED is concerned it, it glows solid amber when the battery fully
charged, flashes amber while the battery is charging, and flashes green as an
event alarm.
Below the LED is the display. And what a wonderful display it is! Bright, clear,
crisp, and vivid are all adjectives that come to mind when I am viewing this
gorgeous display. It actually employs the same type of display that the 5455
uses. Once you use a PDA with a transreflective display such as this one, it
makes all other displays look washed out and dim. The 1910's display is so
bright that I don't even run it at max brightness like I do on most all other
PDAs that I own. Instead I run it at 75% brightness and it looks great. I could
even comfortably run it at 50% but I like the little bit of extra light.
Screen size comparison
3800 series iPAQ
3.10 x 2.34in   78.8 x 59.5mm
1910 series iPAQ
2.86  x 2.16in   72.7 x 54.8mm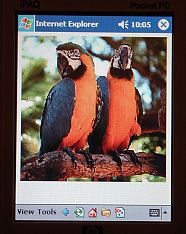 Unedited image taken with no flash and full brightness setting on the 1910]
The touch screen is adequately sensitive and easy to write on with a stylus.
It is slick and does not feel spongy at all.
Below the display are the application buttons and the 5 way navigation pad. From
left to right, the application buttons are mapped to the Calendar, Address Book,
Mail and Today screen. The buttons themselves are flat and beveled at the bottom
edge. The navigation pad sits between the application buttons. All of the
buttons have excellent tactile feedback and protrude above the casing. I
especially like the nav pad. It is a million times better than the one on the
5455. Four raised dots along edge help your thumb press in the appropriate
direction of up/down, left or right. In the middle of the nav pad is a separate
select button.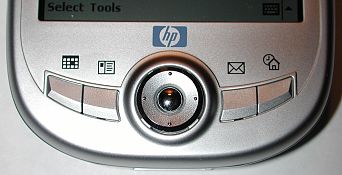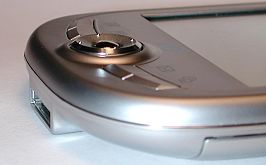 For gamers, the nav pad may be a bit small, but it is still usable for all but
the most demanding action games.
On the left side of the unit there is a lanyard eyelet, IR port, voice record
button and reset switch.

The IR port on the 1910 doesn't seem to be all that strong. I tested it with my
Zayo and was only able to receive addresses from a maximum distance of 28
inches. I need to retest this with my 3800 iPAQ as I was unable to get the Zayo
to receive addresses that I beamed from the 1910.
On the opposite side is the battery release switch. Like the 5455, the 1910 also
has a replaceable rechargeable lithium ion battery. This is a great option as it
allows you to switch out batteries during a long flight or road trip. You can
purchase an extra for $50. At this time an extra capacity version is not
available. It would be nice if they do decide to offer one in the future as the
current batteries are only 900 mAH.

To see what battery life is like on the 1910, I conducted a couple tests.
Results are below.
Battery Level
Time Used
Activity
Screen Brightness Level / Volume Level
thru built-in speaker
100%
9:50am – 11:10 am (1hr 20mins)
Media Player Playing MP3s thru speaker
75% / 25%
48%
11:10am – 12:00pm (50mins)
Powered Off
n/a
48%
12:00pm – 12:35pm (35mins)
Media Player Playing MP3s thru speaker
75% / 25%
30%
12:35pm
First low battery warning
75% / 25%
14%
12:35pm – 12:56pm (21mins)
Error that there is not enough power to play the file in
media player
75% / 25%
9%
12:56pm – 1:00pm (4mins)
Played game of Balloons
75% / 25%
9%
1:00pm
Battery warning popup, screen dimmed, stopped test
n/a
Total usage time 2hrs
20mins / Total powered off time 50mins
Wow, having the screen on while playing tunes really cuts down on the battery
life!
After the first test, I charged the battery starting at 1pm. Charging was
finished at 2:30pm.
2nd test (with screen turned off) results:
Battery Level
Time Used
Activity
Screen Brightness Level / Volume Level
thru built-in speaker
100%
2:35pm – 3:35pm (1hr)
Media Player Playing MP3s thru speaker
Screen OFF / Volume 30%
83%
3:35pm – 4:35pm (1hr)
Media Player Playing MP3s thru speaker
Screen OFF / Volume 30%
59%
4:35pm – 5:20pm (45mins)
Media Player Playing MP3s thru speaker
Screen OFF / Volume 30%
45%
5:20pm – 6:00pm (40mins)
Powered OFF
n/a
45%
6:00pm – 6:19 (19mins)
Media Player Playing MP3s thru speaker
Screen ON / Volume 30%
33%
6:19pm – 6:26pm (5mins)
Media Player Playing MP3s thru speaker
Screen OFF / Volume 30%
32%
6:26pm – 7:41pm (1hr 15mins)
Powered OFF
n/a
31%
7:41pm – 7:57pm (16mins)
Media Player Playing MP3s thru speaker
Screen OFF / Volume 30%
30%
7:57pm
First low battery warning
n/a
30%
7:57pm – 8:00pm (2mins)
Media Player Playing MP3s thru speaker
Screen OFF / Volume 30%
26%
8:00pm – 9:00pm (1hr)
Powered OFF
n/a
26%
9:00pm – 9:26pm (26mins)
Media Player Playing MP3s thru speaker
Screen OFF / Volume 50%
14%
9:26pm
Error that there is not enough power to play the file in
media player
n/a
9%
9:26pm – 9:28pm (2mins)
Battery warning popup, screen dimmed, stopped test
n/a
Total usage time 3hrs
55mins / Total powered off time 2hr 55mins
As you can see, there is a big difference in usage time while the screen is
turned on as opposed when it is turned off.. It's really important to note that
these kind of tests really don't give you the full picture with regards to real
world battery life. A typical user will not be leaving their Pocket PC on for
hours at a time. Instead they will turn it on for a few minutes, do some work
and then turn it off. This type of usage will repeat throughout the day.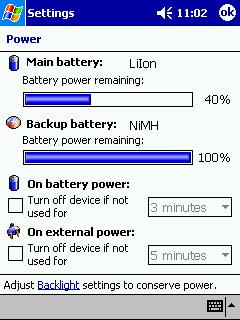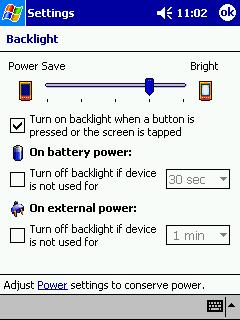 At the top of the 1910 is the earphone jack, microphone, SD slot and stylus
silo.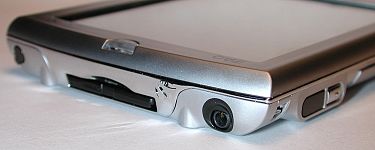 In order to fit an earphone jack into the 1910, they used a smaller non-standard
2.5mm sized jack. Although a set of cheap 2.5mm earbuds are included, in order
to use your favorite earphones with this PDA, you'll be required to purchase a
3.5mm to 2.5mm adapter from a store such as Radio Shack. I have no complaints
regarding the sound quality thru headphones or the volume level thru headphones.
The built-in speaker volume on the unit is adequate. I found that I could listen
to MP3s at about the 30% level and hear them just fine in an office setting. At
the 100% level I found it more than loud enough for alarms and MP3 listening.
The voice recorder does a good job too.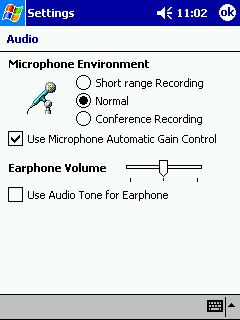 Unfortunately, the SD slot built into the 1910 is not an SDIO slot. This means it can only be used for file storage
purposes, and not for hardware add-ons such as digital cameras, Bluetooth, or
WiFi
adapters.
The stock stylus is actually not too bad. It's skinny of course, but it has a metal
shaft which gives it a nice balance.
At the bottom of the unit is the sync / charge connector. This connector is actually the
same one that the 3900 / 5400 series iPAQ use. Due to this fact, you can use
previous iPAQ chargers with the 1910. But, for some very odd reason, they
flipped the connector over. As a result, the 1910 will not fit in a standard
iPAQ cradle. This isn't so bad since a sync cable is included with the unit.
But, it also means that keyboards and other accessories will not work with the
1910. I find this to be pretty disappointing. I can't see any reason why they
did this unless it was just to keep people from upgrading from the 3900 to the
1910 instead of the 5400…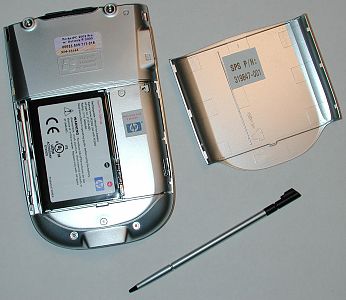 As mentioned above, the 1910 is a budget PDA and as such, it doesn't have the
speedy 400 MHz processor like the 5400 series. Instead it has a 200 MHz processor. Comparing the
speed of the 1910 with my 400 MHz Zayo, I really didn't feel all that much
of a difference with typical PIM tasks. Starting applications and switching between them felt pretty much the
same. Where I could notice that the 1910 was slower was in viewing JPG images
using Pocket IE. On the Zayo, a 122K .jpg loaded and displayed almost instantly,
while the same file took 2 seconds or so to fully load on the 1910.
Now we get to the software side of things. The software bundle that comes with
the 1910 is really more like a packet since there really isn't much to it…
Software Included in ROM:
Pocket Outlook – This is your PIM (Personal Information Manager) Suite of
applications. You get Contacts, Calendar, Tasks, Notes, and Inbox. All of these
applications will sync directly to Outlook on your desktop PC.
Pocket Internet Explorer – Web browser.
Pocket Word – View and edit Word documents.
Pocket Excel – View and edit Excel documents.
Block Recognizer – Graffiti clone input method. If you have a Palm OS PDA and
know Graffiti, then you'll be right at home with this input method.
Voice Recorder, Calculator, Solitaire
Optional Software to install (included on CD):
Outlook 2000 – Desktop PIM.
Internet Explorer 6.0 – Windows desktop browser.
ActiveSync 3.5 (note: There is a newer version available online) – Syncing
software.
Microsoft Money for the Pocket PC – Keep your financial accounts organized
and synced with the desktop version.
Microsoft Reader 2.0 for Pocket PC – Read electronic books.
Microsoft Pocket Streets – Street-level mapping program.
Windows Media Player 8 for Pocket PC – Listen to digital music and watch
movies.
Microsoft Transcriber – Handwriting recognition input method.
The 1910 has only 16MB of NAND Flash ROM. This type of memory is different than
the type used in most Pocket PCs. The type of memory that we're used to dealing
with is NOR Flash. The NOR type allows you to run programs directly from ROM.
The NAND type that the 1910 uses does not allow you to do this. Instead,
applications are copied from ROM to RAM and then executed. That's why even
though the 1910 is a 64mb device, you only have ~47mb available to you. The
other 16mb is
reserved to run applications in. The 16mb of ROM is also not large enough to
hold all of the Pocket PC 2002 applications. Applications such as Windows Media
Player, MSN Messenger, Terminal Services Client, and Reader are not included and must be installed
manually.
Out of the box my 1910 had 46.74 free space divided into 22.97 storage, and
18.98 program. Since I don't use MSN Messenger, Terminal Services Client or
Reader on my Pocket PCs, so the only thing I installed was the Media Player.
After installing that, I was left with: 21.92 storage and 18.97 program. If you
are going to be a 1910 owner, you're definitely
going to want an SD card!
I think the 1910 is a beauty. I know it's far from perfect, but I just can't
help but love it. Sure it doesn't have as much built-in RAM as higher priced
Pocket PCs, a Compact Flash or even an SDIO slot, but it is so small that I
found myself taking it with me more often then a larger PDA. I'm also spoiled at
viewing any other PDA display now that I've had a week with the 1910. I know for
the same price you can buy the Dell Axim and get a faster processor, more
memory, a SD and a CF slot. But for me personally, I would buy the 1910. The
display and unit size are my most important factors in buying a PDA.
If you are a power Pocket PC user that wants to connect their Pocket PC to
keyboards, GPS units, modems, and other peripherals, the 1910 is probably not
going to be for you. But on the other hand, you are a typical user that mainly
uses a PIM, likes to play a few games, listen to MP3s, read e-books, and prefers
as small a Pocket PC as possible, this one might be just the one you've been
looking for.
I'm dreading sending this unit back. I really want to keep it. <sniff>
Price: $299.99
Pros:
Gorgeous screen
Small size
Great price
Cons:
Small capacity battery
46mb of user memory
SD slot is not SDIO
No expansion capability other than SD memory
Product Information
Price:
299.99
Manufacturer:
Hewlett Packard
Pros:

Gorgeous screen
Small size
Great price

Cons:

Small capacity battery
46mb of user memory
SD slot is not SDIO
No expansion capability other than SD memory