We use affiliate links. If you buy something through the links on this page, we may earn a commission at no cost to you. Learn more.
Product Requirements:
Device:
Compaq/HP iPAQ 3800/3900/5400, Sony CLIÉ PEG
T/NR/NX/SL/SJ series PDAs
There are people that are not happy with a PDA replacement stylus unless it
contains a ballpoint pen, and I can understand the attraction. Even though such
a pen will never replace my Delta
Dolcevita, there are times when I am traveling extra-light and it's nice to
know that if I need to jot a quick note, I can do it with my replacement stylus.
For the last couple of weeks I have been using just such a stylus: the
P-i-v-o-t 3-in-1.

The P-i-v-o-t is called "3 in one" because it incorporates a stylus,
metal reset pin, and a ballpoint pen into exactly the same weight
stylus that the iPAQ comes from the factory with (5g). Personally, I prefer a
bit more weight in a replacement stylus.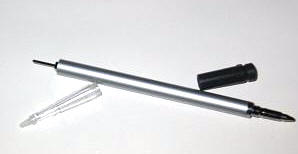 As you can see, this stylus is made up of a metal barrel with plastic end
sections. Interestingly enough, the bottom section of the iPAQ version is
see-through – which adds no functional value – but is a fun touch. This allows
you to see the metal reset pin that is exposed when you unscrew the two sections
from each other. I personally never use the reset pin, because I just cheat and
use the stylus point instead.
Speaking of the stylus point, it is a pointy (but not sharp) white tip that I
favor over the stock stylus' own. It glides over the screen equally well,
whether you use screen protection or not…however you really should be using
protection. Especially if like me you use your stylus tip to trip the reset. ;0)
The top (black) plastic portion of the stylus pulls off to reveal the black
ballpoint pen. I had serious trouble getting this cap off – in fact, after my
husband had no luck removing the cap either, I had to break out a pair of pliers
to remove it! I used the pliers a couple times, and finally the cap became
possible to remove with my fingers – it is still not "easy" to remove, though. I
realize that the cap needs to fit snugly and stay on the stylus – but this seems
just a tad bit excessive.
Once the cap was off, I was pleasantly surprised to find that when writing
with the ballpoint, the ink was very smooth, dark, and did not skip at all – as
some of these type pens will do.
The stylus fits perfectly in the iPAQ's silo – as you would expect since it
is essentially the exact shape as the original.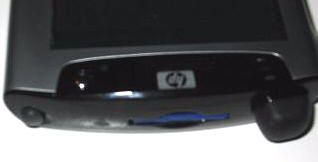 Overall, the 3-in-1 is an improvement from the stock stylus mainly because it
offers a much better writing tip and a good quality ballpoint pen (once you get
the cap off the first couple times). The reset pin is unnecessary for me, but
those of you that are fastidious enough to use it will like that it is
available.
The P-i-v-o-t
3-in-1 Stylus is available from
Mobile Link Technology.
Price: $12.99

Pros:

Combines a ballpoint pen with a replacement stylus
The white tip is an improvement over the stock stylus
Inexpensive

Cons:

Ballpoint pen cap is unusually tight and will need to be used repeatedly to
allow easy removal
Stylus doe not improve upon the weight of the stock stylus
Product Information
Price:
12.99
Manufacturer:
Mobile Link Technology Ltd
Pros:

Combines a ballpoint pen with a replacement stylus
The white tip is an improvement over the stock stylus
Inexpensive

Cons:

Ballpoint pen cap is unusually tight and will need to be used repeatedly to
allow easy removal
Stylus doe not improve upon the weight of the stock stylus