The Gadgeteer is supported by readers like you! If you buy something through links on our site, we may earn an affiliate commission. Thank you! Learn more.
Product Requirements:
Device:
Most mobile phones with a headset jack
Driving while talking on a cell phone is a bad thing. We all know it is
dangerous, but we still do it. I'm even guilty of this practice. So, in order to
make things somewhat safer, you might want to consider a hands free headset for your phone.
Headsets with built in microphones allow you to talk on the phone while still
keeping both hands on the steering wheel.
One of the more popular manufacturers of headsets is
Jabra. Today I'm going
to take a look at 3 of their offerings which are available from
Executive PDA
and other fine retailers.
This review will take a look at the EarSet, EarBoom Winder and Bluetooth
FreeSpeak headset products.
EarSet
This headset is about as compact as possible while still being wired. What
you get is an earplug that has both a speaker and microphone built into it. It is
very light weight at under 1/4 of an ounce.
The ear pieces are called EarGels. They are flexible and soft. 6 different EarGels are included so that you can customize the fit
as needed.
Both left and right EarGels are included in Small, Medium and Large sizes. I had
to use the small size for the review.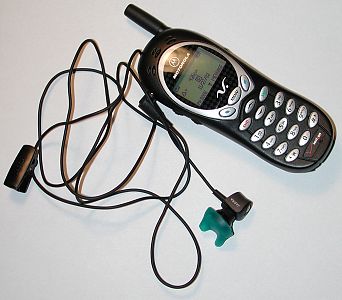 It takes a little practice to get proficient with putting the plug in your
ear. It is molded so that it fits in comfortably in the outer ear. Once
inserted, it pretty much stays put and will not fall out on its own. I found
that it feels
comfortable for long periods of time. Sound thru the EarSet is great. Much
better than pressing the phone against the side of your face.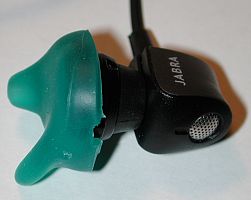 At first glance, you might think that the EarSet does not have a microphone.
In fact, it does. It is located on the top of the earpiece. I was convinced that
the mic wouldn't be that great since it points away from your month and towards
the back of your head. Surprisingly, it picks up really well though.
Extending from the earphone is a 4ft cord that has a 2.5mm headset plug at the end
for the cell phone. A small black plastic clip is attached to the cord so that
you can clip the cord to your shirt. I never used the clip…
Price: $34.95
Pros:
Compact
Comfortable
Cons:
None
EarBoom Winder
This is another hands-free kit that will allow you to listen and talk thru
your cell phone without the use of your hands.  The EarBoom Winder, employs
the same EarGel earplugs as the product above, but it includes a small boom
microphone and a retractable cord. This is great for those of you out there that
get their cords in a knot without even trying (you know who you are… Christmas
lights fear you!).
When retracted, the EarBoom Winder is a nice compact kit. To use it, you just
pull out the earphone/mic as far as you need it (it has a 3ft length), plug the
2.5mm end into your cell phone, and you're good to go.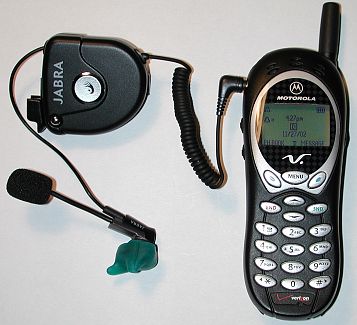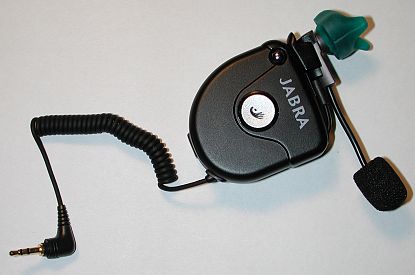 When you're finished with the kit, you press the small silver button on the
side and the cord is pulled back inside. No knots, no kinks, neat as could be.
The back of the holder has a clip so that you can attach it to your pocket or
lapel while in use.
Audio quality from the earphone is great and clarity from the microphone is
very good as well. The microphone is adjustable, so it can be bent to the angle
you desire.
After using this product, I find that I prefer the one above better. The boom
on this version was distracting as I could see it in my peripheral vision. It
also seemed harder to get in my ear, and a little less comfortable. I would like
to see the EarSet version in retractable form.
Price: $29.95
Pros:
Compact
Keeps cord from tangling
Cons:
Not quite as comfortable as the EarSet model
FreeSpeak Bluetooth Headset
The ultimate handsfree headset is the FreeSpeak. This is a Bluetooth headset
that performs wonderfully while looking great too.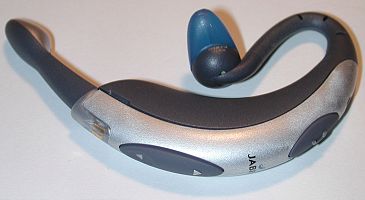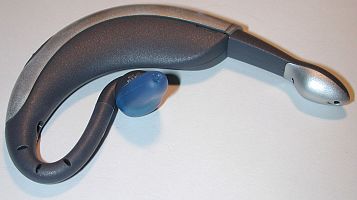 This product was my very first exposure to a Bluetooth device. As such, it
required me to read the manual in order to figure out how to pair the headset to
the phone I was going to use it with (Sony Ericsson T68i). This is a simple task
and only takes a couple minutes once you actually know how to do it for the
first time. After the pairing was complete, the use of the phone is self
explanatory.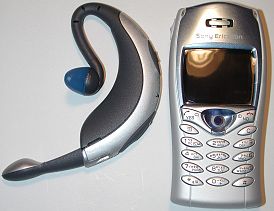 The headset has two buttons. A rocker up/down volume control, and an on/off
button. There is also a blue status LED. It glows while charging the internal
Lithium Polymer battery, and that blinks while in use with the mobile phone.
Of the three headsets reviewed here, I found this one to be the most
comfortable of all. That is once you get it in place. I didn't have any luck
with quickly putting it in/on my ear though. So, don't expect to be able to put
it on while the phone is ringing. It's better to have it already 'installed'
before you need it.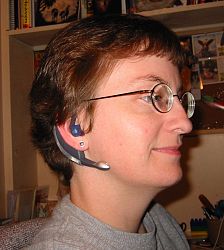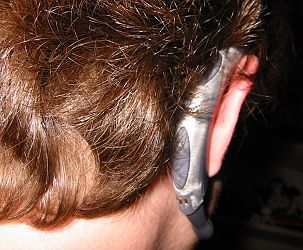 It is worn like some of the behind the head style audio headphones. The
headset actually rests on top of your ear sort of like a pair of glasses… But
don't worry, if you do wear glasses it doesn't get in their way.
The microphone remains out of your way at the side of your jaw bone. In use,
the audio quality was great as was the sound quality on the other end of the
conversation… or so they told me.
The cool thing about Bluetooth is that you can leave your phone in your bag,
and still be able to talk and listen to phone calls. You can even answer calls
by pressing one of the buttons on the headset. Personally, this felt awkward to
me, so I would just press a key on the phone when calls would come in. Typical
range between the headset and the phone is supposed to be about 30ft max. I did
a few tests and only got about 12ft away before I lost connection with the
phone.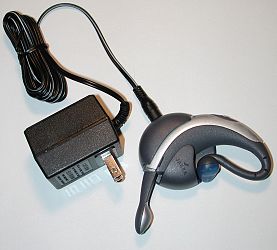 A nice thing about this phone is that the batteries are rechargeable. It
comes with a small dock that you slide the headset into to charge.
If I actually used a Bluetooth cell phone, this would be my headset of
choice.
Price: $99.95 ($179.95 for non-Bluetooth adapter
for use with non-Bluetooth enabled phones)
Pros:
Wireless
Great sound quality
Comfortable
Cons:
Non-Bluetooth version is expensive
Product Information
Price:
99.95
Manufacturer:
Jabra
Pros:

Wireless
Great sound quality
Comfortable

Cons:

Non-Bluetooth version is expensive