We use affiliate links. If you buy something through the links on this page, we may earn a commission at no cost to you. Learn more.
Product Requirements:
Device:
Sony CLIÉ
NR70 series PDA
Covertec, a company that has been putting
out some of the better mid-priced cases I have seen lately, delivers a flip-case
for the Sony CLIE NR70 series. Is this the case you have been waiting for? Let's
take a look…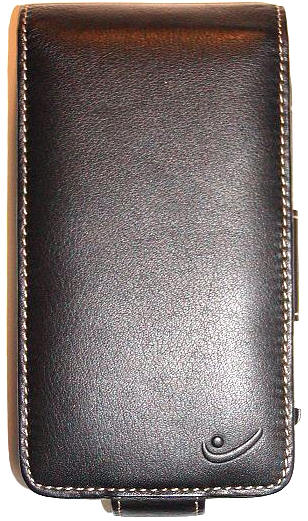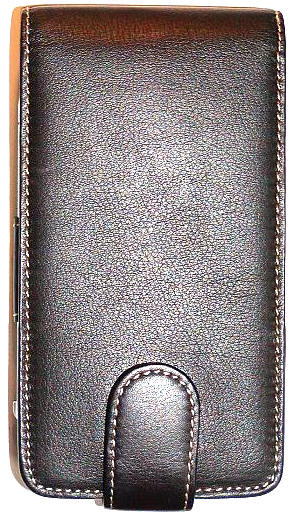 Available in a black, red or gold smooth grain, the Covertec is a made of
quality leather with even, straight contrasting stitching. A discreet logo on
the front of the case is the only branding you will see on its outside. This
case is a flip-style with a holster, and as you can see by the tab on the rear
of the case, it snaps shut. This case closes with magnets, so I wouldn't
recommend storing any cards with magnetic strips in its interior.
When the Covertec is closed, the majority of the CLIE's sides and bottom are
exposed. If you are a person that generally carries your PDA in a briefcase,
purse or suit pocket, you will most likely be pleased by the lack of bulk that
is added to you CLIE. If you are a person that works in an environment where you
need a more protective case, this one will most likely not suit you.
As you can see, when the CLIE is in the Covertec case, the
bottom half of the clamshell is  protected; this has its good and bad
points. You are trading the added protection to the bottom of your CLIE for
not being able to sync or charge while your PDA is encased. You'll have to
decide if the extra protection is worth the lack of convenience for you.
When the Covertec is opened, you can see slots for three
business or ID cards. There are also two slots for Memory Sticks. This seems
like a great idea, as long as you keep your CLIE closed and the screen
protected.

Because the bottom of the clamshell is covered by the holster,
there is leather loop to hold your stylus.

 

    

Hopefully you can see that the top half of the CLIE's
clamshell is completely unfettered. You can open it, close it, or twist it
to your heart's content.

Perhaps you can see the clear strip of plastic
running underneath the keyboard. This thin strip makes up the front of the
Covertec's holster.

This is actually a very secure method to hold your CLIE.
If you don't think the holster is secure enough as is, then you do have the
option of using the additional small circle of Velcro. Of course, that is the
last thing I would do. ;0)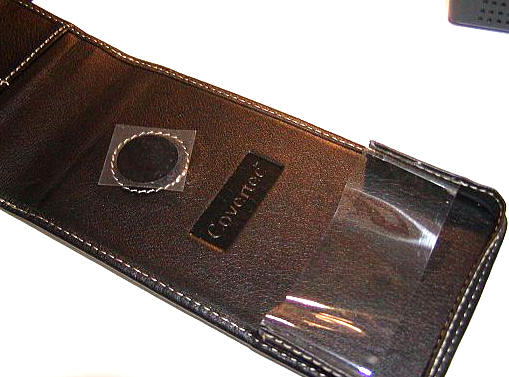 Overall, I believe the Covertec case to be a good purchase for its cost. It
is very well made of quality materials and looks great.
Price: $40.86
Available in black, red and gold
Pros:

Simple, elegant design

Well made of quality materials
Cons:

Can not sync nor charge while PDA is in case
Storing Memory Sticks in the slots when you have your CLIE in tablet mode might
harm the screen
Product Information
Price:
40.86
Manufacturer:
Covertec
Pros:

Simple, elegant design
Well made of quality materials

Cons:

Can not sync nor charge while PDA is in case
Storing Memory Sticks in the slots when you have your CLIE in tablet mode might
harm the screen