The Gadgeteer is supported by readers like you! If you buy something through links on our site, we may earn an affiliate commission. Thank you! Learn more.
The perfect cellular phone… is there such a thing?Probably not. A perfect phone for today might not be the perfect phone for tomorrow. However, each of us, most likely, has an image and a list of features of a perfect phone in his head. Allow me describe mine.A
color high-resolution screen
is a must. I'm too tired to play a B/W "Snake" on my Nokia 5120, when for the last year, every single PDA of mine, had a color screen. It would be nice to place a background picture, change color themes and send color pictures directly from the cellular phone. What about connectivity?
Integral Bluetooth
&
IrDA
, which will allow me the widest connectivity possibilities with all PDA's, PC's and laptops.
I prefer GSM, so let it be triple band, so I can travel all through Israel, Europe and USA without using three different cellular phones. GPRS? why not. Now let's touch a painful subject, the size. I love BIG houses, BIG cars (Jeeps but who cares) and some other things we won't mention here (all family review). When it comes to PDA's and cellular phones, the smaller the better. A perfect phone for me should hardly weigh anything, have a fine grip in my hand and be without breakable parts such as external antennas. Finally I want it to have a nice sexy form, some sexy features like games and sounds that I can compose, pictures and if possible an internal camera and a GPS. Well I guess the combination of the last two devices has to wait a little. Regarding the other features I've mentioned? They are already here. Welcome the Sony Ericsson T68. So is it the perfect phone? We'll have to wait and see…
Hardware Specs:

System: Triple Band GSM 900/1800/1900

Screen: Full graphics 256 color LCD (34 x 28mm, 101 x 80 pixels)

Battery capacity: 700 mAh

Battery: Standard Battery BST-14 (700 mAh)

Weight: 84 gr.

Size: 100 x 48 x 20mm

Keypad: 16 keys, joystick, side key, hard silver-painted plastic, Y/N – keys metalized

Talk time: 3-13 hrs

Standby time: 165-290 hrs

Panel colors: Zirrocan Gold\ Lunar Gray

Antenna: Internal

Features: color screen, integrated Bluetooth, infra-red, icon desktop, joystick, background pictures, e-mail (POP3\SMTP), SMS\EMS & MMS (upgrade to T68i), GPRS.
Box Contents:
Mobile Phone T68
Standard Battery BST-14 (700 mAh)
Travel Charger CST-13
User's guide
Accessory leaflet
Service and Support leaflet

The Phone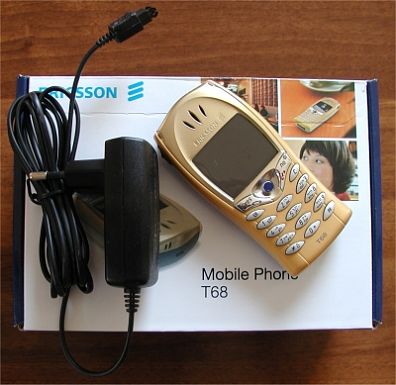 I must say I was slightly disappointed when I opened the box I've received from the Israeli office of SonyEricsson. In addition to the Zirrocan Gold T68m, I've found a travel charger and some leaflets\manuals
that I didn't even read. That's all? I guess we are really spoiled by the cradles, styli and cases we get when buying a PDA. SonyEricsson, for $600, I want a fancy cradle\charger and a leather case (neoprene is also fine) next time. You may also add a personal hands-free kit next time. One last thing about the box. Have any of you seen the box, Vaja cases come in? The T68 box is slightly bigger. Yes it is tiny!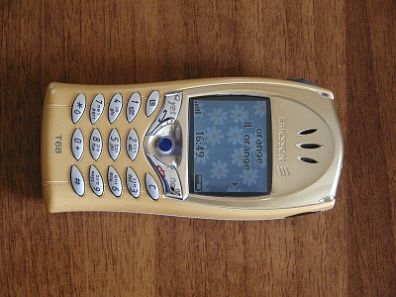 I've got the Zirrocan Gold version of the T68m, there is another one which is Lunar Gray. The T68m is a rather small phone, although it's only 100 x 48 x 20 mm, it sits perfectly in my hand, much better than some heavier phones I own. When you look on the front of the T68, you can notice the regular 12 digits keypad, Ericsson's usual "yes"/"no" buttons, a "clear" key and a "shortcuts" key. The newest addition is the integral 4-way joystick which is used for approval and navigating the menus. The joystick is very useful!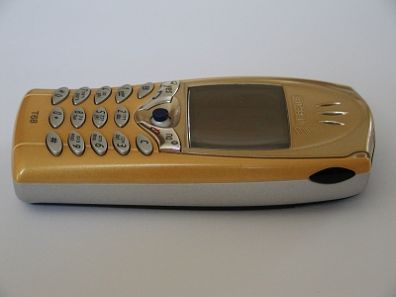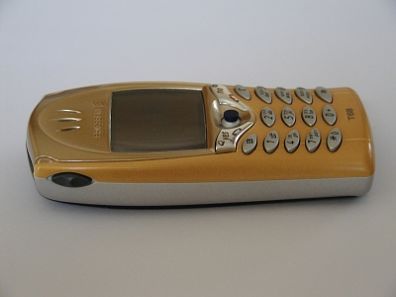 On the right side of the phone you can see the Infrared port. Usually it's off, if you don't activate it manually. It works perfectly with all of my PDA's and I can't even imagine how I managed without an Infrared port on my previous mobile phones. On the left side you can see a type of a jog dial. I'll call them the side keys. During a conversation they are responsible for the volume. On any other condition they are page up/down keys. The mic, the synchronization port and the charging outlets are located on the bottom of the unit. The synchronization port is the same of the T28, so most of the T28's accessories will fit the T68 perfectly (Hands-free, MP3 etc.).

Ericsson T68 or SonyEricsson T68i?

July, 2001, was the first time I've seen the Ericsson T68m, while visiting the offices of Ericsson, Sweden, after a tour on the biggest 3G cellular phone in the world (A tender with LCD screens which uses a small internal 3G network). I remember the shining prototype of the first color cellular phone from Ericsson (T68m), which was launched later the year. In the end of 2001, Sony Corporation and Ericsson merged together and established a new joint company we know today as SonyEricsson Mobile Communications.
The new company launched a new phone, which we know as the T68i, which was basically the improved T68m with the SonyEricsson logo. It had a new panel and a new software, but on the hardware level, it was the same phone.
At the end of May, SonyEricsson launched an upgrade for the T68m to the T68i. The upgrade is purely software burning, and the upgraded T68m will just have a different panel than the original T68i. The software and the list of features will be the same. I didn't upgrade the phone to T68i yet, since the Israeli upgrade temporarily kills the "Bluetooth" (IDF regulations), so my review will partly discuss the T68m and the screenshots will be from T68i, to be exact from the phone emulator in SonyEricsson's website.
Here is the list of improvements of the T68i over the T68m:
– MMS
– Picture Album (My pictures) with increased memory allocation for images
– Sound Browser (List of sounds stored in the phone, i.e. eMelodies, iMelodies and AMR files)
– Picture CLI (Possible to associate a picture with a contact and display the picture upon incoming call)
– Viewfinder with Communicam MCA 20
– New games
– Notes
– Screensaver
– New preloaded wallpapers
– New and more advanced ring melody composer
– Text formatted SMS (Possible to add e.g. bold and italic text)
– Customizable contacts (possible to select which information to see in a contact)
– firstName – LastName concept discarded
– Only one name in phonebook in T68i
– SMS chat
– GPRS (p-channels)
– JPEG support
– Animated GIF support
As you see, if you have the T68m and want a T68i, and you don't mind leaving the Zirrocan Gold panel, go and upgrade, it's free!

Features

Let's examine the T68's interface. If you chose a background picture, you will see it when pressing a button. On the top of the screen you can see the SIM name and the current network you are in. I'm using an orange SIM, and the Israeli orange GSM network (IL orange). On the right side you will see the current connections when activated. My infra-red port is always activated since I interact a lot with PDA's. Bluetooth as I already mentioned is banned here, that's why I usually don't use it, only when checking new stuff. When you leave the phone more 20 seconds and more, you'll see a screensaver which shows you the time. Since I've had the T68, I rarely take my wrist watch with me, I just don't need it anymore.


In order to access the main menu of the T68, one should move the Joystick to the left or the right side or press it inside. Otherwise, moving the Joystick up or down, means accessing the "Call Contact" menu, which is not other than a list of names, you can call by pressing the "yes" button. The main menu consists of nine icons, in the following order: "Phone book", "Messages", "Calls", "Fun & Games", "Settings", "WAP services", "Organizer", "Connect" and "My Shortcuts". I will briefly review the features in each menu.







Phone book – The phone's phone book, acts like an address book in your PDA. The SonyEricsson T68 can store up to 510 contacts in its inner memory, add to this 125 more from your SIM, and you have enough space for everyone you know. Another interesting feature is the "Business Cards". You may configure one business card for your phone, with all your info, and beam it to every Palm OS\ Pocket PC PDA, cellular phone or any other device equipped with an infra-red port.
You may divide your contacts to groups, give groups a different ringtone or do it only to one contact (Richard Giesbrec in the picture got the "Spring" ringtone). You may also add, edit, delete, search on the SIM and link a picture to each contact. The last feature is available only for upgraded phones or original T68i's. When the contact calls you, you'll get a special ringtone, and his picture will appear on your screen.














Messages – SMS, MMS, Voice Mail and E-mail (POP3\ SMTP) are supported by the T68i. You can send SMS, MMS and check your voice mail in a moment. If you want to check your E-mail, you'll have to configure it at first. I don't like typing the messages using the keypad, so if you have a Palm or a Pocket PC just beam the message using Monkey Messenger. Some new programs support Bluetooth SMS, so if you have the hardware (TDKSys bluetooth accessories for example), check it too.






Calls – Information related to calls made and received. Missed calls, call list, time and cost counters etc. Nothing interesting other than statistic information every phone has. When you enter a list, in each line you can see a contact name or phone number, when the name is not available. When you stay some time on the contacts name, you get the date and time the call was made. The call list can be deleted in a moment, when needed. Also, you can delete specific calls, from the list. If you are familiar with the network pricing, you can configure the pricing and see the price of each call at the end of the call.








Fun & Games – The most interesting sub-menu of the T68. Here you can games, backgrounds, pictures for EMS&MMS, melodies and themes. Let's start with the themes. The T68m and the T68i both have several color themes for customizing the phone for your mood. You can choose classic blue and white menus or something more colorful like pink-dark red-orange. Then you can customize the background picture. If you don't like the pictures you get and want have something personal, you can beam a picture (Bluetooth or infra-red) to your phone. The picture should be 101 x 80 pixels. In addition, one can change the phone themes (Spring\Summer\Autumn\Winter), what will eventually change the colors of the menus, sub-menus, options, text and the background picture. The phone also has an internal sound recorder which can record 10 one minute messages. Afterwards, you may play the recordings one by one or delete them within a press of a key.
The Games. The T68i and the T68m have different games in their software versions. Since I've been using the T68m I'll review the games I have. There are six games on the T68m. "Erix", which reminds me an old PC game I used to play in DOS, "Wolf" If I'm not mistaken. The goal in this game is to make your way through flying targets in order to cut more and more space, thus leaving the targets less and less space. If they touch you or your trajectory you're out.
"GAME", the second game, reminds me of StarWars. You're a pilot of a starship and you can go back and forward while shooting flying monsters. Among the other games are "Q" (Strategy game), Ripple, Tetris and Solitaire.








Settings – If you are interested in changing any of the T68's configurations, you came to the right place. The settings menu is responsible for the adapting of the T68 to the user. You can start with changing the sounds, ring tones, your private sounds and melodies etc. If you want you can even change the size of the text on the screen. Many lines of small letters or a few lines of big letters, as you wish. You can activate the T9 dictionary (that looks for, suggests and completes a word while you press the letters). What about voice activation? "Call home", and the SonyEricsson T68 calls home. Don't get over excited, "Call Home" or any other words you'll use are just pre-records you must record in order to link a record to a specific phone. When you press the "yes" key for a couple of seconds without leaving it, voice activation is on. If you want to delete all the information you've changed on the T68, it can be done here too.







WAP Services – WAP, it reminds me of a B&W TV set. I prefer surfing using my Palm m515 or iPAQ 3850, both connected with Bluetooth to the T68. However if you are without your PDA, and you need something from the net, here you get WAP in color. Some other interesting options are bookmarks, cache memory and PoP3 email. You can use your T68 to read and send POP3 mail. It's not easy, far away from being comfortable, but just know it is there (Read more at Messages).








Organizer – Forgive me, but I'm not a fan of an internal organizer which isn't running Palm OS or Pocket PC. I'm always worrying about PC synchronization, usability etc. However if you have a Bluetooth USB adapter for your PC, you might try synchronizing the T68 internal organizer with the Outlook. If not, you can use the internal organizer to add high importance meetings, when your PDA is not near. It looks pretty easy after a couple of times. If you need a timer or a stop watch, the T68 has them too. Calculator? It is already here. B.t.w you can even send and receive meetings via the IRDA.






Connect – Bluetooth, GPRS, IRDA, Triple GSM, did I forget someone? I hope not, since this tiny phone connects almost anywhere. Here you can change and activate the connections, deactivate the IRDA port or pair Bluetooth devices, whatever. I rarely use the Bluetooth in Israel, so I deactivated it. IRDA on the contrary is always on. Usually I'm way too lazy to take my PDA out of the pocket in order to receive someone's business card. I do it using the T68, then I beam everything back to my m515. I couldn't find how to beam one card at a time (which is not my own business card), so I send the whole phonebook each time.



My Shortcuts – Remember the "Shortcuts" key, I've mentioned, here you can alter the options which will be presented when pressing the special key.

Links

TSixtyEight – The official T68 user group. This is one of the major sites dealing with the new T68m and T68i. Discussion groups, icon & music downloads, FAQ and other accessories. The first stop for T68 users.
Esato – Phone & accessories shop, free ringtones and background picture and a big mobile phone catalog are some of the stuff related to the T68 you'll find here.
Sony Ericsson web site.
T68i Flash based Emulator. If you are serious about buying the T68i, you'll enjoy this full-featured emulator.

Conclusion

Unfortunately, SonyEricsson T68 is not a phone for the beginner or the average user. Not many of us would consider spending $600 on a cellular phone, even if it is so sophisticated as the T68. As Julie said once, in her Ondata Palm V review, it's for executive types that also wear a Rolex watch, shop at Saks Fifth Avenue. Don't get me wrong though, if you are a regular Joe Shmoe and want this phone, go for it! It is one of the best cellular phones you can buy right now.
Price: $600 (without subscription)
Pros:
Color Screen
Integrated Bluetooth
IrDA
Long lasting battery
Small size factor
Cons:
Small keys
Doesn't support polyphonic signals
Price