We use affiliate links. If you buy something through the links on this page, we may earn a commission at no cost to you. Learn more.
Product Requirements:
Device:
Most Palm / Pocket PCs
So, I'm sitting in the movie theater watching Resident Evil and one of
the elite security personnel (the techie geek) whips open a little
Libretto-looking jobber strapped to his left forearm with maps and information
about the secret lab complex.
No, this is not a movie review – bear with me…
My initial thought was: That would be soooo cool! Just having your PDA on
you and access it while doing other things – like filling your coffee cup…or
blasting zombies. Ironically enough, not long after seeing the movie I got
my hands on the PDA Plus, by PDA Skins.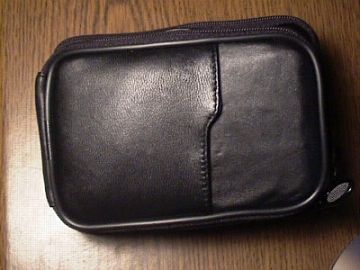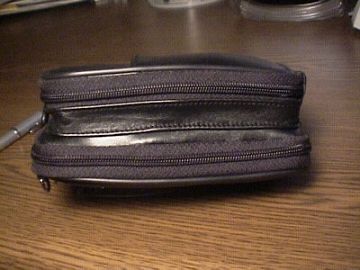 This little jobber does not attach to your arm (a good thing, considering the
way I smack my wristwatch against every door jamb I pass through…) but can be
"mounted" about your person in a variety of different ways – more on that later.
The niche that PDA Skins has found for themselves is in the hinged case. Once
the PDA portion of this case is unzipped, Velcro-adjustable hinges hold the case
(and your PDA) open at any angle that you desire – ensuring that you can view and
use your PDA without it being in your hands. I tested all of the devices in the
house (CLIÉ 615C, Palm Vx, and Visor Deluxe) and all fit just fine.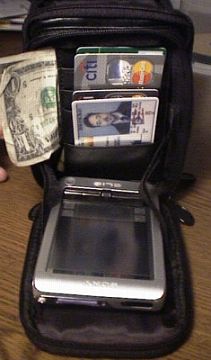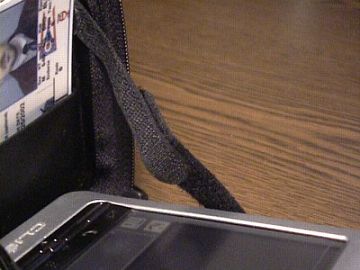 Attachment to the hinged portion is accomplished with (perish the thought)
Velcro. However, for an extra $14.95 you can purchase a matching leather
Internal Sleeve to house your PDA in and out of the Plus. This is a nice
alternative to those anti-Velcro folk out there (I only like it on my
shoes…remember those?).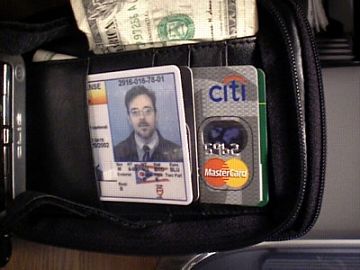 The case is made of black leather of medium-high quality. The very front of
the case has a small pocket for small, often-used items. All of the stitching
seemed solid and there was no fraying of the seams during my trials. The forward
pocket that contains the PDA hinge also contains several credit/business card
slots opposite the PDA and a stash pocket behind.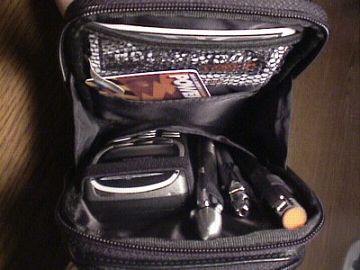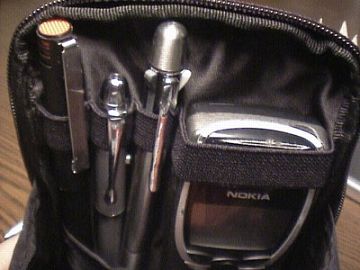 The PDA Plus features not only the PDA hinged section, but an additional
storage pocket behind with storage for pens, batteries, Springboards (for you
Visor folk) – I even managed to fit my cell phone in there.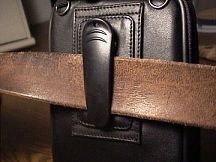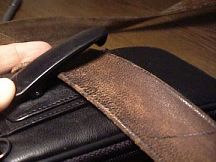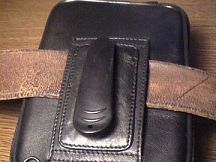 There are several ways to "mount" the PDA Plus on your person. First, there
is a belt clip/loop combo that can allow for temporary, easy-removal access
(clip to the belt) or more permanent, secure (belt through the loop)
waist-wearing.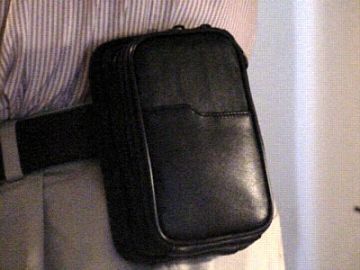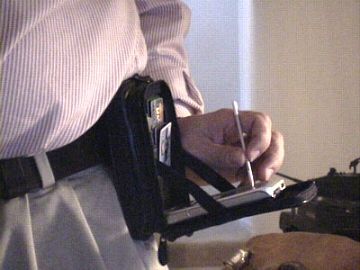 Don't wanna be a super hero? Okay then, the PDA Plus also comes complete with
an adjustable strap that can be worn over the shoulder or around the neck.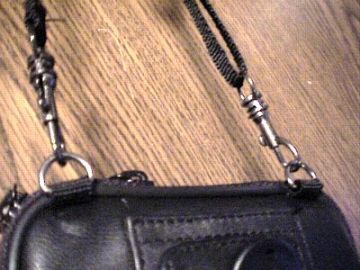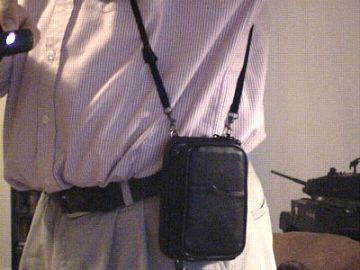 Due to the immense amount of room that this case had to offer, I decided to
throw caution to the wind and go sans wallet for my test drive of the case. All
of my credit and ID cards fit just fine in the forward pocket, and my cash was
folded over once and inserted in the pocket behind the cards.
Well, how was it???
Honestly, I was a little disappointed with the operation of the case. The
arrangement of the Velcro hinges made it very difficult to access the graffiti
area of my PDA – I found myself ripping it off of the Velcro mounts more often
than using it in the case.
I do have to note, however, that my main active use of my PDA is that of a
note-taking device in meeting and tours. Were I to use it for more of a
reference purpose, I think that the case would have been much more usable for
me. Many moons ago, I was a Floor Manager for a small retail store. For checking
stock and performing inventory, I think that this case would have been perfect.
Another downside of the case is the size – this sucker is big! It was
constantly getting caught on my clothing and the arms of my chair, and it
completely blocked the seat belt latch in my car. Luckily, I was just using the
belt clip and removed the case quickly (glad I didn't have the thing looped
on…might look strange undoing my belt in the parking lot…).
When my time with this case was over, I was actually a little relieved to get
back to my Ishibumi case and wallet. While my time with the PDA Plus was not
completely positive, I really can not fault the case – it is well made and has a
lot of storage, but just isn't for me.
 
Price: $40
Pros:
True hands free access to PDA
Lots of storage space
Cons:
Velcro (unless internal sleeve is purchased)
Graffiti area hard to access
Adds considerable bulk
Product Information
Price:
40.0
Manufacturer:
PDA Skins
Pros:

True hands free access to PDA
Lots of storage space

Cons:

Velcro (unless internal sleeve is purchased)
Graffiti area hard to access
Adds considerable bulk