We use affiliate links. If you buy something through the links on this page, we may earn a commission at no cost to you. Learn more.
Product Requirements:
Device:
Zaurus SL5500
The Sharp Zaurus Linux PDA has caught the attention of popular case maker Extreme Limit. They
are one of the first companies to have created a case made specifically for this
new PDA.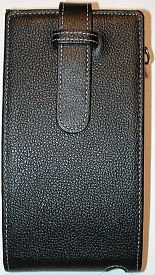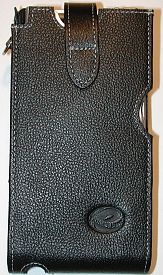 In the tradition and style of their other offerings, this case is made entirely of leather
and is available with or without a belt clip. The Body-Suit is made of a thick rigid leather
that has a pebbly texture and as I've said in other Extreme Limit reviews, it
reminds me of a hard guitar case and does not have any padding in the screen
cover and holster portions. The rigid leather should protect the PDA from
everyday bumps and abuse. It should also help somewhat in the event of a short
drop.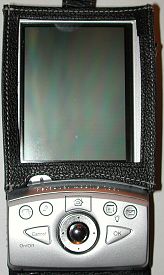 The Zaurus slides into the holster portion of this case easily and once inserted
feels secure enough that there's no fear that it will fall out on its own. Two
leather covered tabs keep the PDA from sliding through in the holster. The
holster actually only surrounds the top part of the PDA and leaves the lower
portion fully accessible. You can even slide down the thumb keyboard for easy
use while in this case.


The left side of the Body-Suit has separate cutouts for the IR port and SD
card slot while the right side has a metal D ring lanyard attachment.
The top of the case is open to allow for access to the CF slot, stylus silo
and earphone jack.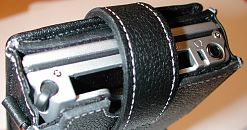 The screen cover portion of the case has 2 horizontal card slots and is held
closed with both a small square of Velcro and a long leather tab and loop. I
really don't like the addition of the Velcro. I don't think it's needed at all
as the tab and loop hold the case closed just fine.
A nice
feature of  most Body-Suit cases is the ability to turn the screen cover into
a desktop stand for easy viewing of the PDA screen.

The only thing that you can't do while the Zaurus is in this case is sync and /
or charge
with the cradle. There is a cutout for the AC adapter connector, but for syncing
you'll need a cable if you wish to leave the
PDA in this case.
The materials and workmanship are top quality as with all the Extreme Limit
cases I've reviewed in the past. This is a nice case that does add some
significant bulk to the PDA, but at the same time it also adds protection and
style.

 
Price: ~$44.50 US no belt clip JYEN 5,550
           ~$46.89 US belt
clip JYEN 5,850
Pros:

Rigid screen protection
Custom design
Cons:

Somewhat bulky

Must remove PDA to sync / charge with cradle