We use affiliate links. If you buy something through the links on this page, we may earn a commission at no cost to you. Learn more.
Product Requirements:
Device:
Windows® 98 Second Edition, Me, 2000 Professional,
XP Home, XP Professional
USB Port
Julie's comments are in Black        Judie's comments are in Blue
I started out in the handheld PDA world with a Palm OS device. My first one was the PalmPilot 1000 which had a whopping 128K of RAM!
That's the same model I started out with – back in 1996, the golden age of PDAs. ;0)
I stuck by Palm through several new models including the Palm Professional, Palm III, Palm V, and Palm IIIc.
The same exact progression I went through!
But then Windows CE and Pocket PC devices caught my attention with their larger screens, MP3 player
features, and overall gee whiz factor. So, I jumped ship and have been using a Pocket PC as my main brain for the last 2 years. Right about the time that I made the switch, Judie joined The Gadgeteer and I sent her an extra HP 548 that I had, and later I sent her an iPAQ.
At that time I was a die-hard IIIc owner, and skeptical that a Pocket PC could integrate itself into my life like my Palm had. I had Palm software that did everything I needed, and I was worried about the availability of software substitutes for these programs for Pocket PC OS. Bear in mind that this was October 2000, PPC software choices have noticeably improved since then.
After discovering their multimedia capabilities, Judie also came over to the Pocket PC camp. Since then,
we've both been heavily into Pocket PCs while still respecting but not really having any true excitement for Palm OS PDAs.
Well, I got a little buzz with the introduction of the m505 and the CLIÉ 760…but it didn't last long.
Then, just as the Palm PDAs had become everyday ho-hum tools, so did Pocket PCs for us. The spark just wasn't there… But just when we were ready to give up on PDAs and buy Franklin planners (yes, I'm kidding!), here comes Sony to the rescue with their CLIÉ NR70V! With its 320 x 480 rotating display, soft graffiti area, and built-in camera, suddenly it was like uhhhhh, Pocket PC? What's that?
Well – not so much "what's that?" as "why isn't Pocket PC's form factor more like that?" I admit it – the hardware specs made me want to give the CLIÉ a chance. Being familiar with the Palm OS was a bonus.
Hardware Specs:
Processor: Motorola Dragonball SuperVZ 66mhz
Operating System: Palm OS software version v.4.1
Memory: 16MB (DRAM), 8MB (Flash)
Display: TFT color LCD with backlight 320 x 480 pixels, 16 bit color (65,536 colors)
Interface: USB (cradle), Infrared
Dimensions and Weight: 5 1/2 (H) x 2 7/8 (W) x 11/16 (D) inches, 7.0 oz. (including stylus)
Power: AC Power Adapter, Output DC5.2V, Input AC100V – 240V
Battery: Lithium-ion polymer rechargeable battery (internal)
Expansion: Memory Stick® media
Julie ordered from Sony, and I ordered from Amazon; guess who got their unit first? ;0) I totally enjoyed torturing Julie with vague descriptions of the NR70V, but I know how she is about wanting to make her own impressions about something without outside influences – so I was trying to respect that. I think she got a little bit peeved with me, though.
Not so much peeved as envious and aggravated that Sony doesn't ship their pre-orders BEFORE stocking retail shelves. What the heck is up with that Sony?! I know now that I'll never pre-order from SonyStyle again.
When I first pulled my NR70V out of the box, I uttered a little squeal of delight. For one reason, I had been waiting for well over 2 months for my pre-order thru to arrive. And for another reason, it was the coolest thing I had seen in quite some time. As far as PDA styling goes, this puppy had it going on in a major way. It felt smaller and heavier than what I had imagined it would be. Before even turning the unit on, it was pretty much love at first site.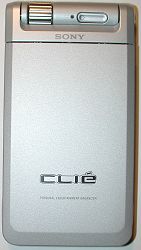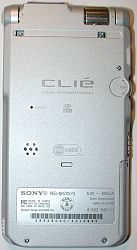 This was definitely the case for me, too! I loved the way the CLIÉ felt in my hand: its metal case, its heft, the styling…I could go on and on. Needless to say, I was afraid that when I actually turned it on that it would be a total let-down.
Me too! And, I was glad that there was no let down upon actually powering it on..
The body/shell of the CLIÉ is composed of magnesium which is both a durable and light weight material. The surface is a silver matte and has a smooth texture. Although this PDA is longer than almost every PDA that I own, it is narrow and easy to hold. It feels comfortable in my hand.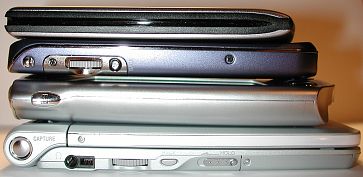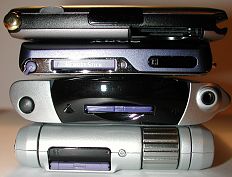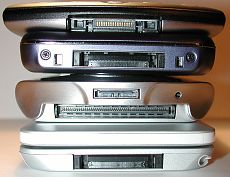 [Top to bottom: Palm M505, Sony CLIE T615C, Compaq iPAQ 3800, Sony CLIE NR70V]
The NR70V successfully passed my patented Gadgeteer squeeze test for creaks, cracks and flexing. This unit is very solid. The only thing that I did notice is the fact that the when the cover is closed, it doesn't lay completely flat and can 'bounce' up and down a tiny bit if you tap on the cover with your finger. It
does not do this when the cover is rotated to expose the LCD display though. More about the rotating cover here in a sec.
The CLIÉ is composed of two parts. The display/cover and the keyboard/back. What is really cool is that you have a choice of two main positions in which to use this PDA. If you want to use the thumb keyboard, you can just lift the cover and volia!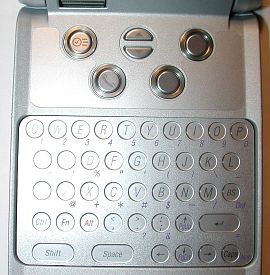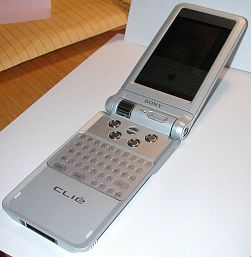 When it is in this orientation, the cover can open to approximately 160 degrees. It clicks into place and won't flop closed on its own. You can also set it on a flat surface and it will not teeter backwards. The hinge is stiff enough that you can open it at a smaller angle and it will stay in that position just fine too.
Since the screen portion of the CLIÉ is heavier than the keyboard side, holding the unit in this manner gives you a slight top heavy sensation. It's not real bad though.
I have gotten used to that feeling – and I am happy to actually have the option of using it like this!
The keyboard on the CLIÉ is a thumb style keyboard with small round soft plastic keys that have good tactile feedback. When you're typing on the keyboard, it does flex and creak somewhat. This is most likely due to the plastic membrane that keys are set in.
Although typing on the keyboard is easy to do for the most part, I didn't find myself wanting to use this type of input method. Mainly the reason was because most of the punctuation characters require a function key press to access them.
I didn't think I would actually use the keyboard that much – but I have really surprised myself with how much I like it. It is almost like a game – getting used to typing with having to press the shift or function
buttons to get special characters. I am actually getting pretty speedy!
Thumb style keyboards are ok, they just aren't my favorite type of input method mainly because you still need a stylus to tap on different fields. For example, you can't use the keyboard to scroll thru a list of contacts and then select, open and edit the entry of your choice. You can scroll and open, but you won't
be able to edit without tapping the EDIT button with a stylus.
This is true – but since I am not trying to write reviews or any other really long documents with the keyboard (I have never wanted to do this with any PDA), I find it to be sufficient for quick entries in the various applications.
I still like using graffiti best.
Well, I do too, for that matter.
Above the keyboard are the application and scroll buttons. The application buttons are small round metal buttons that lay flush with the case. The scroll buttons are half circle shaped and a little difficult to press due to their small size. These buttons all have really good tactile feedback.
I don't think that gamers who depend on these buttons will be that happy playing on the NR70V.
This is true – I tried playing Zap! 2016, one of the included games, and it seemed a little harder than usual due to the new zigzag layout of the buttons. I soon got used to it, but it was annoying at first.
Now for something really cool… If you want to use the CLIÉ in the classic PDA orientation, you can lift the cover/display, rotate it around and lay it back down flat on top of the keyboard portion.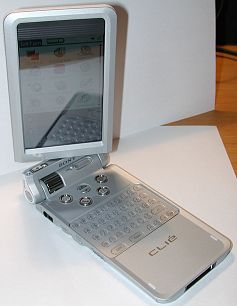 Performing this maneuver in front of someone has not failed to evoke at least an "ooh" or "ah" every time I've done it. It just looks too cool for words!
Absolutely!!! Of all the PDAs I have ever owned – this is the only one that has actually caused people's jaws to drop. The  Geek-Satisfaction-Factor for this device is mighty high!
The LCD rotates only in one direction and when it finishes the rotation, it clicks into place. The whole process is quick and simple. Some people have wondered about the fragility of this part of the CLIÉ… To me it feels pretty sturdy. However, I wouldn't want to give this PDA to a 10yr old though… If you try to twist the screen in the wrong direction, damage could ensue.
If I understand correctly, this is the same technology that Sony has been using with many of their video recorders over the last 10 or 15 years. I think that the hinges and other various moving parts have withstood the test of time, and I love seeing them in this configuration!
Personally, I'm finding that I use the NR70V in this orientation about 90% of the time.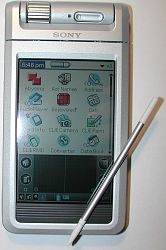 I'll use it like that when I am doing something time intensive, like reading an e-book. But for quick access, I like just flipping it open and using the CLIÉ with the screen up.
I actually leave mine in the 'tablet' position most of the time… even when I put it in my Xigma pouch.

Regardless as to which position that you have the PDA in though, you will have access to the power button, camera, IR port, Memory Stick slot, stylus silo, earphone jack, jog dial, back button and hold switch.
Right. It is also interesting to note how the orientation of the screen will switch from the top to bottom when you open and flip back the screen versus when it is open in the regular manner. It is amazing
when you consider all of the technology that had to go into the making of this PDA.
One problem that I find when using the CLIÉ in the "tablet" configuration is that you no longer have access to the hard keys…This can be a total pain, but guess what? As with every other PDA problem, it appears that a fix is available! When you get a chance, take a look at Smoky Monkey Factory's

Virtual Button Hack.
The power button is a large oblong button with an LED on the left end. When the CLIÉ is powered on, the LED glows green. Beside the power button is a small charging status LED that glows amber while charging and turns off when fully charged. This small LED will also blink when an alarm goes off.
Speaking of alarms, some of the included ones are Polyphonic, which means that they are multi-layered – much like the ring tones on my Sanyo 6000 phone. They sound much richer than the regular "doo doo doo" you get with most PDA alarms, and you can even download midi files to use if you don't find something you want to use from the included files.
The CLIÉ NR70V is the first Palm OS PDA that has a built in camera. It has a unique swivel lens which can rotate 270 degrees so that you can take pictures at a variety of angles (even of yourself if you like). This also allows you to protect the lens when you're not using the camera.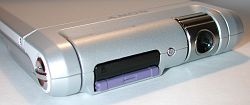 It's cool because you can adjust the swiveling screen and camera lens so that you can look at the picture you are taking and snap the picture similarly to using a traditional digital camera. Gary Garland, Esq., one of our guest reviewers here at The Gadgeteer, pointed out to me that you can fold the CLIÉ back upon itself, similar to how a photo frame stands, place it on a flat surface and then take pictures without shaking. Pretty nifty!
The camera takes 320 x 240, 160 x 120 or 88 x 88 resolution color snaps and does a so-so job. Besides choosing the resolution, you can also choose where the images are stored (internal memory or on a Memory Stick), adjust the brightness level and perform a few effects on the images.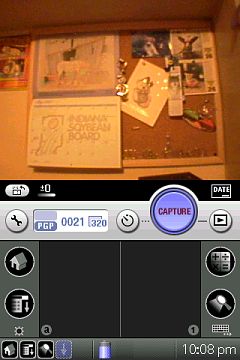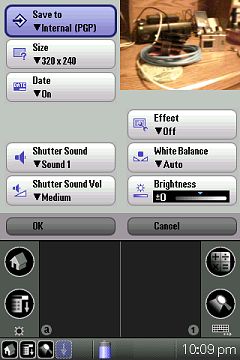 The shutter button is on the outside of the hinge. If the PDA is powered off, pressing this button will power it on and will snap a picture. The CLIÉ will even make a nifty snap shot sound when it takes a picture. You can turn this off though if you prefer to take your pictures in stealth mode ;o)
This built-in camera will not take the place of a regular digital camera by any means. The pictures are somewhat blurry. But it works great for taking quick pictures anywhere, and anytime.
| | |
| --- | --- |
| | Very true! After eating dinner with my mom the other night, we went to feed geese. Of course I didn't have my digital camera with me – but I did have my CLIÉ, and was therefore able to get pictures of my mom, daughter, and fiancé surrounded by hungry birds. While the quality may not be the greatest, it is still much better than nothing. |
The Infrared port is on the top of the unit. The IR port on this PDA is enhanced to allow for control of TVs, VCRs, etc. A slick little Remote app comes preinstalled on the Sony that is compatible with the following devices:
TV
Sony, Akai, Emerson, General Electric, Hitachi, JVC, Magnavox, Mitsubishi/MGA, NEC, Panasonic, Philips, Pioneer, RCA/PROSCAN, Samsung, Sanyo, Sharp, Symphonic, Toshiba
VCR
Sony, Aiwa, Akai, Emerson, Funai, General Electric, Hitachi, JVC, Magnavox, Mitsubishi/MGA, NEC, Orion, Panasonic, Philips, Pioneer, RCA/PROSCAN, Samsung, Sanyo, Sharp, Symphonic, Toshiba
DVD
Sony, Aiwa, Denon, Harmon/Kardon, Hitachi, JVC, KLH, Onkyo, Panasonic, Philips, Pioneer, RCA, Samsung, Sharp, Shinco, Sylvania, Thomson, Toshiba, Yamaha, Zenith
AV-AMP (amplifier)
Sony, Kenwood, Onkyo, Pioneer, Technics, Yamaha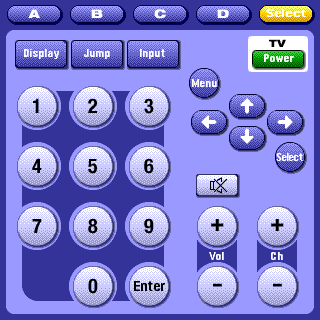 I had no problem getting it to control my old RCA VCR and Magnavox TV. I was VERY surprised that I could stand 15-20ft away and control them with no problem. The application allows you to program the hardware buttons to do different tasks. For example, you can program things so that pressing the Address button would turn on your TV, Pressing the Calendar button would turn on your VCR, and
pressing the up/down scroll button would channel up or down thru the TV channels. Fun stuff! The only thing this app doesn't have is a learning mode.
Below the IR port is the Memory Stick slot. It actually took me a little while to notice the slot as the spring loaded door is black and blends in with the IR lens. When a Memory Stick is inserted fully into the slot, it sticks out slightly.
Ha – see, I had the opposite problem…I found the memory stick slot immediately, but it took me a bit to find the IR port! DOH!
Unfortunately, the maximum distance that I could achieve with beaming addresses to another Palm PDA was only 28 inches which isn't very good at all.
The left side of the CLIÉ has the earphone jack, jog dial, back button and hold switch. While the right side has the stylus silo and a lanyard attachment.

The earphone jack is a proprietary two part plug that mates with an included remote that allows you to adjust volume, and cycle thru songs. A set of ear buds are included which plug into the remote. If you don't want to use the ear buds, you can plug your favorite pair of earphones into the remote. And, if you don't want to use the remote, you can also just plug a set of earphones directly into the CLIÉ. Thru earphones the sound quality is great and quite loud. I listen at 50-60% and it's totally loud enough.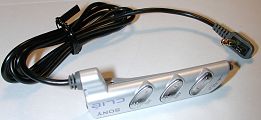 Sound quality of MP3s is decent. I would definitely say that it is comparable to the quality of any of my Pocket PCs. Since I don't own a separate MP3 player, I really like a PDA that is capable of carrying my music with it.
We just need larger Memory Stick sizes. The current 128mb limit sort of sucks.
True, but we have CF sleds on their way to us, so I will be able to use my 512 CF card – which is plenty of music for my needs. :0)
Guess what? You can even play MP3's thru regular speaker too! Of course, the maximum volume level thru the speaker isn't really loud enough, but it does work. Using the speaker for regular alarms is plenty loud enough…
Below the earphone jack are the Jog Dial and Back Button. You can use both of these features together to scroll thru lists, texts, applications, etc. Pressing the spring loaded jog dial will 'select' or launch items or applications. The Back button functions just Back button on a web browser. It takes you back one step at a time till you get back to the applications screen.
I really like the way the Jog Dial works – it does not have a thumb tab on it, so it rotates in incremental clicks.
I've never been a Jog Dial user. My thumb tends to slip on the wheel when I'm trying to turn it.
Yah, but when reading e-books it sure makes page turning easier.
Next in line is the Hold switch is a sliding metal switch that allows you to lock input to the CLIÉ. This is very convenient while listening to MP3's. When you engage the Hold switch, it actually blanks the screen and prevents other button presses (including the power button) from interrupting your music listening. Turning off the screen while listing to MP3's also helps conserve battery life.
The stylus silo on the NR70V is in an unusual location: the bottom of the PDA. The included stylus is the same one that is used with the T615C. It's very skinny and not that impressive. I rarely use mine at all…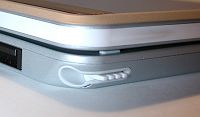 While it was no problem for me to get used to the position of the stylus (whipping it out from the bottom is almost second nature now), it does limit aftermarket styli possibilities. For example, the NR series uses the same skinnier sized stylus as the CLIÉ T series, so I thought I would be able to use a PDA Panache T series replacement with no problem. Unfortunately, the new stylus wouldn't stay in the silo which is a total bummer. At least the much heavier and nicer replacement stylus will fit in the holder on the side of the cradle – none of my others were thin enough to.
Of course the NR70 series display is one of the most impressive features of this PDA. Besides the fact that it can swivel, it is also 320 x 480. Compared to the standard 160 x 160 pixel screen on other typical Palms, this is the most impressive Palm screen to date. How were they able to include such a hi-res screen? There's no longer a dedicated graffiti area on the NR70 series. Instead, it is a soft graffiti area that can minimize in certain situations to allow for a full sized screen. All I can say is Wow, what took so long?! Sure, Handera did it first with the 330. But we're talking color here, and in my opinion, that makes all the difference in the world.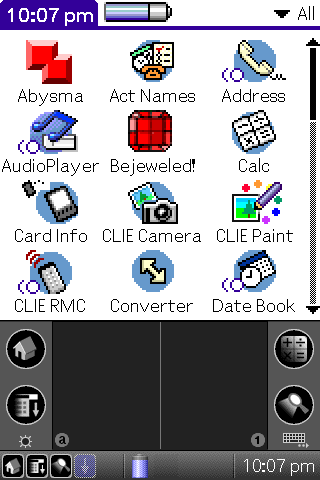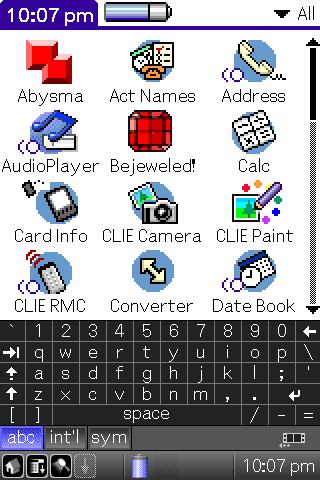 Since the NR70V is new, there aren't many applications available that take advantage of the full screen. There are a few however… One that comes to mind is ActionNames from iambic. Judie and I have both been using it and really like the full screen feature.
Hey, finally a graffiti area that is backlit! And what is even better is the fact that you can see what you're writing as your strokes are actually echoed on the screen as you write them.
I found that the screen was easy to view both in and outside – like all of the current Pocket PCs and the previous color Sonys, the NR70V uses a TFT screen that is viewable in almost every lighting scenario, including full-on bright sunlight. I was concerned about using the backlight at more than half power because I didn't know what realistic battery life would be like, but have since decided that I charge often enough that I should be able to use the max light setting without battery drainage issues.
I totally love the screen on this PDA. The screen is crisp and the colors are vibrant. Much more so than the T615C that people complained about. The NR70V has rich reds instead of rusty reds.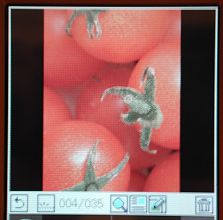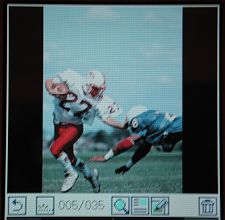 [images taken without flash at maximum brightness]
The hotsync cradle that is included with the CLIÉ has a modern style that matches the PDA. It has a nice weight to it and I'm very happy to say that it's extremely easy to insert and remove the CLIÉ from this cradle with one hand. Yay!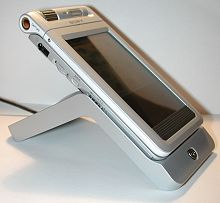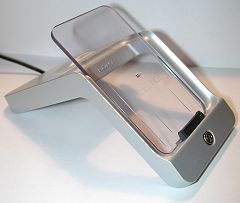 The built in stylus holder in the cradle is handy – except for the fact that it only accepts the tiny NR or T series styli, as I previously mentioned. I suppose that the additional stylus holder is there because when the CLIÉ is in the cradle, you aren't going to be able to access the stylus.
I found the system performance to be great. Very snappy.
As for the battery life, it actually seems to be a better than the T615C that I have. I was able to listen to MP3's (with the screen blanked) for almost 5hrs before I had to recharge.
I haven't had a problem yet with battery life; but then, I also keep it on while in the cradle through most of the day, and am only away for hours at a time.
Now, on to software. The CLIÉ actually comes with a pretty decent bundle. Although some of the 3rd party apps are trial ware, it still gives you a starting point. Here is what is included….
Software:
Sony Software
CLIÉ Audio Player – MP3 player.
CLIÉ Mail – E-mail client that allows you to attach files.
CLIÉ Paint – Easy to use paint program.
CLIÉ Remote Commander – Control your TV, VCR with your CLIÉ!
Memory Stick® Autorun – Application that allows you to copy to RAM and automatically start a program from the Memory Stick when it is inserted. The file will then be deleted when the stick is removed.
Memory Stick® Backup – Easy to use backup application that copies everything to your Memory Stick. You can save several date stamped archives that can later be restored if needed.
Memory Stick® Import – When you run this application on the CLIÉ, it will create a mounted drive on your PC that you can use to copy files to and from the Memory Stick in the CLIÉ.
Memory Stick® Gate- File manager application.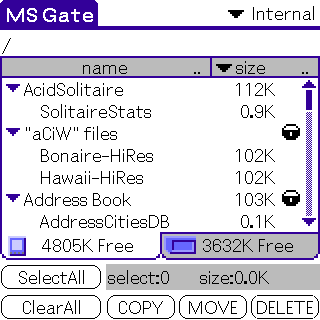 Memory Stick® Export v. 1.0 (for PC)
PictureGear Pocket – Take your favorite pictures with you wherever you go. Great little viewer application that is easy to use.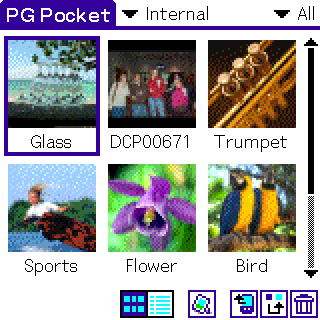 PictureGear v. 4.5 Lite (for PC) – This is the program that you run on your desktop to convert images to a format that the CLIÉ can view.
SonicStage LE (for PC) – Jukebox for your PC.
Sound Converter v. 1.0 (for PC) – Allows you to use short WAV and MIDI files in alarms.
Sound Utility – Nifty little program that allows you to listen to all the sound files installed on your device.

World Alarm Clock – Keeps track of 4 different time zones.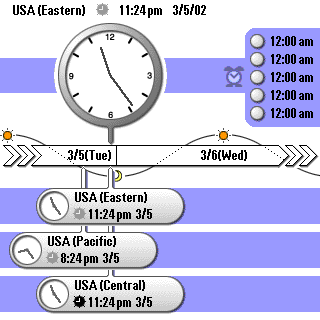 3rd Party Applications included on CD
Acid Solitaire (Red Mercury)* – Colorful solitaire game.
Bejeweled (Astraware)* – Fun gem matching game.
Zap!2016 (Astraware)* – Space shoot-em up.
Race Fever (Digital Fiction)* – 3D car racing game.
gMovie (Generic Media)-Watch video clips in the palm of your hand. However clips tend to be choppy and not near as smooth as watching them on a Pocket PC.
Amy Reiley's Pocket Vineyard (neohand)* – Wine guide.
Amy Reiley's Pocket Gourmet (neohand)* – Database of restaurant notes and dining terms.
Vindigo (Vindigo) – Free city guide for finding the best places to eat, shop and play.
StreetFinder® Express (Rand McNally) – View interactive city maps.
Documents To Go® – Standard Edition (DataViz, Inc.) -allows you to create, view, and edit Microsoft® Word and Excel files on the handheld.
powerOne Personal (Infinity Softworks) – Powerful calculator.
Presenter-to-Go (MARGI)* – View Powerpoint slides on your Palm.
WorldMate (MobiMate)*
PhoneMate (MobiMate)*
* Trial version software
Herbie Hancock DVD Single
PC Desktop Software
Acrobat Reader v. 5.0 (Adobe Systems, Inc.)
Intellisync Lite v. 4.0 (Pumatech, Inc.)
QuickTime v. 5.0.2 (Apple Computer, Inc.)
The Sony CLIÉ NR70V is an exciting addition to the ever-changing PDA landscape. While other PDA manufactures are content to recycle similar functions to their prior models in shiny new exteriors, Sony has definitely raised the bar by creating something so innovative that other PDA manufacturers would do well to take notice.
I totally agree with you. It seems that Sony is the one taking the lead with Palm devices… where is Palm with their innovations? It's going to take some fancy footwork to do better than this CLIE!
Never have I seen a PDA that captured the imagination like this Sony does, and though it is definitely not perfect, it is the closest thing I have seen in ages to *my* perfect PDA.
Mine too. I'm very happy with it at the moment. It has brought me back to Palm OS and it really feels good to be back.
While there are those that will argue that the multi-media capabilities aren't on par with the Pocket PC's, or that the camera isn't as good as a dedicated digital, or that the keyboard isn't anything a touch typist would get excited about, I would have to answer that while these may be valid points, the NR70V is definitely the first PDA to try to integrate all of the features that an above average user would want and to combine them with a operating system that is already widely accepted in a device that actually accomplishes the majority of what it set out to do.
It's true that Pocket PCs have the multi-media advantage, but how many of you actually watch movies on your PDA? But I bet most of you DO listen to MP3s or WOULD if your PDA could play them.
The NR70V is not for everyone though. It is a VERY expensive device that probably has more feature than the average person needs. But for a power user or a gadgeteer, it is a dream Palm OS device!
Price: $599
Pros:
Hi-res display with soft graffiti area
Great design
Metal case
Built-in keyboard
Built-in camera
Built-in TV/VCR etc remote control
Cons:
Expensive
Not many full screen applications yet
Camera picture quality poor
Button layout

Product Information
Price:
$599.00
Manufacturer:
Sony
Pros:

Hi-res display with soft graffiti area
Great design
Metal case
Built-in keyboard
Built-in camera
Built-in TV/VCR etc remote control

Cons:

Expensive
Not many full screen applications yet
Camera picture quality poor
Button layout