We use affiliate links. If you buy something through the links on this page, we may earn a commission at no cost to you. Learn more.
Product Requirements:
Device:
Almost any portable music device with a headphone
jack and an FM radio
It is an inevitable thing that you may have the "world's greatest" stereo
system in your car or house; but the music that you want to hear at some point
and time will happen to be in a format that you can't listen to over that
particular system.
In the past, listening to music from an alternative source might have
involved buying a cassette adapter that plugged into your device – with a cable
hanging from your device to the cassette player of your stereo. But what if you
didn't have a cassette player?
Enter the irock!,
a clever little device that can assist you in listening to music from virtually
any portable player that has a headphone jack, by porting it to any player that
has a built in FM radio.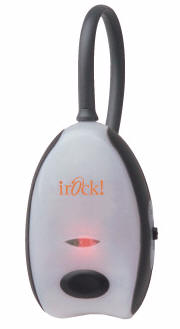 Photo courtesy of

myirock.com
The irock! consists of a small (2.0" x 3.0" x 1.0") plastic transmitter that
includes a flexible 7" antenna. The end of the antenna is actually a 1/8" stereo
audio input connector. Two AAA batteries will power the device for up to 20
hours, according to the website.
Although it isn't necessarily made to be held in your hand while being used,
I found the irock! to be pleasant to hold, and the rubber trim made it feel
rather cool.
The large black button on the front allows you turn the transmitter on and
off, and a bright red light will glow while the transmitter is turned on.
Once the irock! is plugged into your electronic device, you simply tune your
FM radio to any of the following stations: 88.1, 88.3, 88.5, or 88.7 MHz. You
will also need to select the frequency from the slider on the right side of the
irock!, and then you can enjoy your music – that's all you have to do!
The first obvious application for the irock! would be for
listening to MP3s from your PDA in the car.

Here you can see my E-200
being used, but if you are an iPAQ owner that happens to have a PCMCIA
sleeve and a 5GB Datapak…well, you can see the possibilities. How many
hours of music does 5 GB translate to? ;0)

I tested the irock! by placing it all over my fiancé's car – including
the backseat – and true to the manufacturers claim of 10-30 feet, I had no
problem getting a clear signal over the car's stereo.

Obviously you aren't limited to just PDAs, though. You can also use the
irock! with CD, cassette and mini disc players, as well as any other player
with a headphone jack.

A less obvious application might be playing music directly from your
laptop through a stereo system.

It might be cool to use the irock! with a voice GPS system, too…
Here you can see the irock! being used with our home theater
system. If you are the adventurous type that would like to DJ a party from
your PDA, this would be the easy way to do it.

The irock! sent a strong
signal from 10 feet away, but I did find that the quality seemed better the
closer the irock! was to the tuner.
The irock! is a clever way to effortlessly listen to alternative music
sources over your stereo system – either in your home or car. When you aren't
using it, it is small enough to stow in the glove box or door pocket, and it
seems rugged enough to withstand reasonable daily abuse.
With it's recently lowered price, the irock! is affordable and convenient.
Price: $29.99

Pros:

Ability to listen to music over your stereo system without using wires or
adapters
Inexpensive
Portable
Cons:

None
Product Information
Price:
29.99
Manufacturer:
iRock
Pros:

Ability to listen to music over your stereo system without using wires or
adapters
Inexpensive
Portable

Cons: