We use affiliate links. If you buy something through the links on this page, we may earn a commission at no cost to you. Learn more.
Product Requirements:
Device:
Visor, Visor Neo, Visor Pro, Visor Platinum, and
Visor Deluxe
If I had to guess, I would say that cases are the most purchased accessory
for a PDA. Cases come in all shapes and sizes. There are leather cases, nylon
cases, plastic cases, and metal cases to name a few. Some people like thin cases
that only offer minimum protection, while other people look for a case that can
protect their PDA from more extreme environments. The case that I'm going to
talk about today is the Active Armor
case for the Handspring Visor. 
The Active Armor case is made from a soft rubber like material and comes in
graphite, silver, and translucent colors. I was sent the graphite (black)
version to review.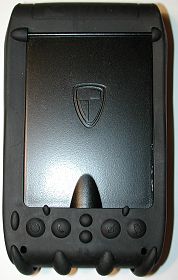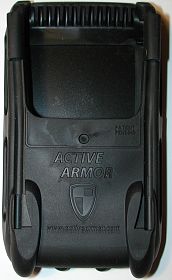 Some of you may be familiar with the Bumper
cases from Concept Kitchen (looks like they might not be in business any
longer….). This case is similar to the Bumper in that it is basically a one piece
rubber boot (not counting the removable lid) that you slide your PDA
into. Actually getting the Visor inserted into this case takes a little
wrestling, but once it's in, it's not going to come out accidentally.
Removing the PDA from the Active Armor is about as difficult as inserting it.
So once you get the PDA in this case, my advice is to leave it there. You're not
going to want to be taking it in and out all the time. If you decide you're
going to use this case your main case, you'll want to purchase a hotsync cable
as soon as possible because there is no way to sync in the cradle while the PDA
is in this case.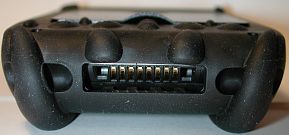 This case is made of a soft rubber which is comfortable to hold and also adds
quite a bit of shock absorbing bumpers around the Visor in case you drop it. The
top and bottom of the case each add almost .5in to the length of the PDA.
Everything is covered on the Visor except the Springboard area.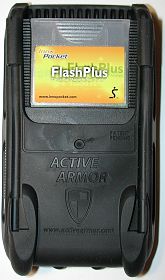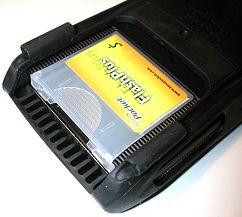 You can either consider this feature of the Active Armor case a pro or a con.
Because this area is uncovered, that means that this case is pretty much
compatible with all oversized Springboard modules. And if there is a module that
is even bigger than the large cut out area, you can take a pair of scissors
<shudder> and increase the size of the cut out. I think it would have been nice
though if they would have attached some type of cover for this area in case
people wanted to use it with standard sized modules.
When the Visor is in this case, you have access to all the functions except
2: The reset hole and the stylus silo. The reset hole is covered by the rubber
case as is the stylus silo. There isn't much that you can do about the reset
hole, but they were nice enough to solve the stylus issue. On the back of the
case, there are 2 separate stylus holders molded into the rubber. They are
molded for the original stylus shape, so third party styli might not fit.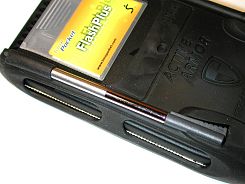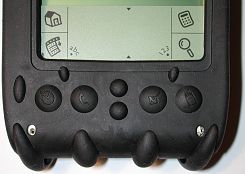 Instead of having cut outs for the application and power buttons, the case
has the buttons built in. You can press them thru the rubber and still feel
tactile feedback when you do. This works fine for most tasks. But gamers
probably won't be that thrilled.
The cut outs on the sides of the case allow you to use the IR port easily
while the a very small cut out on the front of the case gives you access to the
microphone if you are using the Visor phone Springboard module.
A hard plastic screen cover that can open180 degrees protects the display.
Two small rubber fingers hold the cover closed. These fingers work pretty well,
but I don't know how secure they are. I wouldn't feel completely confident
tossing my Visor into a gear bag full of potential screen scratching objects
while in this case.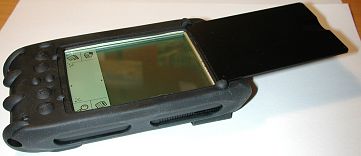 If you want to 'wear' this case, there are 2 built in holes at the bottom of
the case that you can use to attach a carabiner. You could then attach the
carabiner to a belt loop or backpack.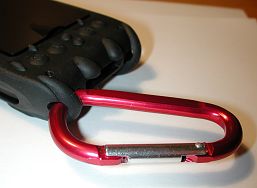 The Active Armor case isn't a case I would recommend as an every day type of
case. Instead, I would promote this case as good for outdoors people, people who
work in environments where their hands are dirty, factory workers etc. If the
case gets dirty, you can wash it with soap and water. You really can't do that
with a leather case!
I think this case can do a good job of protecting for you Handspring Visor
from dirt and dust while also giving it some cushion in the event of a fall.
Price: $29.95
Pros:
Compatible with most Springboard modules
Adds protection and shock absorbers to the PDA.
Cons:
Can't sync with cradle while in the case
Reset hole covered
Slightly difficult to insert and remove
Product Information
Price:
29.95
Manufacturer:
Active Armor
Pros:

Compatible with most Springboard modules
Adds protection and shock absorbers to the PDA.

Cons:

Can't sync with cradle while in the case
Reset hole covered
Slightly difficult to insert and remove