We use affiliate links. If you buy something through the links on this page, we may earn a commission at no cost to you. Learn more.
I want to see a show of hands, how many of you have spare AAA batteries
rolling around in the bottom of your purses, gear bags, pockets, or desk
drawers? Yeah, I did too until I found the Battery Holster from
RS Innovative.
The Battery Holster definately isn't a high tech whizzy-fob that you're used to reading
about on this site. Instead it is a simple product that does exactly what it is
made to do, which is hold 2 AAA batteries. Made of black leather, it is
basically a small rectangular pouch that has been sewn on each side. A small tab
with a snap closes the pouch and holds a metal spring key ring.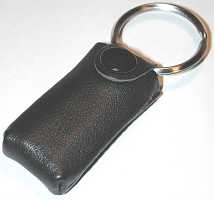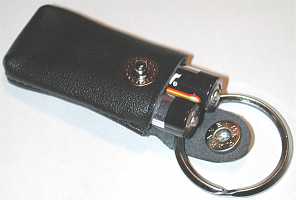 You can use this product as your primary key ring, or you can attach it to an
existing one. Or, like me, you can just pop it in your gear bag or purse. Either
way, it takes the hassle out of scrounging around for a set of AAA's whenever
your pager or older PDA might need them.
The Battery Holster is nothing fancy, but it looks nice and is made well.
Sometimes the best products are the ones that cost very little to make, and very
little for consumers to purchase. I think this is one of those products.
Price: $3.95
Pros:
Inexpensive
Small and simple
Cons:
Need a AA version
Product Information
Price:
3.95
Manufacturer:
RS Innovative
Pros:

Inexpensive
Small and simple

Cons: