We use affiliate links. If you buy something through the links on this page, we may earn a commission at no cost to you. Learn more.
The point of small, electronic devices is that they are portable and easy to
access, wherever you may be.  This is great, but you can quickly reach the point
(as I have) at which the indispensable
number of items carried on your person gets quite high and a method of carrying
them has to be found.
I always went back to my belt.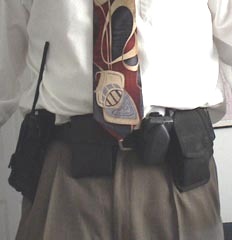 Sure, I tried the gear bags, the fishing vests, and even the fanny-pack, but
none of these solutions could carry what I needed in a manner that was both
functional and (here's the key) professional.  I once had the nickname "Batman"
for my belt gear (2 pagers, Motorola flip phone, Palm 5000, Walkie-Talkie,
Leatherman Supertool – not to mention the items is my pockets).
Over the years, technology cut down the number of items on my belt; the Palm
Vx was small enough to keep in my shirt pocket (with at least 2 drops per
month), the pagers and the radio are gone, the big honkin' flip phone was
replaced by a sleek Nokia 8260, and my Supertool was replaced with a Leatherman
Wave.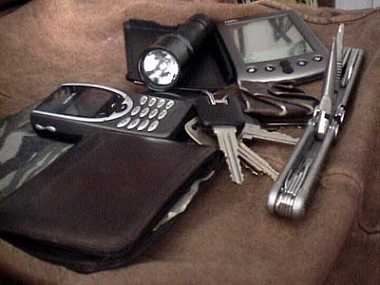 They were now calling me "Luke Skywalker" – until I discovered

Mobile™ Pant by

Dockers®.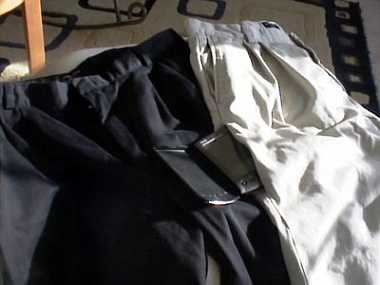 The pant (yes, I know it is
singular, and no, I have no idea why…) was released last summer, and I was quite
eager to get my hands on a pair (or two).  The idea behind the are a series of
hidden pockets, enabling the wearer to carry their gear and not broadcast that
fact to the rest of the world.  In addition to the traditional two front and two
back pockets, there are also two Hidden Zip Vault Pockets, and a single (despite
ads to the contrary) Stowaway Seam Pocket.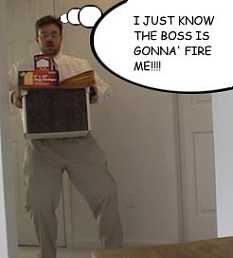 To outward appearances, the Mobil™
Pant is just another pair of slacks.  They are available in three colors: Stone,
Khaki, and Black.  The Stone and Khaki varieties are a typical, corporate casual
style, while the Black has a much more formal quality, working well with a
sports jacket and tie for more executive requirements.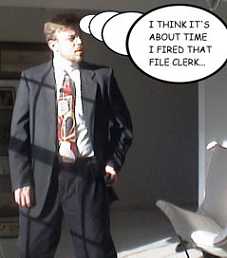 The following sizes are available:
| | | | | | | | | | |
| --- | --- | --- | --- | --- | --- | --- | --- | --- | --- |
| l/w | 30 | 32 | 33 | 34 | 36 | 38 | 40 | 42 | 44 |
| 30 | √ | √ | √ | √ | √ | √ | √ | √ | √ |
| 32 | √ | √ | √ | √ | √ | √ | √ | √ | √ |
| 34 | X | X | X | √ | √ | √ | X | X | X |
The list price on this article of
clothing is $52.00, but I have purchased all of mine from
Kohl's for $35.00.  While more expensive
than a standard pair of Dockers, the price difference is only $5-10.00,
depending on your pant preference.
But enough of the specs, right?  We're here for the
pockets!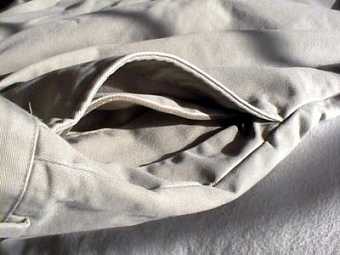 The Hidden Zip Vault pockets are nestled against the
standard front pockets and are accessible via (oddly enough) a zipper just
inside of the lip.  The vault pockets are approximately one inch shorter than
their traditional neighbors, allowing for a layering of two small items.  This
effect prevents the items becoming bunched up in the pocket and also provides
protection against gear rubbing.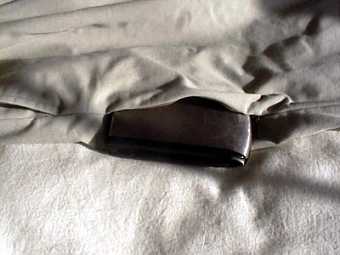 The Stowaway Seam Pocket was the major selling
point for me.  When not at the office, I favor cargo pants for transporting my
various gear items with me, and get a lot of use out of the thigh pockets.  The
pockets are accessible via a zipper, integrated into (oddly enough, again) the
seam.  A wallet or PDA is a perfect size for this pocket, and allow for easy
access while seated.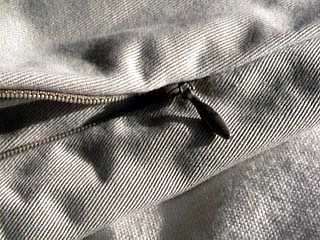 A zipper with a small metal tab,
color-matched to the pant, seals all three of the compartments.  The zipper
performance has been hit-or-miss – always effortless to open (down motion), but
prone to difficulty getting closed.  Note, in my six months with these pants
(yes, I have more than one, so I can use the plural!) I have never actually
snagged a zipper.
Enough of the basics of operation –
how do the darn things actually work?
Fine, but it took a little
tweaking. 
| | |
| --- | --- |
| | |
| Pockets Empty | My Gear Essentials |
Upon purchasing my first pair, I
was dying to see how much stuff I could cram into them – big mistake.  Having
always dreamed of keeping my DV cam on me, my Canon Elura would not fit into the
Stowaway Seam Pocket, and stuffing it into the traditional front pocket make me
look like I had some kind of terrible growth and was bound to break my camera. 
A harsh lesson was also learned from carrying my glasses in the Hidden Zip Vault
Pocket – it took nice folks at Lens Crafters twenty minutes to get them back
into shape.  Keep your glasses in a hard case, and out of your pants!
After that debacle, I barely used
the features for several weeks.  The Palm was still in my shirt pocket, pouches
still on my belt, but my wallet was a lot easer to reach at the drive through or
ATM, but that was it…
Then, it happened – the lining of
my new leather jacket (A Wested Indiana
Jones, Temple of Doom version) was starting to fray due to the items on my
belt.  Life is full of tough decisions, and gear choices are among the worst,
because they affect you on such a daily basis – it was either the belt pouches
or Indiana Jones…
Needless to say, I got very
proficient at Mobil™ Pant-ology very quickly.  Now, my old trooper Vx (soon to
be replaced) rests in the Stowaway Seam Pocket, the two pockets on my left house
my Leatherman and Surefire, and my phone and keys are on the right two pockets. 
Wallet, handkerchief, and coin purse (don't start with me…) are in the back
pockets.
The Stowaway Seam Pocket is the
most useful portion of this pant, but items inside of it can get bunched up
against items in the hip pocket.  Solution?  Simple – the Stowaway pocket is
always shown angled to the front of the pant, but it can be "flipped" so that it
faces the rear, eliminating rubbing with hip pocket items.  Reversing this
direction also allows to easier retrieval of your PDA/wallet from a seated
position.
The zipper on the Hidden Zip Vault
Pockets always gave me some trouble – it was annoying to unzip it to get to a
ringing cell phone, and more than once the <END> button was accidentally pressed
as I was trying to get the thing open.  What can you do?  Don't zip them! 
Unless someone is holding you upside-down and shaking you about, there is very
little chance of an item falling from these pockets.  With the zipper down,
reaching the traditional hip pocket is a little more difficult; your hand will
usually go into the Vault pocket.  This works for me, I started to keep items
that I used more frequently in the Vault (my Leatherman, for example) and things
I rarely brought out went into the traditional hip pocket (my flashlight).
Sure, it took a little while to get
used to these items flopping around as I walked, but I no longer notice it. 
Now, I can climb into my car and not have trouble getting the seat-belt to
buckle due to the massive amounts of gear on my waist – and I have not had a
drop of the Palm since I embraced the Pant.
(Note:  I currently own six Mobile™
Pants, if you are as obsessive about gear placement as I am, getting enough
pants to wear every day is a necessity).
Price: $52.00 list ($35.00 Street)
Available in Stone, Khaki, and Black
Pros:
Quality, nice-looking slacks
Hidden storage for tech (or other) gear
Cons:
Missing second Stowaway Seam Pocket
Truly Obsessive cannot live with one pair
Product Information
Price:
52.0
Manufacturer:
Dockers
Pros:

Quality, nice-looking slacks
Hidden storage for tech (or other) gear

Cons:

Missing second Stowaway Seam Pocket
Truly Obsessive cannot live with one pair