We use affiliate links. If you buy something through the links on this page, we may earn a commission at no cost to you. Learn more.
Product Requirements:
Device:
Compaq iPAQ 3800
After reviewing several Piel Frama
cases late last year (for the Palm m500,
Casio E-500 and iPAQ 36xx), I have really grown to like these cases quite a
bit. So, I was happy to take a look at their current Compaq iPAQ 3800 series
case when it arrived in the mail.
Pretty much identical to their 3600 series case, this one is also available
in 3 color styles. Black, Tan and a Black/Tan combo. Versions for the the naked iPAQ,
iPAQ with CF sleeve, and iPAQ with PCMCIA sleeve can be purchased. I was sent
the naked black version. All Piel Frama cases also come with a belt clip and as
such, mine was no exception.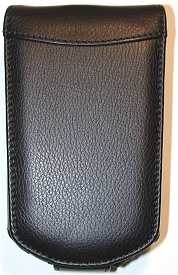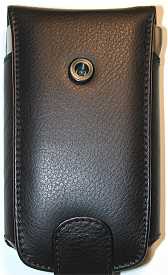 This is a play-through case in which the iPAQ slides into the holster portion
and can be used without need for removal except for syncing and charging with a
cradle. The PDA is held securely, but not quite as snuggly as similarly
styled Vaja cases.
While in the case, you have access to the Power, Application and Joy Pad
buttons. In my opinion, the larger cutout on this case makes the PDA easier to
use than the cutout on the Vaja 3800 series
case. The bottom of the case has a cutout for the serial port and reset
hole.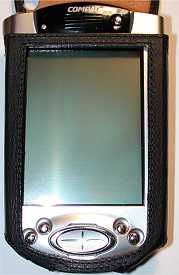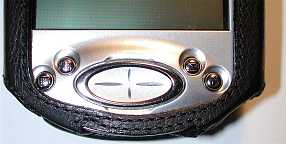 The screen cover is padded and has a semi rigid stiffener to protect the
screen from bumps and knocks. The inside has 2 card slots with one larger slot
behind them. The cover has an oval cutout for the headphone jack so that you can
plug in your earphones even when the cover is closed. The cover is held closed
with a snap tab. This tab wraps around the bottom of the case protecting the
serial port when closed.

The back of the case is padded and has a plastic belt clip stud. While on
your belt, the case can swivel freely on the clip. All of Piel Frama's cases
come with a belt clip. That might annoy some people (I know Judie doesn't like
them at all), but the good thing is that the plastic stud is pretty flat and
doesn't really detract from the style of the case at all in my opinion.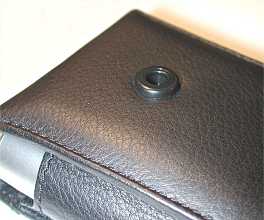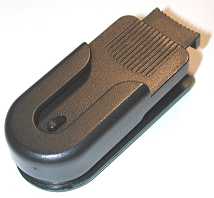 Everything about this case is comfortable. It feels very soft and padded in
your hand, it looks classy, and it does a nice job of protecting your iPAQ. At
$60, it is actually more expensive than the Vaja 3800 series case. They are both
good cases, so it comes down to whether you like a softer padded (almost
pillow-like) case such as the Piel Frama or a more firm feeling case like the Vaja.
Price: $60.00
Pros:
Nicely padded
Cons:
Can't sync or charge in cradle
Not available without a belt clip
Product Information
Price:
60.0
Manufacturer:
Piel Frama
Pros:
Cons:

Can't sync or charge in cradle
Not available without a belt clip