We use affiliate links. If you buy something through the links on this page, we may earn a commission at no cost to you. Learn more.
Product Requirements:
Device:
IBM compatible 486 PC or higher running
Windows 95/98/2000/NT 4.0/ME/XP or Macintosh PowerPC running OS 8.6 to 9.x
One available USB port**
** Windows 95 and NT 4.0, or serial connectivity, require a serial HotSync
cradle, sold separately.

Wireless: Having no wires. To communicate with or send communications
wirelessly. Those are pretty straight forward definitions aren't they? For PDA
enthusiasts, the term wireless is synonymous with the holy grail. The ability to
check email or surf the web anywhere and at anytime – without needing a phone line, cell
phone cable or desktop PC is a truly wonderful dream.
This dream actually came true when Palm released the
Palm VII in 1999, and
then the Palm VIIx in 2001. To this date, they are still the only major PDA
manufacturer with integrated wireless features. Yes, I know all about the RIM
Blackberry, which actually came out a few months before the Palm VII, but I
don't feel that the RIM is in the same PDA league as that of Palm or Pocket PCs.
I tend to think of it more as just an email device.
The Palm VII/VIIx was/is a nifty PDA that you can use to check email and grab
bits of info thru small query apps called PQAs. These apps are fast and easy
ways to get the weather, check news headlines, flight schedules, and other
things. The only bad thing about the VII was the fact that you had to raise a
slightly flimsy antenna every time you wanted to send or receive data. You also
had to manually check for new email unlike the RIM Blackberry that did this task for
you automatically.
But with time comes evolution, and as part of this natural progression, Palm has a new wireless PDA called
the i705. This new device is a smaller, sleeker version of the Palm VII series
with a few other goodies thrown in as well. Is it worthy upgrade, or just a fancier package? Let's take a closer look.
Hardware Specs:
Processor: Motorola Dragonball VZ 33mhz
Operating System: Palm OS 4.1
Memory: 8MB RAM, 4MB FLASH ROM
Display: 160 x 160 Transreflective Monochrome LCD with Backlight
SD/MultiMediaCard Expansion Slot
Power: Lithium Polymer Rechargeable Batteries
Communications: USB and IR port
Size and weight: 3.06 x 4.65 x .61 in. / 5.9 oz
The i705 has a smooth sleek style that looks like a cross between the m500 and m100
series Palm devices. Its rounded sides and relatively small size make it easy to
hold and tote around. Compared to the Palm VII/VIIx, the i705 is shorter and a
bit thinner.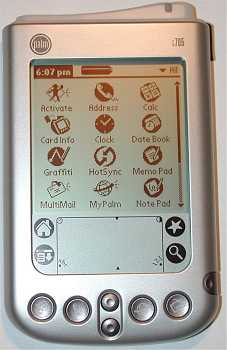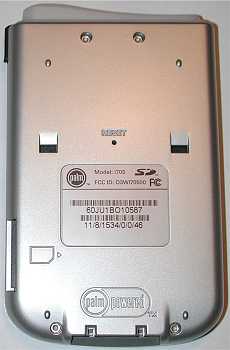 Upon first glance, one might think that the i705 has a metal casing like the
m500 series.
Unfortunately, it doesn't. It is just a smooth silver colored plastic that has a
slight slippery feel to it.
I did my standard squeeze test and found the unit to be quite solid. No squeaking, creaking or flexing was noticed.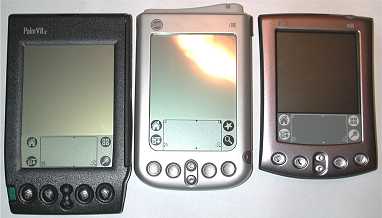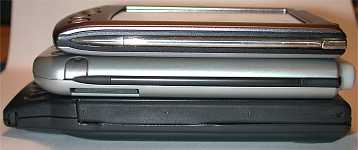 [Palm VIIx, i705, m505]
On the front you have your standard there's-no-mistaking-this-is-not-a-Palm-PDA
application, scroll and power buttons. The application buttons are made of a
pewter colored hard plastic with a concave shape. Instead of the typical Date
Book, Address Book, To Do, and Memo button layout, there is now a Date Book,
Address Book, MyPalm and MultiMail button layout. Of course, you can remap these
buttons if you wish via the System Prefs.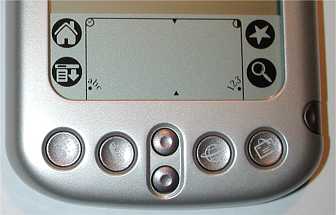 The scroll buttons are separate Up/Down buttons that have a dimple in the top
that allows you to use your stylus tip to activate them. The power button also
has a similar dimple. For some reason, I seem to have problems with activating the power button. I don't know if it is the location or size, but I almost always find myself pressing it twice to activate it. All of the buttons have a slight tactile feedback to them
when pressed.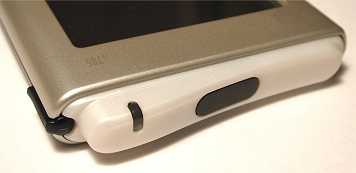 The top of the i705 has what looks like a Gumby head. :o) It is a frosted
colored plastic swoop that houses the Infrared (IR) port, antenna and status LED. I like
the new antenna design because unlike the Palm VII/x, you don't have to extend
it to enable the wireless features which is very nice.
Regarding the IR port, I found the strength to be pretty normal. I tested the
distance by beaming addresses back and forth from a Palm VIIx. The maximum
distance I could beam was about 5ft while laying both units on a flat surface
facing each other.
The status LED at the top of the antenna swoop serves several purposes. When the radio is turned on, it blinks a slow green heartbeat to let you know you're within range for wireless transmissions. If you
are out range, there will be a slow red heartbeat. The LED will blink a fast red heartbeat when you either have a new email, or a date book, clock or notepad alarm has been activated. It
will also glows green continuously when charging in the cradle. Unfortunately, there isn't an indicator when charging is complete.
I really wish you could customize the blinks. The green heartbeat blinks drive me nuts. If I have the i705 laying on my desk within eyesight, the blinks will distract me from my work. I think it would be nicer if the LED would glow a steady green while within radio range and maybe just turn off when out of range. For new unread emails I think the LED should glow a steady red and blink green for alarms.
I guess it's just all personal preference.
One nice thing to know is the fact
that you can set the radio to be on always or to just be on for a certain time span
during the day. So, if you don't want the PDA to wake you up at 3am buzzing or
beeping when new messages come in, you can turn it off automatically at the time
you choose.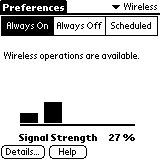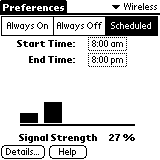 The left side of the i705 has an accessory slot for screen covers. A leather flip cover is included which slides into this slot.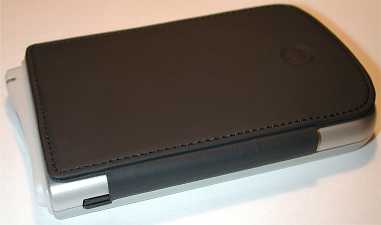 The right side has the stylus silo. The silo is cut out like the silos on the
Palm V and m500 series. The stylus itself is very Palm V/m500-ish. My Palm V
stylus actually fits fine in the i705 silo, it just doesn't have large enough
nubs to hold it in. The right side is also where the SD expansion card slot is.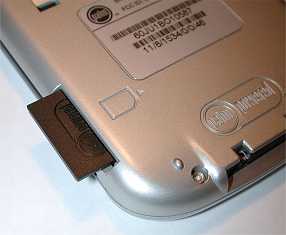 The bottom of the PDA has the universal connector which allows you to sync in
m500 series cradles, use the same cables, some keyboards. Other universal
connector peripherals should work with the i705 as long as they aren't molded for
a specific PDA.
The back of the i705
is plain except for the reset switch which is located in the middle.
The display on the i705 is my biggest complaint about this model. It's a mono
screen. Can I just say "YUCK, what's up with that?!" Maybe I'm a color bigot and
if so, I freely admit it. This PDA would be soooooooooooooooo much better if
they had gone with a color screen. Sure there's the battery life issue, but
personally I find that to be pretty a much non-issue. My Visor Prism, and Palm IIIc all have
excellent battery life. I would have even been happy (not Snoopy dance happy,
but happy all the same) if they had even gone with the mediocre m505 color
display.
Ok, enough with the complaining… The display is your typical newer Palm mono
display. It has much better contrast than my Palm VIIx. It is crisp, clear and viewable in most lighting conditions. If you are in very dim light, you can hold down the power button to toggle the backlight. Unfortunately, the horrible reverse backlight is used which is really only beneficial in very very dim
(otherwise know as dark) lighting. Oops, I did say I was done complaining
didn't I? ;o)
The actual screen is hard, slick and easy to write on with a stylus. I didn't
find it mushy at all. That said, it does depress ever so slightly when you press
the stylus tip on it. You have to hold it at an angle to see this though. I also
found that the digitizer was sensitive and recognized all the Graffiti letters
that I tried. You also might notice that the silkscreen area looks a little
different on the i705. The calculator soft button has been replaced by a star.
This star is your favorite button. Not a favorite website, but a favorite
application. You can set this button to launch any application installed on your
PDA. By default, it's set to launch the Notepad app.
The i705 has the same old piezo speaker that we all know and love (yes, I'm
being sarcastic). Volume levels are quite good with this model though so you
shouldn't have a problem hearing your alarms go off. If you need a little extra
oomph to make the alarms and notices stand out, the i705 also has a vibrate feature
built-in which is noticeably stronger than the vibrate on my m505.
The i705 comes with the same USB hot-sync cradle and AC adapter as the m500/505.
Attaching and removing the i705 from the cradle seems easier than doing the
same with the m505.
Battery life is as excellent as with all Palm devices. Setting the radio to always on, I was able to fully charge the battery and use the unit for 5 days before I even noticed it drop to 75%. I sure wish my Pocket PC did this well!
Of course, the biggest feature of this device is the wireless feature. That said, the i705 has the same
exact (I'm pretty sure) radio as the Palm VII and VIIx. So what's the advantage? The advantage is that the i705 can be set to 'always on' and as such can have email 'pushed' to it automatically. Think RIM… With a Blackberry, you don't go out and check your email.
It just arrives. That might not sound like
something really earth shattering, but trust me, once you use it, you'll love it!
But, before you can use the wireless features, you must first setup an account with Palm.net. You can do this one of two ways. You have the option of setting up an account when you install the Palm Desktop software on your PC, or you can do it directly thru the i705. Since I don't have wireless coverage at my house, I setup the account thru the Palm Desktop / Internet. You'll also want to do it this way if you happen to already have an account on a Palm VII and would like to transfer it (which is what I did).
This is where I'm going to get a bit grumpy… I've had my Palm VIIx for over a year now, and just have the Basic service which is $9.95 per month giving you 50k of data transfers. I wanted to transfer this same rate to the i705… Guess what? You can't! You get the choice of
three plans. An Associate Plan that gives you 100k at $19.99/mo., the Executive
Unlimited Plan for $39.99, or an annual Executive Plan for $34.95/mo. Regardless to which plan you choose, you also have to
pay a $9.99 setup fee. But what got me a aggravated was that I ended up having
to setup a new account on my Palm VIIx so that I could do some tests comparing
it to the i705, and when I did, I was able to get the Basic $9.95/mo plan. I
want to know why it is not available for the i705.
It might be useful (or not) to point out that the Palm VII originally used BellSouth's Mobitex data network.
Not too long ago, BellSouth and SBC (Southwestern
Bell, Pacific Telesis, Ameritech, SNET) merged their wireless networks into a
joint venture called Cingular. So now, that's the carrier that serves both the
Palm VII/VIIx and i705.
Some of you may be wondering how the i705 compares to the Palm VII/VIIx in
receive/transmit speed. I wondered about this myself, so I conducted several
tests where I laid the i705 and Palm VIIx side by side on a desk and activated
the same .PQA apps on each PDA at the same time. At first I thought the i705 had
a little faster radio as it would popup about 2 sec before the Palm VIIx. But,
then the Palm VIIx started popping info up faster… I tested several different
.PQAs for several minutes, and it's really a toss up as to whether one radio is
faster than the other. I think they are pretty much the same and let me just say
that neither is blinding fast. ;o)
For .PQAs, the speed is fine. Manually checking POP email accounts isn't too
terribly bad either. Just to give you an idea, it took me 2.5 mins to pull down
11 average sized emails from my POP account. I also found that sending an
email from my desktop to the i705 general took 2mins to arrive on the i705.
During these tests, I didn't have really good radio
signal strength (2-3 bars), so it's possible that with better
strength the transfer could have been much quicker. I do want to tell you that
even with the best signal strength, you're definitely not going to want to surf
websites with this wireless PDA. It's just too slow and the screen is too small.
Stick with grabbing small amounts of data and you'll be fine.
What about the software you ask? Well, here's what the i705 comes with:
Installed Software:
Activate – Software to setup your Palm.net account
MultiMail Deluxe – Default email program capable of working with up to 8
different accounts
AIM – AOL Instant message and chat with your friends
MyPalm – Portal for various wireless content
Type N' Go keyboard driver – Driver for optional snap on keyboard
CD bonus Software:
Datavis Documents to Go – View and edit documents and spreadsheets
Palm Reader – Read e-books and periodicals on the go
MGI PhotoSuite Mobile Edition – View video clips and images on your i705
Not the greatest bundle by any means, but it is adequate. Let's take a closer
look at MultiMail Deluxe, My Palm portal and AIM.
MultiMail Deluxe is a the email client that comes loaded into ROM. This is
the application that you will use to read and send email from your Palm.net
account and other accounts (up to 8) that you can setup.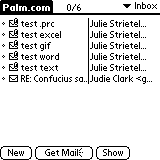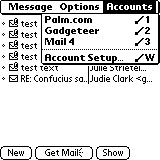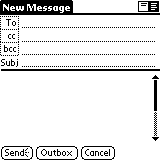 I found the program to be straight forward and easy to use. It has all the
standard features that people have come to expect in a good email program. You
can assign signatures, specify if messages should be deleted from the server
after viewing, options to download only the headers, and even sending and
receiving attachments.
I was able to successfully send several emails with various attachments to
my Palm.net acct. All the emails arrived just fine. I was even able to open the
email with the TXT file attachment and view it.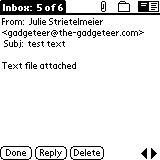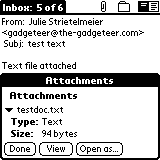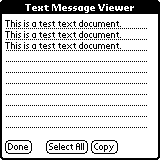 However, all the other emails that I had sent didn't fair as well. My .PRC,
.GIF, .XLS and .DOC (MS Word) attachments would not open. MultiMail would
complain that I needed a plug-in in order to view them. I was able to find a
plug-in for .DOC (MS Word) files to install, but as you can see below, the file
which only had three sentences in it, came out pretty garbled. This is probably
because I downloaded a plug-in for an older version of the software though…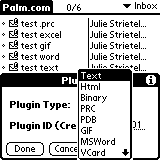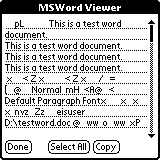 Although I didn't have any luck testing this feature, you can sync your
desktop email with MultiMail. I should also mention that I had 2 or 3 fatal
exceptions while using
MultiMail which required me to press the reset button on the back of the PDA.
I should also point out, that only the Palm.net account will
automatically push email to you. You have to manually check any other
accounts (POP) that you might additionally setup. However, you can
configure your email to forward to the Palm.net account. This is a setup
option that you can make via the Palm.net online account.
The MyPalm portal application is your command center for various data
gathering links and features. With it you can do such things as checking news headlines, stock
info, submit searches on Google and even enter a regular webpage URL to pull up
the web site of your choice.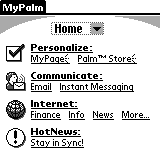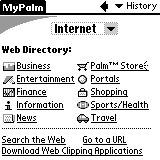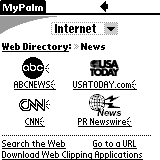 These links pull up information quickly and easily and are what make the i705
useful and fun. But, like I said before, don't think you're going to surf the
web using this PDA. Doing so is very slow and will cause the byte rate on your
plan to add up really fast because none of the info is cached.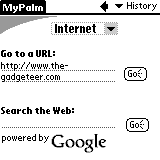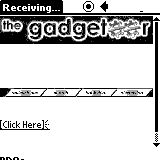 The AOL Instant Messenger application is something I didn't think I'd be all
that wowed by, but I was wrong. Being able to hold a real time conversation with
a device in the palm of your hand while sitting in a car in a parking lot
waiting for
your friend to finish shopping is just too cool!
Setting up AIM is simple. You just enter your screen name, password and it
pulls down your buddy list. You can easily see who is online to send an IM to.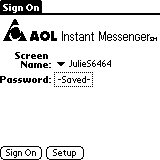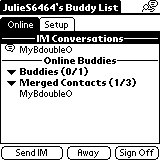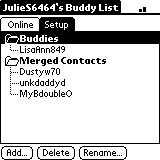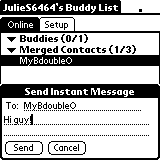 Of course, a physical keyboard comes in handy for heavy duty chatting, but
for sending short notes, graffiti isn't too horrible.
You even have a smilie and shortcut panel for frequently used emotions and
phrases.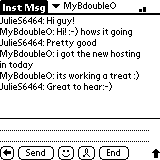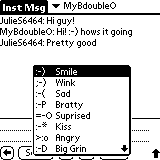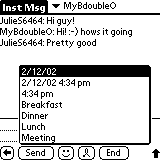 The really great thing is that once you sign into AIM, you can turn the i705
off and still receive IMs. The PDA will beep and automatically turn on. Very
cool.
Besides these wireless apps, there are many more available on the net and
thru Palm.com for download.
Overall, I like the i705 a lot. The size is right, system speed is snappy,
and battery life is excellent. It's really cool and the always on feature and SD
slot give it a big advantage over my Palm VIIx.  But on the other hand, there's the price
tag…
Can you say OUCH? If you take away the wireless feature, the i705 is basically
the same as an m125 which sells for $199. That means that the radio in the i705
is costing you $250!  Ok, you get  rechargeable batteries with the
i705 too… but that's it. Yikes! The only way I would say that the price could
be justified, would be if this model had a color screen… which it doesn't…
Should you buy one? If price is no object, and you don't mind the mono screen,
go for it. It really is a fun little PDA.
Price: $449
Pros:
Always on ability
Email (Palm.net) pushed to device
Rechargeable battery
Small size
Cons:
Price is steep
Mono screen
Too slow to really surf WebPages
Product Information
Price:
449.0
Manufacturer:
Palm
Pros:

Always on ability
Email (Palm.net) pushed to device
Rechargeable battery
Small size

Cons:

Price is steep
Mono screen
Too slow to really surf WebPages