We use affiliate links. If you buy something through the links on this page, we may earn a commission at no cost to you. Learn more.
Product Requirements:
Desktop:
Windows 98, NT 4.0, Windows ME, Windows 2000, or Windows XP
Let's start this review with a bit of a history lesson, shall we?
So, could I see by a show of hands the number of people that started off
their entire WinCE experience with a Casio Cassiopeia of one design or another?
Sure, I was one of you, too.
My first Cassiopeia was a WinCE 1.0 clamshell device with an integrated
keyboard that I purchased for some ungodly amount of money back in the
mid 90s. My point?

Casio has been tinkering with portable Windows devices for a long time
(relatively speaking, of course).  Therefore, it was no surprise that when
Microsoft decided to make an even more pocketable version of WinCE called Palm
PC in the late 90s, Casio was one of the first to come out with an actual
palm-sized device.
For the times, these were some of the most innovative PDAs available. Made to
directly compete with the enormous success of the
Palm devices, Palm PC took the idea of the
simple pocketable PDA a step further with the addition of a voice recorder and a
compact flash slot. Never mind that the OS (Wince 2.0) was a bit of a clunker,
or that software developers never seemed to accept the Palm PC OS as they had
the Palm's, I believe that the actual hardware that Casio came up was
very innovative.
With the evolution of the E series of Palm PCs, including such models
as the E-10, E-11,
E15 (the first to use the much loved "gamer's
layout"), the E-100 (their first color palm-sized
unit) and the E-105, great strides were taken to make the Palm PC a household
name. Of course, Palm was not very happy about what they considered obvious pilfering of their name
and so they slapped Microsoft with a
lawsuit. My guess is that at the time, Palm
was still stinging from their own just-settled
lawsuit with
the Pilot pen corporation…
Fast forward one year. Not only was there a new name for these palm sized
devices – Pocket PC – but Microsoft also introduced a whole new version of their operating system
(WinCE 3.0) that finally seemed to capture the hearts and imaginations of
consumers everywhere. With this type of support, it was only natural that
developers would also take notice and start working their magic.
Always one of the first to release a WinCE device, Casio put out the
E-115. Many consumers were disappointed because
this was essentially the same as the previous E-100, only with the new PPC OS.
But, as Julie pointed out in her review at the time, "One good thing is that there are
already accessories available that are compatible with the E-115. People that
have a E-100/105 now, and plan to upgrade, can use all their same accessories.
Cases specific to the E-100/105 will work with it, styli will work and the
compact flash camera will also work." 
People were really won over by the E-115's gorgeous (indoors, anyway)
240 × 320 pixel Color LCD, HAST (Hyper Amorphous Silicon TFT) screen, which had 65,536 full colors. This almost made them forgive
the fact that the E-115 was a brick when compared to the other Pocket PCs
being released by the other manufacturers.
Never miss one of our posts again. Sent MON, WED, and FRI with the latest gadget reviews and news!
Next, there was the Casio E-125 which sped things up a little bit by adding a 150 MHz MIPS processor, and it
too came with 16MB ROM and 32MB RAM. These numbers might have been totally
impressive, except for the fact that the Compaq iPAQ
came out with a 206 MHz Intel StrongARM 32 bit RISC Processor that seemed to
leave the competition in the dust! Then there was also the fact that the iPAQ
used a color reflective thin film transistor (TFT) LCD that made it possible to
easily view the screen outside, even in direct sunlight. When Julie
compared
all of the then-available Pocket PCs, I felt that for my personal needs the others were
lacking…so I chose the iPAQ, and never regretted my decision.
The introduction of the EM-500 excited me for
all of five minutes. Even though I thought it was definitely one of the best
looking PDAs I had ever seen (and the fact that it was available in green – my
favorite color – was also a huge plus), the MIPS VR4122 processor
operating at 150 MHz still didn't offer me anything I didn't already have in my
iPAQ. Then there was also the fact that the screen was still very hard to view
outside and the curious news that the EM-500 would only come with 16MB RAM and
an SD/MMC slot; there just wasn't anything compelling for me to switch to.
I would be the first to tell you that I was pretty under-whelmed by the
previous Casios. I could certainly see their value in certain situations, such
as gaming or for someone that never needed to view the screen outdoors, but I
was not going to anoint a Casio PDA with the honor of being my Daily Driver
anytime soon.
As most of you know, the latest incarnation of the Pocket PC was introduced
in the fall of 2001. Using the same successful WinCE 3.0 platform, Microsoft
basically mandated that if any of their hardware manufacturers were interested
in selling a Pocket PC 2002 device, then they were going to have to introduce
some uniformity to the hardware. Microsoft asked that their PPC2002 licensees offer a
reflective TFT screen that would be viewable outdoors, 32MB ROM (in order to
hold all of the new OS's software), and the StrongARM 206MHz processor. The
actual dimensions, styling, and options available on each of the different
Pocket PC 2002 devices would of course, still be up to the discretion of the
individual manufacturers.
Based on  preliminary pictures and hardware specs, plus the fact that I
had had a good experience with the previous hardware and Compaq's
customer service department, I purchased an
iPAQ 3835. After using it for some
time, I determined that it was the PPC2002 device for me. Little did I know that
my world might be rocked by a device from my past…
The following should give you an idea as to the inner workings at The
Gadgeteer: Julie and I had decided that since she wrote the
HP 565 review, and I had just written about the
iPAQ 3835/3850, we would basically draw straws as to who purchased the next
PPC2002 devices and wrote their reviews. She was a bit partial to the NEC device
(which she still has not been able to get her hands on) and I was
interested in the Toshiba (review will follow as soon as I get a device – I
promise!)…that left the Casio, which neither of us was too excited about – but
it was available now.
After thinking about it for a little bit, and taking into consideration the
fact that it did have two expansion options built in, plus the fact that it was
a 64MB RAM device, I figured "what the heck," bit the bullet, and paid $539
which was the least expensive price I could find a couple weeks ago while doing
a price search on C|Net.
As many of you that have been reading my gear diary
and e-mailing me about its recent entries have noticed, the

E-200 caught me completely off-guard. I thought that I would give this PDA a
fair shot and then simply write an unemotional hardware review. Little did I
know that in the process of getting to know him, this new guy would actually
win my heart and unseat the reigning iPAQ as my Daily Driver.
Does this mean that the E-200 is a perfect device? No, of course not. It has
its quirks and it has some issues.
So without further ado, lets take a look at the all-new Casio E-200…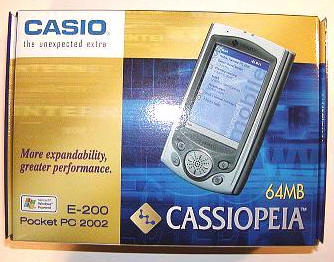 Hardware Specifications
These are the

E-200's specifications, according to the Casio Website. Any differences I
found are noted in red:
Operating System: Microsoft Pocket PC 2002, Windows CE 3.0
Processor: Intel Strong Arm 1110 206MHz
Display Type: Reflective TFT color LCD, 65,536 colors 
Touch Screen: Yes
Resolution: 240 x 320
Pixel Pitch: .22 mm
Viewable Image Size: 3.5 inch Screen measured diagonally
My Screen Measurements: 2.9" (7.4cm) tall x 2.2" (5.7cm)
wide, 3.6" (9.1cm) diagonally
RAM: 64 MB
ROM: 32 MB
Processor Cache: 16KB
Data Cache: 8KB
Input Method: Handwriting recognition, soft keyboard, voice record, inking
Communications Port: Interface with USB / Serial connectivity that connects via
serial or USB cable
Card Slots: SD/MMC Memory Slot, CF card slot (TYPE II), Optional PC Card Sled
Power Unit (via 32pin) includes rechargeable battery
Wireless Communication: Optional CF Card Wireless Modem, Optional PC Card
Wireless Modem (Requires Optional Combination PC Card Adapter/Auxiliary Power
Unit), Optional Cable to Cell Phone Adapter (available for select phones)
Interfaces: Serial RS232C, USB Client (via cradle of cable), USB Host (via
cradle)
Infrared: IrDA Ver1.2, IrDA Speed: 115kbps
Speaker and Microphone: Yes
Audio: Stereo headphone jack, Built-in Speaker, Built-in Microphone
Power: Li-ion rechargeable replaceable battery (950 mAh), Backup Battery Type:
CR-2032
Battery Life: Up to 12 hours. Extended time with Optional Combination PC Card
Adapter/Auxiliary Power Unit
Dimensions: 5 1/8"(L) x 3 3/16"(W) x 11/16"(H)
My Measurements: 5.15" (13.1cm) tall x 3.2" (8.2cm) wide x
0.7" (1.8cm) thick
Weight: 190g/6.7oz.
According to My Scale: 6.5oz. w/o stylus, 6.6oz. with
Included in the box, you will find: the surprisingly tiny E-200, 1
flimsy stylus ( I kept looking for the spare!), one cheesy soft slip-case, the removable main battery, the typical
coin-size backup battery, AC adaptor with AC cable, USB cradle, Casio CD-ROM, MS
CD-ROM, Quick Start Guide, EULA Card, registration/warranty card, accessory
booklet, and a Pocket PC Magazine flyer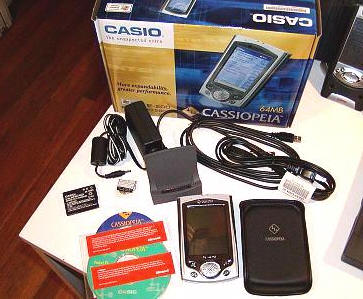 My first impression of the E-200 was "Okay, looks wayyy too shiny."
I also wasn't very thrilled about the slightly purplish cast that the sides
and the glossy front detail featured.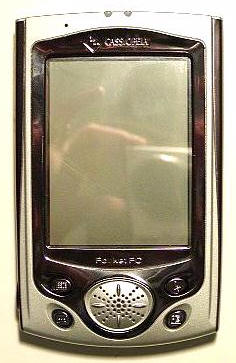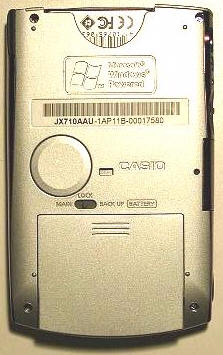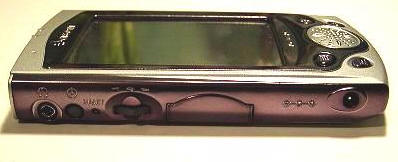 While I am at it, I should also tell you that I wasn't very
excited about the button layout or the raised tabs on the speaker enclosed
joy-pad – which I thought looked a lot like the insert you throw
away off the top of some brands of deodorant, though I have heard others
describe it more fondly as a mini-spaceship.
In truth, the E-200 didn't look like an iPAQ, and I simply wasn't used to
that. It only took a day of using the Cassiopeia before I was ready to admit to
myself that I had begun this review full of preconceived notions about it and
that I was biased towards the iPAQ.
Let's face it: like every other PDA owner, when I make my choice, I want to
believe that I have made the most informed and superior decision for my
particular needs. Then, it almost becomes a point of honor to be a little bit
snobby towards other PDAs…the wannabees, if you will. For the last year, it
had just become so ingrained in my mind that the iPAQ was the fastest, the most
expandable, and therefore the only one for me, that I had a difficult
time accepting the fact that there might be another PDA out there that could do
everything the iPAQ could do, and possibly even do it more efficiently.
Among other things, my previous opinion of Casio PDAs was that they resembled
bricks. With the E-200, that is no longer an issue. This Casio is much smaller than
previous Casios offered, with the obvious exception of the EM-500. I feel that
this PDA has a simple, yet shapely and appealing design. This was a
very pleasant surprise when I opened the E-200's box.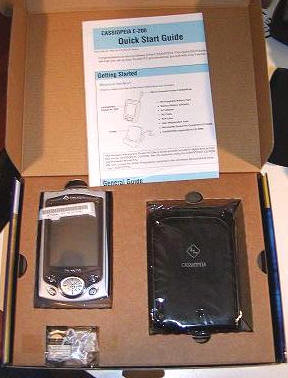 You will notice that there will be a few unavoidable comparisons in this
review between the E-200 and the iPAQ. This is simply because the IPAQ is the
closest Pocket PC I presently own that has the same capabilities as the
E-200, because it also has the built in SD slot . Of course, you do have to add
a Compact Flash sleeve to get the dual expansion capability. The HP 565, having
only a CF slot (and Type I at that), is really not a contender.
Since I happen to have these three new Pocket PCs handy, lets do some
pictorial size comparisons of naked devices with no covers, sleeves, or whatever –
just the actual devices themselves.
From the side, you'll notice that the HP appears to
be the longest Pocket PC.

Here are the actual measurements of the three
devices
pictured…you'll note that the Cassiopeia is just the slightest bit thicker
than the other two. When you consider that the E-200 has two expansion
slots built in, this is totally understandable and forgivable.

The Casio is also shorter than the other two PDAs, and only the slightest
bit wider. That's pretty impressive, if you ask me!

| | | | |
| --- | --- | --- | --- |
| Measured at Widest Point | Height | Width | Thickness |
| Hewlett-Packard Jornada 565 | 5.20" (13.2cm) | 3.01" (7.65cm) | 0.68" (1.7cm) |
| Compaq iPAQ 3835/3850 | 5.29" (13.44cm) | 3.123" (7.94cm) | .65" (1.66cm) |
| Casio Cassiopeia E-200 | 5.15" (13.1cm) | 3.2" (8.2cm) | 0.7" (1.8cm) |


From top to bottom: HP 565, iPAQ 3835/3850, and the Casio E-200

HP 565 stacked on top of a Compaq iPAQ and Casio E-200
From the top, you'll see that the iPAQ recorder juts out a
little bit from the left, but the E-200 is the slightly wider device overall
– that's it, sticking out from the right.

Since we are staring at the
screen of the HP, this might be a good time to do a comparison of viewable screen areas. As you can see, the
iPAQ is still the winner in screen real estate. The differences between the
HP and the Casio are negligible.

 
Viewable Screen
Area
Hewlett-Packard Jornada 565
2.91" (7.39cm) tall x 2.19" (5.56cm) wide
Compaq iPAQ 3835/3850
3.1" (7.88cm) tall x 2.35" (5.97cm) wide
Casio Cassiopeia E-200
2.9" (7.4cm) tall x 2.2" (5.7cm) wide

Here you can see that the differences in thicknesses between
the devices is not very large.

I think that anyone that will try to harp on size differences as an
objection to buying any particular one of these PDAs has a head full
of rocks. They are that close in size.


From top to bottom: HP 565, iPAQ 3835/3850, and the Casio
E-200

From left to right: HP 565, iPAQ 3835/3850, and the Casio
E-200
 …and finally, a view from head on, showing all three Pocket PCs. As you can see,
there really isn't a substantial difference in naked sizes.

What about weights? Here is a comparison…

 
Weight Without
Styli or Memory Cards
Hewlett-Packard Jornada 565
6.1 oz (174g)
Compaq iPAQ 3835/3850
6.3 oz (180g)
Casio Cassiopeia E-200
6.5oz (184.3g)

Once again, you should consider that the Casio comes with dual expansion
slots built-in, so the small weight difference is completely
understandable and forgivable.
So now that you have been properly introduced to the superficial qualities of
the Casio E-200, it is time for us to get down to the nitty-gritty regarding the
good the bad and the ugly regarding its hardware.
So lets take it from the top, literally.
Starting at the uppermost section of the Casio E-200, you find two LED
lights.  The one on the left is the charge indicator light, which
flashes orange while you are charging the PDA and solid green when the
battery is full .

The LED on the right is an indicator light that glows red when you are
accessing programs from either the ROM or the various RAM memories in the
PDA. This is similar to the light you see glowing on your desktop when your
drive is working. This light will also flash red when alarms go off.

There are four small programmable buttons arranged around the joy-pad.
In their factory default settings, they activate the Calendar, Voice
Recorder, Launcher, and Contact applications. This is the first time that I
have seen a Voice Recorder button on the front of a device, and I like it
there. It is actually a pleasant change to not accidentally turn that
feature on every time I insert or remove my Casio in or from a case.

The large joy-pad, or "curser button" as Casio calls it, also houses
the E-200's speaker. This speaker is one of the weaker points regarding this
PDA in my opinion. Not only is it too quiet, even when on the highest volume
setting, it also sounds very anemic when replaying voice recordings. 

Surprisingly enough, MP3 playback is not entirely painful through this
speaker, so maybe it is simply the spoken word's vocal range that makes the
speaker crap out.

Have you noticed anything missing yet? Hmmm – how about the power button!
We'll look for that in a little bit…
With much usage, I have grown accustomed to the raised tabs of the
joy-pad, and I have learned to appreciate the joy-pad's larger size, if for no other reason
than because it gives me more area to hold onto when I am playing
Hexacto's
Bob the Pipe Fitter
game.

Gamers that were used to the old button set-up may have a very hard
time adjusting to the new. Unfortunately, this may be a huge con
against the E-200 in their eyes. Since I am the first to admit that I am not
a huge gamer, this is not a problem for me.

Unfortunately, there may be some other issues that gamers will need to
consider. The good news is that the joy-pad will accept 8-way presses, the
bad news is that while the Casio can detect multiple button presses, I had
trouble when I pushed two application buttons at the same time.

I would like to
hear from gamers that have E-200s,
and get their opinions on
these issues.

 

The back of the E-200 features the round backup battery
cover, the battery cover lock switch, and the main battery cover.

The small hole noticeable to the far right of the CASIO engraving is the
insertion point for your stylus tip, which opens the SD/MMC cover. We'll take a
closer look at that feature in just a moment.

The little notch that you see directly to the left of the CASIO engraving
helps to lock the E-200 in it's cradle. More on that a bit later…
 

By switching the battery cover lock either to the left or to
the right, you can unlock the respective covers for either the backup or
main batteries. The backup battery is the typical CR2032 coin cell.
This is one of the things that gets me excited about the
E-200 – the fact that it has a removable battery, and that for under $50 I
can order a replacement directly from Casio. I can totally see where this
might come in handy while traveling.

The only downside is that the available battery (as well as the included
one that is included)  is only 950 mAh. I
guess I just got spoiled knowing that the iPAQ 3800 series came with a 1400
mAh battery. Oh well, that is where car chargers and periodic desktop
charging come in handy! ;0)

The perfect solution would be if Casio would see their way to offer an
extended battery with a replacement battery cover, much like various
cellular phone manufacturers do. I would love to buy a monster-sized
battery for heavy usage days!

This is as good a time as any to talk about
the Casio's battery, and how well it does or doesn't perform. Well, based on my
typical usage, it has been just fine. I managed to sit for 2.5 hours
reading a Peanut Press (I still
have trouble calling it Palm Press) e-book, with the backlight on medium and
the MP3 player going. When I was done reading, the ROM battery meter
showed 40%.

I will tell you right now that the battery meter included with the Menu
Bar software is completely inaccurate! More on this later, in the software
section…

 

 

The SD/MMC slot cover warrants a closer look.  It is
a plastic door that is opened by poking the tip of the stylus inside the hole on the back of the
case, as I previously mentioned.
Once the door swings open, the SD/MMC slot is
exposed. Insertion and removal of the memory card is similar to other devices that use these
cards. You simply press the card in to insert, and press it again to eject.
There is no need to pull on the card, or break out the needle-nosed pliers.
;0)

 

It is when you attempt to close the plastic door that
you realize just how flimsy it is. When opened, the door doesn't seem
to sit correctly on the hinges, and it may take a try or two before you get
it shut properly.

The upside to this method is that since I don't remove my SD card that
often, I like having the door integrated in such a way that it makes the
side panel look continuous and solid when closed.

A downside is that when remove my E-200 from its cradle, the door
is one of the first things that I grasp, and it flexes – making me feel like
the case is not as strong as it should be.

Though in fact, if I completely
avoid touching the SD/MMC door when applying Julie's "creak test", the Casio
passes with flying colors. The unit feels solid and strong, with little
to no flexing or creaking whatsoever. YAY!

 
The left side of the E-200 is cram-packed with many of its
ports and user features. From left to right is the headphone jack, the elusive
power button, the reset hole, the jog-dial (or "action control" as Casio
calls it), the SD/MMC memory slot cover, and the AC adapter terminal.

I am
still getting used to the power button being in this location, so it seems a
little bit inconvenient to me. However, when I am doing one handed
operations with my left hand, it is actually very efficient to be able to
hit the power button with my thumb. Viola – one handed Pocket PC operation.

Long-time Casio fans will note that the Infrared port is no longer located
on the side. I never liked it being there, so this is a definite pro
in my eyes.

The right side of the PDA is totally plain.

 
The bottom of the E-200 features the 32-pin connector that
plugs directly into the cradle, the Cassiopeia  USB cable, and the
soon-to-be-released PC Card Sled. The last two items are options that will
be available directly from Casio.
The top of the E-200 holds the stylus silo, the Type I & II
CF card slot, and the Infrared port.

There is a plastic slug that comes with the Casio for times when you do
not have a CF card inserted. Since there is never a time that I
don't have one inserted, I have tossed that plastic slug in my "box of junk I don't use,
but am not yet ready to throw away." If any of you should lose yours,
let me know – I'll pass mine on to you. ☺

It took me off guard at first that Casio placed
the CF slot on the top of the E-200, while the SD/MMC slot was kept on the
side. The more I think about it though, it makes sense at least for my
situation.

I have a 128MB SD card and a 512MB CF card
that I keep in the E-200 basically all the time. My vital programs are
housed on the SD card, while my fun stuff – such as many of my MP3s – are on
the CF.

Should I need to add a
peripheral such as a modem or Bluetooth card in the future, it would most
likely need to be a CF version of the product, simply because that is my
expendable card.

As this is the slot at the top, and therefore
the slot with the available "headroom," using these cards that generally
stick out of their respective plugs makes the most sense for me.

Of course, someone else's needs might be
entirely different. ;0)
Now I feel it's time for us to take a close look at the Casio's screen. If
windows are the eyes to the soul, then the screen is truly the key to a PDA's
functionality!
I was pleased that my unit arrived without a speck of dust. Since I have been
using Reflective TFT screens for over a year now, I have gotten used to the
sorry fact that many of the devices that use them will come from the factory loaded
with dust.
Fortunately, my E-200 was not afflicted with this problem – though I
have heard from one person that his did. Well, all I can say to that is make
good use of your receipt, and return it if you get a dusty unit! Don't
settle for less!
Even though this screen is a little bit smaller than the iPAQs, the
difference is not that noticeable, and there is no feeling of "lost real estate"
when you go from the iPAQ to the E-200. Realizing that the screens actually have
the same resolution, it is then no wonder that the tighter screen of the Casio
actually seems to be clearer and sharper. As a matter of fact, there is an
option to enable ClearType in many Pocket PC programs built into the Casio. I am
getting ahead of myself, but you should know that it is worth the trouble to
check this option. ClearType really makes the screen a pleasure to look at.
Here is an un-retouched photo of the three Pocket PCs we
have been comparing throughout this review.

Notice that the blacks of the HP and the Casio seem truer than the
iPAQ's?

All three are set to medium bright, and while the iPAQ appears brighter,
the other two Pocket PC's seem to have truer colors.

Until I held the various Pocket PCs right next to each other, this never
was an issue. Now, I am noticing that the iPAQ's screen does appear to have
a blue-ish cast. While this will most likely never even bother the average
user (one that doesn't have around 10 PDAs lying on their desk at any given
time), it is something that I felt in all fairness should be pointed out.

 


From left to right: HP 565, Compaq iPAQ 3835/3850, Casio
E-200
This is an un-retouched photo of the Casio in normal light,
and with the backlight set to medium. I have found that at this setting, the
E-200 is easily bright enough for me to read e-books, one of my favorite PDA
pastimes.
The middle-weight USB connecting cradle that comes with the E-200 would be
unremarkable except for two things:

The first is that it's a bit tricky to get used to inserting and removing
the Casio one handed, because of the way that the cradle locks to the back
of the PDA in the slot that I mentioned previously. After you
have practiced one-handed insertion and removal a few times, it becomes second nature, and you will no longer
feel the need to cuss at it.

The second, is that there is a USB port built into the side of the
cradle! Evidently Casio foresees consumers being able to plug various items
such as USB keyboards and other peripherals either into the cradle itself,
or into the optional

20-pin USB Host Converter that they will be offering soon.

Hey – that's pretty darn cool – but you knew there would be a hitch,
didn't you? Well, the hitch is that there aren't any drivers available yet
that can use this feature. Developers – the challenge has been issued…are
you up to it? ;0)
The stylus that comes with the E-200 is the typical
light-weight tacky plastic toothpick that we should all getting used to by
now. The good news is that Casio actually made the silo such that it would
fit almost every PalmV aftermarket stylus available. I have tried the
Stylus Q,
PDA Panache P55, and the
E&B iPoint Stylus 5. Each fits
perfectly.
The last thing left to discuss is one of the most
disappointing in my opinion. Instead of including an integrated flip-lid,
cover pack, or even a simple case, Casio chose to take a step backwards and
include a cheesy foam slipcover.

I know that there is someone out there that loves these things, but since
this is my review, I get to say how much I hate them. BLAH!

Could one of the better case-makers please help me out here? I am
almost to the point that I am about to perform surgery on certain cases that
might be likely candidates, to try to put the E-200 in something that is
more flattering.

Trust me, I am no leather-crafter – so there could be disastrous
results….
I'll end the hardware portion of this review by telling you that one of the
main reasons I was willing to even consider trading my iPAQ for the E-200
was because of the integrated dual expansion slots and because of the way the
E-200 fits in my hand. Some of the other reasons would be that I like the weight
of this PDA, as it feels substantial without being unwieldy. The screen looks great
and is a good size, and I like the jog-dial for when I am reading a selection
from my huge
collection of e-books. Through headphones MP3s sound good, and I have never
heard the speakers snap crackle or pop. I have no dust, and if my battery ever
dies on me, it won't be a major issue to replace it. With that said, let's move
on to the software portion of this review…
Software Specifications
I would like to start this section with one of the first things I noticed about
the Casio: The efficient labeling of the included drives.
Laugh if you would like, but coming from the iPAQ and the issues that it has
with differentiating between the CF and SD cards and their order when inserted,
it was refreshing to go to a PDA that has no such problems. I
believe that this is most likely because Casio actually labels the cards by what
they are (i.e.: SD card & CF card), instead of by using the generic "storage
card" and "storage card 2" names. Thus, there is no confusion to the PDA
or user when
cards are switched or added.
A further joy is that I have experienced none of the hang-ups that
I did with the iPAQ – not one problem requiring the ejecting and reinsertion of
the SD card. That in itself was a huge factor that brought on my iPAQ
defection.
Once again, I will copy (in red) Julie's remarks pertaining to the actual
Pocket PC 2002 software, after which I will tell you about the special software
that is included with the Casio.
Pocket PC 2002 Software Included in ROM:
Pocket Outlook – This is your PIM (Personal
Information Manager) Suite of applications. You get Contacts, Calendar, Tasks,
Notes, and Inbox. All of these applications will sync directly to Outlook 2002
on your desktop PC. Inbox can now sync multiple folders!
Pocket Internet Explorer – Web browser.
Pocket Word – View and edit Word documents.
Pocket Excel – View and edit Excel documents.
Microsoft Reader 2.0 for Pocket PC – Read
electronic books.
Windows Media Player 8 for Pocket PC – Listen to
digital music and watch movies.

MSN Messenger – Instant Messaging client just like
the one on your desktop.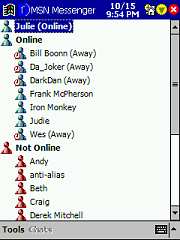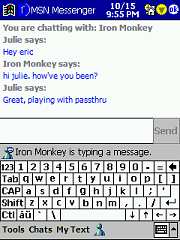 Microsoft Transcriber – Handwriting recognition
input method. This is now part of the ROM instead of an optional installation.
Block Recognizer – Graffiti clone input method.
If you have a Palm OS PDA and know Graffiti, then you'll be right at home with
this input method.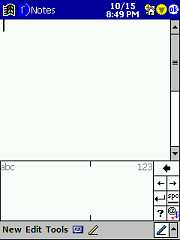 Terminal Services Client – With the terminal
services client a Pocket PC user can access Windows Terminal Servers and run
Windows applications. It only works with Windows Terminal Servers, which run on
NT 4 servers and Windows 2000. It does not work with 95, 98, or ME.
Spellchecker – A great new spellchecker
available for use in Word, and Inbox. Unfortunately, it's not available in the
Notes application.
Voice Recorder, Calculator, Solitaire
E-200 Specific ROM Software:
Casio Built in Storage – Similar to the HP 565's Safe Store and
the iPAQ's File Store,  the Casio's Built-in Storage gives you 5.62 MB of
nonvolatile ROM space where you can store files or applications. The benefit of
this block of memory is that even after a hard reset, the programs and files
will still be stored in this area and will be ready to use. Built-in Storage
basically shows up as an extra drive.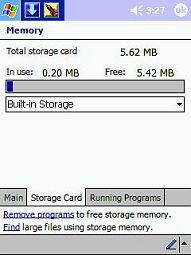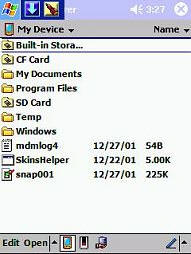 Enable ClearType – Allows you to turn ClearType on in most Pocket PC
programs.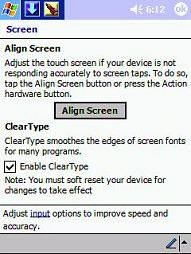 Power Setting – Gives the battery power remaining for both the main &
backup batteries.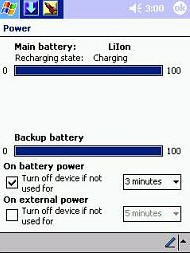 Brightness Setting – Adjustable in increments. Not as many increments
as the iPAQ 3800 series had mind you, but certainly enough to find a level
anyone could be comfortable with under a variety of lighting conditions.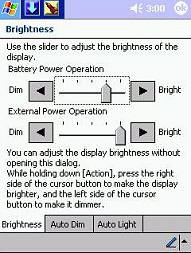 Remote Control Earphone – One of the optional accessories you can
purchase for your Casio is a set of
earphones
that allow remote control access of the E-200 from the headset. These
earphones are inexpensive enough, but if Casio really wanted to add accessory
software to the ROM, I wish they would have included a driver for their plug-in
CF camera! That would have been
truly useful!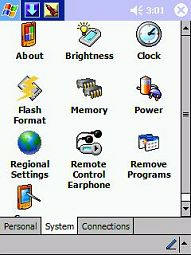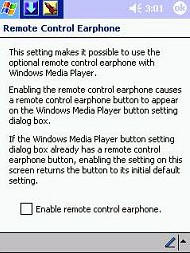 Program Button Control – This program allows you to determine whether
you can turn the E-200 on by the press of a program button or not.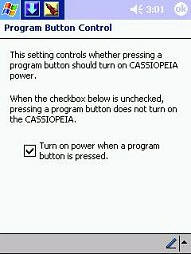 Casio Launcher – Allows you to create a custom menu from which you can
launch chosen programs.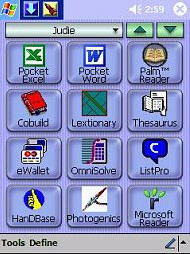 Optional Software to Install:
Oddly enough, the Casio includes two CDs. When I first saw this, I got excited about all the free software I was sure that the CDs would contain.
Unfortunately, my excitement was premature…
The first CD is the typical one that contains Outlook 2002, and Active Sync
3.5. It also contains the following:
Microsoft Money for Pocket PC –  Works with Microsoft Money 2002 on
your desktop computer. Putting Money on your Pocket PC provides a convenient way
to keep up with expenses  while you are out and about – then you can sync
everything when you get back home. I've been using this updated version for a
while now, and I am happy to report that it works way better than the 2000
version ever did – it also has a plug in for the today screen that simply
rocks! :0)
Microsoft Reader – This is the version everyone was waiting for –
solves the DRM problem, and allows you to download protected books from sites
such as Barnes
and Noble,
eFollet (excellent selection) and

Amazon (affiliate link). You can even listen to
Audible books from within Reader! You will
have to activate your Pocket PC to read the more current titles, but at least
you can use up to four devices with the same activation passport. Once you have
activated, there are several free titles you can download courtesy of Microsoft.
Hey – you can even load Reader to your computer, and it will read un-encrypted
books out loud to you!
Microsoft Pocket Streets – Portable maps for your Pocket PC.
AvantGo – Allows you to take personalized web content on the go, with
you, on your Pocket PC.
MSN Mobile – Hotmail service for inbox.
Microsoft pocket PC Games – Includes Hearts, Reversi and Minesweeper.
These games are actually already available (for free) from the Microsoft Pocket PC site.
On the second CD, there are some additional Cassiopeia Software Applications:
Manuals – The entire Cassiopeia Hardware manual, in .pdf format, as
well as the E-200 Users Guide
ActiveSky Media Player for Pocket PC – A freeware player that allows
you to play .sky format video on your Pocket PC
Audible Manager – Current and classic literary works read aloud to you
on
your Pocket PC.
Menu Bar – Casio's version of a task-switcher, battery & memory meter,
and a quick launcher. Shows up in the top left of the main Menu Bar on every
screen.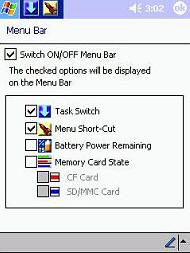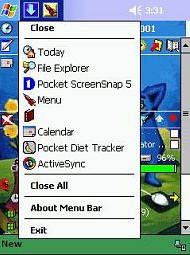 Personally, I think this is a very sloppily done piece of software. Wondering why?
Listen up…
If you have been looking at my screen shots, you will see that I am not using
the "Battery Power Remaining" nor am I using the "Memory Card State" settings
in the Menu Bar.
Why? Because in the case of the battery meter, it is simply inaccurate! I
thought the battery meter was a cool feature when I first loaded it,
especially as I watched the lines twist around the representative battery like
a barber-pole when the E-200 was charging. But, I soon started thinking that my
Casio must have the worst battery life of any PDA on the planet.
Simply put, after only an hour or two of usage, the meter would drop
to 20% or worse! I was tempted to return the E-200, until
I got the idea to look at the actual battery meter bar in the ROM. That
meter showed that I really had around 60% juice left. So tell me – which meter would you
believe?
Here are two different screen shots illustrating my point:

 
I did a really quick test just for this review: I played MP3s for
30 minutes with the backlight set on medium. As you can see, the Menu Bar
battery meter says I have 75% battery power, whereas the ROM Power readout
is much higher than that. Unfortunately, there is no percentage reader in
the Casio's battery bar like there is on the iPAQ's, but you can see that
the available battery is well over 3/4 full.

 

In this picture, the Menu Bar battery meter still says I
have 75% battery power. If you look closely, you will see that the
Powerlevel
Today plug-in by Scarybear
Software reads that I have 90%. So there you have it – that's why I
won't use the bundled battery meter. :0P

But don't take my word for it –
please conduct your own tests.

 

I won't use the included memory meter either, because the icons are so
tiny as to be unreadable. They do not display a percentage or number to
explain what they represent. I find them to be basically useless.

Instead, I am using the same Powerlevel program I previously mentioned; I
have found that it is accurate and easy to read.

 
Card Backup Tool – If you want to back-up to either the CF or SD card,
you must first download and install one of these versions.  I thought it
was a little weird that is isn't part of the ROM, but at the same time, I don't
have a problem with it.
It is very important that you install this tool to any card you may use as a
backup, though. If you don't, when you try to perform a backup operation, the
E-200 will go through all the motions of trying to save your files, only to
return a couple of wasted minutes later with an error message.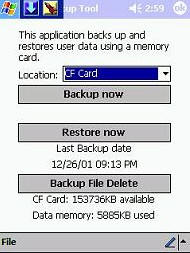 Metallion (DEMO) – Blah! Great game, but give us the full version! :0P
Pocket Athlete (DEMO) – Double Blah!
Zio Golf2 (DEMO) – Are you sensing a pattern here??
PV (Packet Video) Software – Yet another free video viewer.
Also Included on the second CD are items of interest such as links to various
websites featuring Product Registration
and Customer Support,

Product information. Maybe we can write them and ask where the rest of our
freebie software is hiding? ;0)
There are also links to All Things CE
and My Casio, which are mobile content
providers.
Okay, I will be the first to tell you that Casio completely dropped the
ball in the software department! I mean, what were they thinking?
There is nothing compelling in this area at all that would make anyone
choose the Casio over another Pocket PC, such as the iPAQ that comes with a
rich & varied list of third-party software titles! The only reason this was
not a major issue for me is that I already had a large software
collection well before I got the Casio. For a new Pocket PC user, this
won't be the case – and they may look elsewhere simply because they figure for
the amount of money they are going to drop for the hardware, they need some
incentives to pick a particular brand. Don't give me any arguments about how
Casio isn't aiming at the ordinary consumer and therefore didn't feel the need
to include extra software – I don't believe that for a minute! I just think they
dropped the ball – plain and simple.
Summary:
One area that Casio has really shined, at least in my book, is with how quickly
they have responded to any bugs that have been reported, with the regular release of

updated drivers and fixes. For instance, there was a problem with running
Pocket TV that would cause
the Casio to crash and do a hard reset when the program was run in landscape
mode. Casio almost immediately issued a patch for this. That is simply good
customer service.
Notwithstanding the anemic software package, I am very impressed with the
Casio E-200. As I mentioned near the beginning of this review (or should I call
it a book?) it has replaced my Compaq iPAQ as my Daily Driver. I only wish that
there was a decent case available for it now!
There is something to be said about being able to carry two seamlessly
integrated memory cards effortlessly and without optional equipment in a zippy
and compact PDA. In my opinion, the Casio E-200 is a worthy entry in the
Pocket PC 2002 arena.
Price: $599
Pros:

Dual expansion ports built in, in very little more space and weight than
single slot Pocket PCs
Hot swappable, replaceable main battery
Infrared port has been moved to the top of the device
Extremely clear labeling of different drives, i.e.: CF Card, SD Card, Built in
Storage, etc…
USB port built into cradle…if someone will develop a few necessary drivers
Beautiful 65,000+ color screen is viewable outside
Cons:

Anemic collection of software included on CD
USB port in cradle does not have drivers yet
Gamers may or may not like the new button and joy-pad layout
Speaker housed in joy-pad is not big on quality sound
Included slipcase is cheesy
Product Information
Price:
599.0
Manufacturer:
Casio
Pros:

Dual expansion ports built in, in very little more space and weight than
single slot Pocket PCs
Hot swappable, replaceable main battery
Infrared port has been moved to the top of the device
Extremely clear labeling of different drives, i.e.: CF Card, SD Card, Built in
Storage, etc...
USB port built into cradle...if someone will develop a few necessary drivers
Beautiful 65,000+ color screen is viewable outside

Cons:

Anemic collection of software included on CD
USB port in cradle does not have drivers yet
Gamers may or may not like the new button and joy-pad layout
Speaker housed in joy-pad is not big on quality sound
Included slipcase is cheesy