We use affiliate links. If you buy something through the links on this page, we may earn a commission at no cost to you. Learn more.
Product Requirements:
Device:
Digital Camera with any one of
three following memory module formats: Compact Flash, Smart Media, or Memory
Stick.
No computer is necessary unless you want to store or manipulate images.
Desktop:
Windows 2000, 98, 95 or NT 4.0
with USB port support.
No Apple Macintosh support at this time.
Part of the magic of photography is seeing/sharing images as close to the
"moment" as possible.  This is arguably one of the key reasons for the success
of the instant photo cameras like the ones made famous by Polaroid.  Ever notice
how everyone wants to see the viewfinder after you take a digital picture?  Hold
this thought for a minute.
My Mom and Dad still buy film, shoot it, drive it to the local drug store and
pay about $0.50 per print to get twenty-four 4 by 6 inch photos, and then they
only keep about six out of the twenty four.  They are afraid of digital
photography because of the "computer."
As digital photography has come of age, the weakest link has been the problem
of computer literacy, not to mention having to go back to the (digital) darkroom
and print or email photos and remember who wants them.  The cost of generating
one's own photos is also something holding-back general acceptance.
The HP Photosmart 100 printer does a nice job toward building a bridge of
accessibility for digital photography by delivering photos "on-the spot," not
requiring the mastery of the point-and-click paradigm, and delivering them in a
fairly cost effective manner.
Let's look at the numbers so you can see where the economics of digital vs.
chemical wind up
I am going to assume three things.
1.     
That you will re-use a digital memory storage card at least enough times to have
match the running cost of film (this is obviously giving film an advantage), 
2.     

your digital camera is going to take more pictures over its lifetime than a
mechanical camera so that its cost per picture winds up being nearly equal to
the cost of a mechanical camera, and
3.     
the cost of the little photo printer, divided by the number of prints you
make during its lifetime will be nearly equal to the gas and time you spend
going to the drug store and the cost of all of the pictures that you throw away
and never show anyone.
This means that the cost comparison boils down to the cost of developing vs.
printing of the photos.
| | | |
| --- | --- | --- |
| Item | Film Technology | Digital Technology |
| Developing | $12/24 = 0.50/print | 0 |
| Ink Cartridge | 0 | $35/200 prints = 0.18/print |
| Photo Paper | 0 | $18/60 sheets = 0.30/print |
| Cost per print | 0.50/print | 0.48/print |
The fact that it is this close at all really sold me on switching over to
Digital.  I am willing to pay a little extra to get my pictures on-the-spot, and
not printing all of those BAD pictures has got to be better for the environment.
OK, enough about the numbers, let's talk about the HP Photosmart 100 printer.
The unit itself is much smaller than a toaster, and prints a very nice
borderless 4 x 6 photo in about 2.5 minutes, and I particularly like that it
prints all the way to the border of the paper.  It also makes a small proof
sheet or wallet-sized (2.5 x 3.5 inch) photos.  The printer also supports the
DPOF protocol, which means that you can decide what to print while your digital
film is still inside the camera, and when the card is plugged into the printer
it already will know what to do.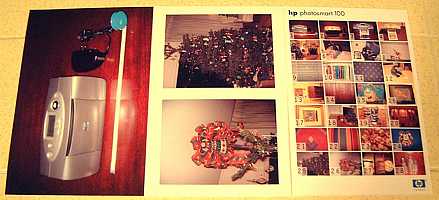 (Left to right: 4 x 6 print, 2.5 x 3.5 print, proof sheet)
The printer comes with a CD ROM (containing the drivers to interface with a Windows OS machine via USB),
user manual, power adapter, some sample photo paper, warranty card and that's
about it.  If you are planning to give this as a gift to parents who speak
English as a second language, never fear.  The HP web site has several different
language versions of the little manual ready for free downloading.
The top of the printer has a very simple backlit LCD-based user interface
that uses icons.  It is very easy to use.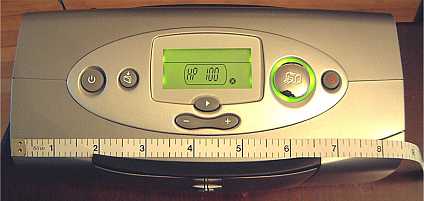 I've compared the images from this printer to that of our HP PSC 950 and my
brother's Epson Photo printer (at the 4 x 6 size).  When we use the good paper,
it holds its own and in some cases did a better job with the exposure control
than the larger PSC 950. 
The units uses a 32VDC power supply, so in order to print photos while in the
car, I use a 120VAC inverter and plug the wall adapter into the inverter.  
Think of it: you will be able to print photos at the family reunion picnic (or
soccer game) to hand out to everyone while you're still there!
The HP Photosmart 100 has been ideal for our family.  My siblings, cousins,
uncles/aunts have digital cameras, and (of course) they all use different memory
storage formats.   Imagine how much more fun those get-togethers are now?  Never
mind "just an hour photo" how about "hold on for a couple of minutes photo!" 
Everyone with all of their incompatible memory cards can now swap photos (albeit
on paper) as well as with those aunts and uncles that don't have an email
address.
A close-up view of the front of the printer shows the Compact Flash card slot
(left), the Sony Memory Stick card slot (right), and the Smart Media card slot
(thin slot above the memory stick).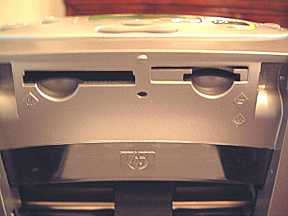 If you are really interested in buying this printer, your best
bet is to go see some sample printouts at the retail outlet.  You will see that
this printer along with a 2+ mega pixel camera will do a fine job.  Below is a
picture of the printer "in action" making two wallet-sized photos.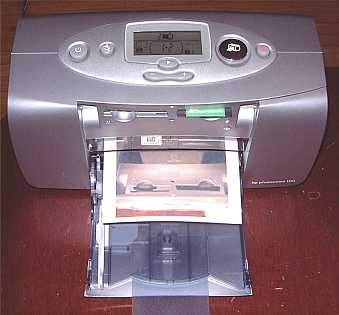 A quick note on pricing:  the price on HP's website was much higher than the
prices I found around town.  Staples, CompUSA and Office Depot all had it for
about $179.  Office Depot has a "$10 in-store coupon" that you can print and
Staples has a web coupon for "$30 off on a purchase of $150 or more" that
brought the price down to $149 and was the clincher for me.
Price: $179 around town (check for great coupons at
www.dealchecker.com)
Pros:
Print Quality
Easy to use
Portability, small size
Compatibility
Quiet
"cost per print"
Cons:
32VDC power supply doesn't allow direct powering from car/boat
USB port only
Product Information
Price:
179.0
Manufacturer:
Hewlett Packard
Pros:

Print Quality
Easy to use
Portability, small size
Compatibility
Quiet
"cost per print"

Cons:

32VDC power supply doesn't allow direct powering from car/boat
USB port only