We use affiliate links. If you buy something through the links on this page, we may earn a commission at no cost to you. Learn more.
Product Requirements:
Device:
Compaq iPAQ with Expansion Sleeve
Have you ever dropped your iPAQ? Even if you haven't, you'll have to agree
that just thinking about it is a scary thought! I usually don't worry about dropping mine, but then
I am usually seated at a desk while using it. A drop would most likely be into
my lap, or a short drop to carpet. But what about those of you that use your
iPAQ while riding on a train, bus, subway or plane? Dropping it in one of these
locations could spell certain disaster for your PDA.
Enter the iPocket Bungee a product
that has been especially designed to prevent your iPAQ from going splat!. The
iPocket Bungee is exactly what it sounds like it is, a springy strap that
connects your PDA securely to your hand. This product is available with a Red,
Blue, White, or Black woven strap. It is also available a leather strap version.
I was sent the woven version for review.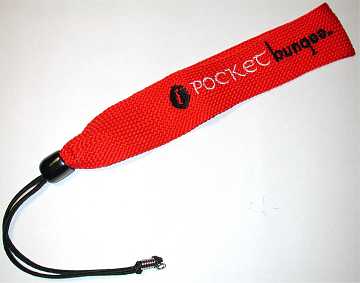 The iPocket Bungee consists of a woven strap, and an elastic loop that has a
wrapped metal fastener at the end. I'm not sure what the strap material it is
made of, but I would guess that it is cotton. It is embroidered with the company
logo.
The strap is terminated on one end with a soft black rubber cap. The actual
bungee part of the product extends out of this cap. The bungee is two black
elastic bands. I'm not sure why two were used instead of just one though… The
end of the bands are wound with wire which ends with a little loop. When I first
saw the loop, I thought my bungee was defective and that one of the metal loops had
been bent backwards. So I went to their web site to look at their product images. It
is there that I discovered the purpose of this loop. You can actually buy little
charms to hang from it. Ok, I thought this was a little wacky, but what the
heck.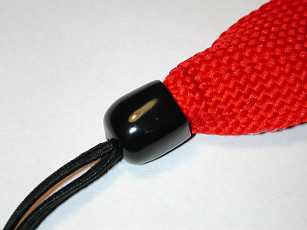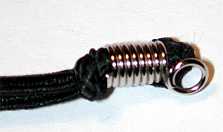 How does the iPocket Bungee attach to your iPAQ? Well first of all, you have
to use the basic style pack that was included with your iPAQ when you bought it
or an expansion sleeve such as the Compact Flash or PC Card sleeve.
Unfortunately, this product will not work with a naked iPAQ. It requires that
you place the elastic bungee portion of the product inside the expansion sleeve
on either the left or right side. You then slide the iPAQ into the sleeve
trapping the bungee between the sleeve and iPAQ body. The metal fastener hangs
out of the bottom.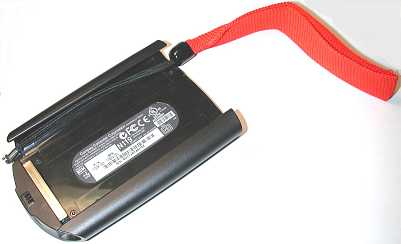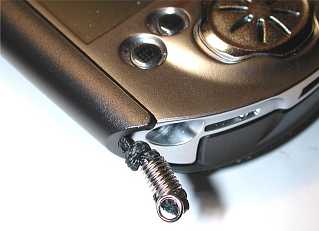 The iPocket Bungee feels pretty secure; the metal fastener keeps it from
pulling back thru the casing.
To use it, you just put your hand or wrist thru the woven loop. Then if you
lose your grip on the iPAQ, it will only do a short bungee jump and dangle from
your hand instead of landing on the floor or pavement.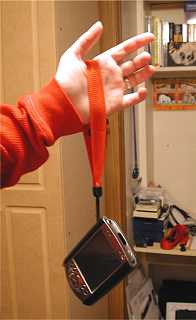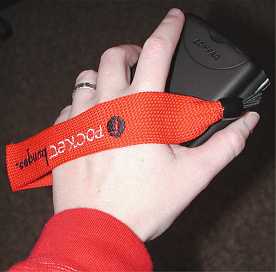 Now personally, I would probably never use this product. But then, I don't
ride trains, buses or subways, which is where I think this product would see the
most use. If you don't mind wearing a strap around your wrist and want added
protection from dropping your iPAQ, this is the only iPAQ specific product
available to give it to you.
 
Price: $19.95 for the woven versions, $55 for the
leather version
Pros:
Gives you more security while holding your iPAQ
Cons:
Expensive, especially the leather version
Can't use with a naked iPAQ
Product Information
Price:
19.95
Manufacturer:
iPocket
Pros:

Gives you more security while holding your iPAQ

Cons:

Expensive, especially the leather version
Can't use with a naked iPAQ