We use affiliate links. If you buy something through the links on this page, we may earn a commission at no cost to you. Learn more.
As a full-time, freelance writer who shoots his own photos, I rarely go
anywhere without a laptop computer and a camera. I've written articles on
everything from outdoor lighting for Consumers Digest to buying a houseboat for
boating magazines and always provide the publication with photos if required.
I'm not a photo pro but I know how to point and shoot and discovered if you
shoot enough photos, you're bound to come up with something useable. As a
result, I've been carrying around camera equipment for as long as I can
remember…and carrying is an understatement. Lugging is more like it.
On a European trip a few years ago, compiling information for The Great Castle
Hotels of Europe, a travel book I wrote for Harper and Row/Icarus Press, my wife
and I both carried camera bags jammed full of film, lenses, lens covers, extra
batteries and two, fully-equipped 35mm cameras with motor winds. I'd guess the
bags weighed somewhere around ten pounds or so each and they dangled
(annoyingly) from our shoulders as we traveled through ten European countries.
At every stopover, we clung to those bags, afraid some European camera bag-thief
would spot us, grab the bags, run off and sell them to the first camera-fence
that came along with the best offer in marks, francs, pesetas, pounds, lira,
etc.
On our last trip to Canada compile material for a travel piece, we left the
20-plus pounds of camera equipment behind and took along one, small
Canon digital camera each. I carried mine
around in my shirt pocket and she carried hers in her pocket. If there were any
camera thieves around, they didn't even look in our direction. We decided the
quality of the photos the publications we wrote for could be filled by a good
digital camera and best of all, could be e-mailed along with the article when we
returned or even on the road from our laptop computers linked to the Internet.
I lost track of how many photos we shot but I'd guess around three hundred or
so. About a hundred were keepers and each night we'd check over the day's shoot,
downloaded the keepers from the camera onto my laptop computer through a cable,
erase the camera's disk and start all over again the next day. Summary: weight
comparison (not counting the laptop which goes along anyway)? Ten pounds vs.
eight ounces…including batteries. Cost for film and developing? $0.00. Time
spent worrying about thieves? None. Overall comparison? None again!
"If you're in the market for a camera nowadays, you have basically two choices:
a regular film camera or a digital," says Skip Stevenson of
The Digital Camera Company, a
service-oriented Internet retailer at (877-678-4453) in Greenwood Village,
Colorado. "Film cameras are great if you need real high-quality photos and you
want to go through the
buy-film/load/shoot/rewind/develop/wait/pay/look/reshoot-if-necessary, etc. If
you just want good photos that will serve most purposes and want to see the
results seconds after you trip the shutter, consider a digital. If you're buying
the camera for business use," he says, "you can shoot product photos, locations,
copy documents, post stuff on your web page, send them by e-mail or print them
out."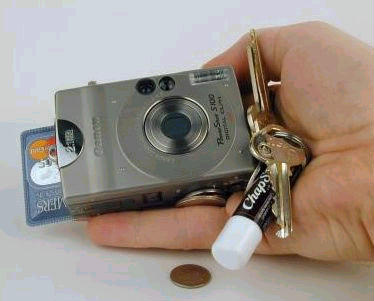 I've tried several digitals since talking to Skip and settled on a Canon S-100
which has to be the smallest (and most theft-proof?) 2-megapixel digital camera
available with an optical zoom on the market. Measuring 3.4-inches by 2.2-inches
and 1.1-inches thick, it's only slightly larger than a credit card, so you can
literally drop it into your pocket and purse and not even know it's there. This
makes it useful for people who occasionally need a camera but can't be bothered
carrying one around all the time. I have one clipped to my car sun visor so it's
handy when I'm driving around and another I use when I'm walking around on a
pleasure or business trip. On my way to the mall last week, I shot a photo of an
auto accident, e-mailed the photo to the local newspaper and they sent me a
check for $50. "A digital camera is basically an extension of your computer,"
Skip says, "You can view your photos on the camera's built-in LCD screen or plug
it into your computer and download the photos to send them to friends and family
by e-mail or manipulate them (sharpening, color adjustments, cropping, etc.)
with any graphics photo."
The Canon S100 has a removable memory card that records the images. A memory
card on a digital camera is like film in a regular camera except it's reusable
and measure about 1 1/4-inches by 1 ½-inches and is about as thick as a credit
card. When it's full, you can slide it out and replace it with a new one or you
can download the photos to your computer via a cable, erase the photos and reuse
the card. "Having a low capacity card or only one memory card limits the number
of photos you can take," says Alan Kessler of
Phoenix Corporation (877-568-2533), a major source of digital camera
accessories and memory cards. For assignments that require lots of photos, Alan
suggested I take a couple of 128MB cards along which would provide me with
enough memory to store a couple of hundred photos on each card. Good advice.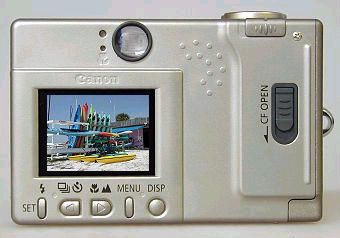 All of the connections between the camera and a computer are handled through one
port and cables are included for video out and USB connections. Shutter speeds
are automatically controlled and range from 1 to 1/1500 sec. The built-in flash
offers auto, on, off, red-eye reduction and slow-synch modes. Some software like
Adobe PhotoDeluxe, PhotoStitch, ZoomBrowser EX (Windows), ImageBrowser
(Macintosh) usually comes with the package.
Digitals are the 21st century's solution to the old buy/process film and wait
routine. Budget-permitting, you can buy a digital camera that can produce photos
equal to the quality of 35mm. For the cost-conscious, the S-100 is a good
solution and the amazingly-small size makes it something you can carry
everywhere so it's available whenever you need it.