We use affiliate links. If you buy something through the links on this page, we may earn a commission at no cost to you. Learn more.
Can you believe that I've never had a remote controlled toy car? Yes, it's sad, but true… When I was a kid, I remember my Dad would go to the local hobby store to race small slot cars. I always thought they were so cool, but he didn't have a track set up at home and wouldn't let me play with them at the store. I also recall
pilfering a few of those cars to take to school to trade for other things (eeesh, hope my Dad doesn't read this!). I was a little gadget monger even in 3rd grade! So, when I saw the Bit Char-G Radio Controlled Micro Car, I thought it was about the cutest thing I'd ever seen and had to get my hands on one to play with… I mean review!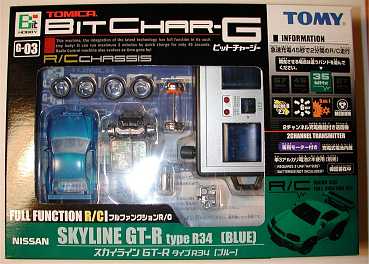 Tomy's Bit Char-G (pronounced Bit Charge) is the world's smallest pocket-size radio-controlled micro car from Japan. It measures only 2.25in (60 mm) in length and is available in several different models and colors. The current models available are: Mazda RX-7 (Red), Mazda RX-7 (Yellow), Toyota Celica (Black), Toyota Celica (Silver), Honda S2000 (Silver), Honda S2000 (Yellow), Nissan Skyline GT-R (Blue), and Nissan Skyline GT-R (White).
Also, it is important to note that depending on which car you get, it can run on 1 of 4 different radio frequencies. This will allow you to purchase multiple cars and run / race them at the same time.
I was sent the blue Nissan Skyline GT-R model for review. It came somewhat disassembled in a box with mainly Japanese instructions. Luckily, a picture is understandable in any language and I was quickly able to assemble the car. This involved, putting the 4 rubber tires on to the wheels, snapping the front axle in place, fitting a gear on the tiny motor and popping the blue plastic body shell over the chassis. The whole process probably took me less than 5mins.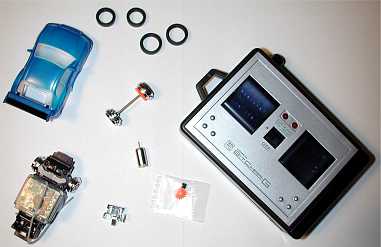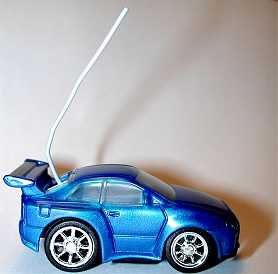 The Bit Char-G comes with a pocket sized wireless radio remote controller. This controller runs on 2 AA batteries (not included). The controller also doubles as a charging station for the car. The car has a very small NiCad battery inside it which requires frequent charging. In order to charge it, you turn the controller on and flip open the plastic cover of the right side of the controller which reveals the charging contacts. You can then press the car into these contacts to charge it. It takes a bit of practice to line the car over the contacts so that you can snap it into place. Once the car is connected, the charging light will glow on the front of the controller. It will turn off when the battery in the car is fully charged. This takes approximately 45 seconds. When charging is complete, you just remove the car, snap the cover back in place and you're ready to roll!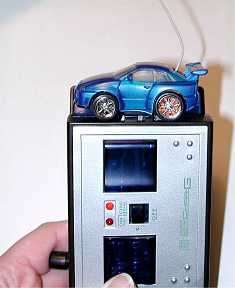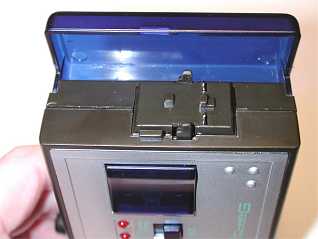 The controller is simple to use. It has 2 2-way rocker buttons, 2 LEDs and one power button. The left rocker button will move the car forwards or backwards while the right rocker button will turn the wheels left or right. The LED shows the charging or running status of the car. A retractable antenna can be extended from the controller and then rolled back into the unit when you're finished using it.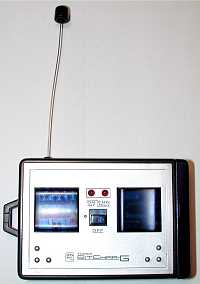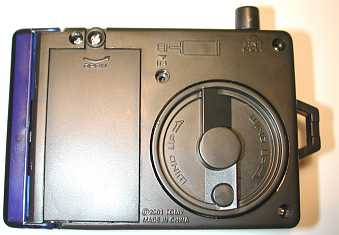 If you've never played with a remote controlled car before, it does take a little practice before you can steer halfway reliably. But after you get the hang of it, it's really a blast to play with! I terrorized my dog all afternoon by chasing her with the car around my kitchen. Yes, I'm evil.
How far you pull the antenna out from the controller will determine how far away you can be from the car and still control it. I found that extending the antenna out 7 inches would allow me to control the car from up to 12 feet away.
There are a couple things I want to point out about the Bit Char-G. First, and probably the biggest drawback is the running time per charge. According to the box, the car can run for 2mins per battery charge. In my testing, I found that I could actually run the car non stop for about 4.5mins. This still doesn't really give you a whole heck of a lot of time to play with it between charges. I can see this as being more of a problem with
kids than adults though. Kids probably won't have the patience to charge it every four minutes. But an adult would probably just pull it out to play with for a couple of minutes and will then put it back into a drawer until the next 'play' time.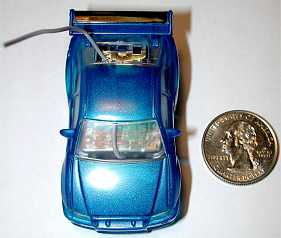 The other problem with this car is that it doesn't run very well on carpet. It really needs to be on a flat hard surface to work best. A desk, linoleum or tile floors are great.
The Bit Char-G Radio Controlled Micro Car is a fun, and inexpensive toy for both kids and grown ups alike. If you don't mind charging it every few minutes, you will get a real kick out of playing with it!
Price: From $32.00 available at
Sigma Automotive
Pros:
Small size allows you to play almost anywhere
Battery charger is built into the controller
Cons:
Can only run about 4mins per charge
Doesn't work well on carpet