We use affiliate links. If you buy something through the links on this page, we may earn a commission at no cost to you. Learn more.
Product Requirements:
Device:
Stowaway Folding Keyboard and various Palm and
Pocket PC PDAs
Are you one of the thousands of PDA users that also own the
Stowaway Folding Keyboard from
ThinkOutside?
Maybe you would like to replace the thin zippered pouch that was included with your
keyboard with something more substantial? Or maybe you would like to carry both
your PDA and the keyboard in one convenient case? If either of these criteria
fit you, then you might want to take a look at two cases currently being offered by
PDA BodyGuard.
BodyGuard Keyboard Case
For those of you that only need a case for your keyboard and not your PDA,
there is The BodyGuard Keyboard Case. This case is made of top grain premium
leather which is black in color with matching black stitching and a black zipper.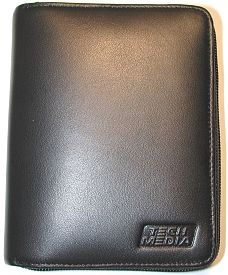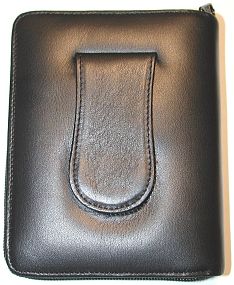 This case is simple and plain except for the TechMedia logo embossed on the
owner front corner of the case.
The inside of the case is accessed by a zipper which wraps around three sides
allowing it to open like a book. The zipper on my review sample had
smooth action and did not jam. The interior of the case is
also plain with a
black suede lining.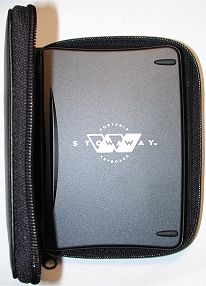 The back of the case has a belt loop so that you can transport the keyboard
on your belt. The bottom part of the loop is affixed to the case with Velcro so
that it can easily be removed or adjusted.
The Stowaway Folding Keyboard fits nicely in this case and is protected from
drops with padding and rigid inserts in both the front and back portions of the
case. I am confident that a keyboard housed in this case would survive a lengthy
drop to a hard surface without damage.
If I were to lose my original Stowaway zipper pouch, I would not hesitate to
purchase the BodyGuard Keyboard case as a replacement.
Price: $19.95
Pros:
Padded front and back
Belt Loop
Cons:
None
BodyGuard Keyboard Combo Case
For those of you that would like to carry both your PDA and keyboard at the same
time, there is the BodyGuard Keyboard Combo Case. This all-in-one keyboard and
PDA case looks like two of the keyboard cases reviewed above stacked on top of one another.
Like the keyboard case, this case is also made of top grain premium leather and
is black in color with matching black stitching.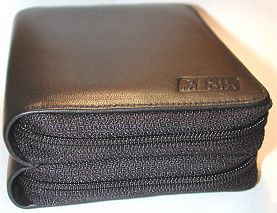 Both portions of the case have their own access zippers. The top half of this
case is the PDA portion. It is lined in black leather and has two Velcro squares
to allow you to attach your PDA if you desire. The left half of the PDA case has
3 card slots and one large paper or currency area. A separate stylus pocket is
sewn into the middle of the case.
I did find a problem with the card slots. Regular sized business cards (3.5 x
2in) will not fit in the slots. However, plastic credit cards will work fine.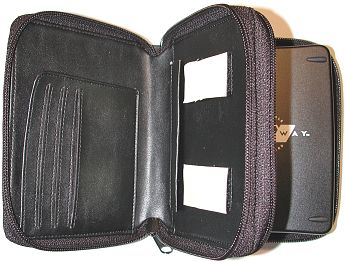 I tried all the PDAs that I had access to in this case. The  Compaq iPAQ, Visor Prism,
Casio E-115, Palm m100, Palm VII and Palm m505 all fit just fine in the PDA area
of this combo case.
The keyboard section of this case is identical to the keyboard case reviewed
above. And like that product, this one also has an adjustable velcroed belt loop.
Due to the thickness of this case, I doubt if most people would ever want to
carry it on their belt, but that option is there if needed.
The BodyGuard Keyboard Combo Case is a simply styled case that will work well
for those of you that would like to carry both a PDA and keyboard at the same
time.
Price: $29.95
Pros:
Convenient way to carry keyboard and PDA together
Cons:
Thick
Product Information
| | |
| --- | --- |
| Price: | 29.95 |
| Manufacturer: | PDA Bodyguard |
| Pros: | Convenient way to carry keyboard and PDA together |
| Cons: | |