We use affiliate links. If you buy something through the links on this page, we may earn a commission at no cost to you. Learn more.
Product Requirements:
Device:
Any touch-screen PDA

The world of after-market styli is amazing! There is truly something for
everyone – whatever your taste or budget may dictate. In order to catch a
potential buyer's eye, each maker has to do something to set it apart from the
others – whether it be by way of styling, functionality, or materials used. 
People that might want to consider the Pilot
Pentopia 2+1 Stylus Pen, include those that want a no-nonsense, easy to use,
and sharp looking multi pen. The Pentopia is available in both a black and silver
finish; I was sent the
silver version for review. 

The majority of this Pentopia's barrel is a matte silver. It is not
so highly shiny that it would appear to be "chromed", yet it is also
not so matte as to appear "flat". If you are wondering whether the silver version might be too flashy, let me assure you:
It's not.
There are a couple of chrome accents on this multi-pen, namely the band at
the bottom of the cap that hides the eraser, the pocket-clip, and the band
between the two portions of the barrel. These give the Pentopia just the right
amount of gleam, that will set this pen apart from others that might look more
utilitarian.

You'll notice that the pocket-clip is nice and wide, and has enough clearance
to easily glide onto the edge of a shirt or coat pocket.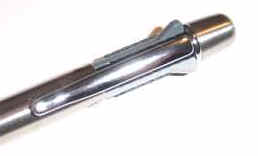 The bottom of the Pentopia's barrel has ten black, grooved bands in the grip
area. These bands are useful to help keep your fingers from slipping down the
pen's smooth shaft.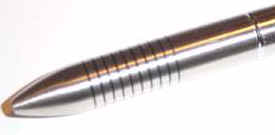 Towards the top of this multi-pen, the silver area is broken up by a ridged
black plastic section that houses the three tip-selectors and the pocket-clip.
Underneath each selector is a written description of what this multi-pen
contains: 0.5 for the mechanical pencil, Stylus, and ß for
the black ball-point pen.
With its no-brainer method of tip selection, even the most absent-minded user
won't pick the wrong writing implement. Basically, the Pentopia uses the same
method that I mentioned in my review of the Dr.
Grip 1+1. The type where you can extend or retract each writing implement by
pushing in the easily identifiable levers on the sides of the multi-pen.

As with many of my favorite multi-pens, this one includes a full size black
ball-point refill. This is definitely the way to go if you will be doing a lot
of writing! I found that this ball-point wrote smoothly, and without skipping. I
also found that the ball-point tip wasn't too fine for my taste – a pleasant
surprise.

The red stylus tip has a slightly rounded end. I thought it wrote equally
well on my PDA's screen, both with and without protection. This tip is very easy
to see, and a pleasure to write with.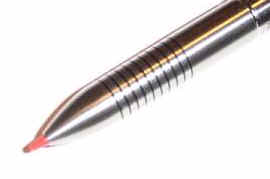 The 0.5 mechanical pencil barrel is small, like most other multi-pens. Don't
expect to fit that many pencil lead refills in there – but it will get
the job done if you have some "figuring" to do. I was pleased to find
that the pencil advanced leads smoothly; and didn't seem to hang, or loose it's
grip on the lead.
Speaking of the mechanical pencil, you'll be pleased to know that there is a
full sized white eraser hidden under the screw cap at the top of the pen. You
gotta love it – a big eraser and a full sized ball-point refill! I know, I know
– it's the little things that make me happy! :0)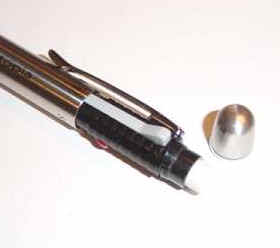 This multi-pen is also great for one simple reason: the rattle that is
commonly associated with multi-pens is just about non-existent…even when all
the tips were retracted! Hey, nothing screams cheap quite as loudly as a
rattling pen. 
The Pentopia measures 5.5" (14cm) long, and has a width of 
0.42" (1.1cm) at the grip. I believe that you will find it to be quite
comfortable to use for extended periods of time.
Overall, I think that this is a great multi-pen. Some might balk a little bit
at the price, but considering that it is made of metal, and packs three great
tips, I am not complaining.
The Pilot Pentopia Stylus 2+1 Pen is available at Stylus
Central, and other fine retailers.
Price:  $29.95, available in silver or black
Pros:
No infamous "multi-pen rattle"(!!)
Clearly identified and easy to operate lever system of tip selection
Professional appearance
Comfortable for long periods of writing – with whatever tip
Cons:
None