Device:
Fits most popular PDAs and Construction Calculators
So let's say that you are a tradesman, and that part of your job description
involves being at a construction site all day. Since the tradesman of today has
to do so much more than just show up and "get to work",  BucketBoss,
a division of Fiskars (the scissors company), has created a line of
organizational tools to help. 
I will focus on the PDA
Holster today, since that is where most of our interests might be…
The BucketBoss PDA Holster is best described as a pouch with a flap that
Velcros shut. The flip-cover is reinforced to protect the screen of your PDA.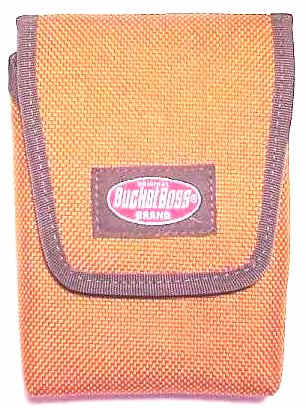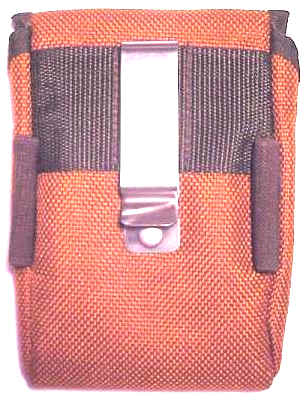 The dimensions of this rugged case are 6.25" (16cm) tall x 5"
(12.75cm) wide. This case almost squashes flat when empty, so you have to take
that into account when deciding if it will fit your PDA. I tried it with the
Casio EM-500, the Palm m100, the Handspring Visor Deluxe, the Palm IIIc, the HP
Jornada 548, the Palm m505, and the Compaq iPAQ. By the way…if you use a
PCMCIA expansion sleeve on your iPAQ, and you've been looking for a case that
will hold the entire package: this should do the trick.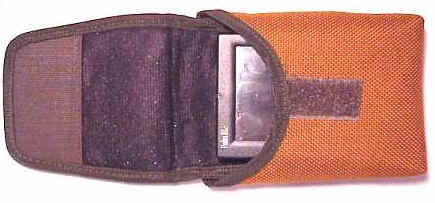 This pouch is also wide enough to carry the Targus
Stowaway Keyboard by itself.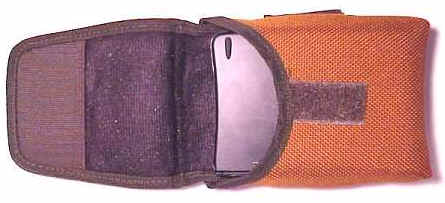 Done in what I can best describe as a subdued golden yellow ochre with olive
green trim; this case has a soft-to-the-touch, yet obviously tough exterior.
These pictures turned out where the olive looks brown, but trust me – it's not.
The front of the case has a BucketBoss label in the middle of the flap. If
you are someone that doesn't like large labels – it is easily removed without
compromising the integrity of the case.
The back of the case features an olive webbing-band that helps hold the
stainless steel belt clip on. The clip also is held in place with a rivet at its
bottom. The clip will accommodate up to a 2" (5cm) thick leather
belt.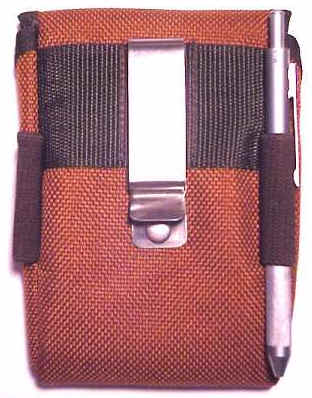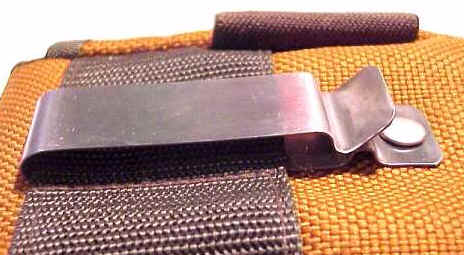 Two tough elastic pen or pencil loops appear on the rear of the case. Shown
in the loop is the Foursome
4 Point multi-pen, that I reviewed some time ago.
The inside of the PDA Holster is lined in a soft, slightly padded, black
nylon fabric.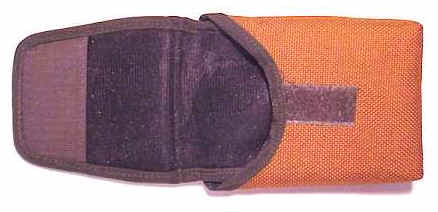 This pouch closes to completely cover your PDA. In the event of a modest drop
(3 or 4 feet, at least), your PDA should survive unscathed. Bear in mind that
this case is not crush-proof, but then – you already figured that, right? ;0P
You don't have to be at a construction site to enjoy this pouch's good looks,
great protection, and excellent price. If you have been wanting to try a pouch
style case with rugged outdoor appeal, this one should fit your needs.
Price: $10.98 MSRP at the BucketBoss
store. 
Pros:
Extremely well priced

Almost indestructible
Reinforced flap to protect PDAs screen
Stainless Steel Clip

Cons:
None
Product Information
Price:
10.98
Manufacturer:
Bucket Boss
Pros:

Extremely well priced
Almost indestructible
Reinforced flap to protect PDAs screen
Stainless Steel Clip

Cons: