We use affiliate links. If you buy something through the links on this page, we may earn a commission at no cost to you. Learn more.
Product Requirements:
Device:
Any PDA equipped
with a Compact Flash Type I or II Expansion Slot
Are you using a PDA that has a Compact Flash (CF) expansion slot, but the
card you want to use just happens to be a PCMCIA Card (PC Card) instead? If so,
you might have thought that the only way you would ever have PC Card
functionality would be to upgrade your PDA.
Well, that might not be necessary, if you don't mind a slightly unwieldy
solution…
Accurite, makers of niche
products such as the DoubleSlot
for HP Handhelds and the CF
Type Expander, have come up with a solution for just such times: the CF/PCMCIA
Expander.
Now before I go any further with this review, I want you to know that this is
a slightly clunky solution. It's not entirely portable – but if it is something
that you have been needing – it will do the job, and you won't mind the slight
bit of "work around" necessary to use it. I'll discuss that a bit more
in a little while.
Included in the CF/PCMCIA Expander kit are the CF/PCMCIA Expander itself, an
AC Adapter (either 120 or 230 is available), and an instruction manual. For most
basic uses, the product is so simple that you almost don't need the manual at
all.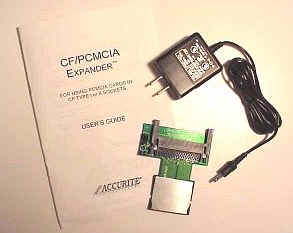 The Accurite Expander is not going to win any beauty pageants. It is a simple
circuitry board that has been fitted with CF and PCMCIA adapters.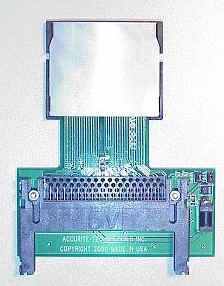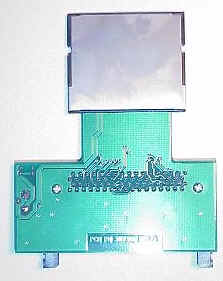 What makes it so "clunky" is that once inserted, it sticks out
2.15″(54.61mm) from your CF slot. Add a PC Card, and you are looking at a
minimum of 2.60″ (66.16mm) additional, for a total of 4.75″ (120.77mm)
sticking out from the top of your PDA. As you can imagine, this is not an ideal
situation when you are trying to take your PC card "on the road" in
your PDA. However, if you have a flat place to lay the combo, this becomes a
workable  solution.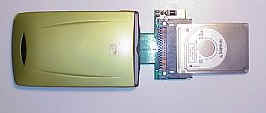 It is important to note that just because you have a CF slot on your device
that will accept this Expander, it does not necessarily mean that the PC card
will work once it is inserted. There are issues such as necessary drivers, or
even hardware limitations that might prevent certain PC Cards from working. An
example given in the instructions involves attaching a wireless PC Card to a
camera that is only configured to accept memory expansion. You get the idea.
I have a Hewlett Packard Jornada 548, which
we all know uses a Type I CF Slot. I think it would be cool to hook my DataPak
(a Type II PC Card) to the Jornada for those times when I am listening to Mp3s,
and I am not mobile. With the Accurite Expander, I am able to do this. Instead
of the maximum Type I CF storage size of 192 MB, I now have access to 2 GB
of storage!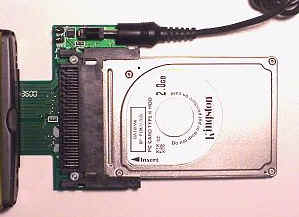 This can certainly also open up a world of communication possibilities for
those with only CF slots on their PDAs. If you already have a PC Card modem, it
just might work with the Expander – saving you from the expense of purchasing a
CF modem. There are also many PC Card based wireless modems that might work on
your PDA with this adapter.
The fact that you could use all three types of PC Card types with the
Expander may be invaluable to some of you. Just to test that a range of sizes
would work, I inserted my CYNET Cellular
Modem, a Type III PC Card. Although it
was not recognized by the Jornada – simply a driver problem, I'm sure – the card
certainly did fit.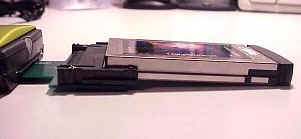 Battery drain is certainly a concern when you are using a PC Card with a
spinning disk inside, such as the DataPak or  the IBM
Microdrive, a 1 GB Type II CF Card that you can use with a PCMCIA/CF
Reducer. Accurite includes an AC Adapter to conserve your battery life. You
can simply attach the adapter to the slot on the left side of the Expander, and
enjoy using your PC Card with no battery drain. You can even get the optional DC
adapter that will plug into the cigarette lighter in your vehicle.
To the left of the plug for inserting the AC/DC adapter, there are two Vpp
jumpers. Since both jumpers come installed, Vcc is automatically applied to Vpp1
and Vpp2 of the PC Card. According to the instruction manual, "there are
certain PCMCIA cards (that) require the host to adjust the voltage of Vpp1 &
Vpp2 to a value other than Vcc. Since CF hosts do not support this feature,
these PCMCIA cards won't be able to be used." Evidently, jumper positions
shouldn't really matter though, because many PCMCIA cards don't use Vpp1 and
Vpp2 at all.
What this means in layman's terms is that some PC Cards require a certain
voltage in order to operate properly. Because Compact Flash slots aren't
configured to support all the possible PC Card voltage-need variations, there
are some PC Cards that may not work with this adapter.
The Accurite CF/PCMCIA Expander should be good news to those of you with PC
Cards that you have been wanting or needing to utilize with your CF capable PDA.
Price: $59.00 for model with 120V AC Adapter
Auto Adapter available for $29.95
Pros:
A workable solution for times when you need to use a PC Card on
your CF capable device
Expands functionality of CF slot devices
Well made and simple
Can use AC/DC adapters to conserve power
Cons:
Clunky, and not very portable

Product Information
Price:
$59.00
Manufacturer:
Accurite
Pros:

A workable solution for times when you need to use a PC Card on
your CF capable device
Expands functionality of CF slot devices
Well made and simple
Can use AC/DC adapters to conserve power

Cons:

Clunky, and not very portable