We use affiliate links. If you buy something through the links on this page, we may earn a commission at no cost to you. Learn more.
Product Requirements:

Desktop:
Windows 95, 98, ME, NT, or 2000
I'm a REX 5000 user, and I find the little device quite useful, though not quite "indispensable" as my cell phone would be. I recently "upgraded" to the REX 6000 and found the experience less than entirely satisfactory. The 6000 hardware is really quite impressive, but the entire package is less usable than the 5000 and
Xircom has been unsupportive of their existing REX customers.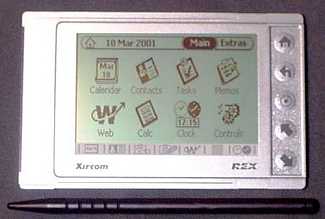 The REX 5000's niche is not really a PDA, more a digital datafile than an interactive device. It's a great accessory to a laptop user as it pops right into a PCMCIA slot, and I find the data it does store meets every requirement I'd have of a hand-held PIM at a size I actually carry. My only wish would be that either the device or it's case be durable enough that I could carry it fearlessly in my back pocket. As it is, that would be highly inadvisable.
And, at $50 or so, it's a great bargain: the price for the REX 5000 with serial pod (which is compatible with the 6000) is less than the REX 6000 serial pod alone, and the TrueSync software it comes with syncs my Motorola DataPort phone and the various PIMs I've been looking at (Outlook, Organizer, etc.) effortlessly and intuitively. Starfish's sync and PIM combination is worth the price alone.
My main complaint with the 5000 was not due to the inherent limitations of it's size – it's a credit card with a display and a few buttons, I don't expect it to be a laptop – but that it's input UI is marginal for accessing the data in the device and nearly useless for entering data. The REX 6000, with more memory, a sharper display, and most importantly a touch screen, holds the promise of making the REX a true PDA, capable of providing almost anything anyone would want of a PDA in a truly pocketable size.
I really wanted this device, and really wanted it to be useful. I've had my 6000 for three months now, and I still use my REX 5000, though I do occasionally pick up the 6000 for it's calculator function.
6000 Features
The first thing I noticed on upgrading from the 5000 to the 6000 is that I couldn't. The new device uses Puma Technology's "Intelli"sync package which is not only just about useless but is also–amazingly–incompatible with the REX 5000 (there is a work around, very involved, that requires syncing to outlook and then to the 6000, then to the application).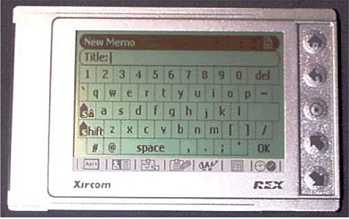 The REX 6000 hardware is brilliant, neatly solving all of my complaints about the 5000. The screen is sharp and clear and the
touch screen solves the main user interface problem of the 5000: trying to do too much with too few buttons. My only complaint about the REX 6000 hardware is that the new screen asks more of the processor than it can comfortably deliver, and so the device seems slower than the 5000, some operations (like drawing the world map for the time view) take several seconds. The REX 5000's much more primitive display is almost instantaneous and curiously some features are more flexible than with the newer 6000.
The 6000's "applications" extend the set that run on the 5000, most are similar and in general a bit more intuitively laid out, and make good use of the touch screen for navigation. The built-in applications have "hot buttons" along the bottom edge of the screen which makes them much more accessible one from another than with the 5000's somewhat clumsy six button navigation system.
Calendar
The Calendar function adds a "today" feature that lists one's to-do's as well as appointments. With the touch screen it's not terribly difficult to add appointments by typing either with your fingernail or the supplied stylus on a virtual keyboard. Xircom's choice to use scrolling date lists is perhaps the biggest UI frustration. It can take 10-20 clicks to get the date you want into view, whereas if they had simply displayed a month calendar and let you pick the date and flip from month to month and year to year, entering a date would be effortless. The choice to give more screen real estate to which year the event will be in than to which day seems bizarre. If you're scheduling a new event it is most likely within the next week or two, almost certainly this month, and very, very unlikely to be next year. This is just one of the many quirks that makes you wonder "what the hell were they thinking?"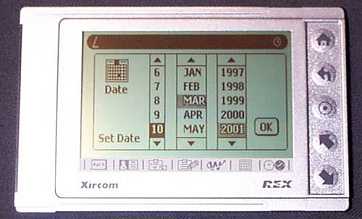 Contact List
The contact list is much easier to use with the 6000, and lets you list emails or phone numbers in the scroll list, saving a few clicks, the 5000 required you to navigate to the selected card and open it before seeing that most useful of data. Also, having a touch screen allows expanding the REX 5000's list navigation system to be much more intuitive and quite easy to use.
To-Do List
The to-do list has lost "view by overdue" and "view by task" in the 6000's software. I'm not sure I ever used those features, so Xircom was probably right to remove them. Entering a deadline to-do requires you to scroll through the irritating date selection mechanism again, alas.
Memos
The memos function is just as useful a place to stick random bits of data as it was with the 5000, and finally it's conceivable that you might actually enter a memo into the system through the new touch screen keyboard.
Clock
The new world clock function is a huge step backward from the 5000 which lets you set any 8 cities you want, whereas the 6000 allows you to only choose from a dominant city in any particular time zone – New York stands for any city in the Eastern Time Zone, for example. Considering the choice to display a sun clock as the world clock, and given that the cities have latitude and longitude entries, and given that they can be listed in the horrible REX Tools software that comes with the 6000, one would be led to believe that the cities could be edited. One would be wrong. Further the "home City" and "visiting City" functions are painfully anti-intuitive. It is actually useful to see the sun clock, especially if you travel a lot, but it unnecessarily limits the cities to the few Xircom thinks important.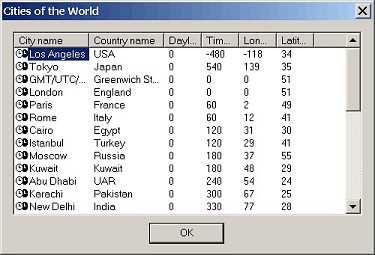 Controls
The controls function is pretty much the same as the 5000. You can check to display seconds, but they don't show on screen anywhere but in the controls, which seems kind of silly. I think they probably intended to turn on seconds display in the time display functions used elsewhere, but didn't quite get that working.
New Functions
There are two new built in functions: web "browse" and calculator. There is a mechanism by which additional applets can be loaded on the device and they would show up under "extras", but there aren't any to load as of yet.
Calculator
The calculator is basic arithmetic. If it were up to me, I'd have a toggle to get scientific functions, at least basic trig. The device could easily handle it and I'm not very good at computing sine values in my head. Having a touch screen would make it pretty accessible and quite useful. Maybe someday, Xircom will let someone write a scientific calculator for the REX.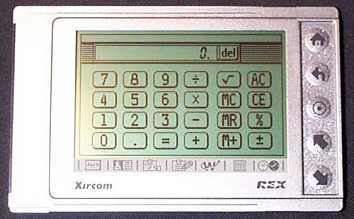 Web?
The web function is completely worthless. Why on earth anyone would want to read anything more than a few lines of text on a weenie little display is beyond me, and since you have to sync the text into the REX intentionally, one would have to show restraint not to read it all as it was going in so as to save the surprise until
later. The button space could easily be used for something else. I would guess that Xircom was trying to increase their valuation prior to the Intel deal by tying the REX user base to a membership web site from which they could, theoretically, push advertising. I expect this will fail, as it should. In any event
http://www.rex.net seems plagued by outages and is often unavailable.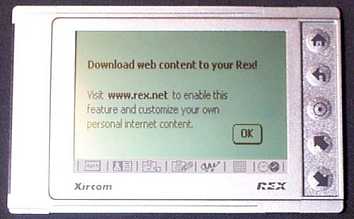 Software
The biggest problem with the 6000 is the host software. The 5000 shipped with TrueSync and TrueSync Desktop. TrueSync is truly excellent. My only frustration with it is that it was a bit confusing getting it to sync correctly to
Outlook, but otherwise it works brilliantly and syncs effortlessly to everything from their Desktop application, to Outlook, to the REX, even to my Motorola TimePort phone. And all of these Sync modules can be downloaded for free.
Desktop
In stark contrast, IntelliSync Desktop is really pathetic. It shipped with pre-release software (1.0), which almost excuses its
"written in basic by high school kids" primitive look: Desktop database entries are listed, in order, down the left side of the screen, with fields listed across the screen and right off into oblivion. There is a marginal (to be kind) graphic navigation tool on the right side of the screen. I used the Desktop application for a few hours then uninstalled it.
Sync
The Sync application is equally primitive and poorly designed. First, it does not sync to the REX 5000. It does not sync to TrueSync Desktop. It almost syncs with Outlook. That's it. If you don't like Outlook (and since you really can't use IntelliSync Desktop except perhaps as a data entry tool) you're out of luck. There is no other Sync option. To anything at all. Xircom claims an Organizer sync tool will be available soon, but no date is given. And when (if) it does come, it will cost extra. Silly, obvious bugs exist even in the recently shipped version 1.01 such as the cut off dialog shown below. At least it doesn't crash on syncing any more.

Speed, lack of
Version 1.0 was incredibly slow, literally agonizing. Syncing could take 5-10 minutes. I waited for version 1.01 before reviewing because tech support's answer to these concerns was "wait for the next software version." And, indeed, 1.01 is faster, though it's still 10x (literally) slower to sync than the REX 5000, now down to about 90 seconds. Get used to the dialog below, you'll be spending a lot of time with it. It's cute that they chose to count packets going by. I'm not sure how big a packet is, but the whole device only holds 2MB which should take a fraction of a second to transfer over cardbus.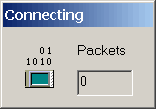 Outlook or nothing
Personally I find Outlook annoying: it is, in typical Microsoft fashion, both far too much and far too little. It tries to be a category killer for email and PIMs but leaves much to be desired: for example you can't put an appointment in a particular time zone, which TrueSync Desktop lets you do easily, and which is essential if you travel across time zones frequently.
And since the 6000 provides a choice of marginal utility with Outlook or nothing, I ended up shelving my 6000 and returning to my trusty 5000 and Starfish's excellent TrueSync.
There is hope: don't be shy about letting Xircom know that dumping Starfish was a bad move. I'm not suggesting notes tied to bricks, but anything short of that will help, to wit:

From:"Global Support" <[email protected]> 
David,
Thanks again for your open and honest feedback.
Your comments and concerns have been forwarded to the REX design team for review.
If we get enough people writing in who share your opinion, perhaps action will be undertaken.

Conclusion
If you have a laptop with a PCMCIA slot, and especially if you don't want to wait for your laptop to boot up to find a phone number or check your calendar, the REX is a great tool. Its unique portability makes it a great choice if you'd rather travel light.
The question isn't so much between the REX and anything else as it really doesn't have any competition in the "microPDA" market, but between the two versions of the REX now available. The 6000's superior screen and
touch screen entry might not be enough to convince users it's worth three times the cost and suffering the horrible host software.
Price: $159
Pros:
The size of a credit card
Holds most everything you could fit in a paper planner
Syncs with Outlook
You can actually enter data, unlike the 5000
Cons:
Costs more than a Palm m100
Desktop software is very poor
Only syncs with Outlook
No Mac software at all

Product Information
Price:
$159.00
Pros:

The size of a credit card
Holds most everything you could fit in a paper planner
Syncs with Outlook
You can actually enter data, unlike the 5000

Cons:

Costs more than a Palm m100
Desktop software is very poor
Only syncs with Outlook
No Mac software at all