We use affiliate links. If you buy something through the links on this page, we may earn a commission at no cost to you. Learn more.
Product Requirements:
Device:
Any touch screen device
Well, it's not often that I get review something as playful as the Exclamation
Stylus, available from Stylus Central.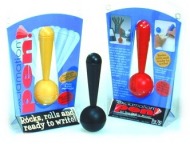 In my opinion, this is a stylus for someone that doesn't take themselves too
seriously, and that wants a desk-object that can double as a toy when they are
bored.
The stylus is based on the Exclamation pen. Except in this instance a
replaceable gray stylus tip has been inserted on the stick part of the
exclamation; while the dot of the exclamation is a weighted base that rocks back
and forth all over – reminding me of the Weebles™ that I owned when I was a
toddler.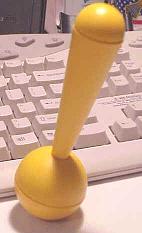 The top end of the stylus is removable, which caused jokes in my household
about secret hiding places for cigarettes. My husband is a closet smoker – and I
was teasing him that this was a great hidey-hole for his contraband. We checked,
and you can fit one regular sized cigarette in there – with not much room to
spare – down at the bottom. There is also enough room for a couple of
"strike-anywhere" matches to fit in along-side the cigarette. Think of
it as a "closet smoker stress-survival kit". This might be an attractive feature
for those of you that need it. :0)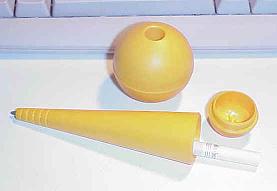 The Exclamation stylus itself is very light-weight, a bit too light-weight for my
taste. I tried adding sand to it to increase the weight, and found that while
it did improve it's heaviness in my hand, the pen no longer retained it's
ability to "wobble without falling down".
The shaft of the Exclamation is quite fat, and I didn't like the way it felt
in my hand. There are ridges near the bottom end  – I presume both to lock
it into the base, and to act as a gripper when you are writing. In my opinion,
they are too near the bottom for a comfortable grip – and when the stylus is
held that way, you can't see the tip of the stylus very well when writing.
The stylus tip on the Exclamation is cone-shaped, being just slightly rounded on
it's pointy tip. I found that it wrote smoothly on screens with or without
protection, but I did notice that I seemed to be pushing the stylus into my PDAs
screen with more pressure than usual – most likely because of the Exclamation's
light weight.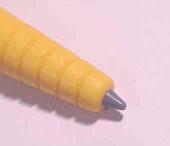 Personally, I really wasn't impressed with the Exclamation. I am not someone
with a lot of office toys, or other boredom relievers on my desk – but if you are
that type, you may like it more than I did.
Price: $19.99 MSRP
Available in Black, white, red, yellow, blue & black
Stylus refills are available from the manufacturer,
at $1.50 a point
Pros:
Base sits on desk – and won't tip over
Can hide things in the top of the stylus
Cons:
Expensive for what is offered
Stylus is uncomfortably fat
Stylus feels too light in hand
Product Information
Price:
$19.99
Pros:

Base sits on desk - and won't tip over
Can hide things in the top of the stylus

Cons:

Expensive for what is offered
Stylus is uncomfortably fat
Stylus feels too light in hand